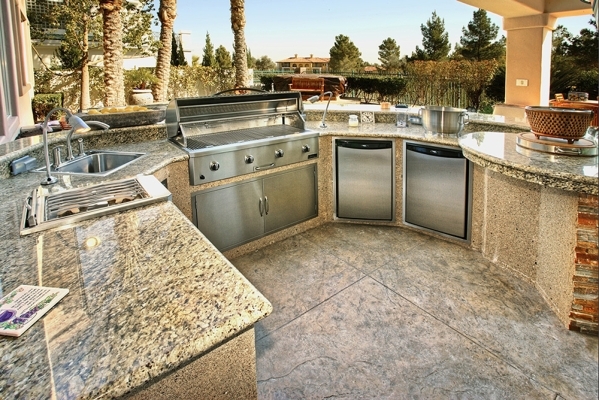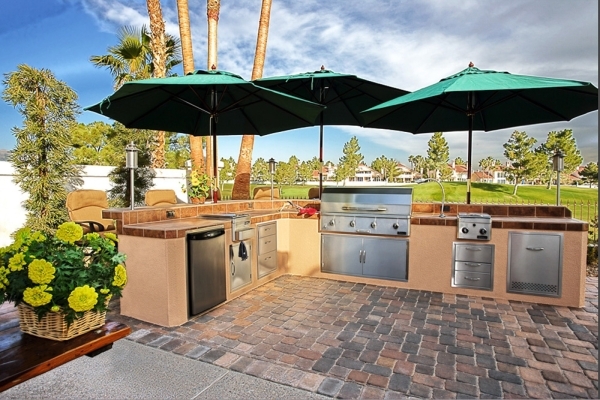 Outdoor kitchens are getting fancy, and expensive.
"Sometimes, the outdoor kitchen is just as grand in scale as the indoor kitchen. Sometimes, grander," outdoor living designer Terence Thornton said. "It's a place for entertaining. People use their outdoor kitchen more."
He has spent more than a decade helping people create their Las Vegas outdoor kitchens. For three years he owned Outdoor Kitchen Concepts, and now he is an independent contractor with Las Vegas-based Laguna Pool and Spa.
Thornton said he has noticed a spike in work: More people are splurging on their outdoor living areas and they are paying cash. Some projects are the run-of-the-mill $38,000 to $40,000 jobs, but several range from $150,000 to $180,000.
"Vegas has gone crazy," Thornton said. "It's like people had the money but they were not comfortable spending it. Now, people are more willing to spend the money."
He is seeing more kegerators, pizza ovens, lighting and technology for outdoor kitchens. The outdoor living area also has an array of fire pits and water features.
Thornton and luxury Realtors said people don't skim on the appliances. They use Viking Wolf, Sub-Zero and Lynx, just like they do in the indoor kitchens.
He said one of his clients is all about cooking outdoors. He is helping him build a barbecue mecca with a 55-inch grill with dual-side burners, a power burner, a high-intensity burner to use as a wok and a smoker.
"He plans on using them all at the same time — cooking at different temperatures and using different techniques."
"People are spending a tremendous amount of money on their outdoor kitchens. They are taking it way over the top," said luxury real estate broker Tom Love, owner of the Tom Love Group. "It's an interesting trend."
He said one client installed a teppanyaki grill in his outdoor kitchen. When he entertains, he hires a hotel chef to prepare dinner for him and his guests on it.
Another trend Love and Terence see is the evolving technology for outdoor living.
"You can light your fire pit from your smartphone in China," Thornton said.
Love agreed. Homebuyers are installing top-of-the-line sound systems to pipe in music into their backyards, outdoor theaters and light-emitting diode lights that change color around the pools.
He said today's homeowners want to let people in the front gate by using their smartphones. They even check the security cameras and unlock the front door, all without leaving the backyard.
"It's amazing how much technology is available, and how much people like it," Love said. "They will set aside a large part of their budget for the technology."
Las Vegas luxury real estate broker Frank Napoli II said an outdoor kitchen is a must for luxury homes.
"It's fantastic weather. The nighttime is great," said Napoli, who heads up The Napoli Group with Berkshire Hathaway HomeServices Nevada Properties.