Lots of ways to personalize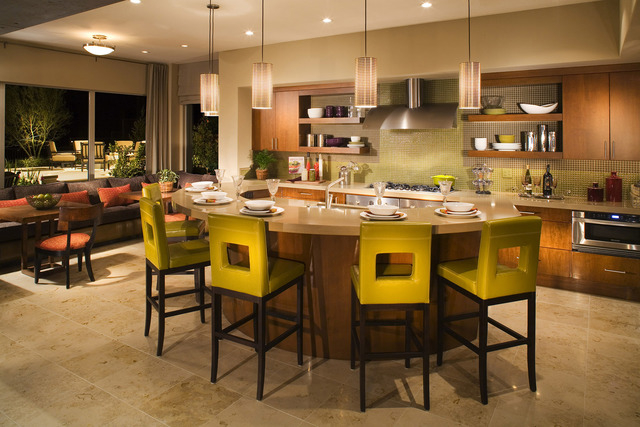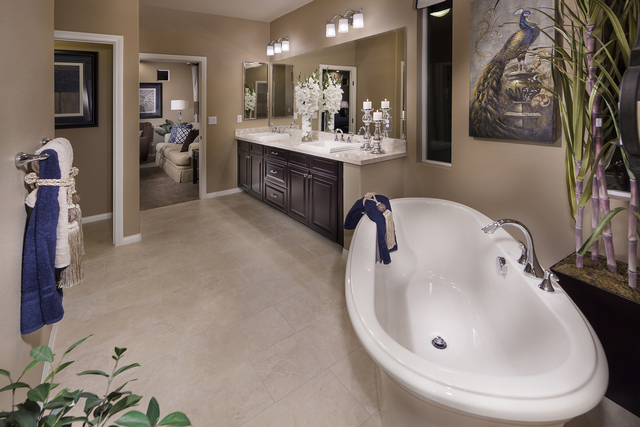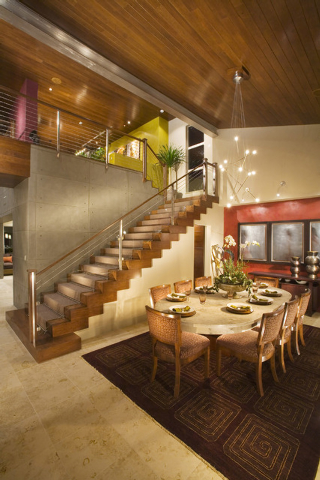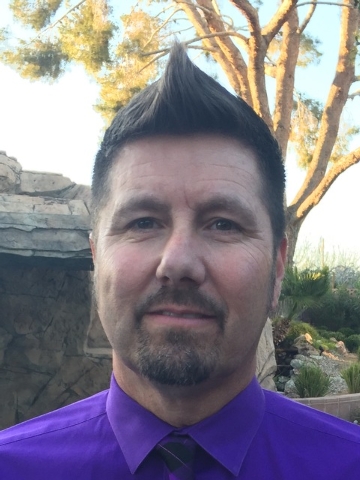 Gone are the days when building a home personalized to your design tastes are reserved only for custom homes. Semicustom builders and some production-home builders offer designs found in custom homes and lifestyle magazines. They may even be able to enlarge or combine rooms, extend the garage, reconfigure the kitchen layout or create a spa-inspired master bath.
How do you find those options? Just ask.
Differences between production, custom and semicustom homes
The lines between a production and semicustom homebuilder differ but sometimes blur, while custom-home building is more concrete.
"Production homes are built just like the builders' models, and certain upgrades can be built into them. With semicustom homes, you can make structural changes to the floor plan, even adding or deleting rooms. Semicustom homes also tend to offer many more choices for the inside of your home like more granite options, choosing the type of windows, customizing the bathrooms and even choosing your front door," said Ellen Fahr, a Realtor with Berkshire Hathaway HomeService Nevada Properties.
"I believe that there is less customization now among homebuilders because the cost of constructing a semicustom home is more than a production home, and builders are trying to keep their costs down to allow more people to afford them. The price can really increase when you go to custom building because there are a lot more architectural costs where in a semicustom home it usually costs less because you already have a (floor) plan to start from."
Still, there seems to be a growing niche of builders redefining and reaching this semicustom market with options and varying lines of service.
"When builders design floor plans that are more flexible, they allow homebuyers to customize the homes to their tastes without the added time and expense of building a custom home. They can use the builder's ability to purchase materials at a much better price than is normally spent on a custom home," said Gordon Miles, president and COO, Berkshire Hathaway HomeServices Nevada Properties.
Perhaps the biggest difference is the homebuyer's interaction — or lack thereof — with an architect.
"The biggest difference is that with a custom home you meet with an architect and you design it yourself, and with a production home, if you are lucky enough to pick your home in time, you can choose the color of your granite and the flooring. With a semicustom home, it is somewhere in between, and buyers have many, many more options," said Zar Zanganeh, broker/owner of Luxe Estates & Lifestyles.
"We are currently selling the homes of the semicustom builder Fox Homes, and they have many options. The builder gives buyers a floor plan and say that you can change the rooms and have the option of moving the walls around as long as they are not supporting walls. You can move walls, add a game room, and create other rooms. Depending on the size of the home site, people have the option of a three-car garage to as much as a six-car garage, and it can be 10 feet deep or 20 feet deep or 30 feet deep. Or we can build a guest house on the lot," Zanganeh said.
The available structural options depend on the home site and if the home is purchased before construction begins. Fox Homes recently completed homes in the northwestern valley and is accepting preconstruction reservations at its 10-home-site Monterey Hills Estates in Henderson, where homes may be built from 3,511 to about 6,000 square feet.
"In addition to the structural changes, you can have anything that you want for the cabinets and the countertops. You can incorporate a disappearing glass wall instead of a sliding door … These are the type of changes that large production builders do not offer. These are type of options that you typically find in a custom home, but when working with a semicustom builder like Fox Homes you don't have to pay for the expense of going through the design process. We already have the wheel created and you don't have to re-create it. We have all of these options from which you can choose so that you can customize the home to your needs."
Scott Hardwood is operations manager of Emerald Homes, which is building its first Las Vegas neighborhood at Oakey Boulevard and Buffalo Drive. The gated community will contain 11 homes starting at just under $1 million and sized at 4,000 square feet and larger. All of them have what the builder calls "guest house inside the house," which is at the front of the home next to a courtyard or atrium and has patio access.
He said people are looking for ways to personalize their spaces.
"People are definitely looking for more customized kitchens, master baths and room layouts that fit their needs. Oversized master showers, coffee bars in the master bedroom and oversized second floor lofts are particularly hot right now. People are also looking for that third living space that can be used by multiple generations. The second floor lofts are used as play areas, TV rooms and are away from the formal living spaces on the first floor," he said.
Hardwood said many people opt for a semicustom home to cut the stress out of building their own home.
"It's time consuming and hard on relationships to build custom homes. If a couple can agree on a builder and a floor plan that may just need minor modifications to fit their needs, it is much simpler than building from scratch. Builders are more willing now to make minor changes to suit the tastes of their clientele."
Personalizing your home
American West is taking the semicustom approach to its nine neighborhoods, according to Vice President Daniel Welsh.
"At American West, one of the luxuries that we have is that we are a private homebuilder and we don't have the parameters of other builders. We have been owned by the Canarelli family since 1984. We deem it as a semicustom process because you are able to pick the home site that you build on. You are able to pick the floor plan that you want. You can pick the elevation that you want. And, you can position your home on the home site like you want within the county building envelope," Welsh said.
"Once you position the home the way that you want it, you can make your home look exactly the way that you want inside, too. We provide so many different selections that you can make your home unique from anybody else's. You can choose paint colors, granite colors, cabinet colors, how many bedrooms, how many bathrooms, anything that you can think of, and we will do as much as we can do," Welsh said.
Among the unique options available on a per-plan basis at some American West neighborhoods are an elevator, a double refrigerator package, multiple spa bathroom design configurations with oversized showers and choice of tubs and kitchens with oversized islands that provide ample room for dining and highly customized cabinets and countertops. Home automation, stereo wiring and communication systems are also available. Welsh says that these are features typically found in custom homes.
"We do this at every level, from our entry-level homes to our luxury series. We try to make it that in each of our homes, at no matter what your price point, you can customize your home to the way you like it. Everybody's family is a little different, and we want to accommodate every family the best way we can," Welsh said.
Another builder that offers buyers highly personalized interior design is William Lyon Homes. Its new Lago Vista neighborhood at Lake Las Vegas is a prime example of luxury contemporary designs with interiors personalized to buyers' preferences.
"It's the time for rebirth of Lake Las Vegas and we are part of it. There is something special about living along the Reflection Bay Golf Club and the lake in a contemporary-style home," said Kim Chitwood, sales and marketing manager of William Lyon Homes.
Lago Vista offers contemporary-style, two-story homes measuring from 4,292 to 5,032 square feet and 52 home sites. An interest list is being formed at its sales center located within the Reflection Bay Golf Club, and home sites will be released later this month.
"Lago Vista's residences are based off of three plans and offer many different customizing opportunities. You can customize your exterior, not just the color of your homes but also the roof tile, and you are able to personalize the inside of your home with the cabinets, countertops, lighting, flooring, just to name a few. You work with an options consultant who is with you every step of the way to help you select this or that for your home. We can incorporate design features that you cannot typically do in a production home setting, but you can have it in your new home without the headaches of building a custom home."
William Lyon Homes is showcasing the contemporary design concept and plethora of interior design opportunities within model homes of its Grand Collection at Sterling Ridge and Premier Collection at Sterling Ridge, which are located behind the guard-gated entrance of The Ridges in Summerlin.