August 17, 2014 - 4:00 am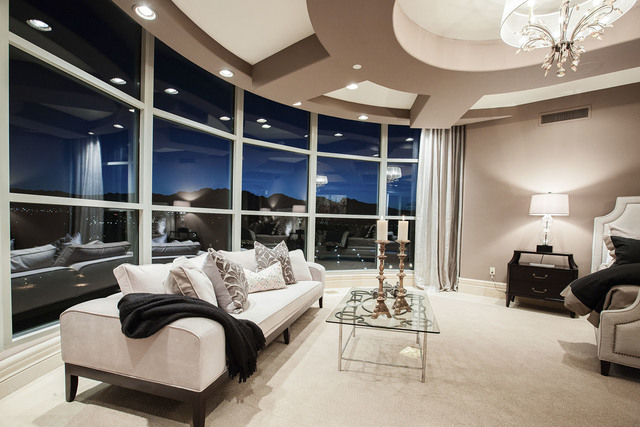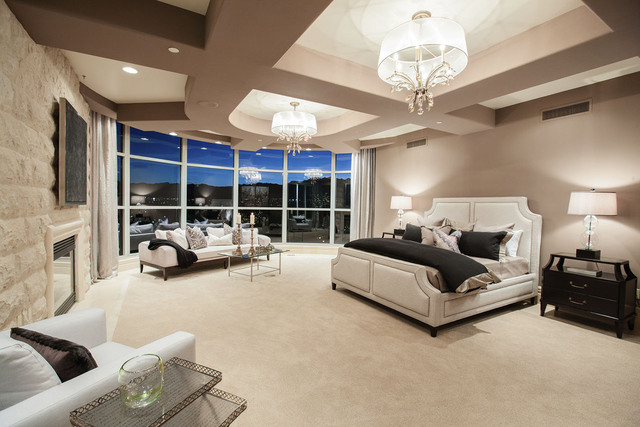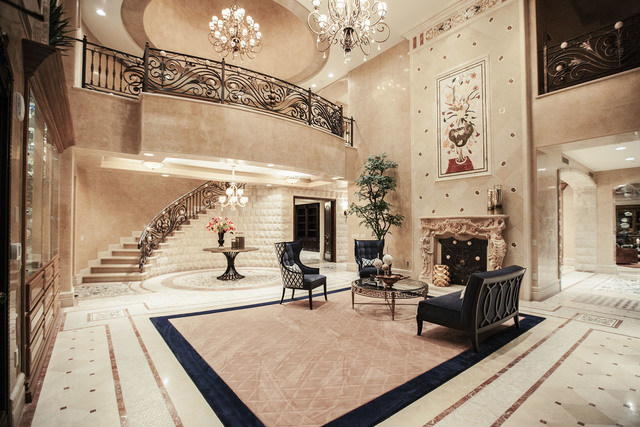 For the homeowner who's looking to reside at the pinnacle of luxury living in Southern Nevada, there's no finer example than a high-rise Crown Penthouse residence atop One Queensridge Place.
The towers at One Queensridge Place, 9101 Alta Drive, feature four Crown Penthouses, but only two are available for purchase. You can either build one out yourself from a shell, or take the nicely furnished model for a listing price of $12.9 million.
The furnished, two-story European-themed Crown Penthouse is 15,560 square feet of livable space, and has a 15-car garage to park your favorite modes of transportation, a private elevator at ground level that opens into the 46-foot-high reception area, seven terraces spanning 3,000 square feet with panoramic views of the Las Vegas Valley. One terrace boasts a massive barbecue grill and private outdoor pool.
Picture-window views pan across the Spring Mountains to the west, quaint shops and restaurants lining Boca Park and Tivoli Village below and the distant twinkling lights and silhouettes of all the major hotels on the Strip.
Featured amenities include five bedrooms (two are master bedrooms), seven full baths and two half-baths, a theater, spa, private wine closet, Venetian-plastered walls, an interior elevator from the first to second floor and express elevators to serve the livable areas. The Crown Penthouse is topped with a 1,100 square-foot cupola — officially making it three-stories — uniquely designed for possibly an attic hideaway study, library or artist's loft. Overhead angular windows gently beam soft radiant light into the cloisterlike quarters.
"These are custom residences in the sky," says Randy Char, broker and senior vice president of operations of One Queensridge Place. "The Crown Penthouse is for someone who needs an iconic property — a one-of-a-kind marquee that is exclusive to Las Vegas. I don't see a property like this ever coming on the market in the future."
Char says Queensridge gets several calls a week about the Crown Penthouse and "massive hits" on the company websites. All inquiries are carefully screened and only those from serious buyers with the financial means are considered. Showings of the property are by appointment only.
Char thinks the target buyer would be someone with multiple residences who prefers only custom homes and enjoys entertaining. The person or family would be international and enjoy traveling.
Internationally acclaimed interior designer Cary Vogel was tasked with transforming one of the two available Crown Penthouses from a European theme into a more art-deco modern feel.
"My thoughts were to make everything fresher," Vogel says while darting throughout the residence pointing out his artistic changes. "This is very grand and livable. I wanted to create more that says home. When you first arrive off the elevator, I wanted you to feel like sitting down with a glass of wine to have good conversation."
In the adjacent kitchen, which features state-of-the-art stainless-steel appliances, Vogel switched out hanging lights over the counter for minipendant clear glass fixtures laced with strands of silver to reflect light and brighten the kitchen. To augment the ornately paneled marble floors, Vogel had custom rugs crafted to lay and play artistically against the contractor's original designs.
"I introduced a lot of navy and cobalt blue to cool everything down," Vogel says. "I tried to create a Zen feeling with luxury."
In one of the master bedrooms, Vogel covered the bed's headboard and frame with fabric to soften the look. At the windows, he hung sheer drapes, allowing light to penetrate easily and float with the slightest touch. He used subliminal repetitive patterns throughout the furniture, rugs and artwork on the walls.
"I painted the master bedroom to make it pop," Vogel says. "In my mind the client I designed this penthouse for is very well-traveled. I wanted to create an environment of home away from home."
Vogel, originally from New York, maintains design studios in that city and Las Vegas, where he moved to in 1988. He is familiar with One Queensridge Place, having designed residences for 23 clients. All of the units are special, he points out, stating that he wants his clients to feel that what he creates for them is strictly custom.
To begin his process Vogel conducts extensive interviews with potential clients to understand their vision for a property.
"I get their key words out of our conversations, and then I go back to my studio to develop designs based on their concepts," Vogel says, adding that he attends major interior design shows around the world each year to keep abreast of new concepts.
Vogel's client list over the years included projects of family estates, high-rise penthouses, vacation homes, desert contemporary homes, beach-front properties, mountain cabins, executive offices and various hospitality properties.
"My mission is to interpret my client's unique vision, creating comfortable, intimate and timeless spaces to truly enjoy living in," Vogel states on his website, www.interiorsbycaryvogel.com
Although the Crown Penthouses are considered the jewels of One Queensridge Place, the entire property of 219 custom homes is designed with luxury and elegance in mind. The finest materials from around the world, for example, have been used in the crafting of custom inlays and for Mediterranean-style statues and fountains.
Stephanie McGerty, marketing manager, says prices start $699,000 for tower residences.
"It's all about lifestyle at One Queensridge Place," McGerty says. "We call it 'lock and leave.' Most of our residents travel, and they have multiple residences."
Queensridge is close to Boca Park, Tivoli Village, Badlands Golf Course, Red Rock Canyon, restaurant and entertainment venues, and parks and hospitals.
Inside the towers, residents enjoy men's and women's Roman Spas, a 25-meter indoor lap pool, and outdoor swimming pool with spa, a fully equipped fitness center, Pilates studio, steam rooms, dry saunas and access to a climate-controlled wine cellar.
Residents can use the wine cellar for private dining, which is set up with a kitchen for catering, or relax in the lounge or on the outdoor terrace overlooking the Badlands Golf Course.
"We are an exclusive residence property," Char says. "There are no hallways in the towers. Everyone goes directly to their residence in their own private elevator."
Char says all residents at Queensridge also have their own enclosed private garage that is climate controlled.
"You can live as private as you want to be. Get into your own elevator and go directly to your residence," Char says. "But you can also socialize if you want at the fitness center or Barista Café."
The Barista Café is off the main entry in the great room, which offers billiards and various table games and multiple television screens for lounging next to the several fireplaces.
Concierge, valet parking and doorman services are offered along with a guard-gated entry and 24-hour security patrols.
Glenn Nowak, associate professor at the UNLV School of Architecture, thinks the Queensridge custom home community is typical of the types of high-rise building that's taking place throughout the Las Vegas Valley. He foresees more and more ultramodern and opulent projects such as Queensridge popping up in years to come.
"Las Vegas is always going to attract the highest buyers in the world," Nowak says. "We will see a lot of units built as vacation homes … If we extrapolate the growth trends out, we will see more and more high-rise development because we are strapped for land throughout the valley."
The key areas for luxury condominiums will be the Strip, Summerlin and possibly downtown Las Vegas, Nowak says, adding that the valley may see some projects with luxury penthouses built on top of lower-end studios.
"What I hope is that the construction continues and Las Vegas does something more sustainable with regards to more green building," Nowak says. "I think we made some good strides in recent years, but we are still behind a lot. There's more we can do and more we should do."
Char is happy that the luxury-home market is finally coming back following years of recession, where people who could afford high-end properties were holding onto their funds until the economy stabilized. He noticed that luxury sales began taking off about 18 months ago.
"We have a micro-website just for the Crown Penthouse," Char says. "If this penthouse sells, it will be the highest priced attached property to ever sell in Las Vegas."