Massive Henderson mansion lists for $12.5M — VIDEO
October 2, 2017 - 9:31 am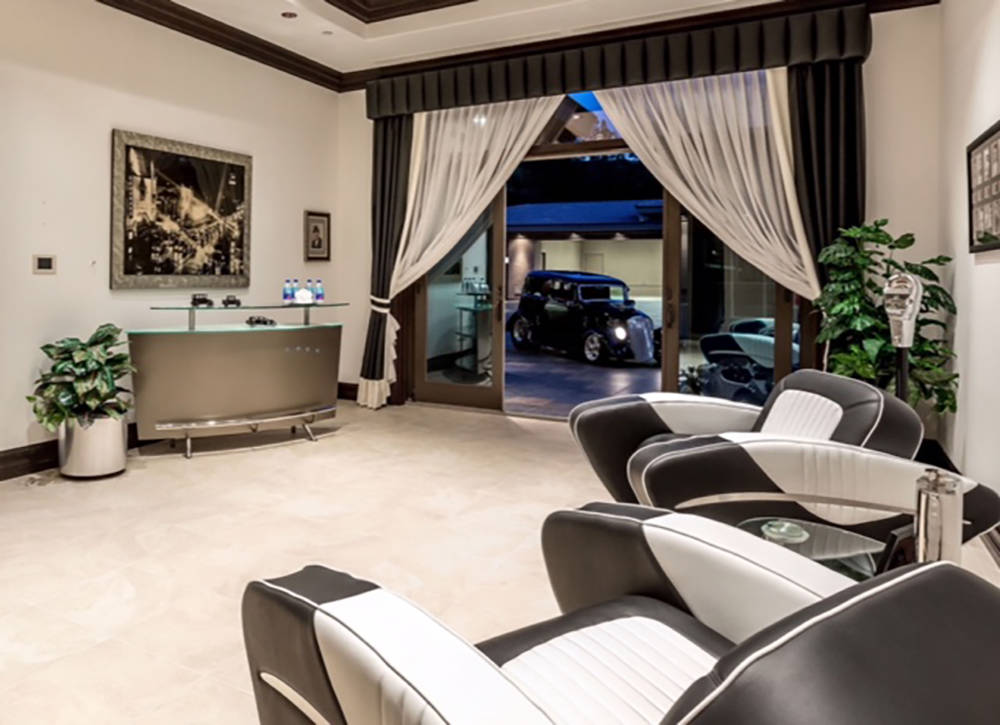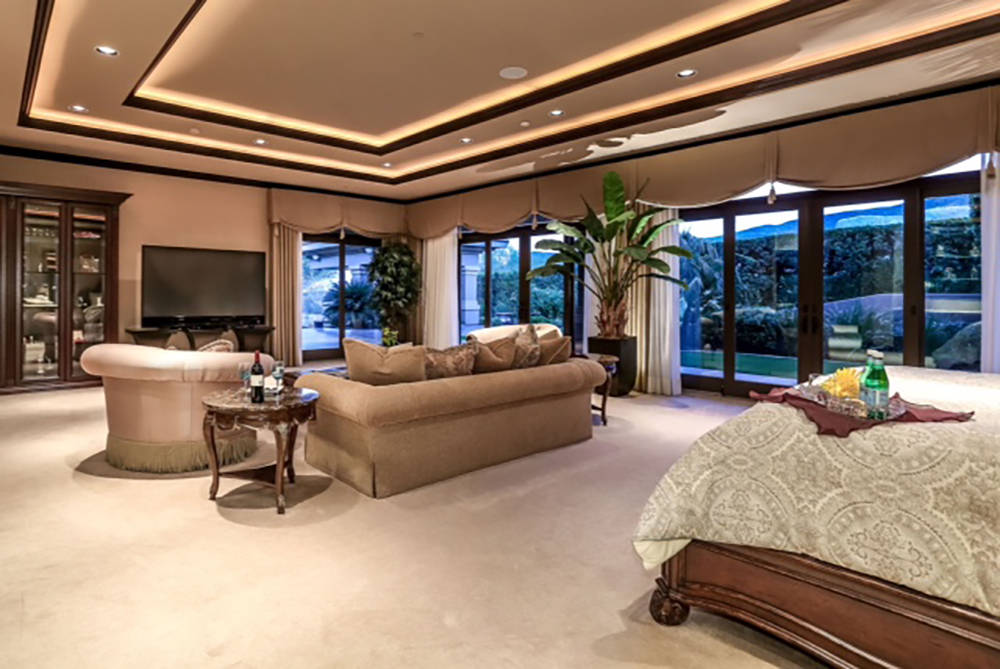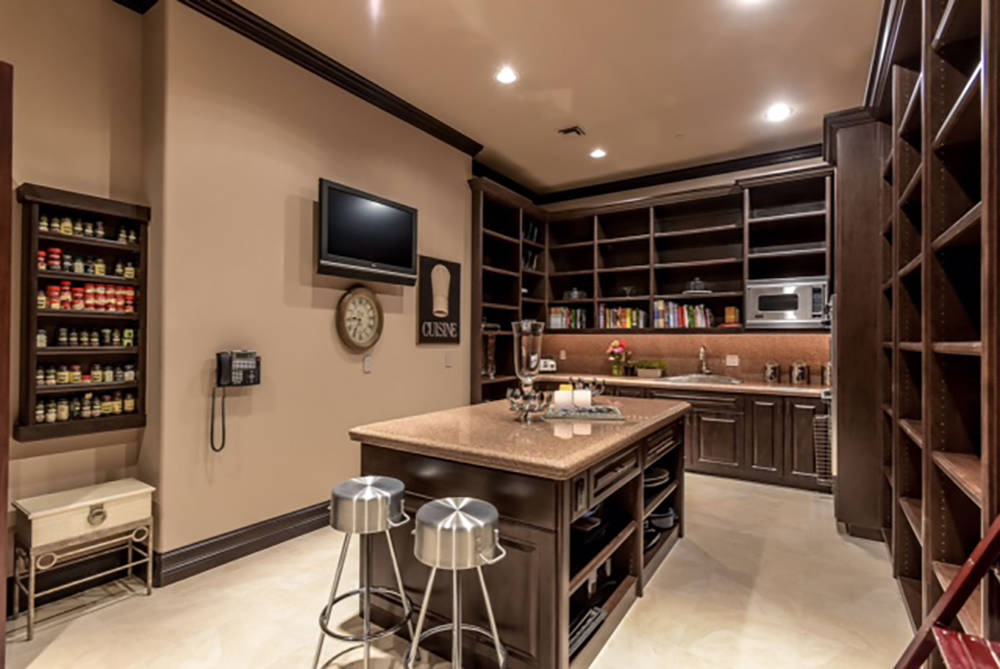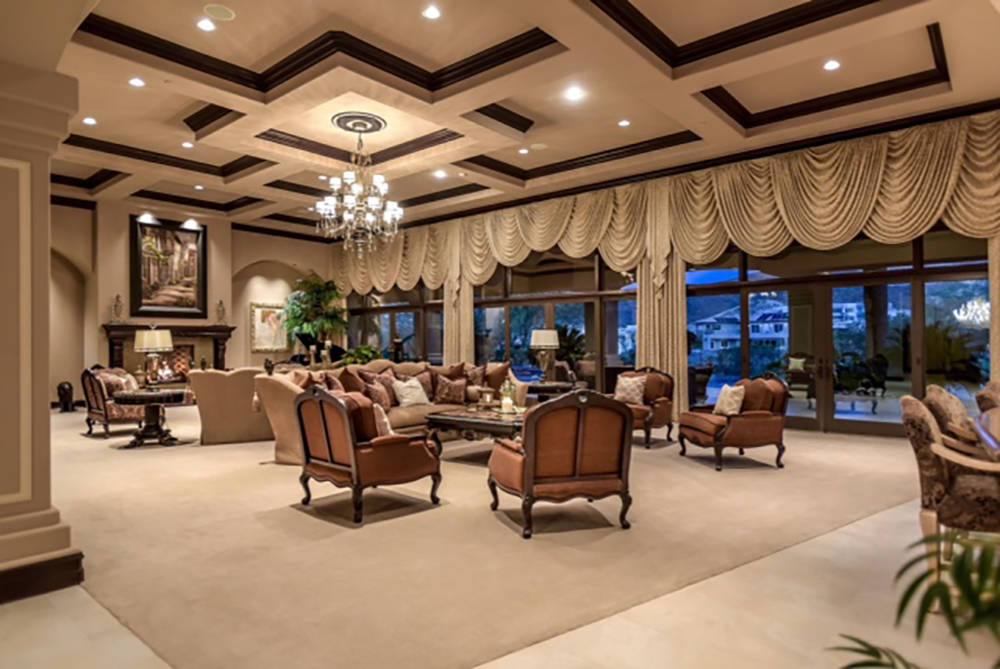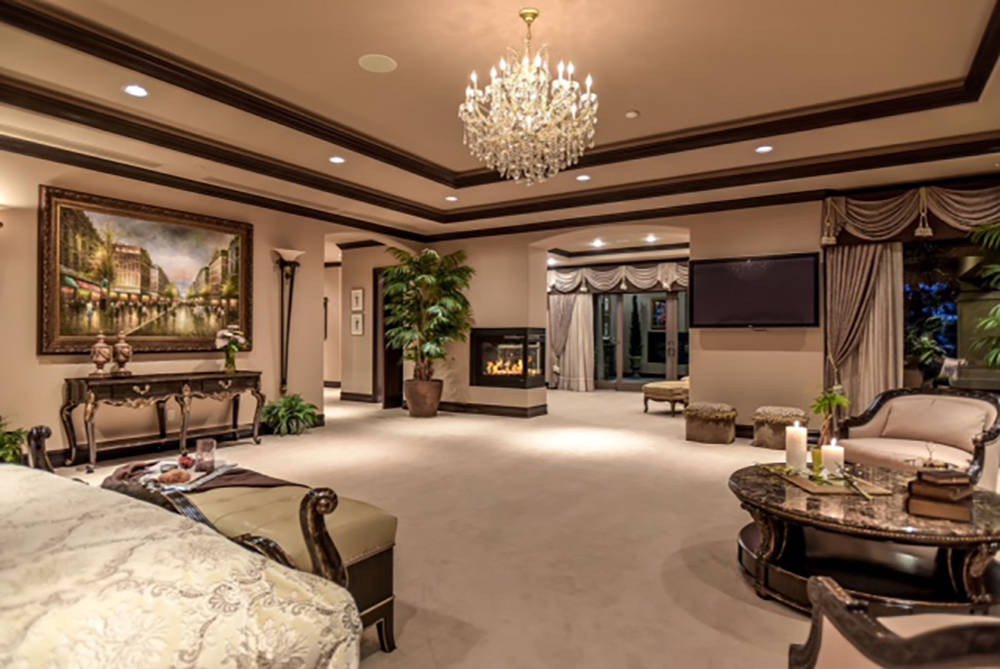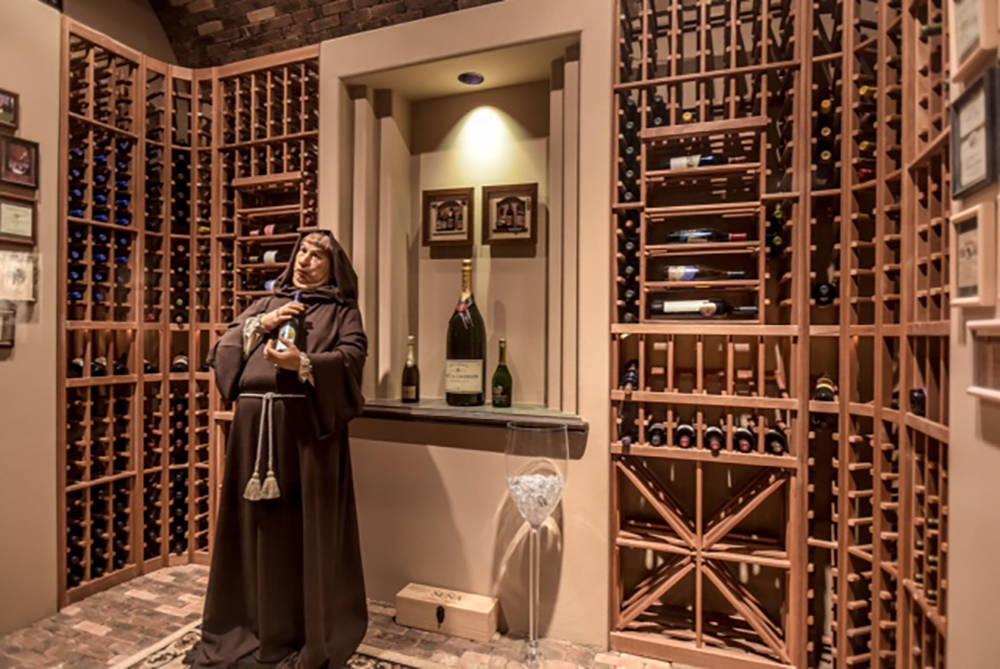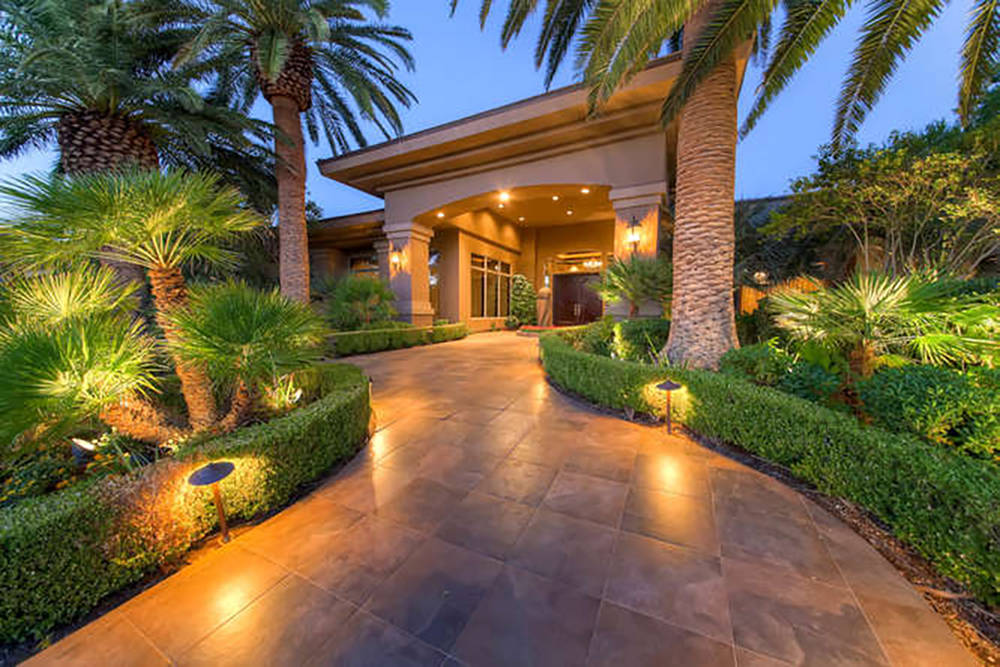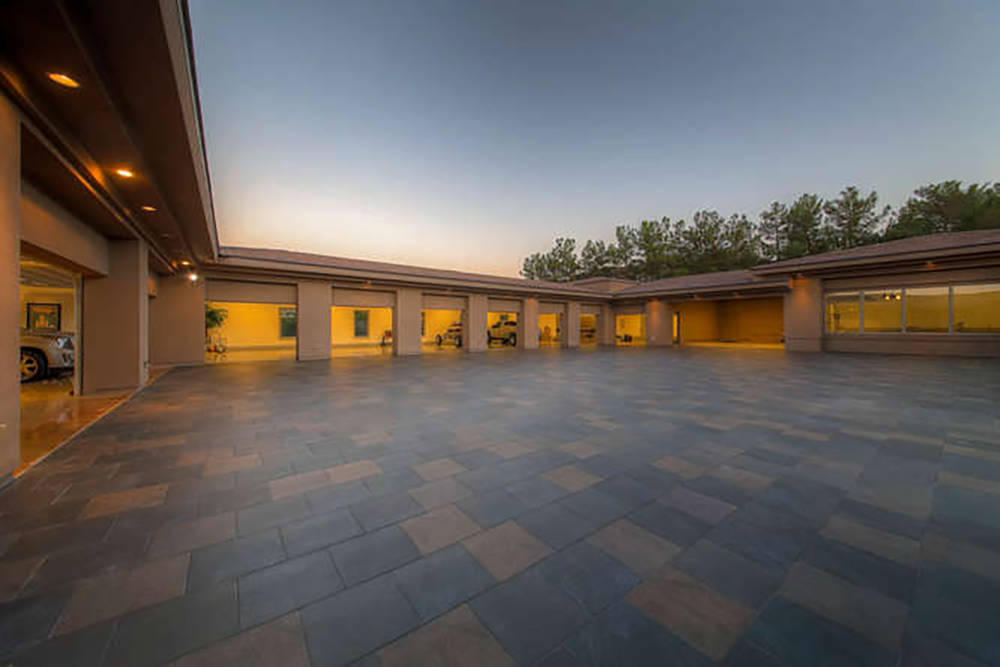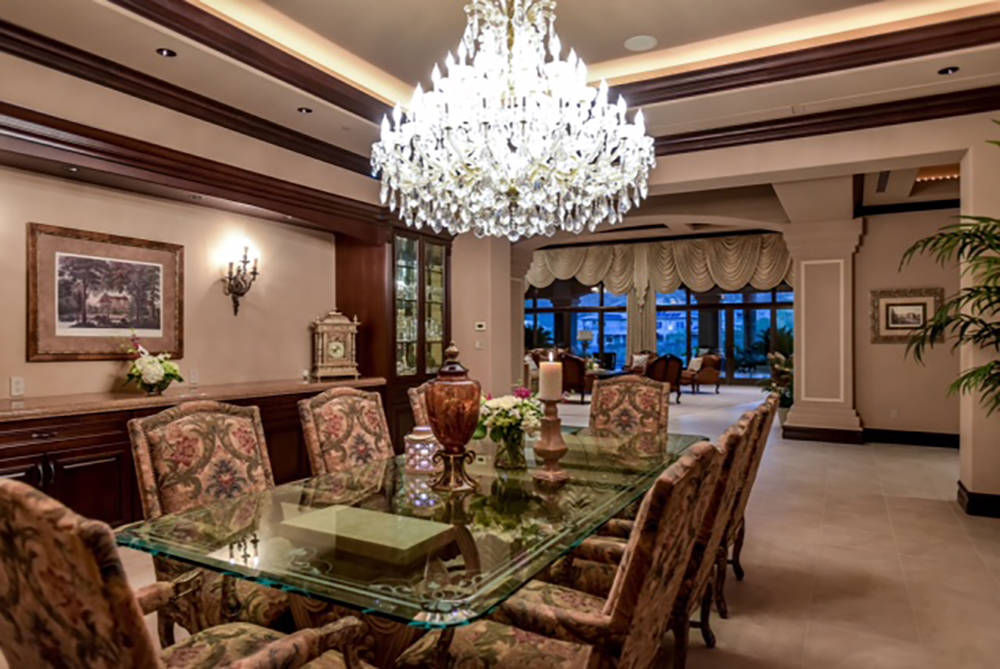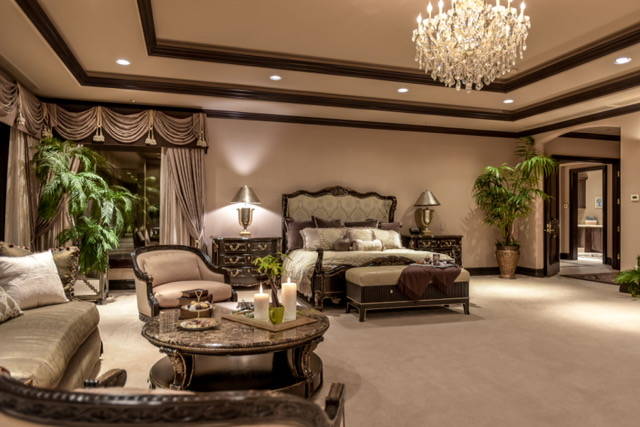 The 23,554-square-foot MacDonald Highland's estate at 1198 MacDonald Ranch is one of the largest one-level residences in the valley.
"There are some single-stories that have a casita that put it over our square footage," said head listing agent, Cindy Albright of Wardley Real Estate. "But this is the largest under one roof (in the Las Vegas Valley)."
The home was built by the late Michael and Betty Foster-Garrett in 2006 and currently is owned by an heir, according to Albright. The Clark County Assessor records show the owner is listed as the Garrett Michael Jeffrey Living Trust. The home is listed for $12.5 million through Wardley Real Estate in Henderson. The price was recently been reduced from $15 million. The massive estate is constructed on more than 2½ acres, encompassing three separate lots on the 18th fairway of the DragonRidge golf course. The sophisticated resort-style retreat is surrounded by lush landscaping to ensure privacy for its residents and guests.
"They loved traveling and stayed in five-star hotels all over the world," Albright said about the couple. Albright became friends with them during construction of their home. "That was the inspiration for the house to give it a resort-type of feel."
Designed by architect Sheldon Colen of SCA Designs, the estate is a masterpiece of craftsmanship featuring granite countertops, imported Italian tile and exquisite crystal chandeliers. According to Albright, the Garretts took a very active role in shaping the overall design.
"They put their hearts and soul into constructing it," Albright said. "They knew exactly what they wanted. Michael literally had it drawn out on paper."
The magnitude of its size is evident immediately upon entering its large double doors. The home's grand foyer spills into a 11-foot wide, over 300-foot long hallway that runs the length of the home finished with imported Italian porcelain tile.
"(The owners') intention was to used motorized apparatus in here," Albright said about the Garretts. "That's why it's such a wide hallway. I believe they tried them but didn't feel it was the right things for inside the house."
The home features two massive master suites, four en suite guest bedrooms, four powder rooms, a 1920s-inspired movie theater, Irish pub, craft room with gift wrapping station, office, spa room and 400-bottle, climate-controlled wine cellar.
Sprawling entertainment spaces flow seamlessly from the center of the home's grand social living room. Rich dark wood and a stone hearth gas fireplace create a rich ambiance.
"It's a very useful floor plan," Albright said. "Most of your entertainment needs are within the front entry area.
"They (the Garretts) liked to do large gatherings," Albright added about the couple's themed gatherings. "They would have all the furnishings moved out and a large dance floor put in."
Rich, dark brown crown molding edges the high-coffered ceilings throughout the main living space and home. According to Albright, there is more than 5,000 square feet of crown molding throughout the home. The home boosts ceilings heights ranging from 12 to 16 feet.
On the far wall of the living room, 50 feet of glass sliding doors open to over 8,000 square feet of covered patio and a 90,000-gallon saltwater infinity-edged pool, spa and swim-up bar. The home's massive lot offers diverse entertaining areas including a bird sanctuary and grassy areas to host outdoor activities.
"On the patio, they would set up different food and drink stations with big ice sculptures," Albright added about the couple's parties, which could exceed 400 guests. "Later in the night, they'd have a dance floor set up on the lawn out back and have a band brought in."
The European-themed gourmet kitchen is clad with premium finishes and dual professional-grade appliances.
"There's two of everything in here," Albright said. "The kitchen was created for entertaining."
The kitchen's granite counters complement its dark wood cabinetry. A separate eating nook offers views of the outdoor living space.
A Butler's pantry behind the kitchen has additional prepping space and professional appliances. Across the hall is an elegant formal dining room complete with an exquisite crystal chandelier and dark wood built-ins.
Two of the four powder rooms are located right off the main living area. These lavatories are decorated with gender-inspired touches offering a separate his and hers themed room.
A mini Hollywood star walk of fame leads to two leather paneled doors in the foyer of the 12-seat, three-tiered movie theater. The roaring 1920s are captured through vintage lace-lined walls and a red velvet curtain drawn across the movie screen that opens automatically when the movie starts. Red leather reclining seats, rich surround-sound capability and dual movie screen sizes emulate the Hollywood movie going experience.
"They really wanted the old Hollywood feel," Albright said.
The Garretts, who Albright said had a whimsical side, showcased several humorous items throughout the home. One such item was a fake ticket booth outside the theater with "Fifi," the ticket taker wearing period dress. Another piece is a full-sized monk holding a wine bottle in the wine cellar.
"They were very fun people," Albright said. "Such great senses of humor."
The 1,350-square-foot Irish pub across from the theater features a 25-foot granite bar with ice maker, refrigerator and beer tap. Its rock fireplace, beveled wood ceilings and cross beams, hand-scraped walnut wood floor and gas-fired lamps capture the Irish appeal.
"The level of detail in this home is incredible," Matt Meyer, co-listing agent for the property said pointing to the gas lamps. "Like the gas lanterns in here. You don't see that very often."
The pub's 8-foot-by-10-foot, walk-in cooler has extra storage for large gatherings. Views of the golf course are accessed through large sliding glass doors onto a secluded pub patio. An exterior stone fireplace offers pub-goers an intimate setting as well as a pool table for playful competition.
"They played a lot of games in here," Albright said about the pub. "They would play Canasta every Thursday. They played other games like Mexican trains, rummy, poker and bingo.
"Also, they would set up rubberized bowling pins in the hallway," Albright added. "And we would have bowling tournaments here."
Each of the four private ensuite bedrooms has its own themed décor and offer large, walk-in closets and resort-style baths. Custom-dyed carpet, motorized drapery treatments with blackout shades, imported Italian tiles and Caesarstone countertops complete the design.
Two luxurious master suites flank the home, measuring more than 2,000 square feet. Large laundry rooms are accessible from both masters.
The north side master offers a separate sitting room and the south room has a custom bar.
"The master is as big as most people's houses," Albright said. "If you want to stay lost for a while you can."
Both masters offer a kitchenette, gas fireplace, large walk-in closets with extensive built-ins and spa-like baths, featuring jetted tubs, dual mirror vanities and exquisite finishes.
Natural light flows into the master steam showers through a large, glass window, showcasing views of the home's lush grounds.
"It's really very private," Albright said about the shower.
The south end boosts a 6,200-square-foot, climate-controlled, motor court that can house 11 cars garage with two separate mechanic's work areas, detail bay and a 1,430-square-foot recreational vehicle garage. A motor court foyer displays gangster-styled decor.
"This is the manly side of the house," Albright said. "The detail in this area is like the interior of the home with artwork niche's and molding."
The home living environment is regulated by two interior mechanical rooms. It also features two saltwater systems, ice machine, integrated sound system, video surveillance security system and motorized window treatments. Creston home system controls all the functions of the home, including security, sound, lighting, theater, media and window treatments. All the window and door glass are treated with Sunglass for energy-efficiency.
Meyer said they are marketing the property to several different demographics including families, multigenerational and corporations as a possible resort.
"It would be hard to replicate a home like this today," Meyer said. "To have this much acreage and to build it in this style where it's still functional."
According to Albright, there are only eight properties on the market listed above $10 million dollars.
"The economy is very good right now," Albright said. "Especially for high-net individuals. The good news for the Las Vegas Valley both for luxury and general real estate is that our economy is becoming more diversified."
Other amenities for MacDonald Highlands include a 24-hour, manned guarded-gate secure community and views of the valley. Homeowners can purchase a membership to the DragonRidge Country Club, which offers golf, tennis, heated pool and fitness room.
About the estate
Price: $12.5 million
Location: 1198 MacDonald Ranch in the MacDonald Highlands community, Henderson
Size: 2½ acres, 23,554 square feet, two 2,000-square-foot master suites, four en suite guest bedrooms, 10 baths
Features: A 1920s Hollywood-themed, 12-seat theater; 1,350-square-foot Irish pub with 25-foot granite-topped bar, walnut wood flooring; spa room with massage table; hair and nail station; imported Italian porcelain flooring; three gas and two electric fireplaces; Creston home system for security and controlling functions of the home; integrated sound system; and video surveillance security system. Outside is 90,000-gallon infinity-edged pool, spa, swim-up bar; over 7,100 square feet of covered patio, lush landscaping. The climate-controlled 6,200-square-foot garage court has room for 11 vehicles, a mechanic's work areas, detail bay and 1,430-square-foot RV suite.
Listing: Cindy Albright and Matt Meyer, Wardley Real Estate, Henderson