Off-the-grid cabin lists for $1.2M
August 11, 2023 - 10:35 am
Updated August 14, 2023 - 9:11 am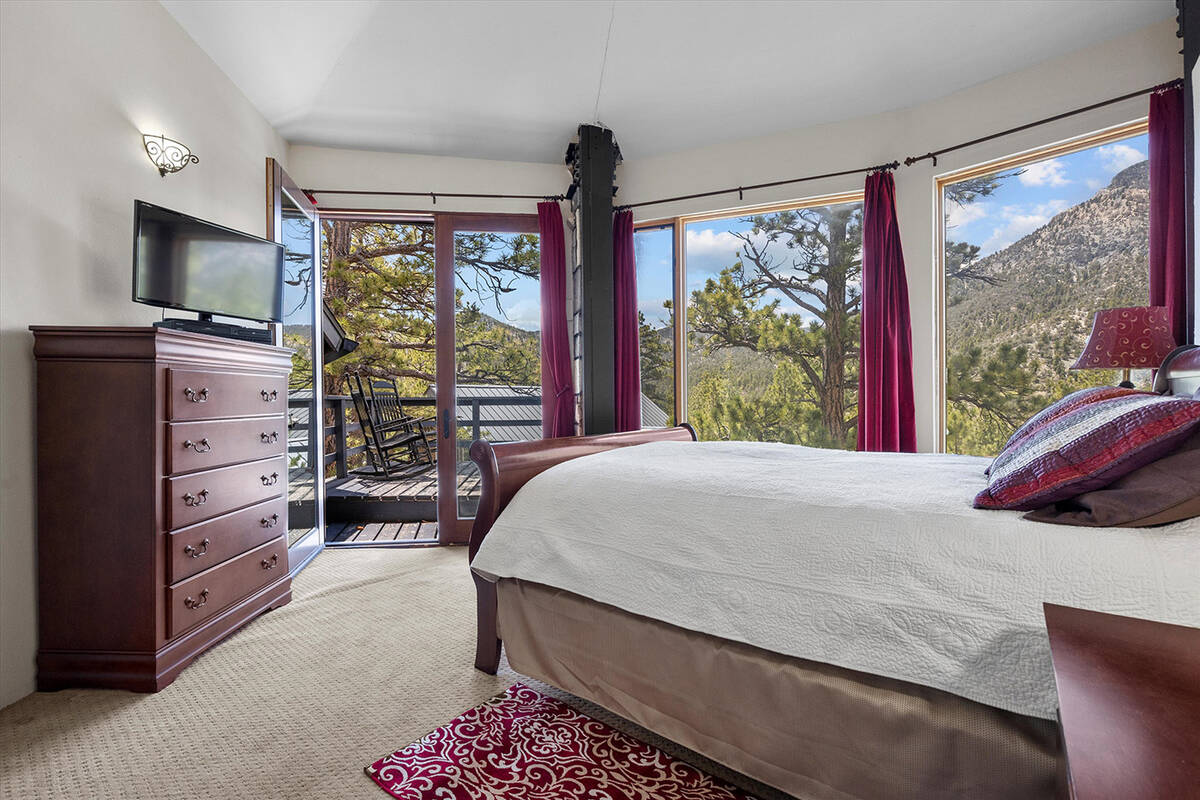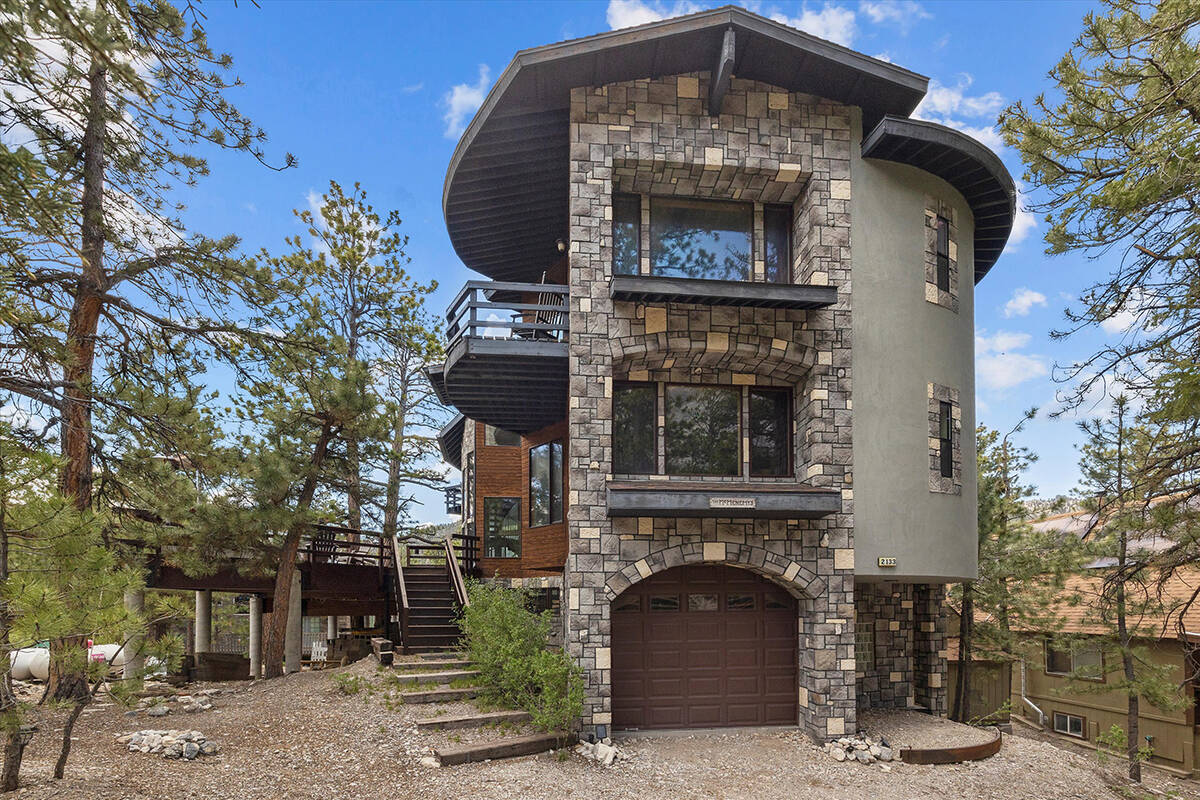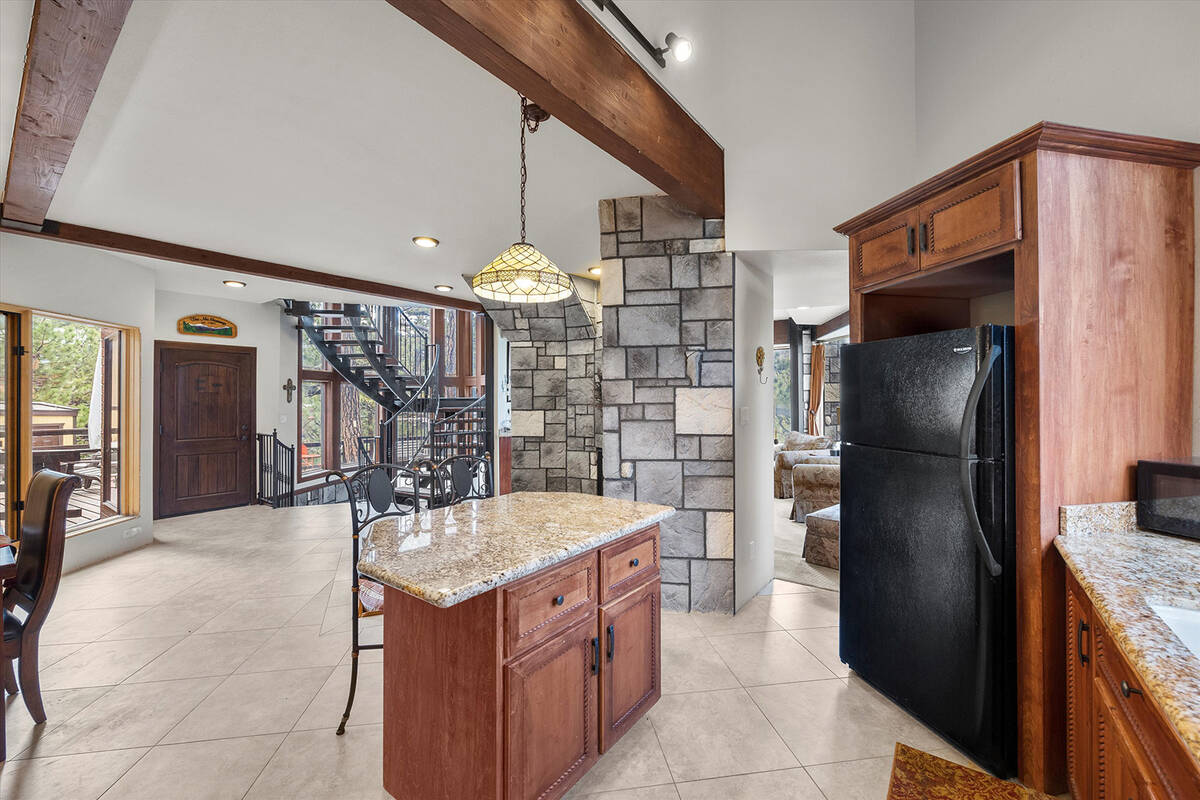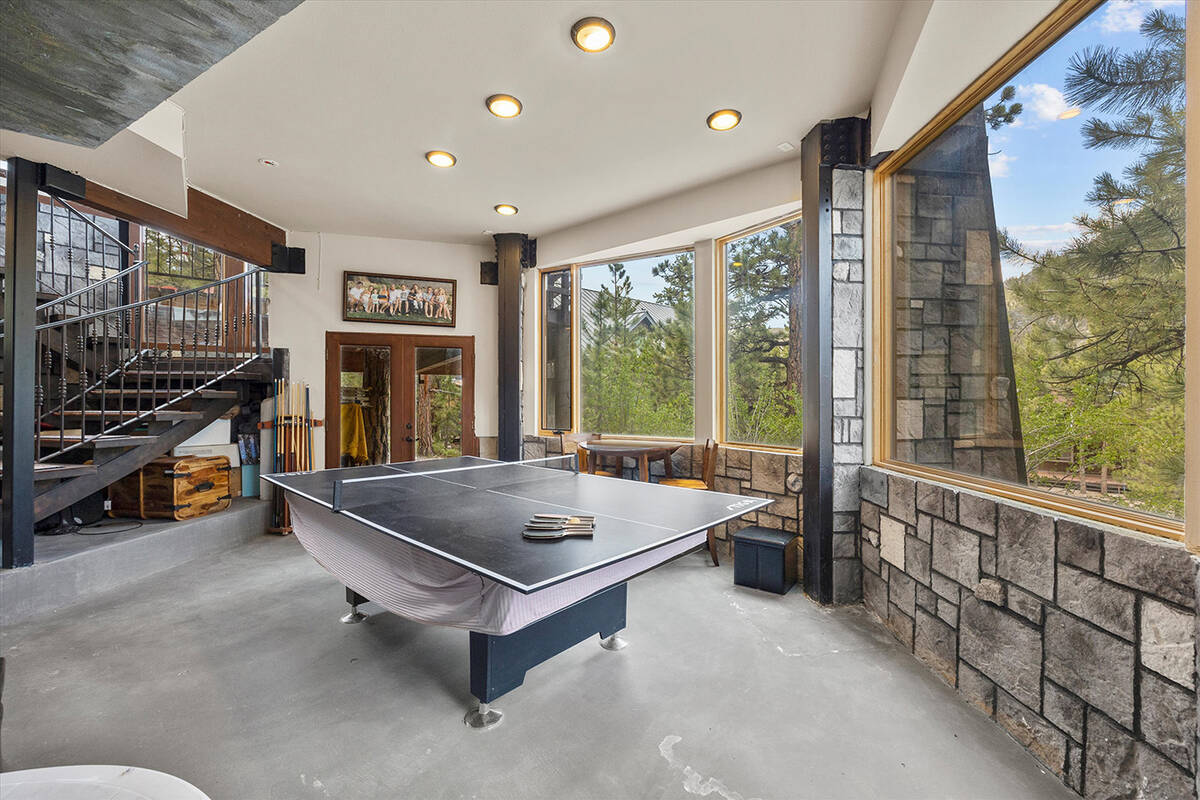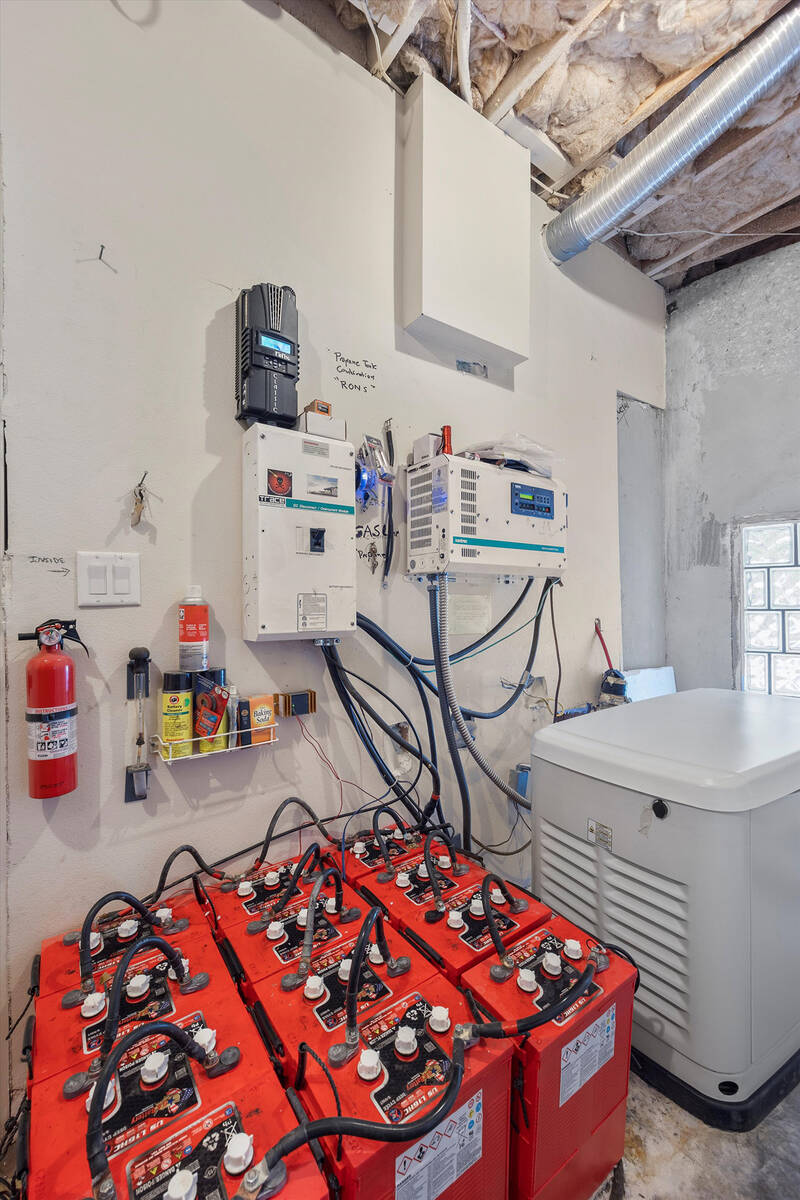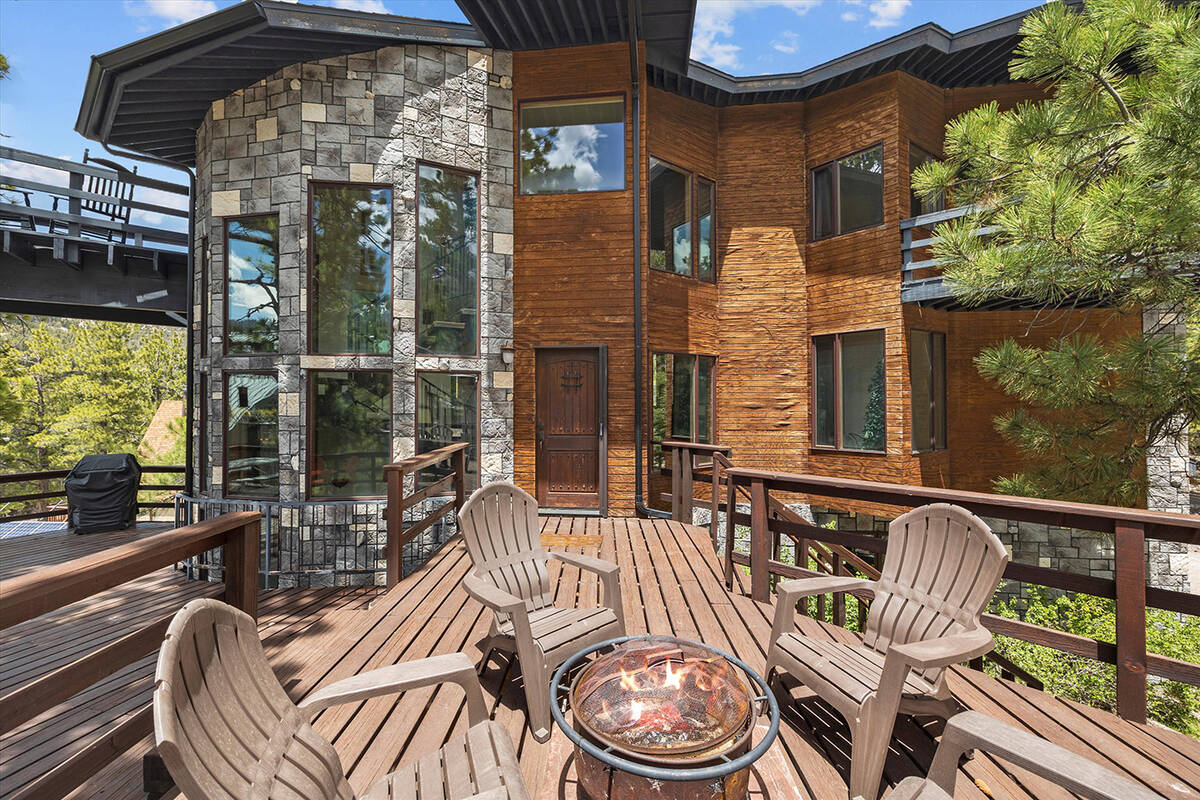 When the thermometer shows triple digits, the temptation of escaping to a cooler climate grows. Fortunately, you don't have to go far to find relief. High above the Las Vegas Valley is a custom three-level sanctuary offering a serene refreshing mountain getaway.
The home — powered by solar, propane and a Generac generator — is a self-sustainable, off-the-grid property that provides all the conveniences of home.
Located at 2133 Via Vita St. in Lee Canyon, the premier 0.24-acre double lot is nestled amidst a stunning pine backdrop at more than 8,000 feet in elevation. It boasts panoramic views of Toiyabe National Forest's Mummy Mountain and The Three Sisters.
Found within the gated Camp Lady of the Snows subdivision in Lee Canyon on Mount Charleston, just minutes from Lee Canyon resort, the cabin lists for $1.2 million through Kaitlin Corr, listing agent with Mt. Charleston Realty Inc.
Custom-designed and built by the late Ron and Judy McMenemy, the 2,725-square-foot home features four bedrooms, including an upper-level primary suite, three baths, a lower-level game room, multidecks with spectacular views of the surrounding landscape and a rare one-car attached garage.
"Possessing a garage in a four-season environment such as Mount Charleston is a premium feature," Corr said. "Additionally, with no on-street parking allowed on the mountain, this home can comfortably accommodate multiple vehicles using the garage and the front driveway and back lot as an overflow parking area."
The couple lived in Las Vegas for more than 35 years. Ron founded McMenemy Investment Services, a full-service commercial real estate firm. Judy worked for Southwest Airlines. Her perfect attendance earned her the title of Mrs. Southwest. In addition to their careers, they owned several businesses, including The Tilted Kilt, The Lighthouse Restaurant and The Frog Lodge.
Before their deaths (Judy in July 2021 and Ron in May 2022), the couple began work on the trendy 1970s-themed Square Bar in New Orleans Square. The bar opened last May with their daughter, Chelsey McMenemy Kelly, managing the business.
Kelly also followed in her father's footsteps working in property management. She credits learning the business from her dad, working alongside him as his assistant for many years, starting at age 14.
According to Kelly, her parents chose to build on Mount Charleston because they both loved the snow, having grown up in the Midwest. They met in high school, married and moved to Las Vegas in 1981.
The couple chose Lee Canyon's exclusive gated subdivision because it comprised solely off-the-grid properties. It features 75 parcels with 47 sustainable homes and 28 vacant lots.
"They loved the snow but didn't love living in it, so having a place they could go to part time was better," Kelly said. "And they liked the idea of unplugging and enjoying nature."
Kelly remembers visiting her parents when they were building the cabin in 2009 while she was attending UNR. It was completed in 2010.
"I would come up here and my dad had a trailer on the back lot," Kelly said. "He could work from anywhere, so he lived up here while it was being built. My mom would join him on weekends."
The cabin's uniquely shaped structure mirrors the tree line of the property. The couple designed the property within the open space allocated between the pine trees, apart from one large pine tree, which Ron built the deck around. The exterior elevation showcases curved walls and a mix of wood and stone facade.
The cabin's structure is supported using oversized wood beams. Kelly recalled watching the flatbed truck carrying the sizable beams travel up the narrow dirt road, navigating it very slowly.
"They're monstrous beams," she said. "We had multiple cranes that laid them into the structure. It was fascinating to watch."
The McMenemy's dream home offers the perfect blend of seclusion, nature and spectacular mountain views. Judy designed an inviting interior integrating wood, metal and stone elements. One striking design feature is the exposed wood beams throughout the interior, creating a warm ambiance.
The main level showcases neutral stone flooring, a cozy dual-sided fireplace, rich wood accents and large picture windows to capture views from every room.
Judy blended rich colors — grays, creams, browns and burnt oranges — using comfortable furnishings and décor. The couple incorporated personal touches, such as using stones from the property into the fireplace's stone surround.
"My mom loved picking out the colors and designing the cabin," Kelly said. "She wanted it to be comfortable, warm and welcoming."
A custom curved floating staircase with an iron railing and hardwood steps greets guests upon entering. The staircase is one of Kelly's favorite features in the home.
She recalled spending countless days at the cabin enjoying time with her family and friends. She and her two brothers — Dustin and Ian — would play games in the sunken seating area, right off the kitchen and formal dining space. The big open room offers space for the family to gather.
The stylish kitchen boasts a central island with granite countertops, custom cabinetry and black appliances, including a refrigerator, dishwasher and double ovens — all powered by propane.
"We spent several holidays at the cabin," Kelly said. "Christmas is my favorite. Like the movie "Christmas Story," you wake up and there is snow outside and you get to jump in it."
One of her favorite places is the "bunk room," a guest room where she recounts spending many hours with her best friends giggling through the night.
Another unique place is the primary bathtub — especially during a snowstorm. The picture window above the tub captures the falling snow and stunning views.
The cabin's multiple decks capture panoramic views of the surrounding pine forest backdrop. A deck off the primary bedroom provides a private hideaway to take in the fresh mountain air.
Kelly stated that one of the best spaces was the oversized main deck featuring a firepit and space for entertaining guests. It became a place to relax after a long day of hiking, sledding or skiing.
"I loved sitting out there with my parents," Kelly said. "Catch some sun and at night, have a bonfire and roast some marshmallows and hot dogs. We would hang out and enjoy our time together."
The property's adjacent vacant lot offers space to entertain or use for additional parking. The home is on a community well and sold fully furnished.
"We want to find someone who will love the cabin as much as we did," Kelly said. "And enjoy the memories we had."
Lee Canyon Ski Resort is a year-round destination with hiking, mountain biking, skiing and gondola rides. Mountain Capital Partners, Southwest's largest ski resort management company, purchased the resort earlier this year. MCP owns and operates several properties, including Brian Head Resort in Utah, Hesperus Ski Area in Colorado and Arizona Snowbowl. Lee Canyon will join MCP's Power Pass, allowing access to all MCP properties with one single pass. According to a news release, MCP has invested over $75 million in its resorts with plans to make capital improvements to Lee Canyon that will be announced later.
About the Cabin
Price: $1.2 million
Location: 2133 Via Vita St., within the gated Camp Lady of the Snows subdivision in Lee Canyon, Mount Charleston.
Size: 2,725 square feet, four bedrooms including an upper-level private primary bedroom with private deck, three baths including a primary bath with soaking tub; one-car attached garage. The home is on two adjacent lots totaling 0.24 acres.
Features: A custom three-story off-the-grid cabin featuring unique turret-shaped architecture; views of Mummy Mountain and The Three Sisters through large picture windows, minutes away from Lee Canyon Resort; chef's kitchen with granite counters, central island and custom cabinetry, formal dining, living room with sunken sitting area and floor-to-ceiling stacked stone surround fireplace; game room; custom iron spiral staircase with hardwood step; stone tile flooring throughout; exposed wood beamed ceiling; multiple view exterior decks; powered by solar panels, Generac generator, inverter and batteries; sold furnished.
HOA: $116/month
Listing: Kaitlin Corr, Mt. Charleston Realty