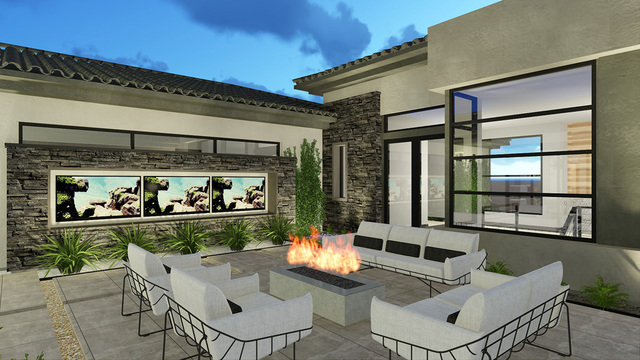 The lack of a state tax is fueling entrepreneurs to relocate to Las Vegas and build luxury custom homes.
These business owners already might have offices in Las Vegas or are opening one or simply setting up their primary residence in Southern Nevada while keeping their offices elsewhere, according to a builder and a banker who are following the trend.
Damien Bauman, senior mortgage lender for residential construction with Nevada State Bank, said 25 percent of business today is with those business people relocating from out of state, more than 80 percent from California.
That includes many self-employed from doctors to business owners and even investors, Bauman said. There are some who've retired and others are high-end executives who work for companies, he said.
"The reoccurring theme that pops up in why are you coming out to Nevada, and it seems that are state tax structure is much more favorable than California," Bauman said. "We do have clients that are coming in other states as well, but California is more prevalent than other states."
The state's tax savings are enough to either subsidize or cover much of their mortgage payments, Bauman said.
Tyler Jones, the owner of luxury homebuilder Blue Heron, said he is amazed that 50 percent of his clients fall into that category of entrepreneurs who have recently located to Las Vegas or are in the process of moving.
"Some of those are retired and wrapped up their business and are now moving here, but the majority of that group who still have active businesses and now doing their thing from Las Vegas," Jones said.
The bulk of clients are from California, but Jones said there are those from Texas, Georgia, Minnesota, Ohio, Arizona, Illinois and Oregon.
Some are moving their businesses to Southern Nevada while others are keeping their operations in their existing state but moving their primary residence here, Jones said.
"What's motivating a lot of these entrepreneurs is personal reasons to move to Las Vegas in terms of taxes, the climate, the Strip and amenities like restaurants — all the reasons people move to Las Vegas — but taxes is a big driver for the entrepreneurial crowd."
Bauman said this group can take the proceeds of a home they sell in another state and upgrade. A $2 million home in Southern California won't be as upscale and as large as one for the same price in Las Vegas, he said.
Many aren't interested, however, in buying resales. They want to build their own dream house, Bauman said.
"When you look our real estate market, there are significant amount of people who say we shopped for a year to 18 months and we just can't find what we want at that price point," Bauman said. "When you look cost per square foot for resale or new construction, they're close enough so that you can pay roughly the same to build your house rather than go buy someone else's custom home. As long as you are willing to manage that construction time frame of actually building the homes, in a lot of cases, it makes sense to build your own home."
Bauman said the bulk of what he is seeing for projects is between $1.5 million to $2.5 million, including the cost of the lot. The custom homes have ranged in size from a low of 3,500 square feet to exceeding 10,000 square feet, he said.
The entrepreneurs are choosing Henderson and developments such as Ascaya and MacDonald Highlands and rural areas on College Drive on the way to Boulder City, Bauman said. Other areas include the rural area along Lone Mountain Drive, Southern Highlands and Summerlin, including The Ridges and The Summit Club under development, he said.
Jones said most people start a search to buy something already built but decide they don't want someone else's home and prefer one that's "special and cutting edge" — a home they need to design and build from the ground up.
In some cases, they can build a home for less than it would on the resale side, Jones said. Some homes Blue Heron is building are just under $1 million — pre-designed custom homes of 3,500 square feet. The most expensive is a $15 million home for an entrepreneur from Southern California with a nationwide business and an office locally.
That 25,000-square-foot home under construction is in MacDonald Highlands. Jones said his design manager recently returned from Italy and visited shows and scouted quarries to find materials no one has built with in Las Vegas.
The home will have 10 bedrooms and eight-car garage on the 3-acre parcel that will resemble an estate compound. It will have Strip and golf course views.
The pool will have an entry courtyard with a water wall reflection area. From the home, people can look across the water to a city view, Jones said.
The pool area has a sunken fire pit in which people enter by going over a bridge. The pool has an L-shape and runs the length of the house and wraps around one corner, he said.
The media room has curtains that open to the pool and city views. The upstairs bar has a loft with city views too, he said. It allows the owner to easily entertain 500 people, he said.