Palms Place penthouse lists for $2.5 million
August 31, 2020 - 8:47 am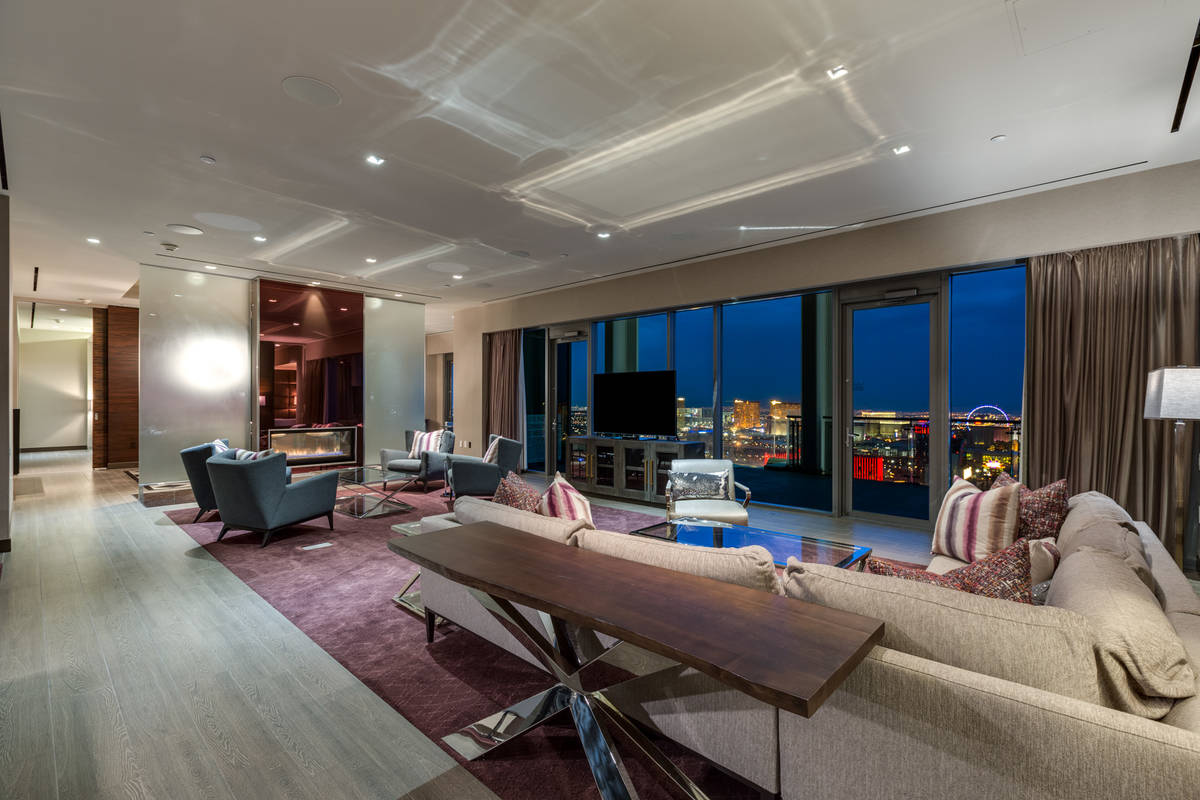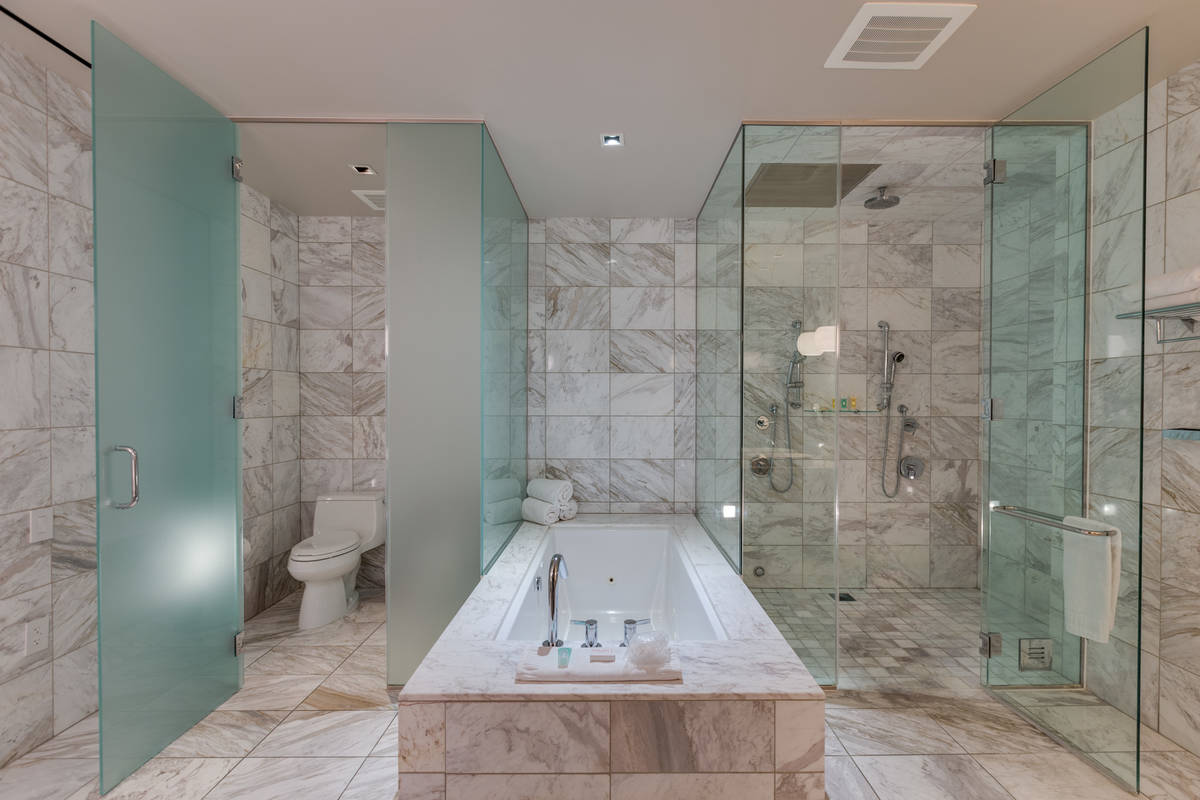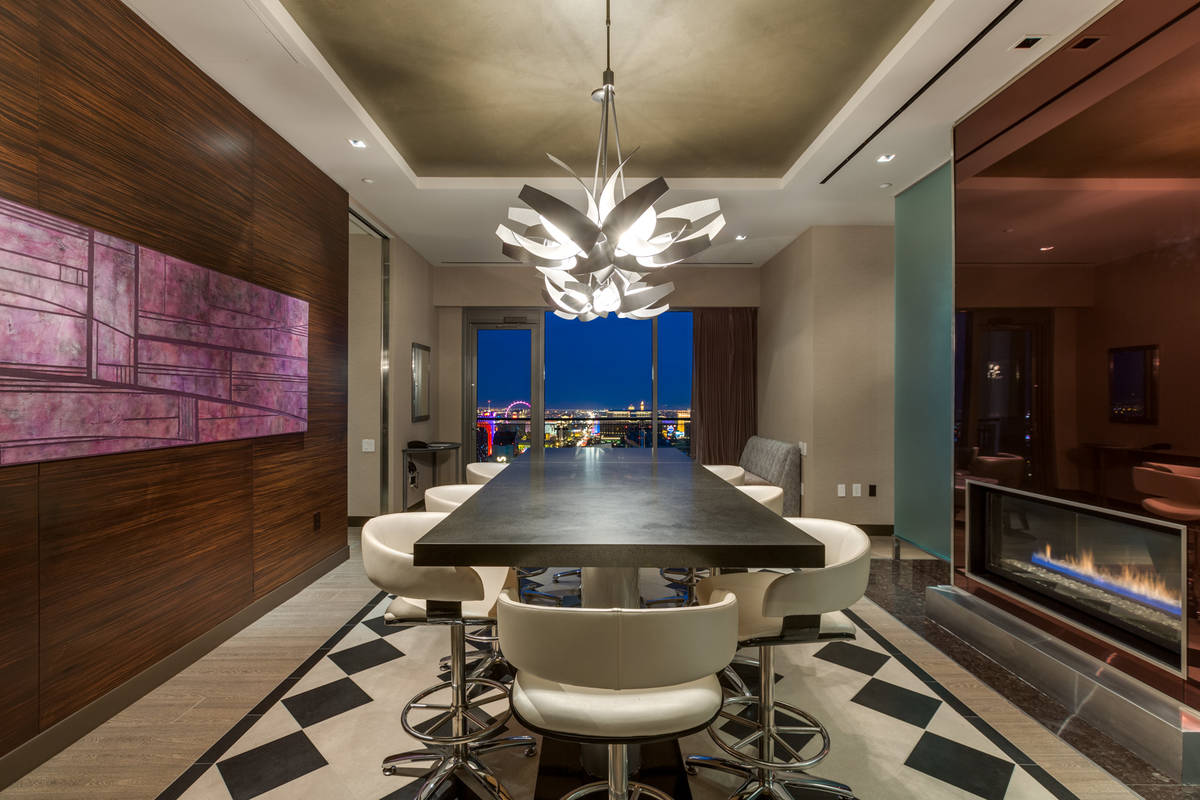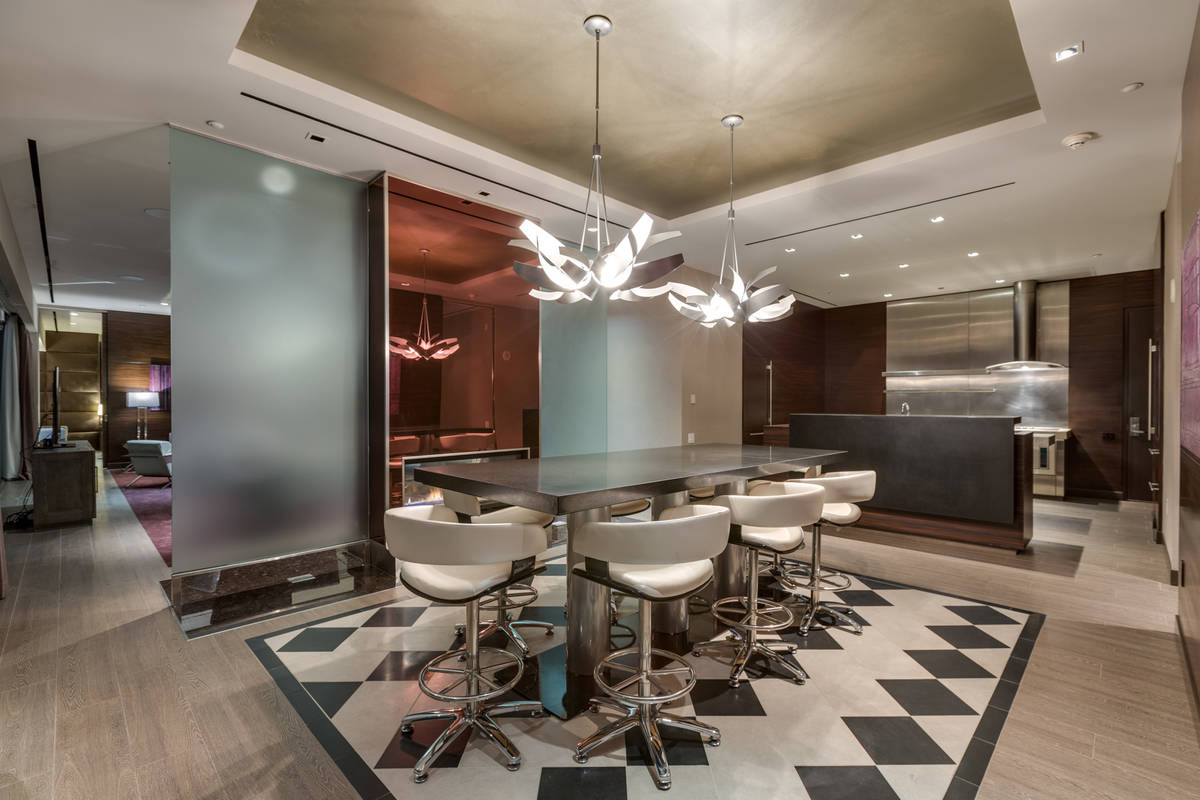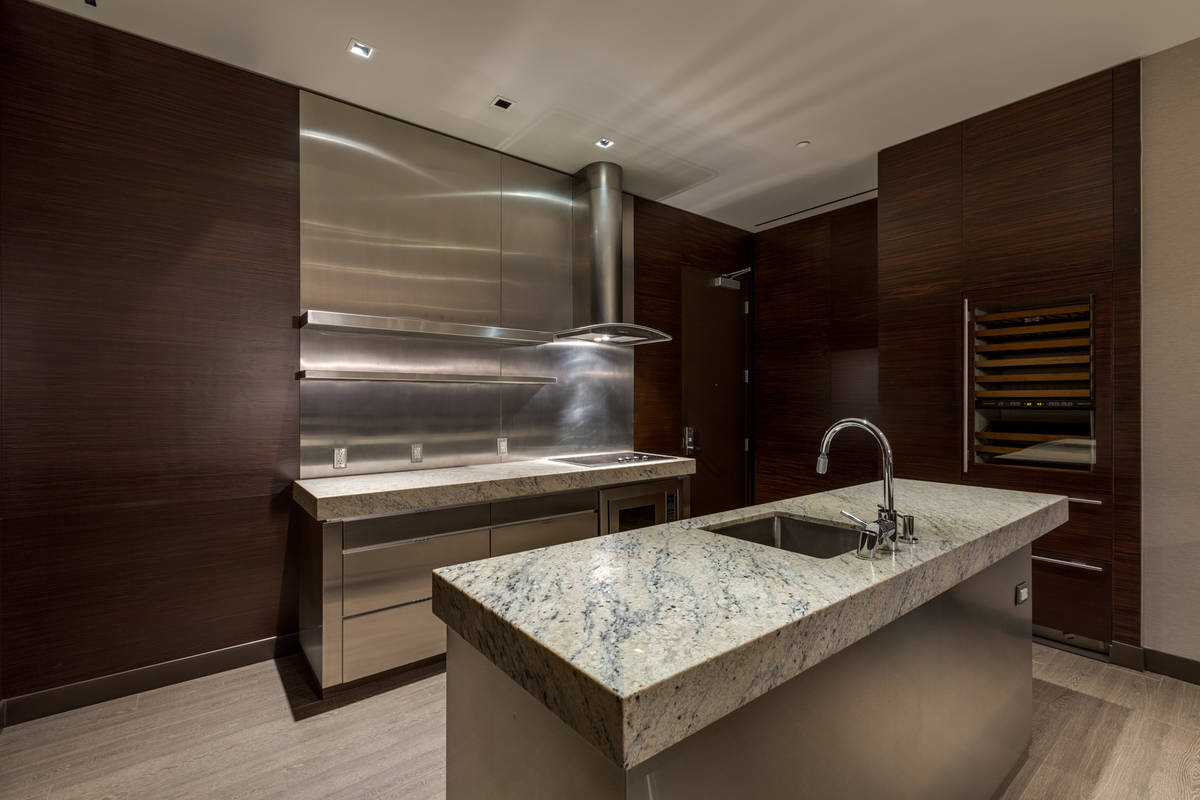 The COVID-19 crisis has disrupted many high-rise owners and their lifestyles. However, a Palms Place penthouse that recently listed for $2.5 million has most of its lifestyle amenities open.
The top-floor suite's incredible views, best enjoyed from its private terrace infinity-edge spa, overlooks the Las Vegas Strip and surrounding landscape.
"This unit is one of a kind. There is nothing like it in town with this type of layout and panoramic views," said Luxury Estates International broker and Realtor Ellie Shefler, who also lives in a Palms Place unit. "The best way to describe it is you feel like you're on vacation every day."
According to Shefler, tower amenities have been open during most of the COVID-19 crisis, including the fitness center, pool, cabanas, pool bar, 24-hour security and front desk service. The Drift spa, restaurants, valet service and the casino and hotel are temporarily closed.
"Gov. (Steve) Sisolak's order to close Nevada's nonessential businesses has caused temporary amenity closures at Palms Place," said Shefler, who is the listing agent for the property, which is offered privately and not listed on the Multiple Listing Service.
Unit 58304 is a copious 3,300-square-foot residence at 4381 W. Flamingo Road. The sophisticated, contemporary floor plan is highlighted by its voluminous 11-foot ceilings, wood grain tile flooring, wood veneer walls and exquisite warm finishes. Wood veneer pocket doors allow the option of either enhancing the spacious unit's openness or creating a private retreat.
"There are pocket doors for each master bedroom," Shefler said. "You can tuck the doors in the wall for open space or close both for complete privacy."
Floor-to-ceiling glass window walls border the entire space, drawing the eye outward to the incredible skyline.
"The views are magnificent," Shefler said. "Arguably the best in town. It's a panoramic view set back 1.5 miles west of the Strip. It spans from downtown all the way to the M Resort — including T-Mobile Arena the Allegiant Raiders Stadium."
Enhancing the unit's visual experience is a 981-square-foot exterior private terrace, complete with the infinity-edge spa. The oversized tiled terrace runs the entire length of the unit. The stunning spa, bordered by clear Plexiglas, provides the incredible experience of sitting over the city as it extends past the roofline.
"You're pretty much 48 stories in the sky," Shefler said. "The private spa sticks out about 5 feet from the balcony. When you're looking down, there is nothing beneath you."
The expansive main living area offers ample space for hosting large gatherings. Shefler estimates it can host over 60 guests.
The current main living room setup divides the space in half with a game room on one side and a comfortable seating area on the other. The open main living area flows into the gourmet kitchen and formal dining area.
The refined gourmet kitchen features double islands with upgraded granite counters. Projecting a clean aesthetic, the kitchen features professional-grade appliances, flush wood veneer cabinetry and a temperature-controlled wine refrigerator. The current owner is in the process of renovating the kitchen including the installation of new appliances and wood veneer cabinetry.
The formal dining area seats up to eight with a stunning, direct view of the Strip. Dual contemporary white chandeliers provide a striking focal point as they extend down from the coffered ceiling.
Dividing the dining and main living area, the dual-sided gas fireplace and frosted-glass surround add to the inviting ambiance.
"You can see the fireplace from the dining or living room," Shefler said. "Both sides of the fireplace are frosted glass and the fireplace itself is like stained glass."
Two large master suites showcase contemporary elegance. Flanking each side of the rectangular unit, the bedroom retreats feature floor-to-ceiling windows with stunning views, walk-in closets with built-ins and automatic blackout shades.
The spa-like master baths boast walk-in showers, Jacuzzi tubs and double vanities. Walls of continuous marble stone enhance the luxurious baths as they encase the entire rooms and travel seamlessly into the showers and tub surround. One difference between the two master baths is the walk-in steam shower in the main bedroom.
"Not a lot of units have steam showers," Shefler said. "That makes this bath unique."
The fully furnished penthouse suite makes it a turnkey residence with recently reupholstered furniture, pool table, automatic window coverings and integrated Sonos sound system.
With only two different owners over the past 12 years, the current owner wasn't looking to sell until approached by Shefler to privately list.
"These units are so rare," Shefler said. "They hardly come onto the market. In fact, it's so rare it's not going to be on the MLS."
Built in 2006, Palms Place features 599 units and was the third tower to be built by the Maloof family. Providing easy access to all the area's attractions, the tower is unique as it's a boutique hotel with units under private ownership.
"It's a residential tower with hotel amenities," Shefler said. "All the amenities are included as an owner at Palms Place."
Designed as a hotel, it also offers unique ways for owners to generate revenue. According to Shefler, an owner can either participate in the hotel rental program, which is a 50/50 split for the hotel to manage the unit or the owners can do it themselves.
"There are so many ways that you could enjoy the unit," Shefler said, "and generate some income while not occupying it."
The tower's amenities include staffed front desk service, 24-hour roaming security, room key access to elevators, unlimited garage parking, personal concierge, exterior pool with cabanas, and free fitness and spa memberships. The on-site fitness center offers a variety of equipment including ellipticals, Stairmaster, treadmills, Smith machines and free weights.
Valet service and free limo rides, which are typically available to residents, are temporarily unavailable due to COVID-19.
The resort-style Drift spa, which is temporarily closed, features separate men's and women's steaming whirlpools, cold plunges and a Turkish-style hammam.
"There are only two in town," Shefler said about the hammam. "It's an oversized steam shower. It's really nice."
The tower is connected to the Palms Resort, which is currently closed due to COVID-19, through an indoor sky tube providing easy access to the hotel's amenities, which include restaurants, nightclubs and the pool. Owners receive a 20 percent discount to all Palms and Palms Place restaurants/bars and spa services with an owner's card.
Price: $2.5 million
Location: Palms Place, 4381 W. Flamingo Road, Unit 58304
Size: 3,300 square foot, two en suite master bedrooms with private baths and walk-in closets. Master baths feature walk-in showers, Jacuzzi tubs and dual vanities. The main master bath features a steam shower.
Features: Exclusive top-floor penthouse unit with unobstructed views from downtown to the M Resort, exterior private tiled terrace with infinity-edge spa, views and access to the exterior terrace from every room, floor-to-ceiling windows, 11-foot ceilings, wood-grained porcelain tile, wood veneer walls, dual kitchen islands, granite counters, wood veneer hidden cabinetry, professional-grade appliances, temperature-controlled wine refrigerator and beverage refrigerators, formal dining area, automated blinds, marble tile, dual-sided fireplace, Sonos surround system, fully furnished.
HOA fees: $3,100/month, which includes water, sewer, garbage, power, cable, internet and gym/spa membership.
Listing: Ellie Shefler, Luxury Estates International.