'Property Brothers' choose Las Vegas for dream home —PHOTOS
January 13, 2015 - 11:59 am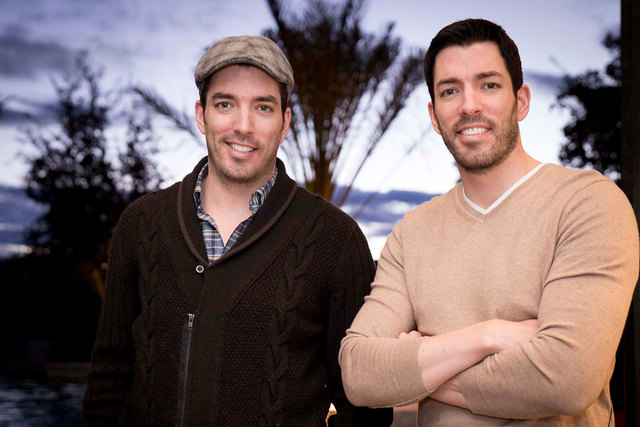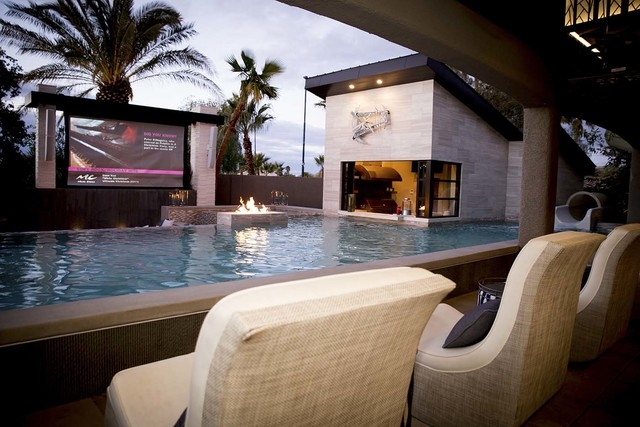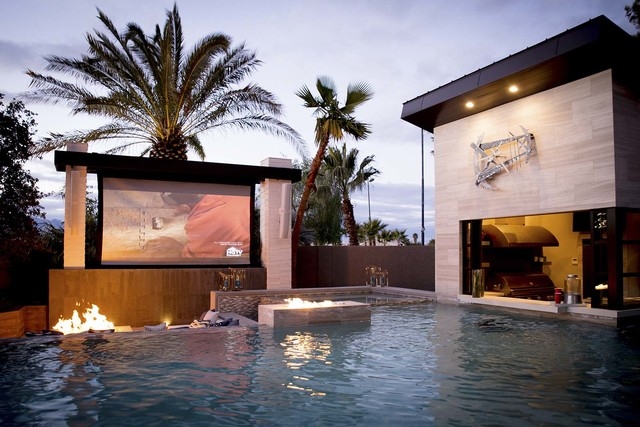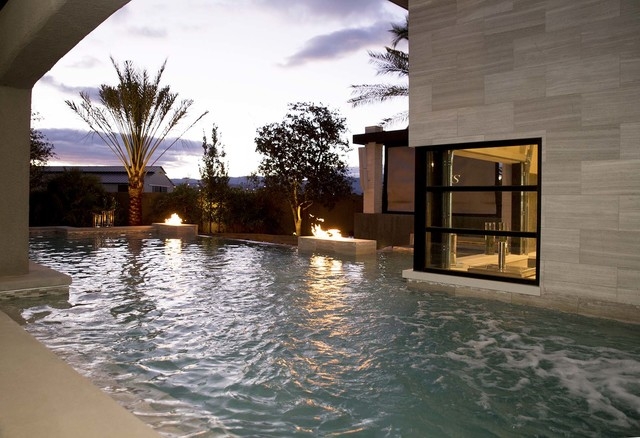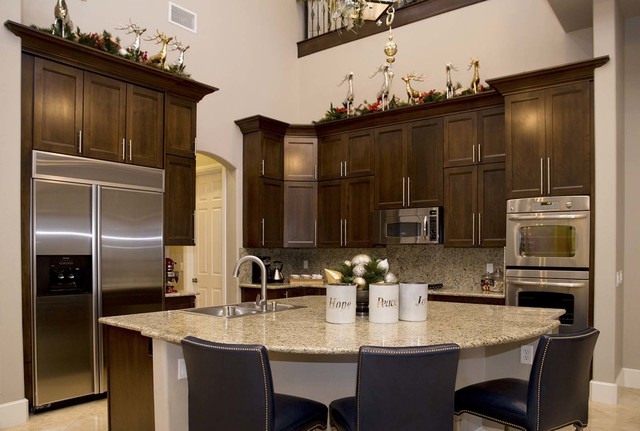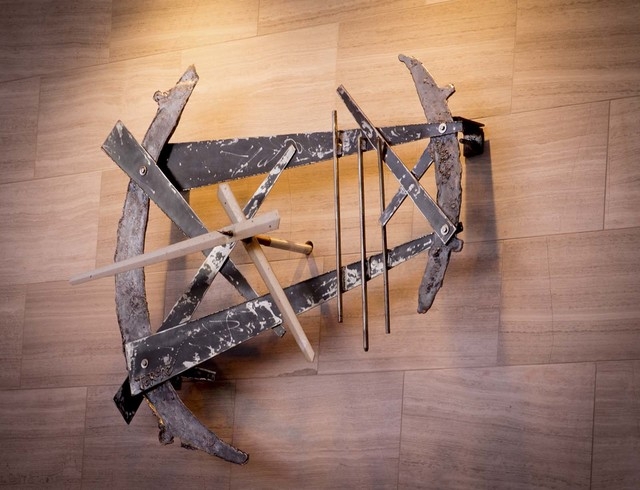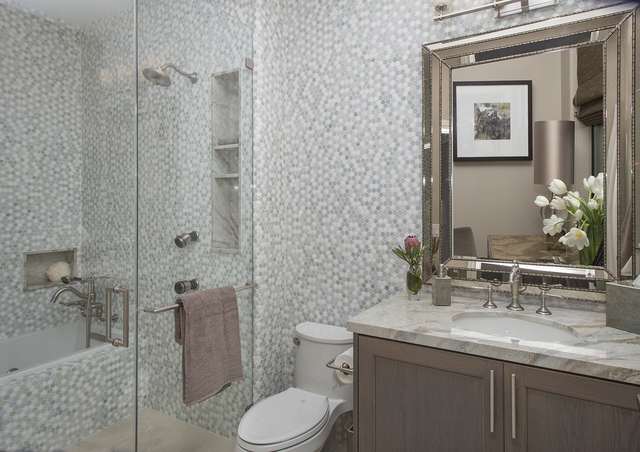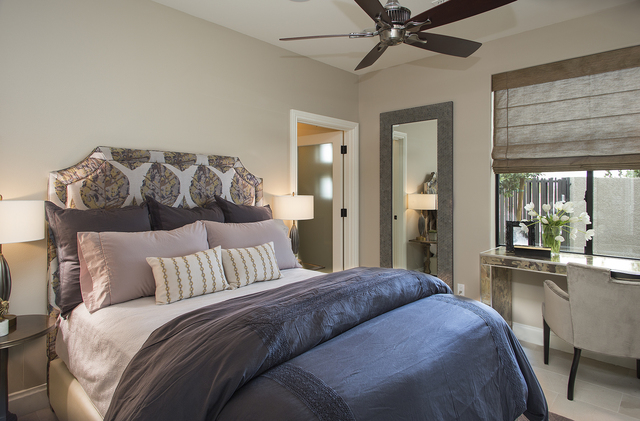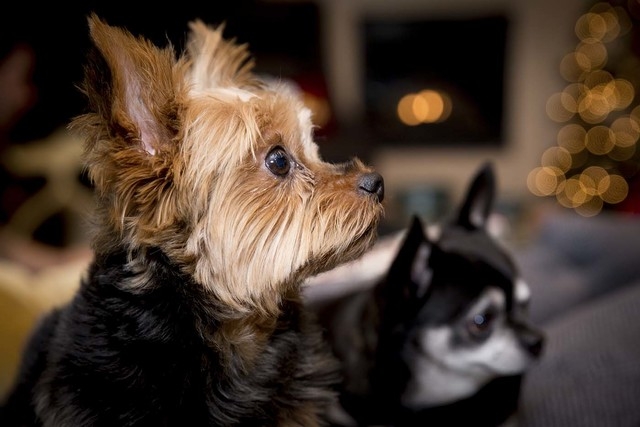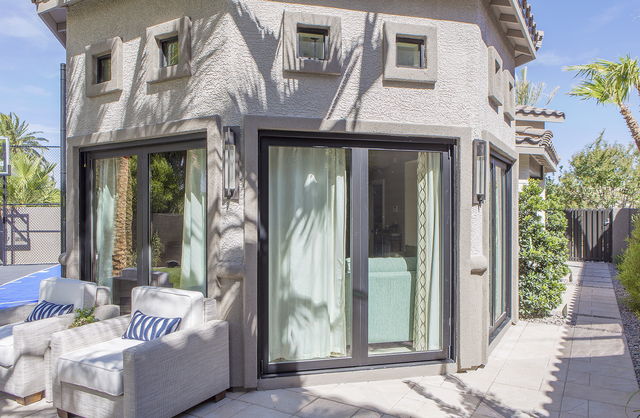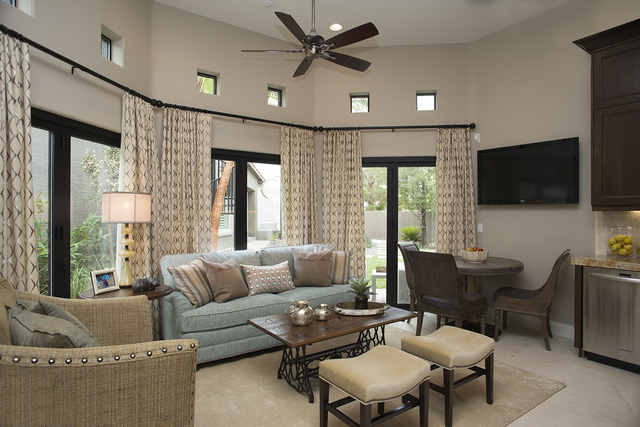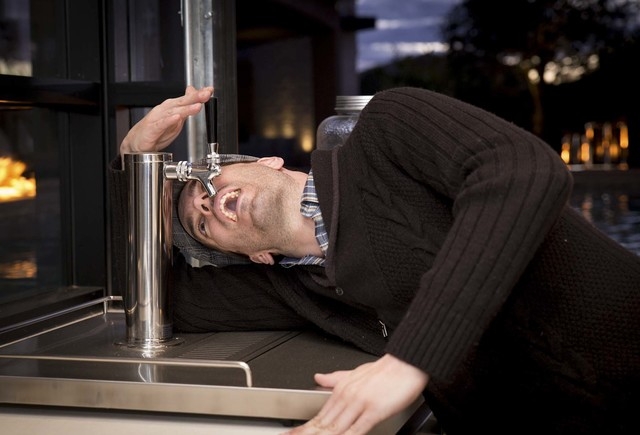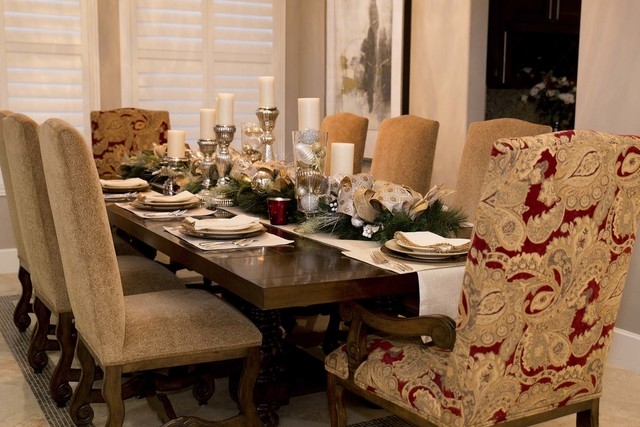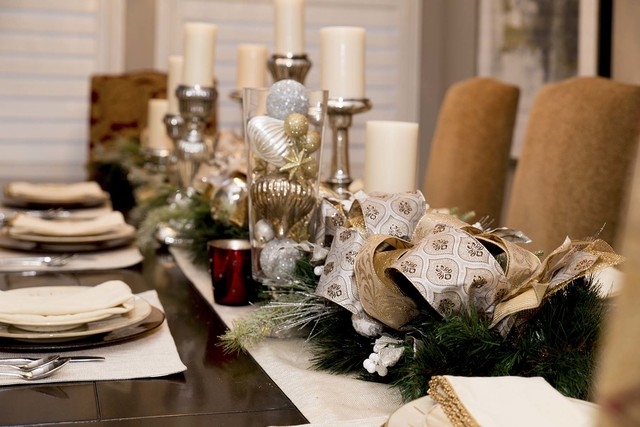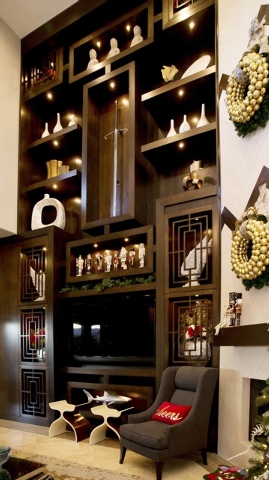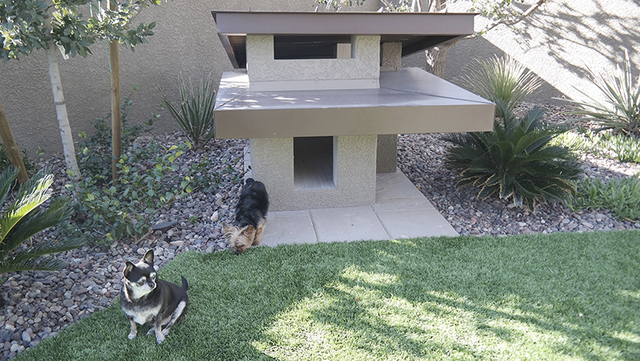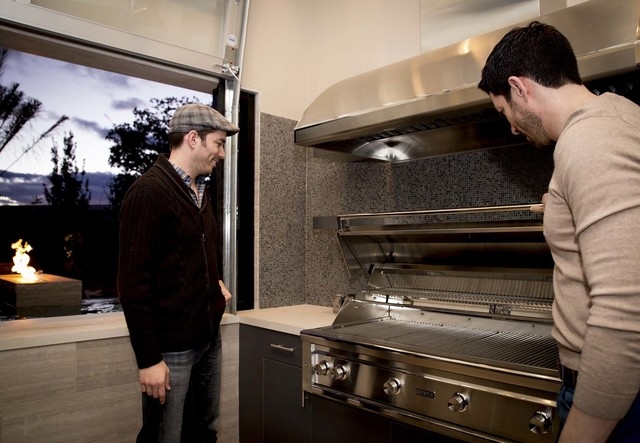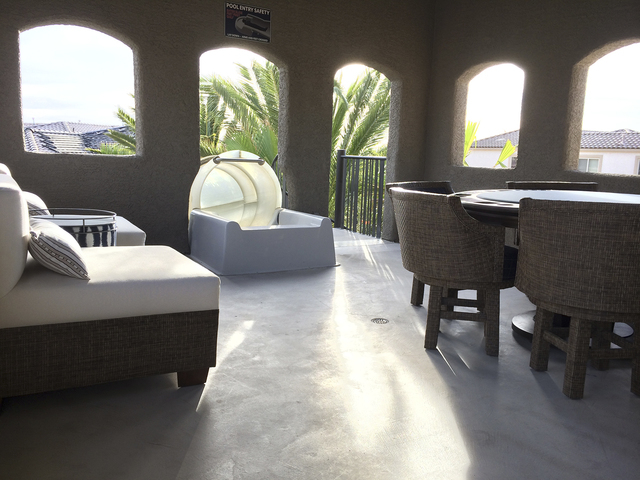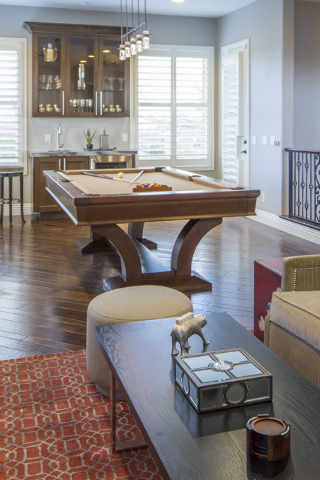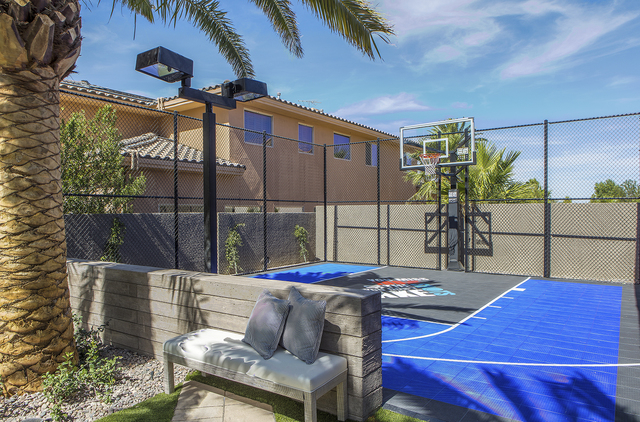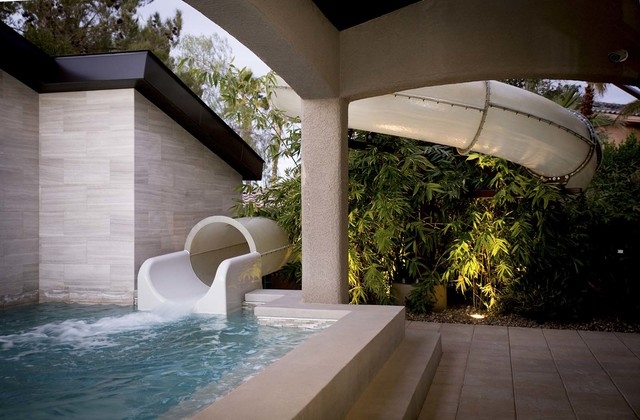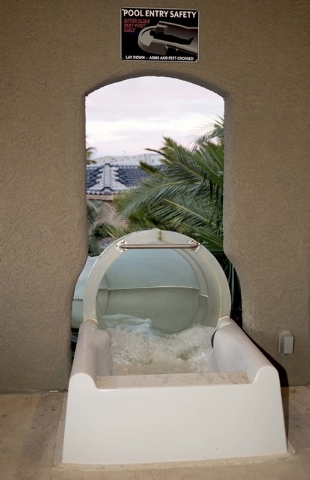 When HGTV's popular series stars Jonathan and Drew Scott decided to build their dream home after three years of doing so for others on "Property Brothers," they chose Las Vegas for their base. They purchased a home in foreclosure in 2011 and began an extensive renovation to make it their own.
The Scott brothers invited Real Estate Millions to tour the 5,000-square-foot home on a half-acre lot in Spring Valley during the holiday season. In addition to a main house upgrade, they managed to fit a guesthouse, pool, pool house, sports center, outdoor dining area, outdoor theater and, oh, yes, a commercial-grade water slide onto the lot. No, it does not look like retired neurosurgeon and politician Lonnie Hammargren, famous for filling three houses with his eclectic collection, supervised the job.
"What we did in five months should have taken a year," Drew Scott said. The project started in January 2014 and was finished in late June, just in time for a family reunion with relatives from Canada, Scotland and elsewhere. The project was included in the "Property Brothers At Home," which aired earlier this year.
One reason they wanted to build such an elaborate home was because they travel for work so much, and are home so little that it really serves as a retreat as well as a place for family gatherings. This was their first Christmas in the newly renovated home.
Just like on one of their HGTV episodes, the project was fraught with unforeseen glitches and delays. First, 8 feet of the footings at the back of the house had to be removed to accommodate an infinity-edge pool that would reach the exterior pillars. This required approval from engineers and county building inspectors, but was essential to Jonathan Scott's outdoor vision.
Then electrical work done by the previous owner had to be brought up to code.
And the biggest challenge was installing a water slide that would rival Wet 'n Wild. Never before in Clark County has a homeowner applied to build a commercial water slide, and the approval process was complex.
"It took some time to get it approved. When you understand there was no precedent to go by, it's easier to accept (the delays)," Drew said. He praised the county inspectors as being "great to work with."
Jonathan said, "I like to think of myself as a pioneer of commercial water slides in a residential application, because I was the first" to get one approved in Clark County.
On the "Property Brothers at Home" four-episode series, the pair can be seen working their charm on county inspector Tom Wolff, and shopping locally at Colleen's Classic Consignment and Somers Furniture.
After a trip to the Neon Museum, the brothers were inspired to design a wall hanging featuring the word "Lucky," which is a nickname given to their father. It hangs on the wall in the upstairs game area of their house.
They added an exterior wrought-iron spiral staircase from the side of the house to access a second-floor balcony, where they put the entrance to the water slide. They can use the area to lounge and enjoy the view of the western sky.
Drew and older brother J.D. (who lives in Las Vegas) decided "it meant so much to him (Jonathan), we didn't want to stand in his way" when that particular feature pushed their $2 million renovation budget over the top.
The whole project "put our relationship as a brother to the test," Jonathan said.
Drew's requirements were a 3-hole putting green and a basketball hoop at the edge of the property line, which necessitated installing a 12-foot-tall chain fence.
The home is fully automated for lights, cameras, temperature and security operable by iPad, and installed by HP Media Group, which also designed and built the 165-inch, 12-foot-wide outdoor movie screen. The projector is mounted at the back of the main house, inside one of three large light features Jonathan designed.
The screen can be watched from the living room, balcony, inside or in front of the pool while lounging on a couch custom made to top off at pool height .
A pool house with swim-up bar is on one side of the pool. Above the bar hangs a custom-made décor piece sculpted by Torche, a contestant on "Brother vs. Brother," one of the three series' the Scotts appear on for HGTV. It features a Roman numeral 13, "for the 13th hour."
The pool house has a shower, bath and kitchen including a beer tap. It has Lynx stainless-steel appliances, including a grill large enough to hold 35 steaks; a second grill is near the outdoor dining area next to the pool house. A custom steel shade mounted on the block wall (another challenging installation that the Scotts managed to pull off) covers the table. It has its own TV, too.
The backyard is covered with a synthetic lawn, but Jonathan is not worried about his two small dogs burning their feet on it, he said, because they added Hydrochill, a cooling system that helps artificial turf absorb more moisture, reducing heat by 50 to 60 degrees.
One goal with the house was to be greener. They have no lawn, use technology to control everything, and are in the process of retrofitting the house with a solar system that will support not only the pool, but everything else.
One piece the brothers were firmly in agreement on was creating a guesthouse that would be a winter home for their parents, who live in Canada. The 950-square-foot house has two bedrooms, a "spa bath" for mom, 12-foot-high ceilings and an elaborate 18-piece repeat-patterned marble tile floor.
"I wanted it to be as nice as the main house," Jonathan said.
The brothers' neighbors include elaborate, upscale homes on one side, and a horse farm on the other.
"Our neighbors have been great," Drew said. "As we always do on the show, we go out of our way to explain to them what we're doing and address any concerns."
The horse neighbors allowed them to move items via crane onto their property, including the top of the movie screen, and five hurricane palms (at $1,000 each) that had to be dropped in place.
Drew said that part of their enterprise is also investing in property for themselves, as well as on behalf of their TV clients.
"It's funny, because renovation costs the same in Las Vegas as New York, Vancouver or Los Angeles, but the property itself is a fraction of the cost."
So in other cities, the gain is greater than here.
He warned against over-improving. "Here, even a midlevel upgrade can push a project past the point of a sensible return on investment."
Despite the hassles involved, he advises homeowners to always follow local building codes.
"Once you understand that they (the inspectors and regulators) are there to make your home safer, and therefore, protect your investment, it's not so frustrating" he said. He says he frequently sees many DIYers who don't want to go through the process, but it's important to get the necessary permits and inspections required when doing any home improvement.
The brothers want to invest locally in a multiunit real estate investment, not necessarily as part of a show. They consider the Las Vegas market rich with unfinished condo projects. An investor has many opportunities here, Drew said, "If you don't overleverage" your investment."
The "Property Brothers" show features homeowners in Los Angeles, Toronto, Austin and New York, but not in Las Vegas. However, their "Brothers vs. Brothers" show, Season 3, will be filmed here starting this month. They will be rehabbing and selling two houses in Las Vegas for the first time, with the proceeds going to community organizations. It will be produced by Scott Brothers Entertainment.
What the brothers like about living in Las Vegas is "the wide roads, well-manicured streets.
"And the weather, of course," Drew said. But he wishes for a countywide ban on smoking, "like every other big city has."
Jonathan loves Gordon Ramsay's BurGR restaurant and Spago at the Forum Shops at Caesars. Both express little interest in gambling or hitting the nightclubs. Jonathan has resigned his membership at Wet Republic, now that he has the perfect staycation pool right outside his bedroom door.