Quirky home breaks tradition with indoor pool and 'Star Trek' doors — PHOTOS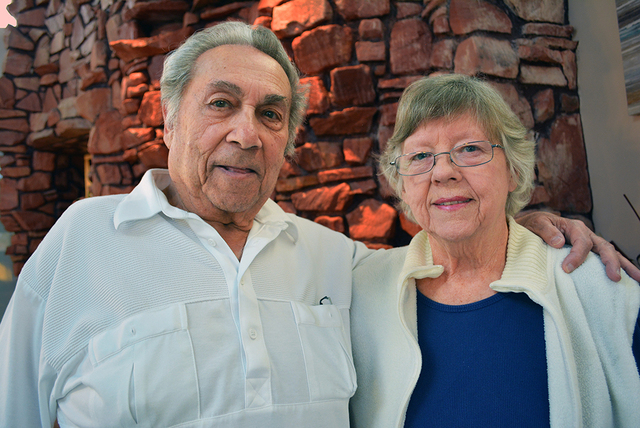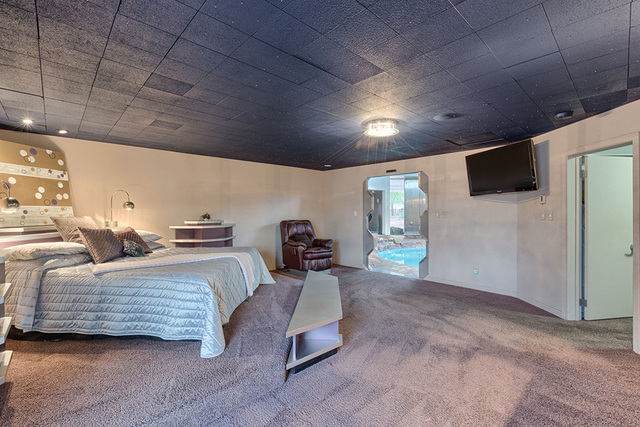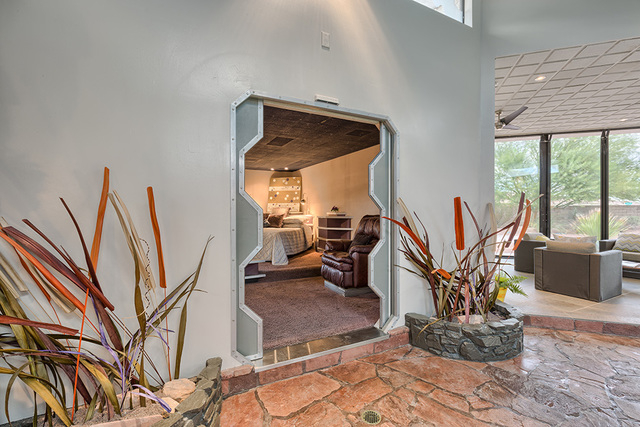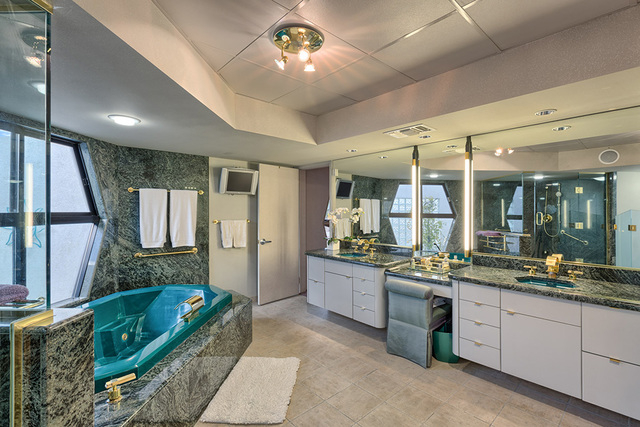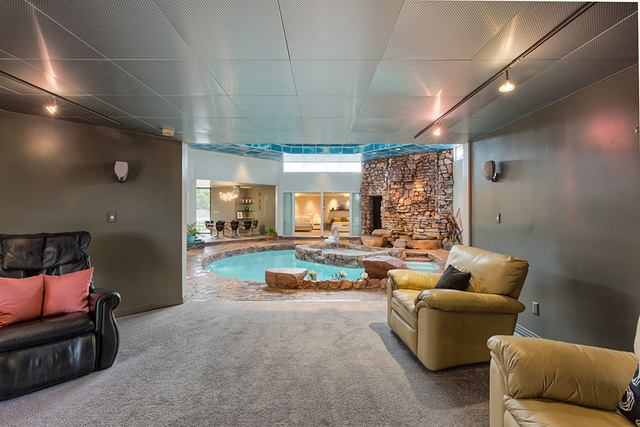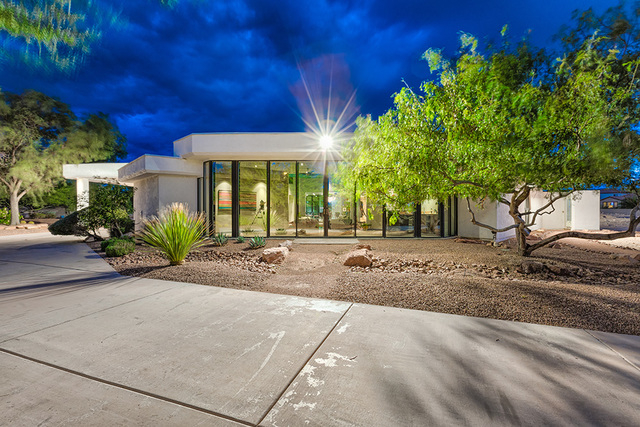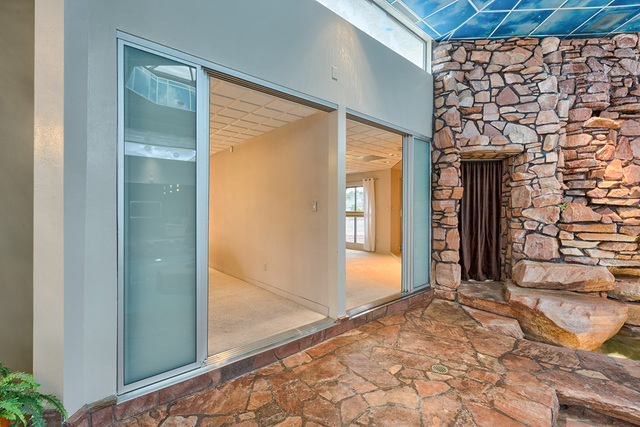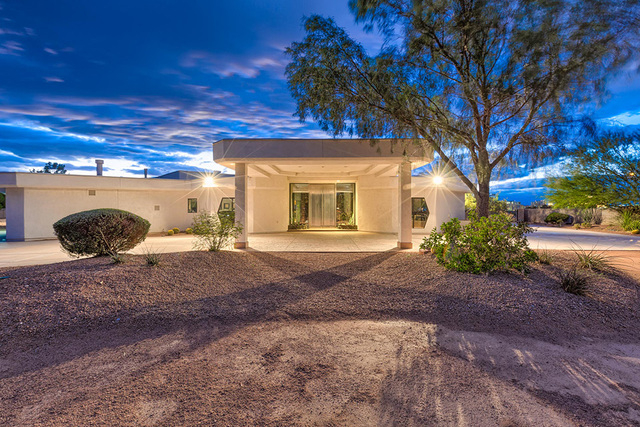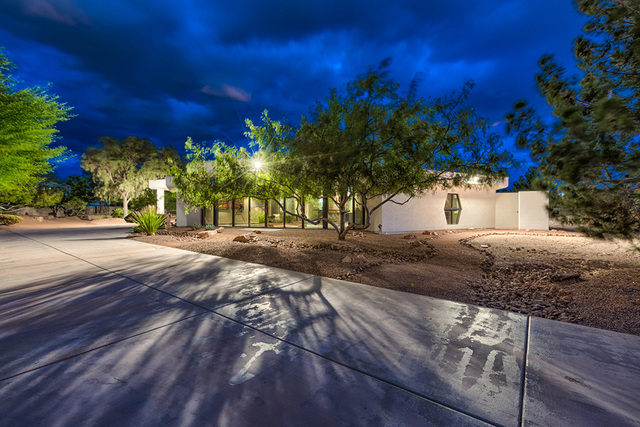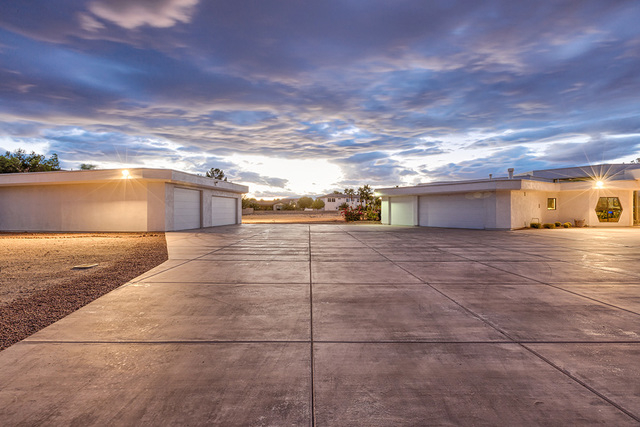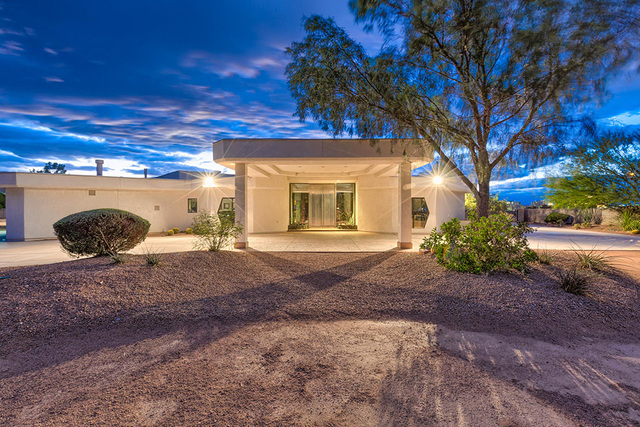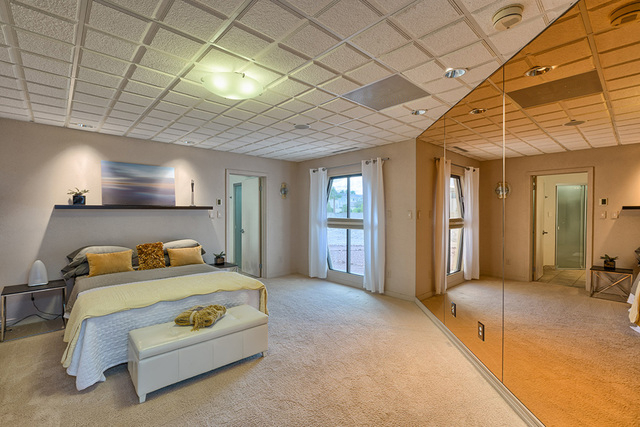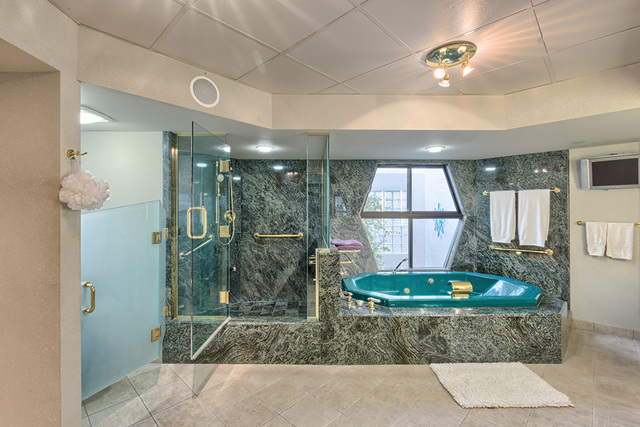 Allen and Susie Rosoff designed their 4,515-square-feet home at 295 E. Cactus Ave. around their indoor pool and spa.
And it's no surprise the Rosoffs wanted to incorporate a pool into their home.
The reason the couple moved to Las Vegas in 1979 was to take over Allen Rosoff's parents' nearly 50-unit motel, Glass Pool Inn on Las Vegas Boulevard, which boasted a 9-foot above-ground swimming pool with seven portholes.
It was formerly known as the Mirage when it first opened in 1955, however, Steve Wynn bought the name in 1989 when he opened The Mirage Resort.
The motel was featured in movies such as "Casino" and "Leaving Las Vegas" as well as music videos for artists Bon Jovi and ZZ Top.
The Glass Pool Inn closed in 2003 before it was razed a year later.
Upon opening the Rosoffs' 10-foot, stainless-steel front doors, you're greeted by a 1,100-square-foot indoor pool, spa and waterfall, which are surrounded by a natural sandstone deck.
Above the pool is a 10-foot motorized octagon skylight that can be opened to let the desert breeze in.
"In the early 1980s my sister was a Realtor and we bought this property from her," Rosoff said. "We debated when we started building and the idea for our home started with the pool."
For Susie Rosoff, she wanted to build a home that was anything but traditional.
"I didn't want to live in a cracker box house," she said. "The house pool should be iconic and I wanted to follow the tradition of the Glass Pool Inn."
Susie Rosoff, a self-described "Trekkie," or "Star Trek" fan, wanted to incorporate her love of the iconic television series in her master bedroom.
"She originally wanted a light box to read your fingerprints to open the bedroom door," Allen Rosoff said. "That was her one request and she never did get it."
Instead, the Rosoffs' master bedroom features a "Star Trek"-style double-door automated entry.
"We used to have the 'Star Trek' insignia above the master bedroom door," Susie Rosoff said. "It's supposed to look like the Enterprise crashed into a cave-like area."
While the Glass Pool Inn received its fair share of screen time, the Rosoffs' home did, too. It was featured in Insta Life and Comfortisse Jeans infomercials as well as an episode of "Scare Tactics."
The home features two bedrooms with a Jack-and-Jill bath, which is accessible from both bedrooms.
A media room sits to the right of the front door and kitchen to the left, which is outfitted with a split-level island with touch-control electric range, gas range with full hood and shelf and double wall gas oven.
The living room boasts a wet bar, sink, refrigerator and ice machine and is surrounded by a 10-foot window wall with motorized shades and sliding glass panel doors.
"Everything leads to the pool," Allen Rosoff said. "There are also no hallways in this house. I always hated hallways because it feels like a rat running around in a labyrinth."
The home has three control panels and five keypads throughout to control the lighting, HVAC, skylight, pool, spa and waterfall, window wall shades, garage doors, audio-visual system, cameras and an alarm system.
A three-car attached garage and 1,600-square-foot, free-standing garage with a half-bath surround the home, which sits on two acres and has an undeveloped acre.
As the couple prepares to celebrate their 50th wedding anniversary on June 12, they reminisced about the pool parties they used to constantly throw at their home.
"This is described as the ultimate party house," Allen Rosoff said of the home he built 16 years ago.
The couple is, however, looking forward to the next chapter in their life. Susie Rosoff advises the future owners to, "have fun because this is a party house."
Contact reporter Ann Friedman at afriedman@reviewjournal.com or 702-380-4588. Follow @AnnFriedmanRJ on Twitter.
ABOUT THE HOUSE
LOCATION: 295 E. Cactus Ave.
PRICE: $1,475,000
SIZE: 4,515 square-feet
FEATURES: A master bedroom with automatic opening doors that resemble "Star Trek" doors as well as an indoor pool and spa and city and mountain views.
HISTORY: The home was built in 1993 by former owners of the Glass Pool Inn, Allen and Susie Rosoff.
LISTING: Luxe Estates & Lifestyles