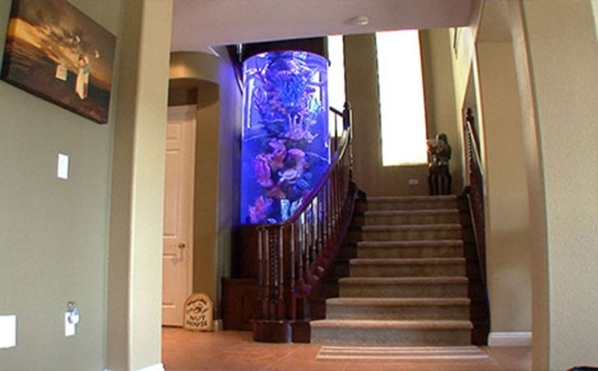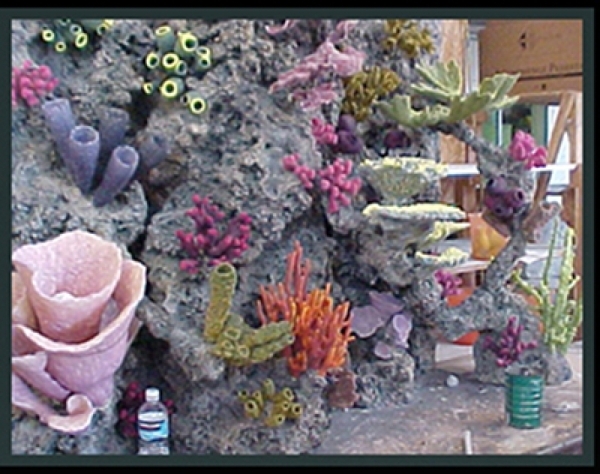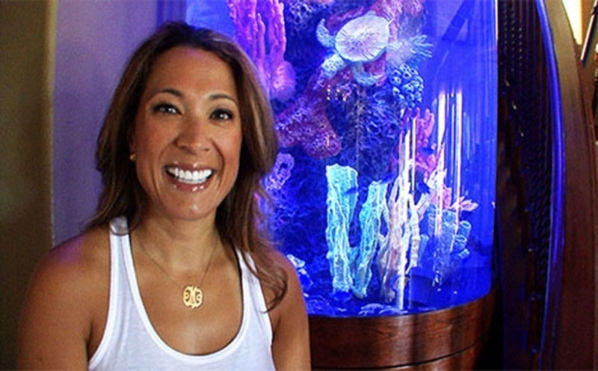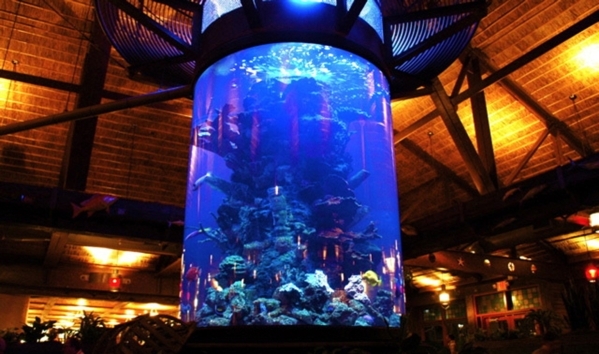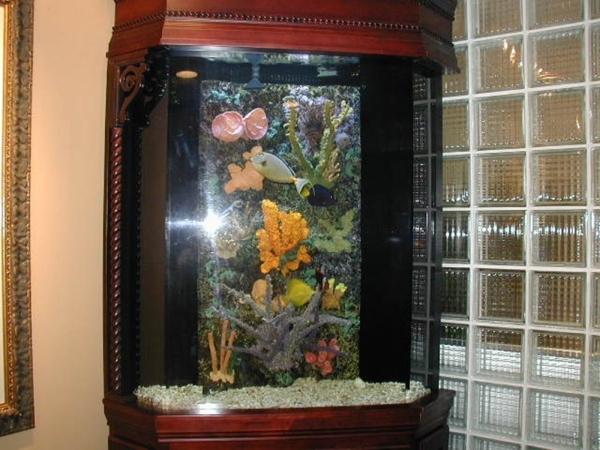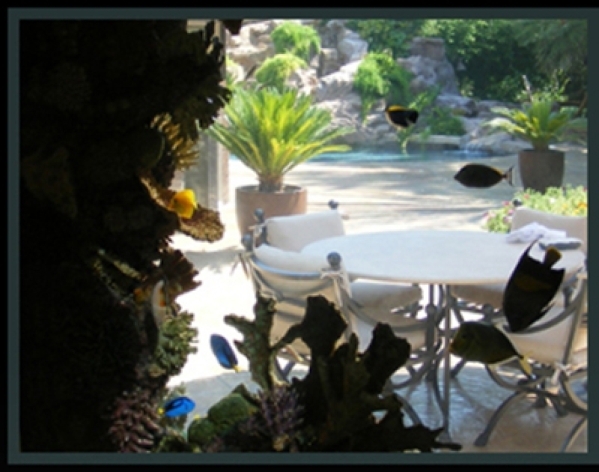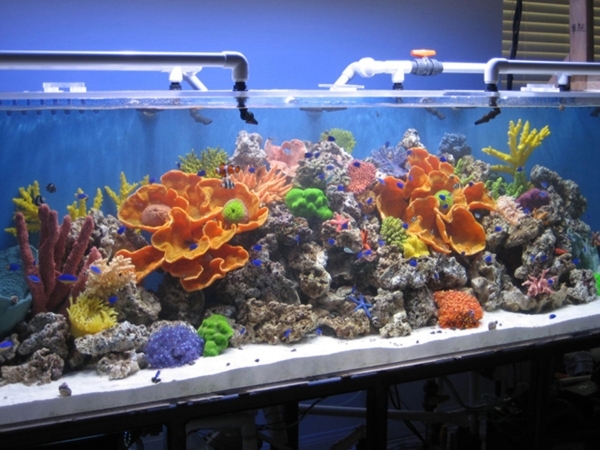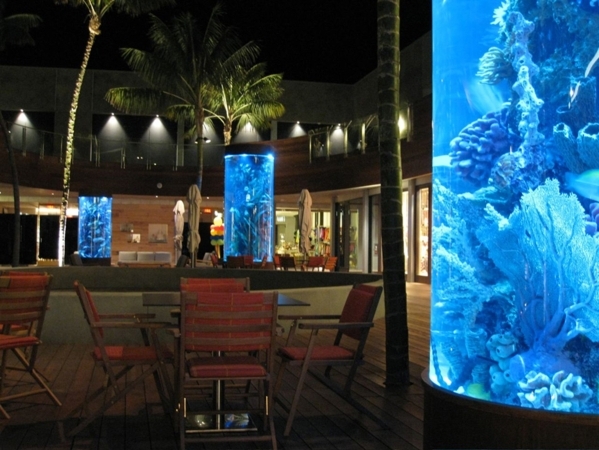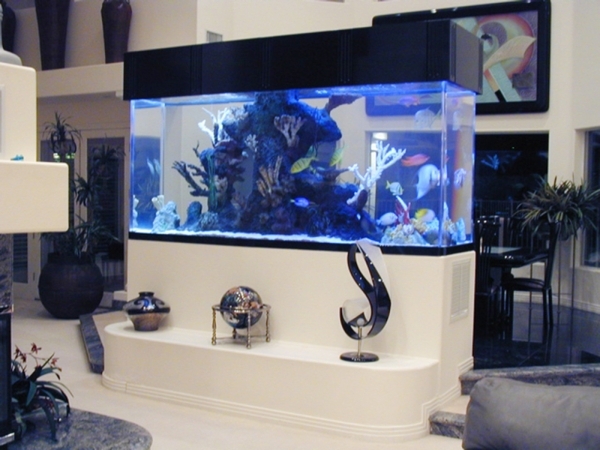 Give a man a fish; you will feed him for a day. But get him to watch "Tanked" on Animal Planet, and you just may have created a fish monster.
The popular TV show has provided a boost in interest in home aquariums and ponds, according to the show's hosts, Wayde King and Brett Raymer.
"When 'Finding Nemo' came out, it sent our industry through the roof. Everybody wanted a tank. And our show has sent the residential and commercial market through the roof," Raymer said. "All the time we hear 'I hate you guys, because of you I now have three aquariums.' Their kids watch the show and they want to get into aquariums, and the next thing you know they have three."
As homeowners search for new ways to bring the outdoors indoors, as well as personalize their space in a natural way, there has been a renewed interest in water features in general, said luxury Realtor Kristen Routh-Silberman with Synergy, Sotheby's International Realty. She said the features are popular "for the soothing nature of moving water and the sound of it."
King and Raymer are brothers-in-law and partners in Acrylic Tank Manufacturing. Some of the largest and most innovative aquarium designs in the world are built in their 37,000-square-foot warehouse near the 215 Beltway and Valley View Boulevard.
"If they can dream it, we can build it," King said. "We'll make anything custom for any home, restaurant or dentist office. We're probably one the only manufacturers who will build A to Z. We build the tank, the stand, the ponds, the filters, the coral insert and we'll install it anywhere around the world."
Tanks are made from wooden molds that can be fused together with heated acrylic to form whatever shape desired
"Our main business is building aquariums, and that's what the show is based on, but we venture into anything with acrylic," King said. "We are one of the only companies in town that has an oven that bends acrylic."
The design team includes King, Raymer, sales representatives and members of the production staff.
"Clients sometimes come to us with a design and know exactly what they want; at other times they give us a blank slate to design a tank of our choosing within their space restraints," said Matt Carter, the show's executive producer.
A 2013 episode featured a custom aquarium built to resemble a slot machine, which was installed in a downtown Las Vegas wedding chapel. It is rectangular with red neon letters reading "Just Married," and the bride and groom stand beneath it in the ceremony. When the handle is pulled, the jackpot reads "Just Married."
On the day Real Estate Millions visited the warehouse, the team was at work assembling a "boom box" tank to go into the home of Chicago Bulls player Jimmy Butler.
"It's going to be 7 feet tall with the boom box on top of a frame, which will eventually be covered in a nice wood finish," Carter said.
A plumber drilled holes in the tank's acrylic form to accommodate the pipes. The custom coral insert will be visible through two 36-inch round circles with a rectangle in the middle. The fake corals inserted into each aquarium are based on real corals, Carter said.
"They fabricate these artificial corals, then they build these inserts. Everything is done by hand, custom-molded," he said. The plumbing is assembled in the warehouse, so when they arrive, "everything is as put-together as possible, tightened on site."
Not only do they manufacture fish tanks, they also create custom acrylic viewing panels for pools including those in the Fantasy Tower suites at the Palms hotel-casino. They created the tank panels for the famous Silverton Casino mermaid tank, but didn't design the interior. And the company created home tanks for many prominent Las Vegans, including Penn and Teller, Bobby Baldwin and former Gov. Bob Miller. This summer, Penn and Teller had a tank installed in their festive post-performance "monkey room" at the Rio, where they unwind.
For Anaheim Angels player Shane Victorino's Red Rock Country Club home, they created a tall, cylindrical 450-gallon tank that sits on a wood base at the foot of the stairway.
"I was a fan of the show, and our daughter goes to school with Brett's son," Victorino said. "We wanted to have one someday, but I knew how much maintenance goes into it," he said.
It was too large to bring in through the street door, so the team used a crane to lift it over the roof and drop it into the entry courtyard.
Their tank has yellow tangs and bluefish, and the coral insert replicates what would be seen in Hawaii.
"I think it added a bit of Hawaii into our home," he said, plus their children enjoy it, which made the maintenance aspect of the purchase worthwhile.
King, a native of Long Island N.Y., has been working with fish since his childhood. He is known locally as a rescuer of exotic birds, and many of them are perched happily throughout the warehouse.
"People find out that he keeps birds, so it's become kind of a bird sanctuary," Carter said. "People drop them off, sort of like a baby in a basket. He feeds them and rehabilitates them and brings them back to health. It's very cool."
The company office is also home to at least one cat, and employees (many of whom are family members) are allowed to bring their dogs to work.
Before installing a fish tank in your home, Raymer advised determining how much time you want to give to it.
"You have the hobbyist who loves aquariums and is hands-on — he's going to go to the fish store every week and be really involved. Then you have the guy who is partially … thinks he wants to be hands-on but doesn't really know … becomes frustrated and calls a maintenance guy. Then you have a guy like me who doesn't want to touch it at all but have a maintenance company do all the service."
The company's website provides contacts for service providers around the country including Izzy Capuano, who operates Infinity Aquarium Design and is a technical consultant on the show. According to him, the biggest problem aquarium newbies have is not creating a big enough life-support system.
"Filtration is the key in order to have a successful tank," Capuano said. "If you skimp on the initial installation, it's more expensive in the long run."
Capuano said fresh-water tanks are more common and easier for a beginner to maintain, but saltwater tanks support more colorful fish. As for tank size, he recommends at least a 60-gallon tank.
"It can be smaller, but the more water, the more forgiving," he said.
The company also designs and builds "outdoor aquariums" or ponds, with or without a waterfall.
"Outdoor ponds seem to be more prevalent now as homeowners can keep fish as pets while adding to the ambience of their yards," said luxury Realtor Frank Napoli with Berkshire Hathaway HomeServices, Nevada Properties. "When it comes time to sell the home, a pond can easily be converted to a waterscape feature for a buyer that doesn't want the responsibility of caring for fish without taking on the hassle of an elaborate reconstruction."
The aquarium company is staffed by almost 50 employees, and the show is so popular that they offer on-site factory tours and sell bobblehead dolls of the guys.
The show's season finale will air Nov. 20 on Animal Planet. It will show how King and Raymer create a "Shaq-sized" tank for retired NBA superstar Shaquille O'Neal's Orlando, Florida, home.
In their Las Vegas warehouse, the men built a tank with an ancient Egyptian-themed tank and incorporated Shaq's love of hookah and displayed his career nicknames in hieroglyphics. It is the second tank that King and Raymer have created for O'Neal.
Said Raymer, "The show is for families. It's very fun-loving. There's no yelling. At the end of the show you feel good. Families write to us for our picture to put on their aquarium; it's kind of a trend."
Maybe it's something in the water.