Realtor Tom Love to list Queensridge home for $8 million – photos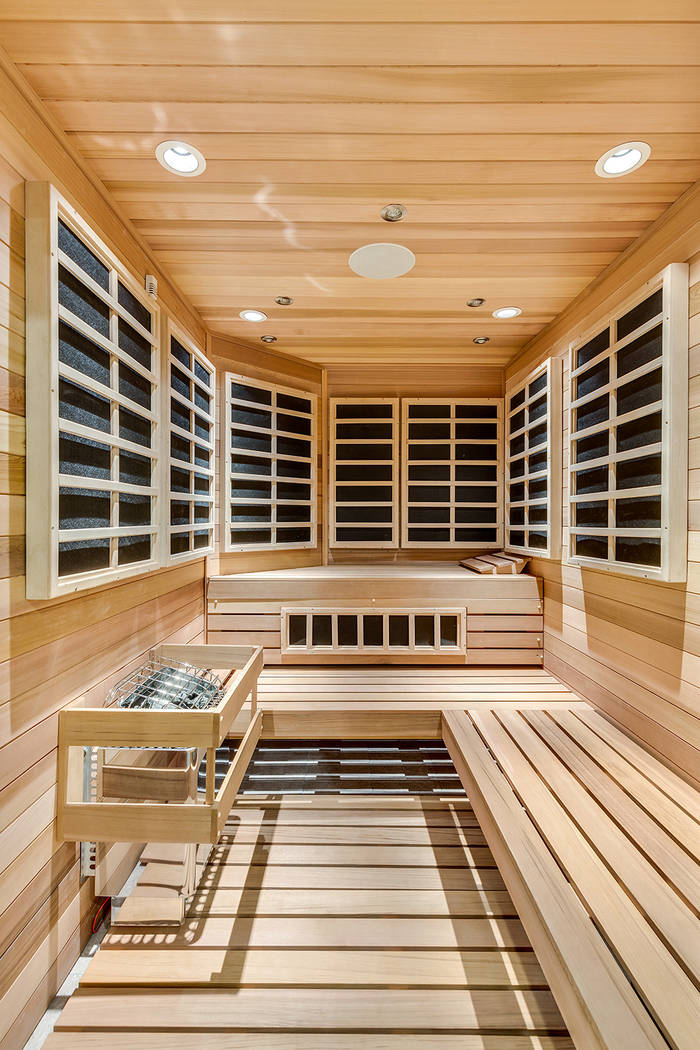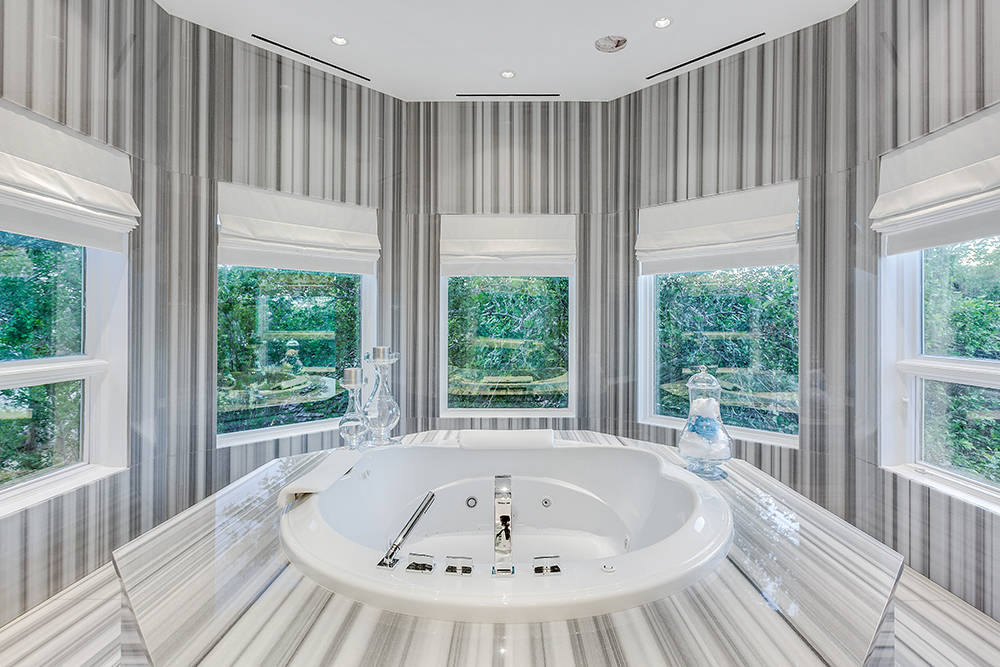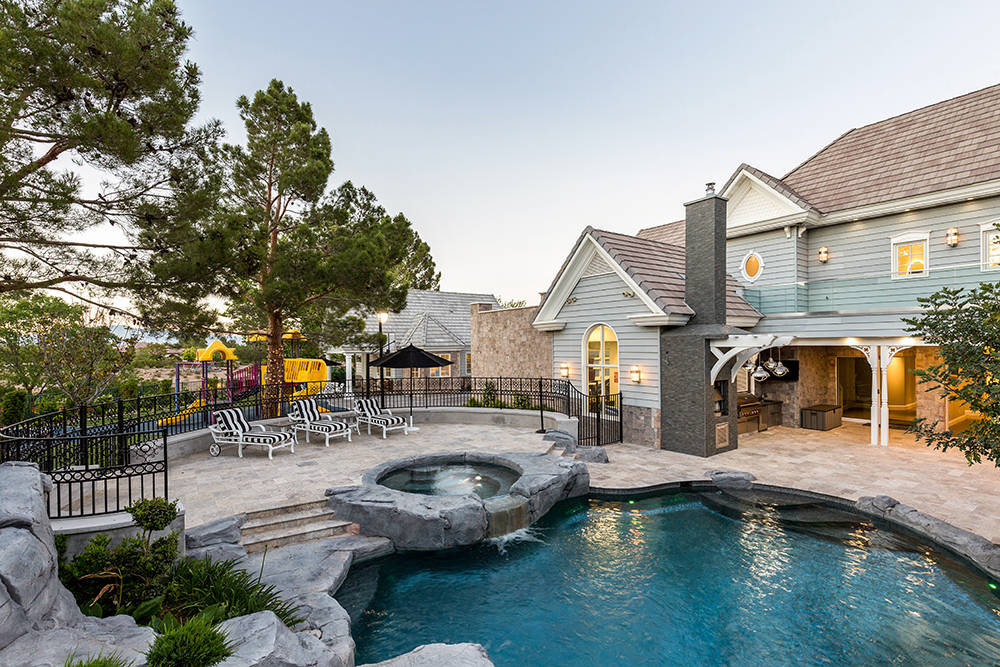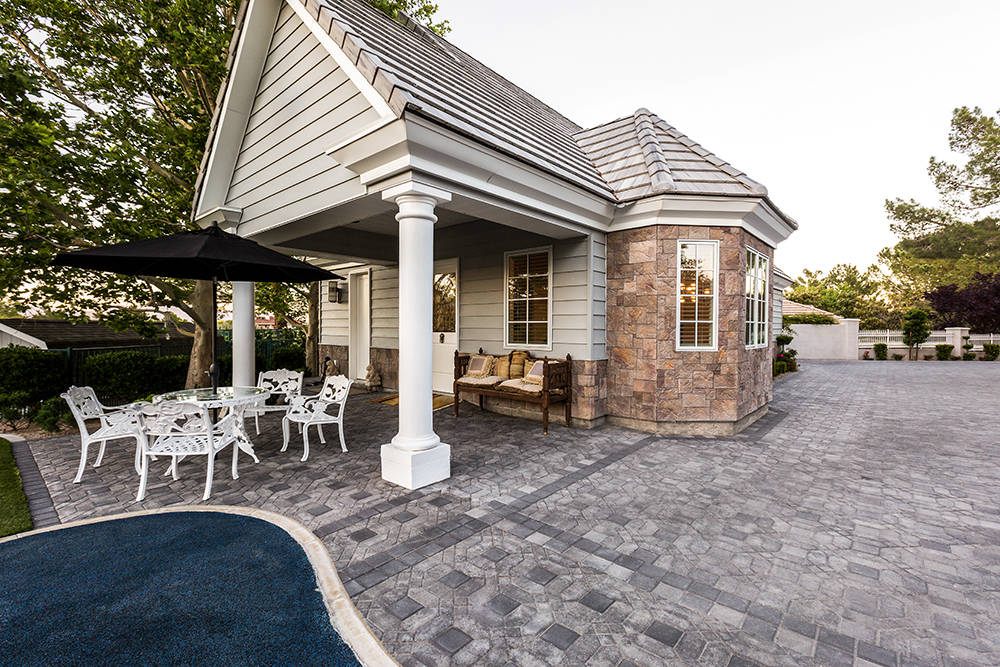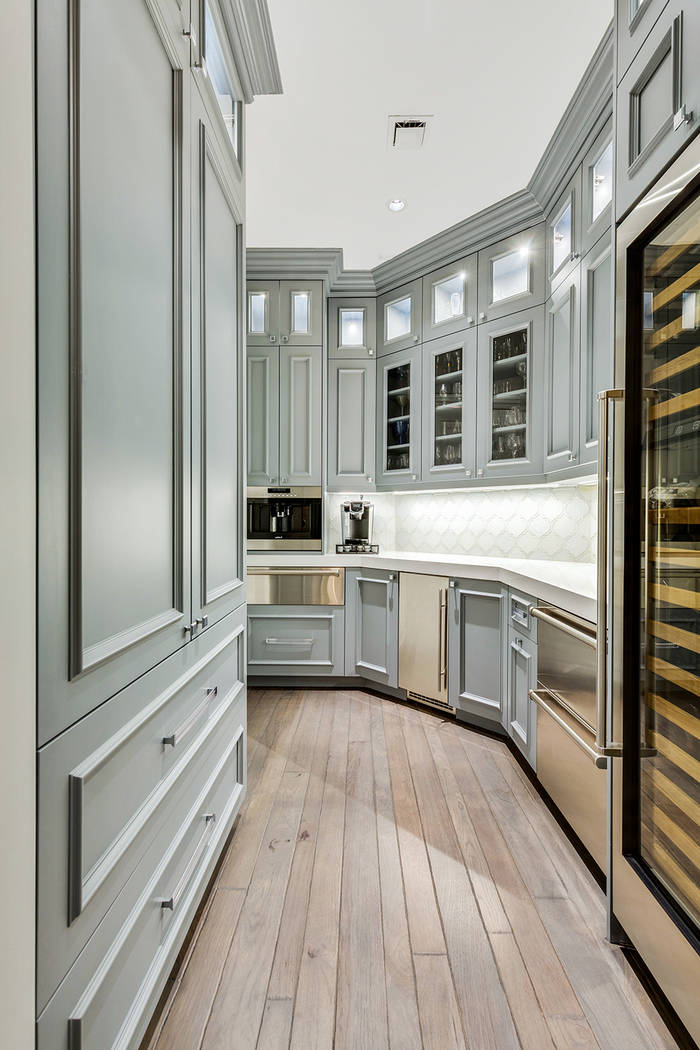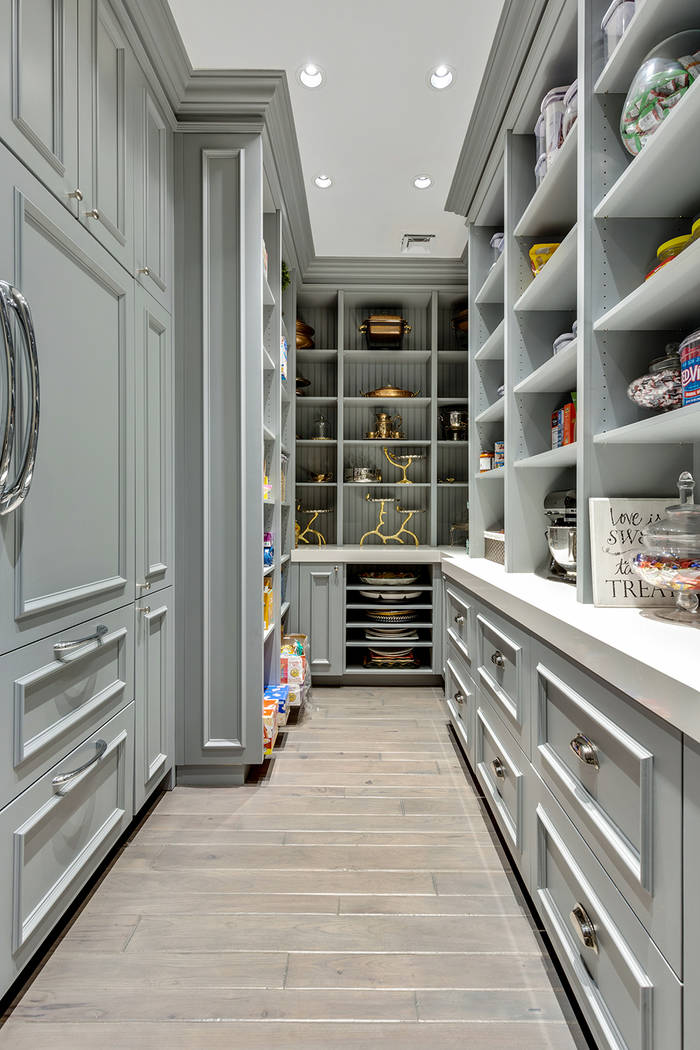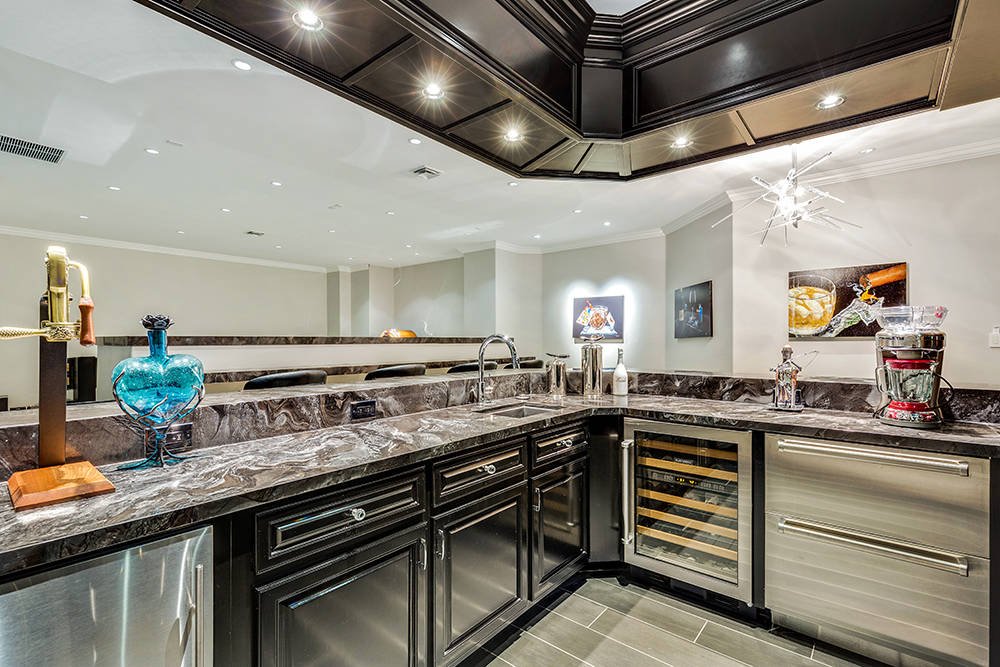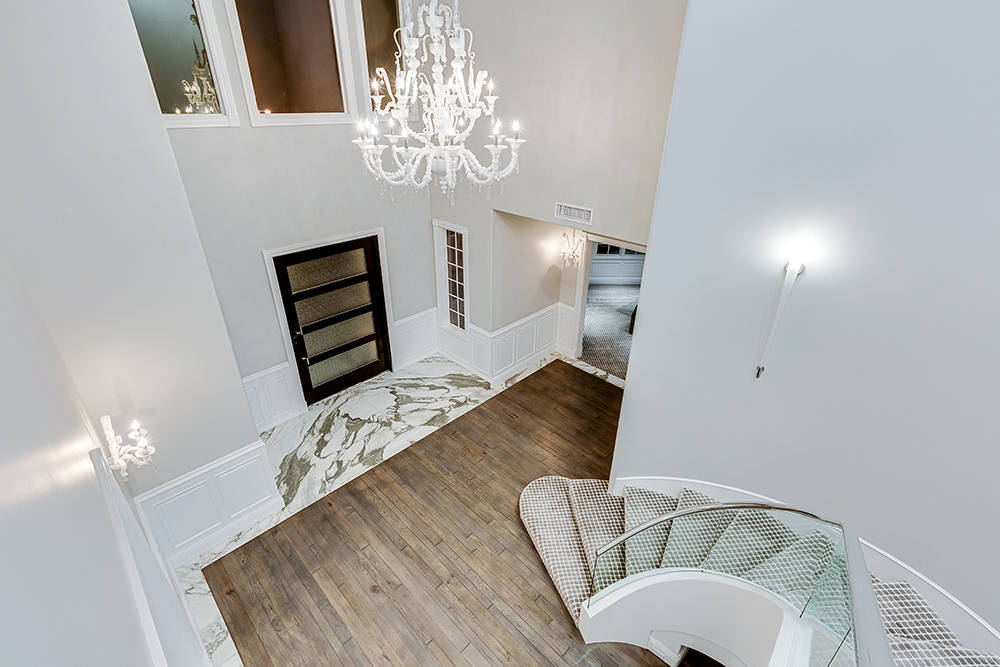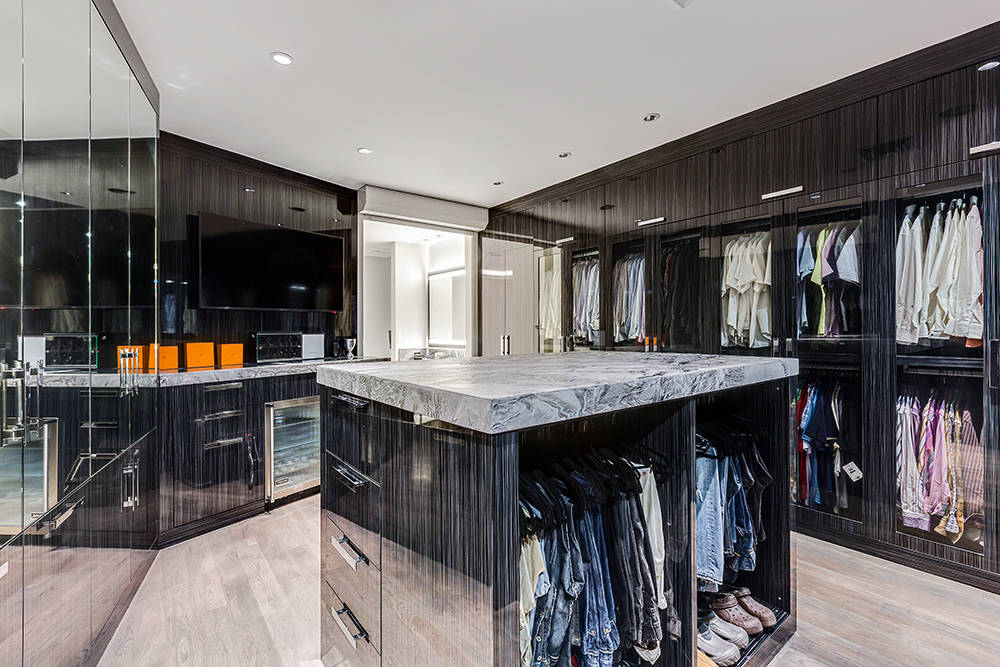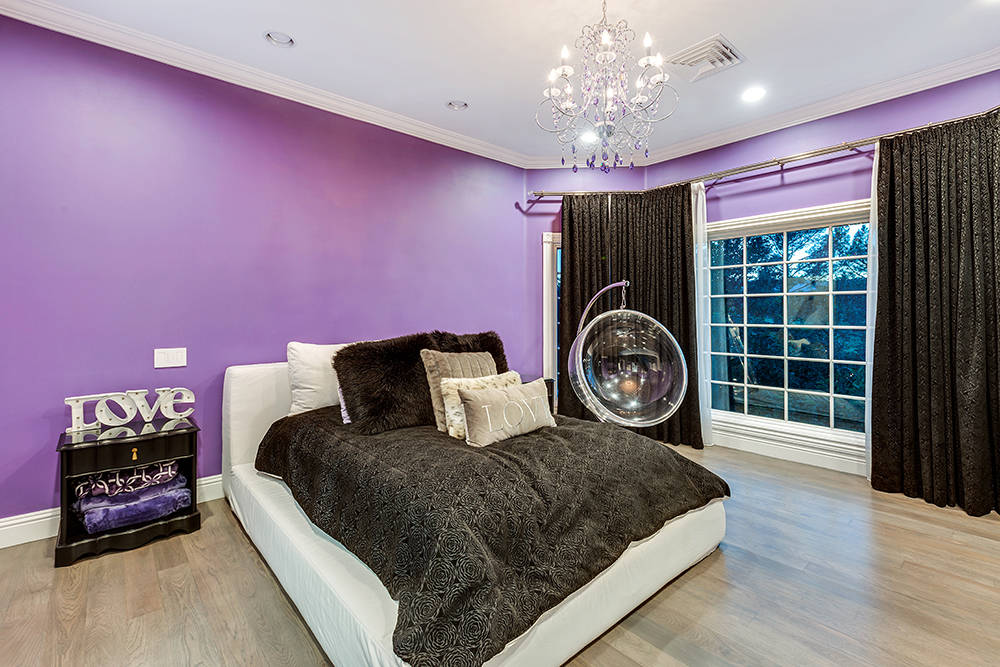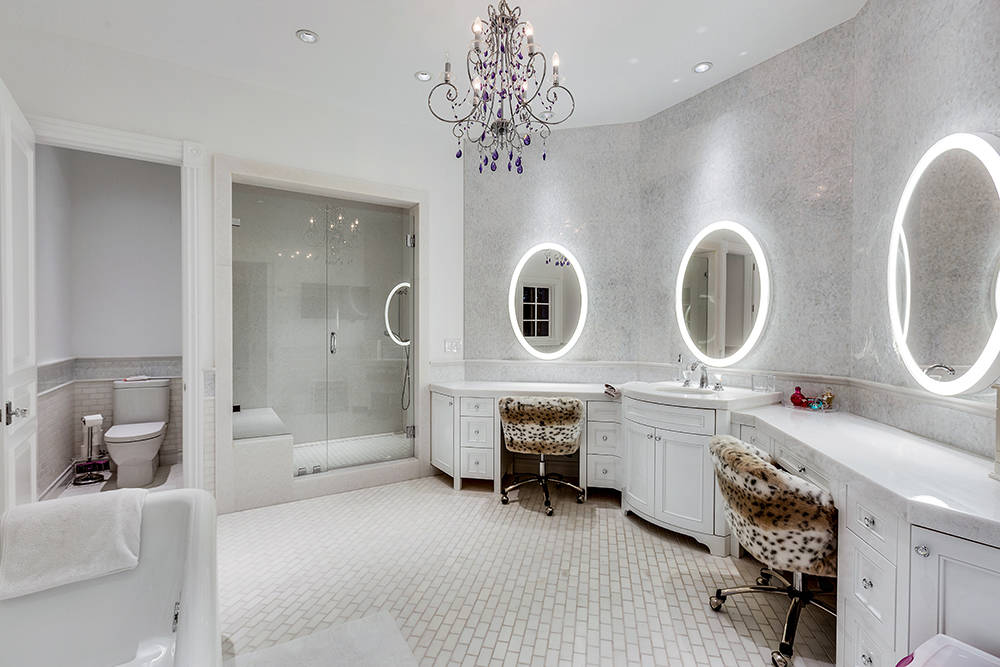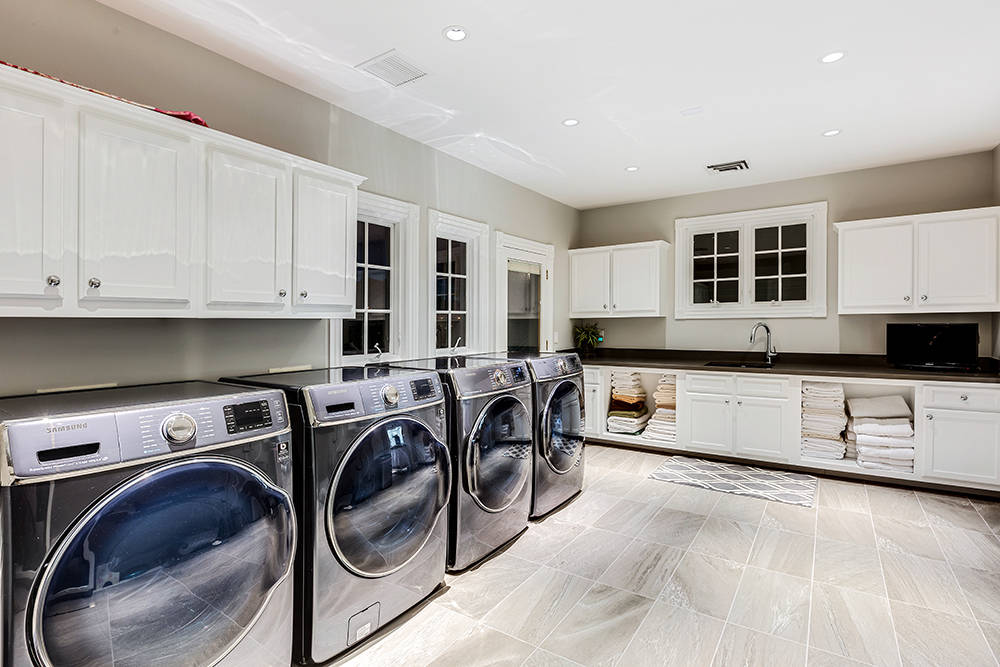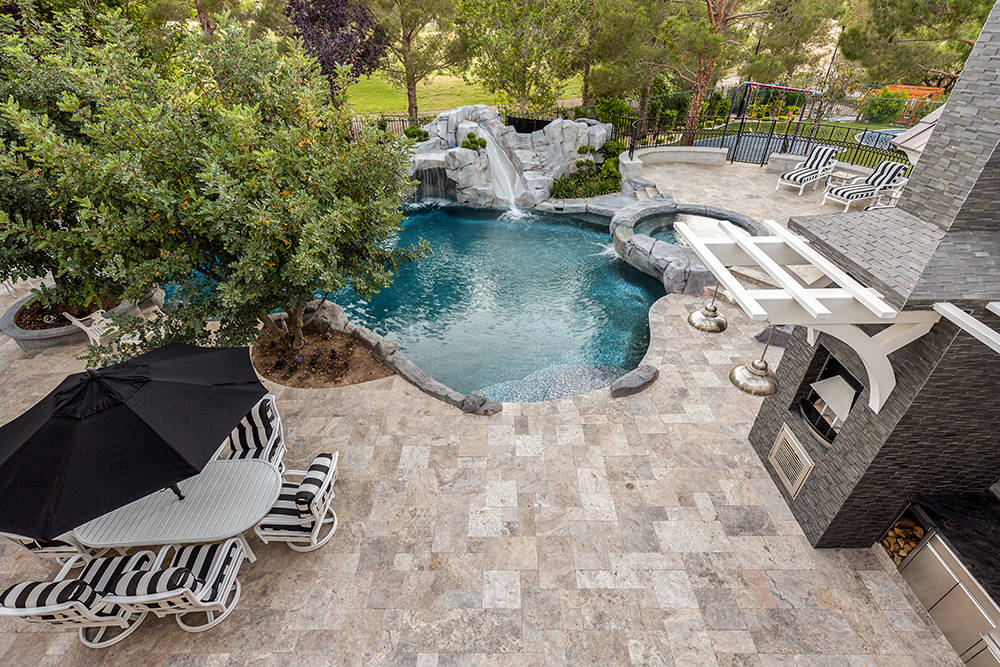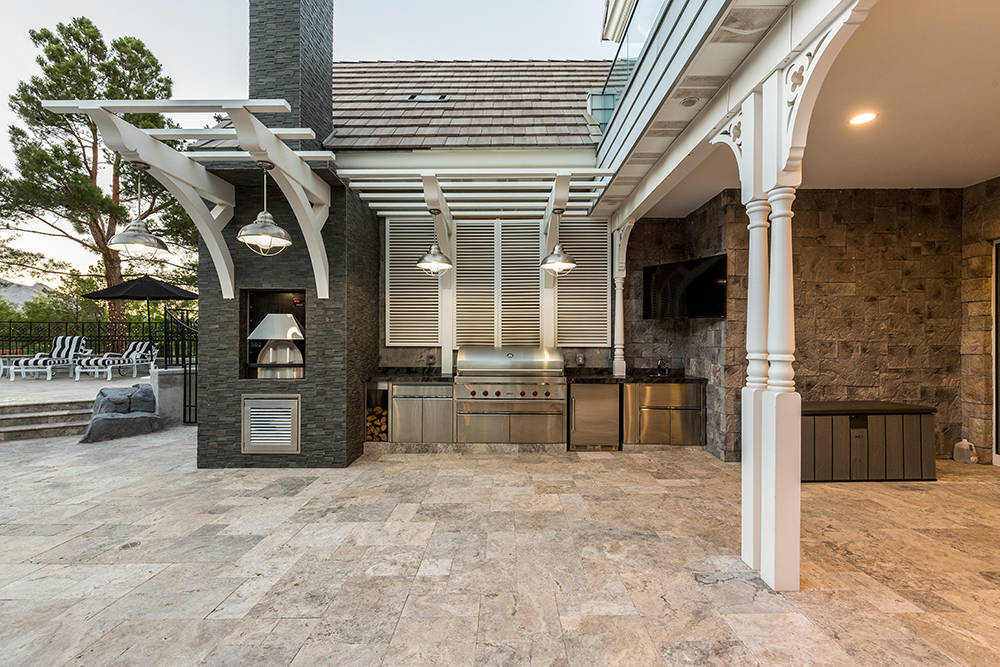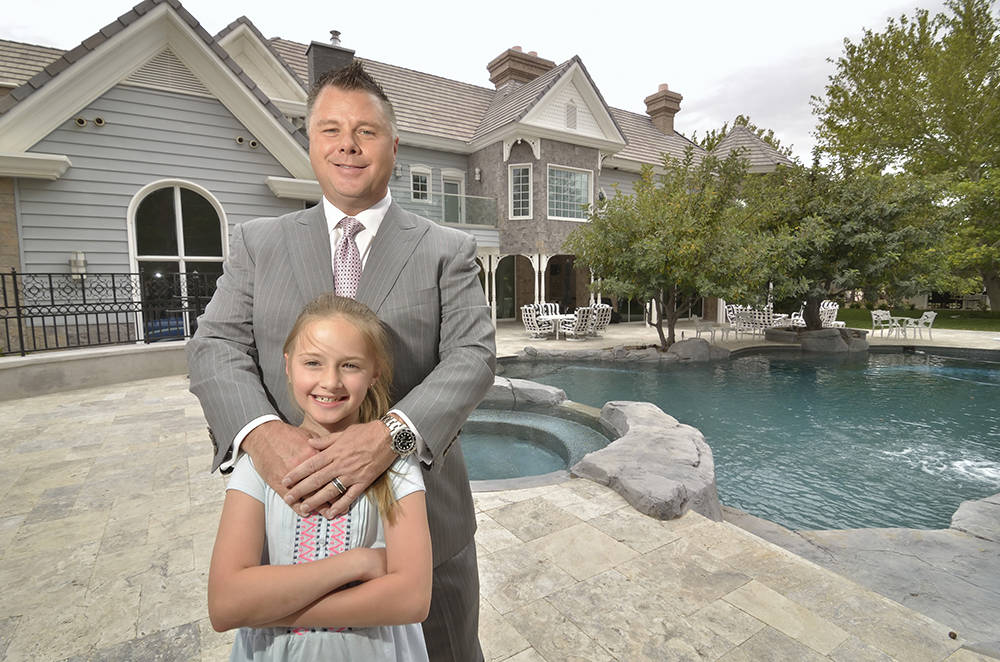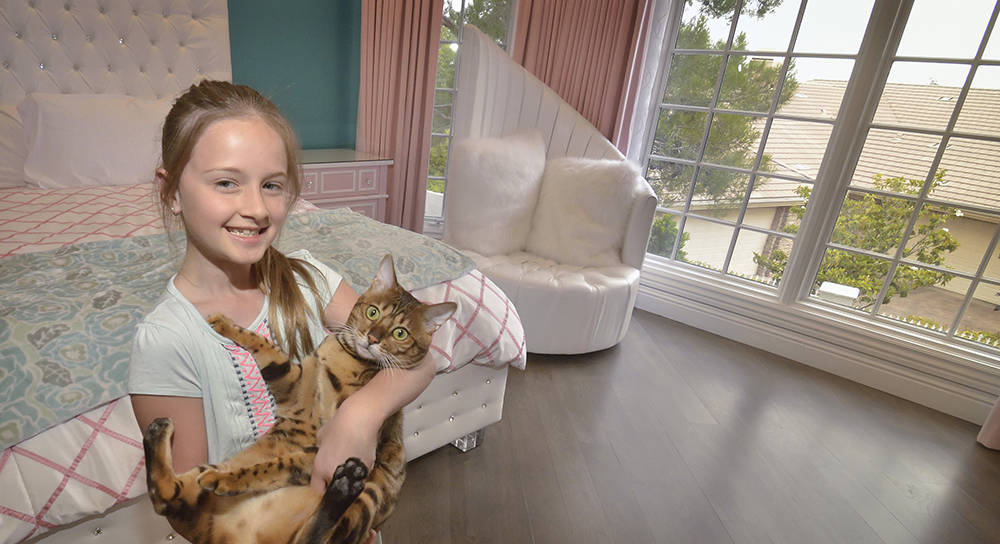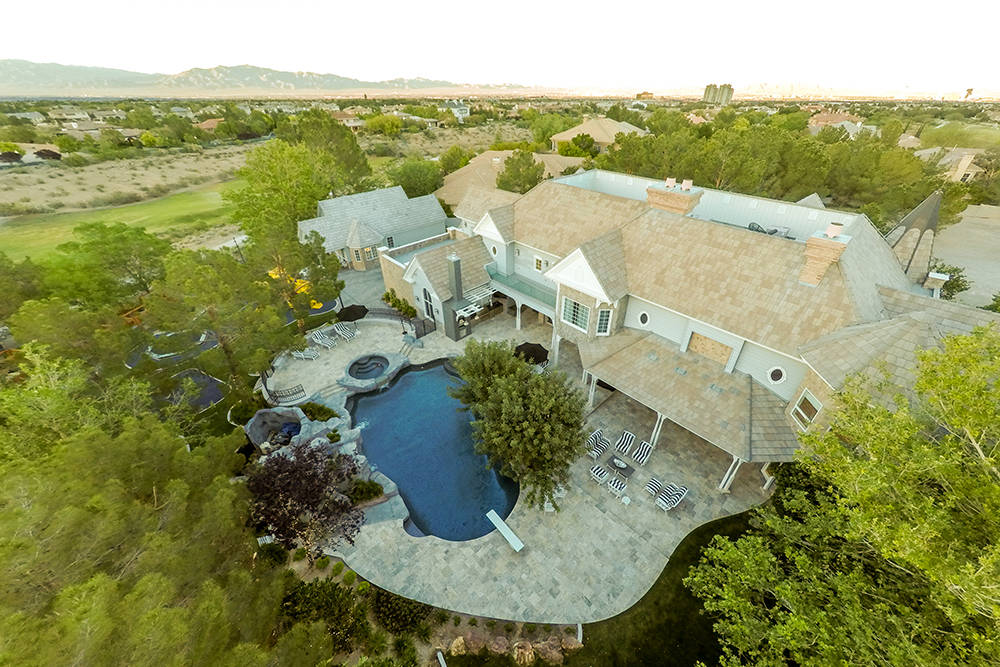 There are a few homes in Las Vegas on landscapes that seem to transport you to a distant, non-desert locale. Tom and Shannon Love's compound in the Queensridge, a master-planned community in the northwest, would be one example.
A railed-off front porch wraps around one side of the house's lushly landscaped yard, which has over an acre of mature trees including plum, Japanese blueberry, cherub and even a magnolia or two. On a recent tour of the home, the scent of fruit trees and jasmine drifted through the air.
The couple bought the home because it reminds Shannon Love of her home state, Connecticut.
"We purchased because we love this area. It was for the landscaping, and we had to make it our own," luxury Realtor Tom Love said.
And that they proceeded to do after purchasing it in September of 2013 for $2 million.
Another motive was that the couple wanted to create an environment that would keep their twin 9-year old daughters occupied and close by. Siara and Summer Love have their own private commercial grade playground, complete with trampoline.
"For us, having a compound for privacy and security was super important," Love said. Between the basement games room and the playground, he said, "my kids don't really need to leave the house."
It is a prime lot in the subdivision at the end of a cul-de-sac in the custom lots section. The only other owner was an officer in the Peccole Nevada Corp., the 20-year-old community's developer.
"They were the developer, so obviously they chose the best lot. It's the most private," said Love, owner/broker of Las Vegas-based The Tom Love Group.
The back of the lot abuts Hualapai Way, and a lot on one side of his property is undeveloped. According to Love, the property on both sides of his house is owned by Steve Wynn.
"Whether he'll ever do anything with it, probably not but it's nice to have him as a neighbor." (County records show 9824 and 9825 Winter Palace Drive are owned or managed by gaming attorney Frank Schreck. He said he's not authorized to provide any info on them.)
The community was built around the Badlands golf course, which closed late last year. The current owner of the 250-acre site is turning it into a mix of high- and low-density housing and businesses. Many Queensridge homeowners have registered strong protests about the change and expect it will have a negative effect on their property values.
The homeowner's association president declined comment for this story.
Love said he's disappointed in the development, but that it wouldn't affect his property either way.
"The golf course closure will have zero impact on us. Any development they do will mostly be at the other end of the golf course by Queensridge Towers (near Alta Drive and Rampart Boulevard, opposite this home, which backs up to Hualapai Way between Alta Drive and Charleston Boulevard). "I don't think we're impacted at all by that, but I wouldn't mind having a huge estate behind my house. … They have to build on a like-kind lot. They won't allow them to put a smaller lot next to mine … That was mandated (of the developer). The way this house was designed, we never had a view of the golf course anyway," he said.
Still, he sympathizes with his neighbors.
"We're not for the closure of the golf course. I don't think it's fair that the mayor and city council have been so pro-developer, that they've turned their back on this community of 900 people that have been here for 20 years. Thank god, I have this lot, and not some of the other ones."
After buying the property, the Loves spent three years and several million dollars gutting, expanding and remodeling it.
"Nothing here is original. In essence, it's 1-year old," Love said.
Originally weighing in at 10,126 square feet with seven bedrooms and eight baths, they expanded the home to 15,000 square feet, including eight bedrooms and 12 baths. This includes a new two bedroom, two bath, 1,300 square foot guest house.
The extra deep lagoon-style pool, which has a diving board and water slide, has been completely encased in glass mosaic tiles.
Following the trend to bring the outdoors in, two sets of vanishing glass doors were installed in the kitchen and great room to better view the patio, pool and waterfall. A possible lazy river water feature is in the works.
The perimeter of the property has been enclosed with an iron gate, and the outdoor lighting was enhanced.
"Because of the size of the lot and for our daughters' security, I thought it was important to have great lighting, and we have the land to do it."
The property has a buffer zone consisting of sunken wooden arbors and fruit trees between the property edge and the walkway by the former golf course.
To the basement they added a wine room, crafts room, infrared sauna and large steam room in the gym area. It has a large bar and kitchen prep area, too.
Shannon Love is responsible for all the design selections inside. "My wife chose right down to the icemakers that make the small ice. There were particular things that she wanted. It was really a remodel of passion."
Murano glass is apparently her design catnip. It is used extensively throughout the house, to the point the owner of the company where it was created came over from Italy to personally supervise the many lights installations, including the one in the entry foyer, which Love said cost $85,000.
No expense was spared in other finish choices. The seams on the marble floors and walls are all perfectly matched, like a well-tailored plaid suit. The black faux alligator and stingray-like wallcoverings used in the two first-floor powder rooms make a strong design statement. One bathroom has mother-of-pearl backsplash tiles, and throughout the baths and closets, diamond-like drawer pulls add lots of bling.
A first-floor office features custom ebony cabinetry.
There is a full butler's pantry between the kitchen and formal dining room, complete with large wine cooler and full appliances.
The master suite, which takes up about 3,000 square feet, has the his-and-hers closets and baths typical of a high-end dollar luxury home. But the term "closet" seems paltry compared to the actual finished rooms. They resemble a Rodeo Drive boutique. "That was the idea, like you're at Gucci or Channel," Love said.
In his closet, a glass-topped cabinet allows you to see the jewelry, belts or hats stored in neatly cubed drawer, for the collector who doesn't want to keep everything tucked out of sight. His closet contains a mini-fridge, TV and lounge chair. It also has a retractable metal gate which creates a panic room and a walk-in safe that can be activated remotely. "So if someone did break into the house, they're not getting into this room," Love said.
Her closet is pristine white with a crystal chandelier, mirrored subway tiles and more rhinestone and pearl embellished drawer hardware, repeating the bedrooms' Hollywood glam style.
Tom Love said he plans to list the compound for $8 million in the next few weeks.
"My wife did an amazing job," Love said. "It's not a cookie-cutter house. The major difference with the houses in The Ridges is that everything is brand new. It's literally a brand-new house, even though the outside style is a little bit different," he said of the neo-New England exterior. "You're never going to get a yard like this in any of the other neighborhoods."
About the House
Price: $8 million
Location: 9828 Winter Palace Drive, Queensridge
Size: 15,000 square feet, eight bedrooms, 12 baths, six-car garage.
Features: Mature landscape, orchard, playground, two-bedroom guest house, home automation system, gym, infrared paneled sauna, steam room, wine cellar, basement, elevator, Wolf appliances, tortoise habitat, dog room, 13-foot deep pool, gazebo, outdoor kitchen.
History: Built in 1998 for the Bill and Laurie Bayne, an officer of Peccole Nevada Corp., developer of Queensridge. Sold for $2 million in 2013 to Tom Love.