Realtors say most Las Vegas luxury home sales are to out-of-state buyers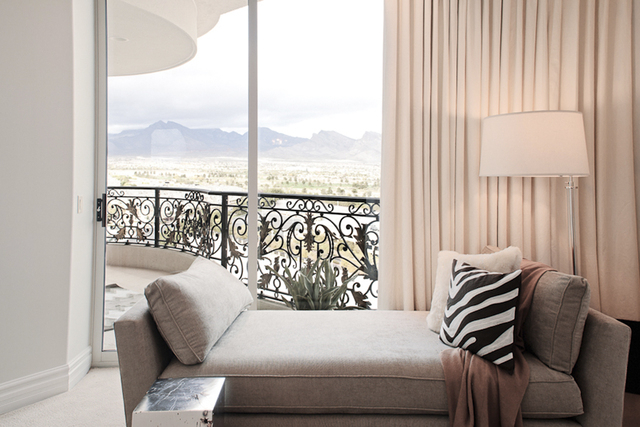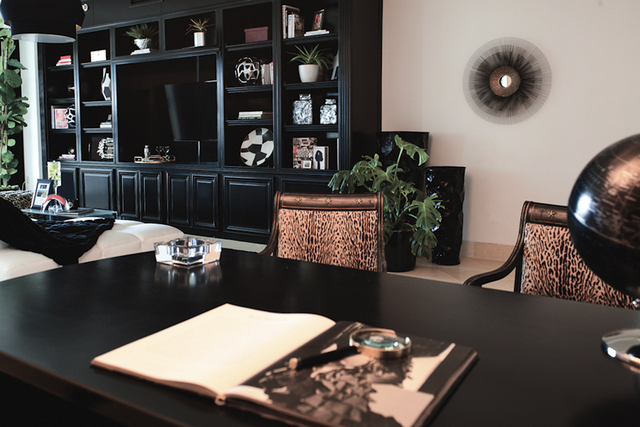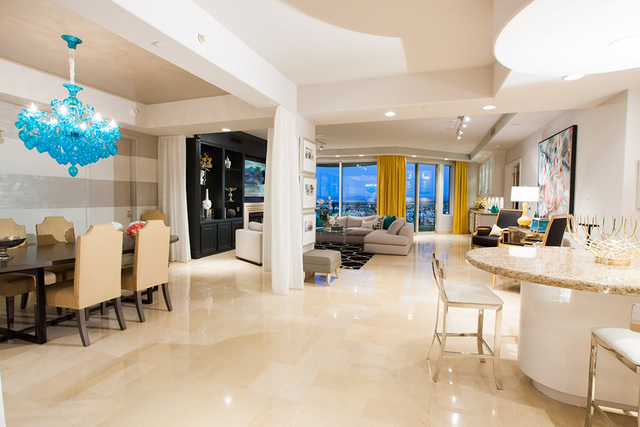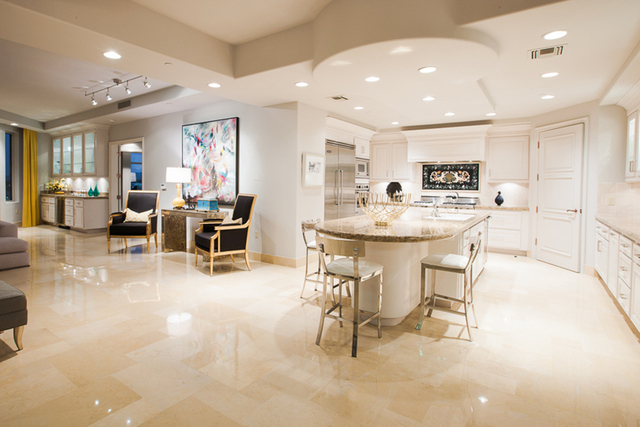 Heidi Kasama wants to send California a big fat thank-you note. The Greater Las Vegas Association of Realtors president isn't the only one.
Two years ago, the Golden State raised its income tax rate, slapping a 13.3 percent rate on its wealthiest residents. Since then, Las Vegas has experienced a bump in its luxury home sales. The Realtors association reports 340 home sales of $1 million or more for 2013, up from 178 in 2012. So far this year, sales have been flat at 141, about 25 fewer sales than this time last year.
California has always been a feeder market, Kasama said. "And they keep making us look better. And we keep getting better. We will continue to be a vibrant, strong metropolitan city and continue to grow."
As a broker for Berkshire Hathaway HomeServices Nevada Properties, she said she has sold five homes for $1 million or more in the past year. The majority of those were cash deals to wealthy homeowners moving out of California, she said.
Mark Stark, CEO of Berkshire Hathaway HomeServices Nevada Properties, predicts this year's luxury sales will be about the same as last year, coming in at more than 300.
"I'm very bullish on the luxury market," he said. "The luxury market will flourish for a while."
About 35 percent of the overall real estate market are transactions by California buyers, and he thinks that is about the same percentage for luxury homes.
According to Department of Motor Vehicles numbers, 22,094 Californians traded driver's licenses for Nevada licenses in 2013. So far this year, 8,556 have. Last year, Arizona came in a distant second at 3,932, and Florida was third at 3,432.
The luxury market draws residents from many states and around the globe, Stark said. Favorable taxes, climate, affordable housing and cost of living are big draws for baby boomers looking for a place to retire.
Stark said luxury homebuyers will have more choices, and the market will become more competitive. Price, lot size, product, location and amenities will be important factors.
"The best always sells," he said.
He points to a unnamed project that The Howard Hughes Corp. and Arizona-based Discovery Land Co. will break ground on next year. The developers will build 250 homes on 555 acres south of The Ridges near Red Rock Canyon National Conservation Area. With lots as large as 3 acres, that Summerlin community will be the most expensive in the valley, the developers said.
The trend of wealthy Californians seeking refuge from high taxes in Nevada will continue, Stark said.
"More Californians will come here. It's been consistent for a very long time," he said. "California is a beautiful place. People love it, but you get to a point that enough is enough."
Randy Char, senior vice president of sales and marketing for One Queensridge Place, markets luxury condominiums, which sell for about $500 a square foot, to affluent California residents with a website that shows how "silver beats gold." It highlights Nevada's tax advantages and lower housing and living costs compared with California's.
About 25 percent of his business is from Californians, he said. Last year, One Queensridge sold $100 million with 65 units — more than double the 30 units sold in 2012.
"We have doubled the number of units each year," he said. "And prices have increased on top of that."
Several of Char's customers have reported the savings in California state income tax have helped them pay for their $1 million homes, he said. For example, if a homeowner makes $10 million a year and pays the top California income tax bracket at 13.3 percent, she will pay more than $1 million in taxes.
A California transplant will get a lot more high-rise for his $1 million than he would in California where housing prices have "recovered fast and high," he said. Compared with some markets in California, Nevada is a real bargain, he said.
"I think you are going to see more and more Californians moving here. I don't see that trend stopping for a long time," he said.
Tom Love with the Tom Love Group said he sold an $8.5 million home in The Ridges a year ago to people moving from California. His luxury home business has increased in the past two years, he added.
"High-net-worth individuals are moving here in droves to get away from California and its state income taxes."
Economy on the mend
Most Realtors say the increase in luxury home sales in the past few years speaks of a more robust economy.
"We are one of last markets to come out of recession," Char said. "California recovered a little early. In 2009, nobody was going anywhere. Everything was on hold."
Kasama said she thinks it's a sign of consumer confidence.
"Finally, the economy is slowly coming up. People are more comfortable stepping up their homes or moving from another state. It's an improvement in the economy we are seeing," she said.
Dennis Smith of Las Vegas-based Home Builders Research Inc. studies the overall local real estate market. He said the luxury home sales are a small piece of the whole picture, and the California component is an even smaller microtrend.
Californians have been coming to Nevada since the 1980s for the same reasons, to save money, he said. And now people from across the U.S. are moving here to retire for the same reason.
He said he would be "concerned if there wasn't" an increase in luxury homes sales to Californians. If they passed on the lower taxes, housing and cost of living and moved to Phoenix, "then we'd have a problem," he added.
"This means we are healthier and we are going to get more healthy." he said. "It's another step in the right direction to recovery."
Las Vegas still needs more jobs, and 38 percent of homeowners are still underwater, Smith said. Many more are stuck in their homes because they don't have savings for a down payment and fees.
It's not just about the money
Besides saving money, California transplants have less traffic, more privacy and access to world-class entertainment, shopping, dining and golf. Newer homes are equipped with modern technology and are more energy efficient.
"The quality of life is really getting up there," Char said. "It's not just cost savings, it's a quality of life."
Ten years ago, Char's father split his time between a house in San Diego and his Summerlin home to be close to Char and his brother, Char said. His dad ended up selling his California home and lives in Las Vegas full time.
Char said his father, an avid golfer, said, he really couldn't beat what he has in Las Vegas. "He discounted himself from California, not just because of the taxes, but because of the lifestyle."
Love agrees, and said his customers comment on McCarran International Airport's convenience as another plus for Southern Nevada.
"Las Vegas is a destination for these people," he said. "It gives them everything that they want. It makes it simple for them to still go back and forth from Las Vegas to Los Angeles."
California doesn't want to lose
Love said many Californians are investing $1 million or more in housing to prove to California that they are real Nevada residents.
"My clients may spend a lot of time in California, but they won't spend enough time to be considered residents."
Char agrees. His clients have told him they have to prove they spend most of time here, he said. Some even keep their credit card statements showing they eat in Las Vegas and use its services.
"They make sure their paper trail is tight," he said. "California is strict and becoming more strict, causing more Californians to flee."
Elizabeth Brickfield is a trust estate attorney with Lionel Sawyer &Collins. The firm does not practice law in California.
"California is more aggressive in determining that people are relocating," she said.
The basic signs of changing residence include a new address, voter registration, new driver's license and library card.
California officials are beginning to look at credit card use to see where relocated residents are spending their money, Brickfield said.
"They are not so thrilled that people are relocating at this time," she said.
Engineer and commercial real estate broker Ernie Freggiaro said he hasn't paid state income tax in 25 years. A native of Northern California, he moved to Colorado in the early 1980s following the development boom. He ended up in Las Vegas in 1989.
"The worst thing about living in Nevada is they 'service-fee' us to death (vehicle fees and building permit fees)," he said.