Some Las Vegas backyards have ziplines, swim-up bars, livestock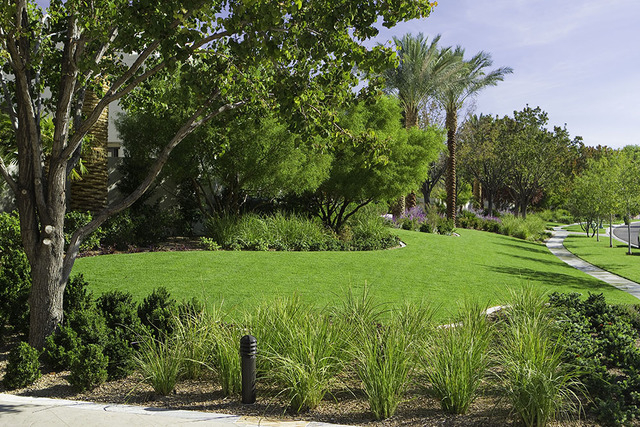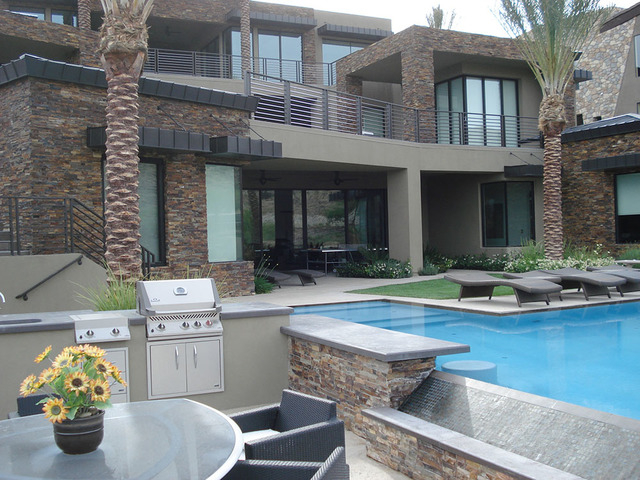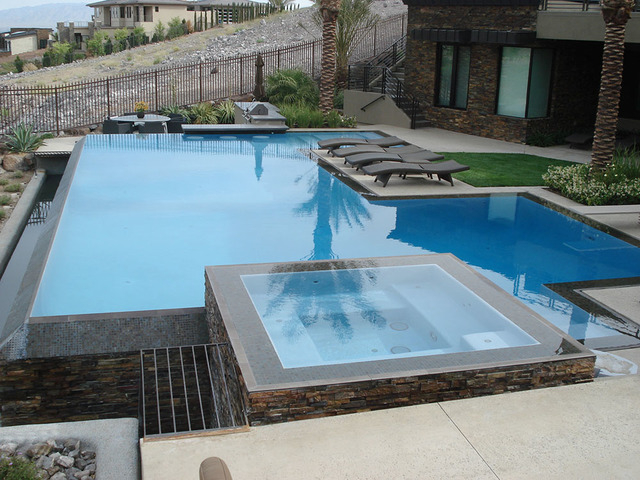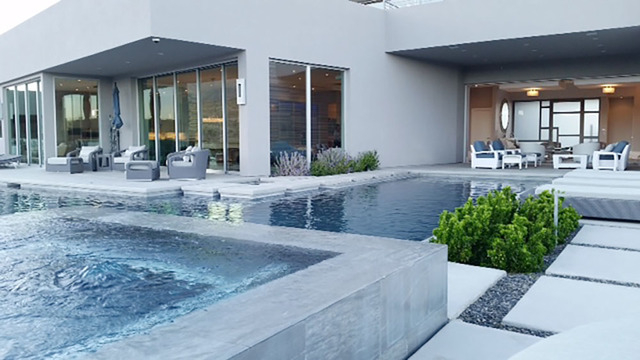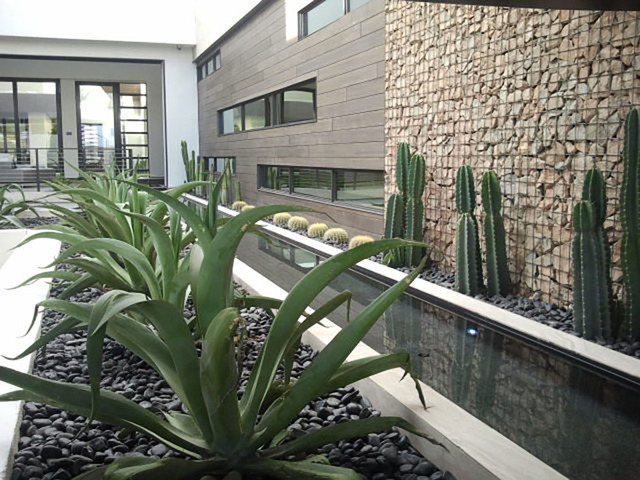 For years, the typical American backyard consisted of a gray cement patio, black-kettle Weber charcoal grill tucked away in the corner, a round glass table with a hole in the center sprouting an oversized beach umbrella and either a small grassy area or some sort of desert plants scattered amongst various grades of dull boring gravel.
These days homeowners are demanding that their backyards, and in some instances their front yards, are designed to be extensions of their indoor living spaces. Terrence Thornton, a landscape designer with Laguna Pool and Spa Landscaping, said some homeowners are spending upward of $300,000 for elaborate swimming pools and spas, outdoor kitchens, waterfalls encompassing fire features and in some instances organic vegetable gardens.
"People are taking materials used inside the house such as travertine tile, granite and glass tiles and putting them in swimming pools and water features," Thornton said. "As the economy has recovered, people are spending more money on their yards."
Black Mexican beach pebble is being used as accents throughout yards, Thornton said.
While traditional rock costs around $100 a ton, Mexican pebble is $800 a ton.
"People are using it for the aesthetic look," he explained. "Some of my clients are using 10 to 15 tons of this rock."
One client took the design features of backyard rock to a whole new level. While homeowners traditionally place 1,000 to 1,500 boulders about their yards for accent, this client shipped in eight 6,000- and 8,000-pound boulders that towered from 5 to 6 feet in height.
"People are also putting in large televisions and elaborate sound systems and automatic fire features that they can control from their iPhones," Thornton said, adding that the outdoor yard design business is currently very robust. "I have six projects going at once right now."
Jonathan Spears, owner of Sage Design Studios Inc., said homeowners are spending anywhere from $600 to $5,000 and in once instance a client dished out $20,000 for a backyard fire pit that incorporated elaborate water features. Some over-the-top designs have included metal sculptures in water with dancing fire. The heated sculptures actually glow and provide added entertainment for family and friends.
"Water trickling down a wall is very popular, too," Spears said. "It's intimate, soothing and doesn't drown out people when they are sitting around talking … People want to create a place where they can have a staycation and don't want to go very far."
Other elaborate features Spears said he is designing into homeowners' backyards include basketball and tennis courts, putting greens, bocce ball courts and ziplines. And in some areas of the Las Vegas Valley that are zoned for livestock, people are raising chickens, goats, cows and turkeys, Spears said.
"People today want to have control over what they eat, and they want to know where their food comes from," Spears explained. "You can grow stuff in your own garden that you can't get in the market. It's a smart approach to using water on your property for good use."
Stan Southwick of Southwick Landscape Architects said he designed the landscaping for a 2½-acre estate in Henderson called the Dovetail Residence that utilizes water usage very efficiently. He installed a 30,000-gallon underground tank that collects rainwater for irrigation.
The system has its own weather station run by a smart controller that reads moisture content in the soil to determine if watering is necessary.
"I've been working here for 30 years and I never did a project like this," Southwick said. "The tank cost around $30,000 …"
The Dovetail Residence was designed to achieve LEED silver Other unique high-end features on the property include state-of-the-art lighting that includes high-voltage lights for illuminating the exterior of the home and low-voltage lights to accent surrounding palm trees, plants and shrubs. A 250-square-foot garden was built in the backyard with raised planters for vegetables. About a dozen fruit trees were also planted.
"The owner(s) wanted a lush tropical feeling here in the middle of the desert similar to their home in Malibu," Southwick said. "The plant material is really green and lush and there is a lot of texture. Everything catches your eye."
Another property Southwick designed with breathtaking features is an estate called the Dragon Ridge Residence at MacDonald Ranch in Henderson. The home, a three-story structure, sits on an acre perched on top a hill that slops down 28 feet. The homeowner has unobstructed views of the entire Las Vegas Strip and one long fairway on the neighboring Dragon Ridge Golf Club.
"The owner wanted the front of the property to be very desert, and when you step through the metal gate it turns into a lusher and greener look," Southwick said. "There's a 35-foot long swimming pool (in the backyard) that has a disappearing edge."
A unique feature of the pool, Southwick said, is that the water is level with the edge of the deck. Also, there's a swim-up bar and outdoor sunken kitchen where people swimming can come right up to the kitchen to eat.
Southwick said this outdoor kitchen/pool features cost about $200,000. Landscaping for the entire property was around $1.25 million.
"What people want in really high-end properties are outdoor living amenities that can be used at night," Southwick said. "They want full outdoor kitchens with proper shade. Fabric shade covers are becoming very popular. You can get a lot of different shapes and colors that people like that really pop when you get outside … They want waterfalls with fire coming out. You can easily spend $10,000 to $12,000 and more for something like this."