Southern Highlands offers a European feel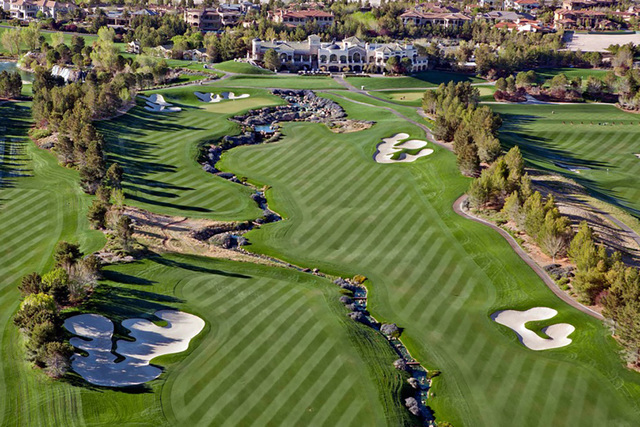 When Garry Goett and his Olympia Cos. team started acquiring southwestern Las Vegas Valley land in 1995, he envisioned creating a village-style community with the warm, cozy feeling of being "quietly close to everything."
Planning for 2,750 acres of property bordered by Interstate 15, Cactus Avenue and Jones Boulevard ran from 1997 to 1998. Clark County approved final plans for what would become known as the Southern Highlands master-planned community in 1999.
The anchor of Goett's community is the nationally recognized Southern Highlands Golf Club, a private 18-hole championship golf course co-designed by Robert Trent Jones Sr. and his son, Robert Trent Jones Jr. This was the final golf course designed by the father and one of only four courses the Jones designed together.
Pacific Links International acquired the club in 2011 with Goett's Olympia Cos. remaining as a minority owner. About three months ago, Goett's company and three other investors bought the golf club back. All have equal shares in the club's ownership, said Goetti, who is a managing partner.
"The reason we purchased it back — I purchased it back — was we wanted to operate the club in a much more exclusive and private manner than Pacific Links was doing," Goett said. "Everyday I go to the golf club and people thank me for taking over the golf club."
He said he has spent more than $100,000 on improvements on the golf course and the clubhouse.
From the beginning, Southern Highland residents were not required to be a member of the golf club; and members do not need to be a resident. Many members live all over the Las Vegas Valley and in other states, Goett said.
With homes that originally sold from $200,000 to more than $10 million and $20 million, Southern Highlands evolved into the village Goett wanted. Today, it features six parks; two dog parks; hiking, walking and biking trails; various covered outdoor areas; water features; its own fire station; basketball, baseball, soccer and tennis courts; a Boys &Girls Club and several educational facilities that include two preschool/day care centers, four kindergarten/elementary schools, two middle schools and a high school.
"We thought Southern Highlands was ideally suited to being close to downtown, the Strip and airport," Goett said. "I-15 is conveniently located for our residents, and we have a lot of great views of the city (Las Vegas)."
Goett said several builders are developing the southern part of Southern Highlands, with homes ranging from $300,000 to $2 million with some estate residences that will be significantly higher. Mitch McClellan, president/broker of Southern Highlands Realty, said regional and national builders Lennar, Pulte Homes, William Lyon and Woodside Homes are building throughout the community.
Kristen Routh-Silberman of Sotheby's International Realty, said, "Southern Highlands has a European feel with all its sculptured gardens," said "A lot of Southern California people like the community because it reminds them of Beverly Hills with its golf course and tennis."
Goett said Southern Highlands hosts the Southern Highland Collegiate golf tournament, which spotlights up-and-coming young athletes, many of whom have gone on to become professional golfers.
"The Southern Highlands golf course is a good challenge for all levels of golfers," Goett said. "We have five different tee boxes for each person's ability."
Besides the golf course, Southern Highlands offers a 13,000-square foot private Tuscan-style spa for residents that includes access to a 4,000-square-foot fitness center, 25-meter lap pool, children's pool, Jacuzzi and lighted tennis courts.
A sports park is being planned that will include four soccer fields, full basketball courts, splash pools and children's areas and several jogging and bicycle paths.
According to the Clark County Planning Department, completion is expected by September 2017.
Another important aspect of the "little village" of Southern Highlands, and something Goett enjoys promoting, is its philanthropic events such as the Governor's Black-Tie Invitational and the Ladies Pink Tee.
The Governor's Black-Tie is an annual golf tournament and social event endorsed by Nevada's governor. Its has raised $18 million to date nonprofit organizations supporting children, teenagers and women in need throughout Southern Nevada.
The Ladies Pink Tee is an annual woman's golf and social event established to raise money for local breast cancer organizations. Sponsored by the Southern Highlands Charitable Foundation, MJ Christensen Diamonds and Saks Fifth Avenue, women golfers dress in pink and participate in chipping and putting contests and a nine-hole "Shoot for the Cure" golf scramble that includes cocktails and dinner.
Goett said the Southern Highlands Boys &Girls Club at Southern Highlands Parkway and Shinnecock Hills Avenue, is open year-round for youngsters ages 6 to 18. It offers a learning center with a computer lab, art studio, game room, teen center and a regulation-sized gymnasium.
"This is a very special place, and it's open to all kids — both from inside and outside of Southern Highlands," Goett said.
Goett said estate lots, ranging from one-half to 3 acres, will soon be offered for development on the Olympia Ridge section. He expects these estates to range in prices from $3 million to "wherever your imagination goes."