Spanish Trail isn't the Vegas you think you know — PHOTOS
February 23, 2015 - 2:18 pm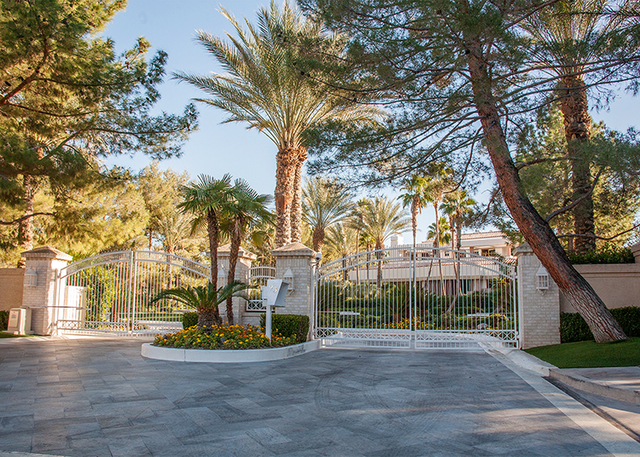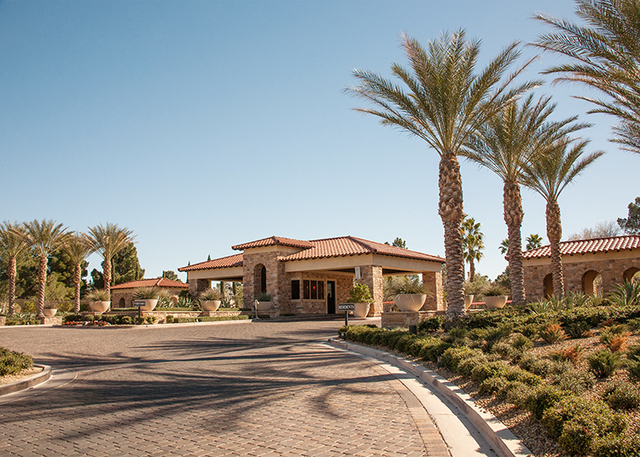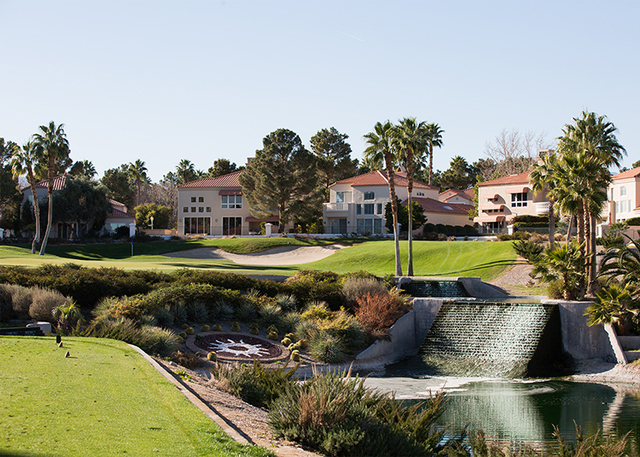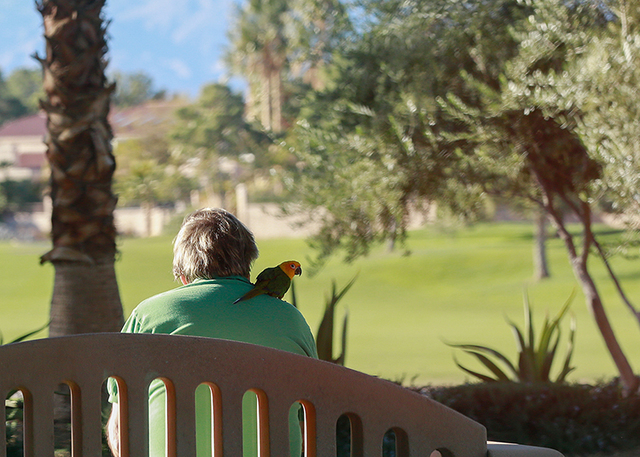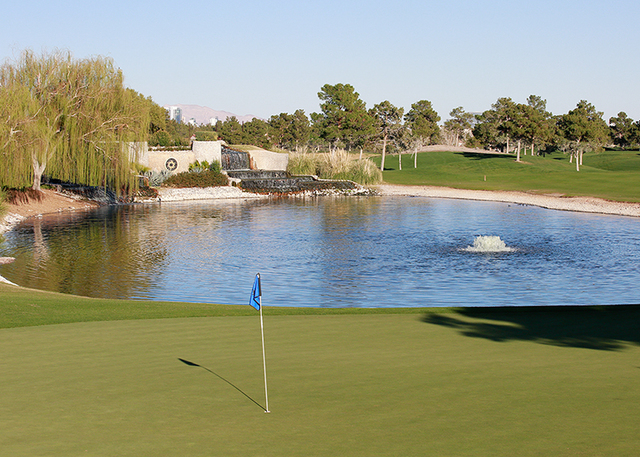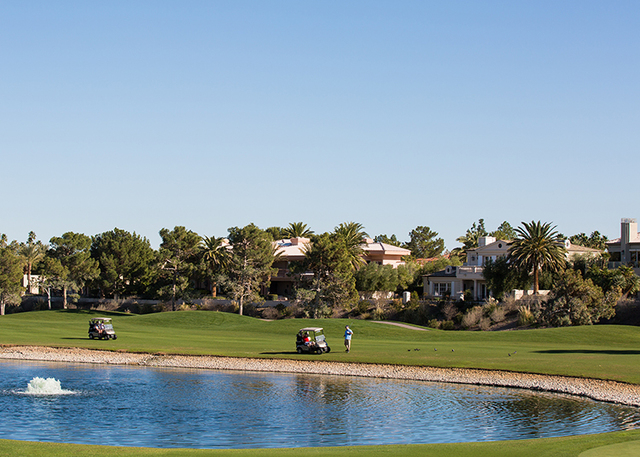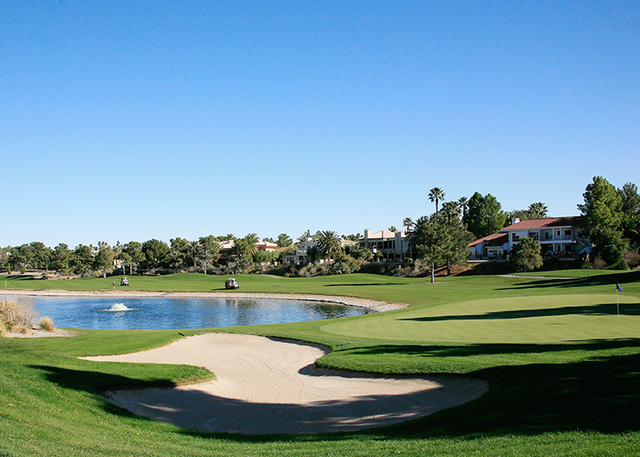 "Behold, the Mojave Desert," Spanish Trail Country Club marketing director Jeff Drothler jokes, gesturing out over a lush expanse of grass and lagoons dotted with geese, blue mountains rising in the distance. Indeed, standing inside Spanish Trail, it's hard to believe that you're in Las Vegas at all, and for residents of this gated, 640-acre oasis, that's the point.
The country club and surrounding community have served as an address for local professionals, golf aficionados and bold-faced names since its founding in 1984. Andre Agassi and Siegfried Fischbacher have called Spanish Trail home, and the royal family of Brunei owns a 15-acre compound here with a nearly 40,000-square-foot main house.
But with town houses starting around $225,000 sitting alongside custom estates, homebuyers of more modest means can also gain access to this enclave, where residents greet each other as they bike along wide streets and the club's restaurant delivers lamb chops and lobster tails to members' homes upon request.
"The original intent was to offer different kinds of living," said Jerry Roberts, the club's founding resident golf professional. Developers drew inspiration from California's Palm Desert in building Las Vegas' first completely private, walled-in golf course community, bounded by Tropicana Avenue to the north, Hacienda Avenue to the south, Rainbow Boulevard to the east and Durango Drive to the west.
"There was nothing up here but desert," Roberts said. "We took a big chance."
Hosting the PGA Tour's Las Vegas Invitational in the mid-1980s lent credibility to the 27- hole, all-grass golf course designed by Robert Trent Jones Jr. The club's exclusivity created a certain mystique and it met its 10-year goal of attracting 600 members in just five years.
Over time, other gated luxury communities opened in Summerlin and Henderson, drawing buyers who preferred contemporary architecture and city views to Spanish Trail's 1980s and '90s-era Mediterranean homes, which began to look dated to some. Yet Spanish Trail has rebounded well from the recession, Realtors say, and continues to lure buyers with its security, central location and spacious, verdant lots.
Realtor.com gives the average list price of a home in Spanish Trail as $877,198.
Inventory is low, and Realtors say well-priced homes tend to move within 60 to 90 days — faster for the single-story houses often preferred by retirees.
"People see the value in buying a house that's slightly older that they can do refurbishments to and that still has a great yard and a great view," said Gavin Ernstone, a broker and owner of Simply Vegas, who specializes in luxury homes.
Helena Beninato, 53, bought a $1.5 million, 6,500-square-foot custom home in Spanish Trail two years ago with her husband, a retired lawyer, and began renovating it, replacing carpet with marble flooring and converting a master suite into a billiard room. Beninato, a New Jersey transplant, says she visited the neighborhood and was immediately taken with its mature trees and varied landscaping.
"I was used to a lot of greenery, and a lot of developments out here are very desert-y," she said. "I just fell in love with the community."
Roving security vehicles patrol the community at all times, and each home comes equipped with an alarm system and panic button monitored at the main gate. The vigilance makes Spanish Trail popular with snowbirds, who can leave their homes unattended for months at a time, confident they're being looked after.
Residents of the community's 12 neighborhoods, each with its own homeowners association, share use of tennis courts, including a tournament court with stadium seating; fitness centers and swimming pools with country club members.
Semicustom single-family homes range from 2,000 to 4,000 square feet; custom-built mansions line streets with names like Gulf Stream Court and Princeville Lane, some of the most opulent hidden behind additional gates with their own codes.
With few design restrictions, a visitor can turn the corner and see anything from a stone façade with mullioned windows, to an art deco fortress, to an ivy-covered Italianate flanked by flowering pear trees.
The varied housing stock makes it easy for Spanish Trail residents to move within the development as their needs change, said Jerry Masini of Award Realty. Masini bought a townhome in the community in the mid-1980s. He now owns a sprawling custom house facing the golf course, and counts Palms co-owner George Maloof, Cashman Equipment CEO MaryKaye Cashman and Clark County commissioner Stephen Sisolak as neighbors.
Masini has sold hundreds of homes in Spanish Trail, and says about half of those sales are to existing residents, whether young families looking for more space, or empty nesters seeking to downsize.
"If you can buy something in the $200,000 range in a very expensive neighborhood, you're doing OK," Masini said. "You can start with a small home and work your way up as big as you want, and stay in the community."
Spanish Trail Country Club, run separately from the homeowners associations, has evolved with the times. The clubhouse, which underwent a $15 million renovation in 2007, still boasts lavish touches like Chihuly glass chandeliers and personal, temperature-controlled liquor cabinets for members. But, following the recession, the club has also become more accessible, introducing limited outside play for nonmember golfers and eliminating its initiation fee.
The moves were aimed at attracting more members at a time when financial difficulties have forced many private golf clubs nationwide to close their doors. Spanish Trail residents can take advantage of a complimentary 30-day trial membership; regular monthly dues range from $200 to $700.
Although the passage of time has brought some challenges to Spanish Trail, it's also served to emphasize the community's advantages. What was once seen as an out-of-the-way location has become convenient as the city has sprawled outward — just a few minutes from the airport and in easy reach of grocery stores and other amenities.
And in today's economy, newer luxury communities would be hard-pressed to match the amount of land and water-intensive landscaping that went into Spanish Trail, or the seamlessness that comes from having all the homes planned by a single developer.
"You couldn't do this again," said Drothler of the building of Spanish Trail. "Where would you find the land, and how would you get the water rights?"
Adds Masini, "There hasn't been a community like Spanish Trail built in a really long time, and there probably won't be."