Sports agent Brian Fettner builds $4 million custom home — PHOTOS
January 8, 2016 - 3:07 pm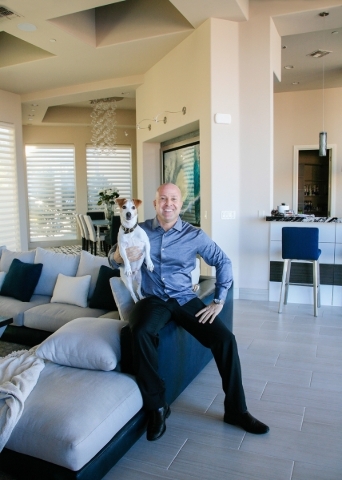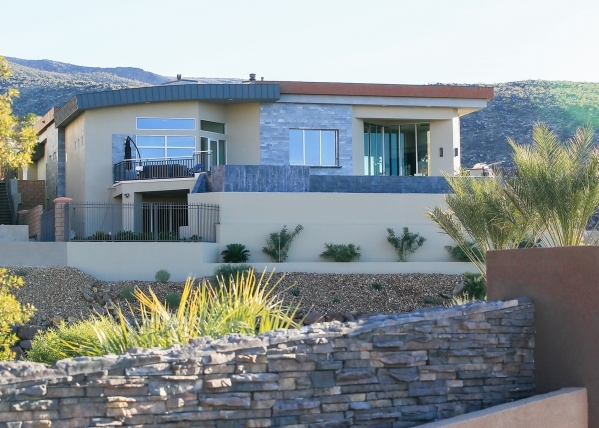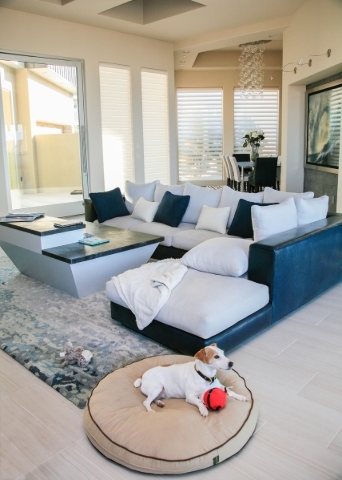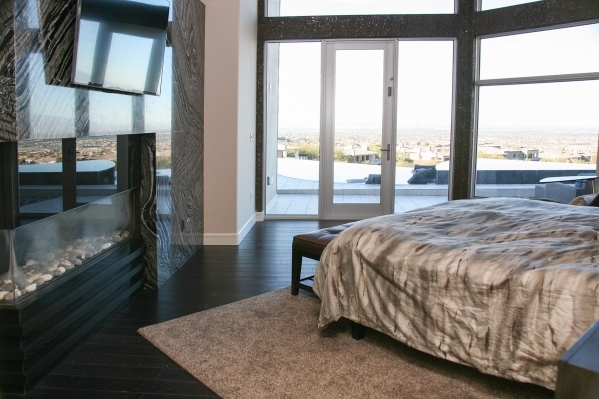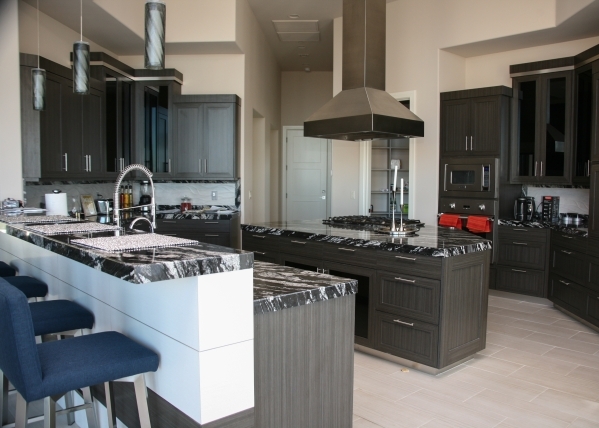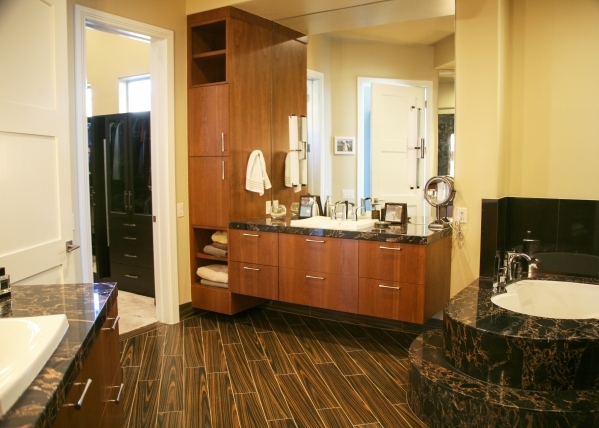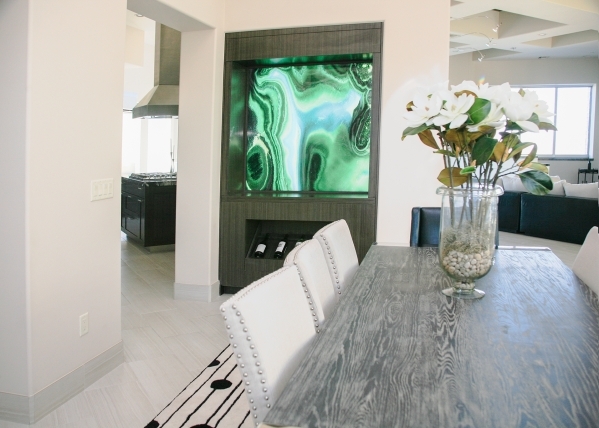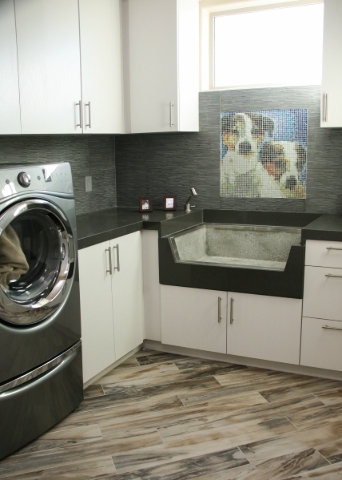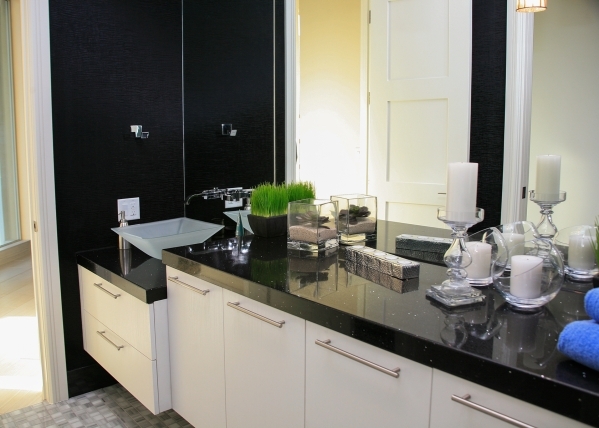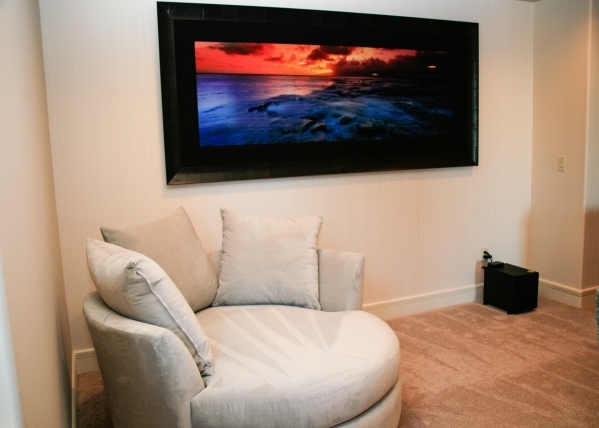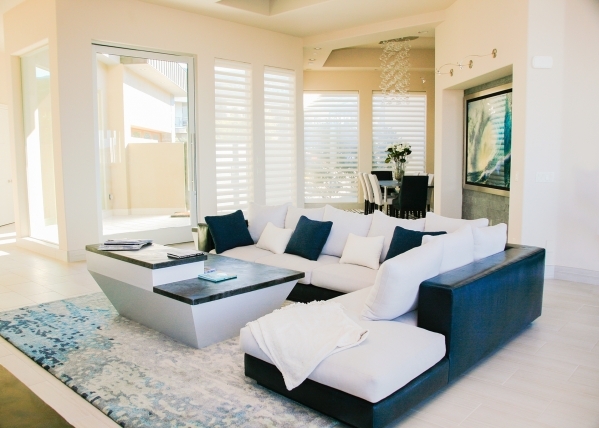 When sports agent Brian Fettner decided to expand his company's Boca, Raton, Fla., base into Las Vegas, he bought a condo in Veer Towers at City Center. But he still needed a house for his beloved Jack Russell Terrier to, well … "complete him."
Fettner owns Elevate Football, which represents collegiate athletes as they move into professional status. His roster includes Martavis Bryant, Austin Sefarian-Jenkens and Jaylen Watkins, and some of them are Fettner's house guests.
Traveling often between Florida and Las Vegas is stressful, and he wanted a home with neighborhood amenities, so he chose Henderson's MacDonald Highlands, and says "I think it's the best neighborhood around."
In 2013, he selected one of the new Highlander lots within the community to build a custom home on. The lot is higher up than the original sections developed a decade ago and is surrounded by a flurry of construction. The two-story, 4,600-square foot home, completed late last year, is built into a space carved out of the surrounding mountain range and is designed to maximize the valley view.
Upon entering through an all-glass, oversized pivot-pinned modern front door, your eye is drawn across the open living room and lounge areas to the shimmering view of the Strip and the Dragon Ridge Golf Course.
"It's the star of the show," Fettner said. "From here, you're facing all the action."
Two retractable glass pocket doors sit at a right angle between the kitchen and living room opening out to the deck. The 49-foot pool's infinity edge vanishes on the golf course side. Three large concrete steps are incorporated into it leading to a circular sunken lounge pit placed beside the pool. The deck also has an exterior shower, which Fettner says he uses to bathe his dog, Maverick, in the summertime. The rest of the year Maverick enjoys his own private spa tub in the laundry room, complete with a custom tile wall mosaic of two of his ancestors. Apparently it's one of Maverick's favorite spots; he jumps in and out frequently.
The kitchen has a center island with a six-burner gas Viking stove and Viking appliances. The cabinets are grey wood finish; some of the doors have smoked glass inserts. It features a stainless-steel farmhouse sink, pendant lights suspended above a breakfast bar that seats four, plus an eating area with a door directly onto the deck near the outdoor barbecue, providing an alternative to moving the walls for fast deck access.
The living room features a large fireplace wall and wet bar with a pass-through window to the deck, a nice added convenience. There is a wine storage wall that can house more than 100 bottles. The dining room and kitchen tables are illuminated by modern chrome and glass chandeliers.
Fettner paid $500,000 for the lot and spent another $3.5 million dollars building this house. He praised the process used by his builder, Sun West Custom Homes, which started with a lifestyle questionnaire to determine his individual needs.
Building a custom home can be stressful, said Fettner especially when building into a hillside.
"It's basically like any relationship. If you have reasonable expectations and are willing to work through the bumps, it's worth it," he said. "The great thing about a custom home is that it's custom. You want to let your architect do his thing, and then you can tweak what he did, and one thing I wanted was: I like closets by the garage door so that when I come in from either garage in the wintertime, I can immediately hang up my jacket in the closet; it doesn't have to take up space in my closet."
The house has a wide mix of materials throughout, all high-end, especially the different wall coverings in the bedrooms and office. Several different types of flooring, including real hardwood and faux wood tile, were used, and about five different granite finishes, although all dark in color.
"It was Brian who fell in love with different stones, and I wanted to give him what he wanted without them clashing with each other, so they were strategically placed in the house," said designer, Karla Isais. He chose different granite for the kitchen than the wet bar, and the fireplaces and bathrooms have different finishes, but they all kind of work together."
The living room and bar are covered with a dramatic ceiling of white squares lined with brown wood tongue and groove flooring planks.
Fettner said Isais "was very good about not letting me go over the top. Everything I liked was dark, but she said 'I'll let you do it (the wood on the ceiling) but you have to take a light floor.' So by having a light floor, it enabled me to have everything else dark."
Just off the front door, a Peter Lik photograph (one of several in the house) in a stainless-steel frame is displayed beneath three halogen lights. The same stone used on the outside of the house is also used as an accent here, he said to "try and bring the outside of the house to the inside." The same finish was incorporated into the living room wall around the horizontal gas fireplace's granite surround.
Both bedrooms upstairs have an expensive, unusual wall covering that blends thin layer of cork with metallic leafing, creating dark and light on the wall. One bedroom has lighter wallpaper on two walls, with matching dove gray paint on the others, and thick gray carpeting. Its bathroom has dual doors; one to the bedroom, and the other to the living room, so it serves as a very posh powder room with dramatic two-toned black textured wallpaper. There are white cabinets with a black granite top and clear-glass vessel sink with chrome fixtures. The granite is repeated along the baseboard.
In the master bedroom with a hardwood floor, the bed is oriented to take advantage of the view. Automatic shades provide darkness. The room has a horizontal gas fireplace with a lighter variation of the kitchen granite face, and a separate door leading to the pool deck.
The master bath features a black pebble stone shower floor; split vanities with chocolate brown cabinets, and mirror-mounted chrome light fixtures. Its large walk-in closet has three levels of hanging rods and mirrors that tilt and retract when needed.
The lower level stairway is made of light wood and illuminated by built-in automatic lighting and two large vertical wall sconces. Downstairs are two bedrooms. One is used as an office and has a glass door leading to an outdoor putting green. The other is part of a retreat including a bedroom with a curvy tray ceiling and a great looking full bath that's shared with the adjacent media room and wet bar.
"I didn't want to spend a lot of money down here, but that was just to make it a little special, to give it a little personality," Fettner said.
Although his house is very masculine, Isais worked with him to strike a balance.
"Even though it's a custom home, eventually you're going to want to sell it," Fettner said. Hopefully, the next owner will also love dogs.
ABOUT THE HOUSE
LOCATION: 1228 Stellar Rim Court, MacDonald Highlands
OWNER: Brian Fettner
SIZE: 4,600 square feet, four bedrooms, four baths, living, dining room, basement bar/den, two garages, custom dog wall mosaic
FEATURES: View of Strip; On 15th hole of Dragon Ridge Golf Course; three fireplaces, custom mosaic, custom-built home
HISTORY: Bought lot in 2013 for $500,000; Sun West Custom Homes completed in 2014 for another $3.5 million dollars