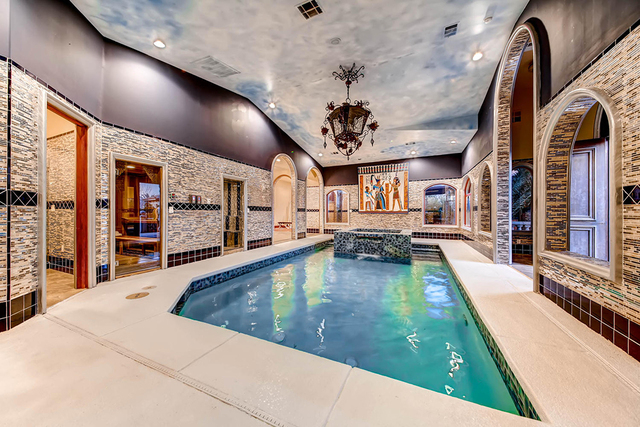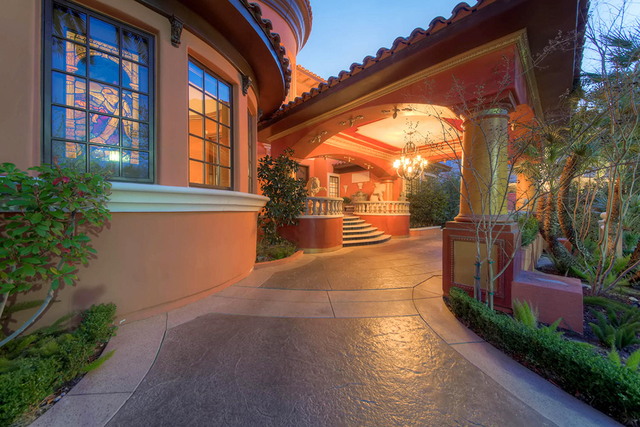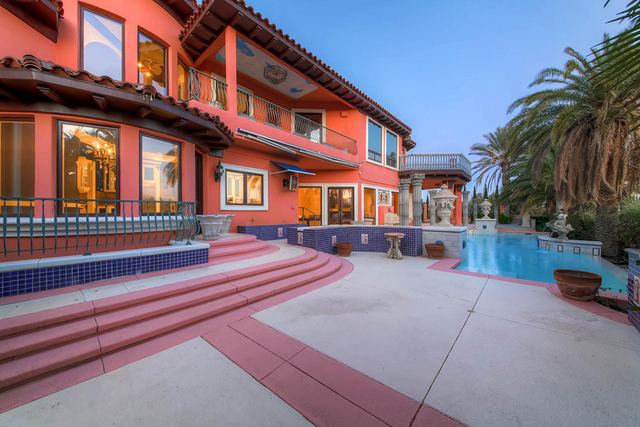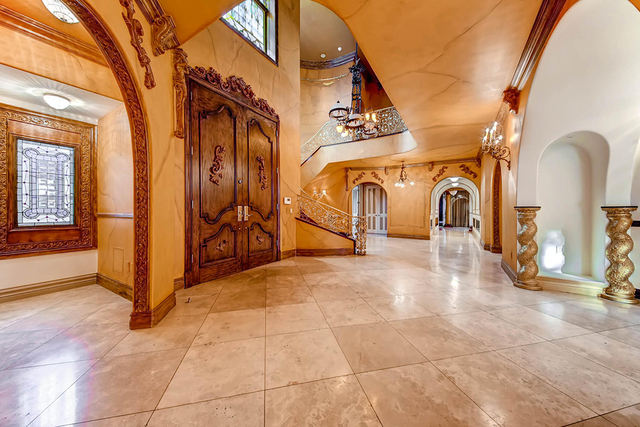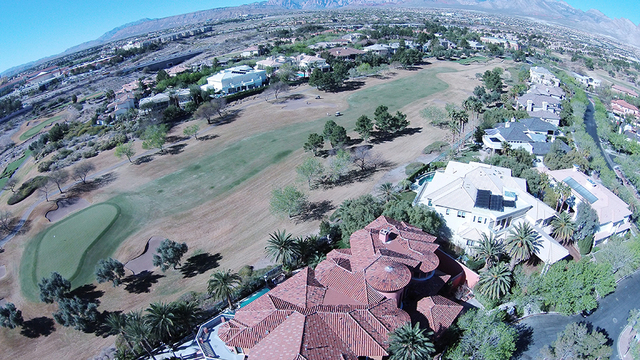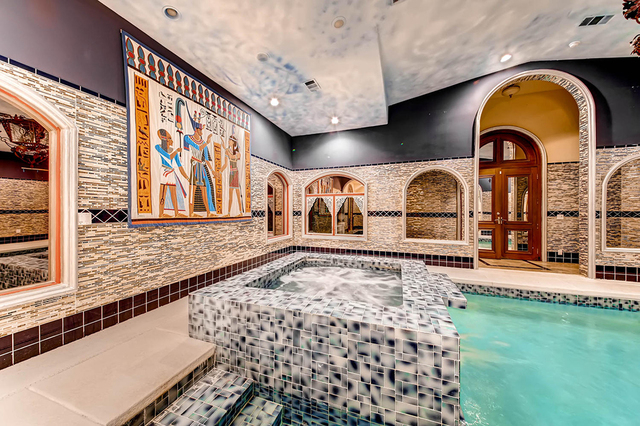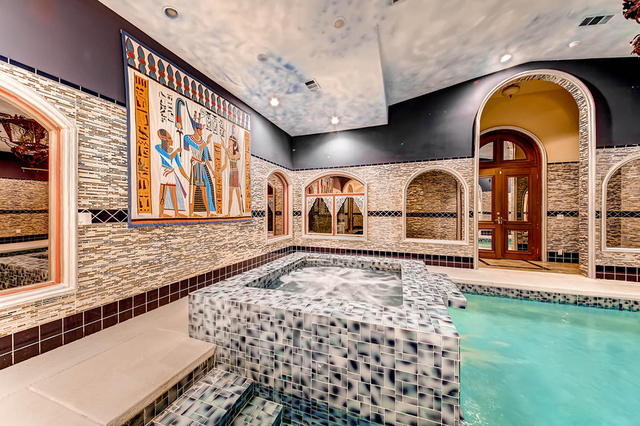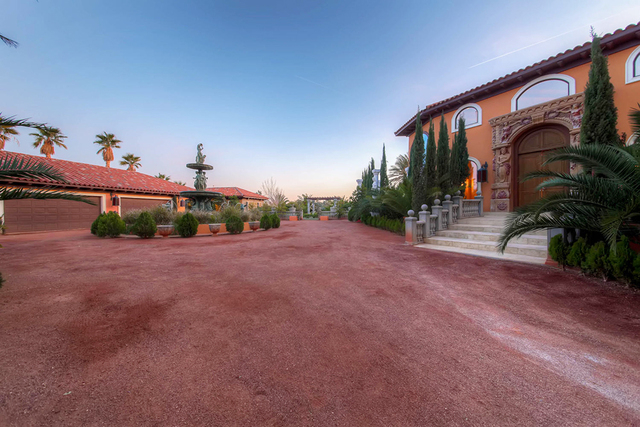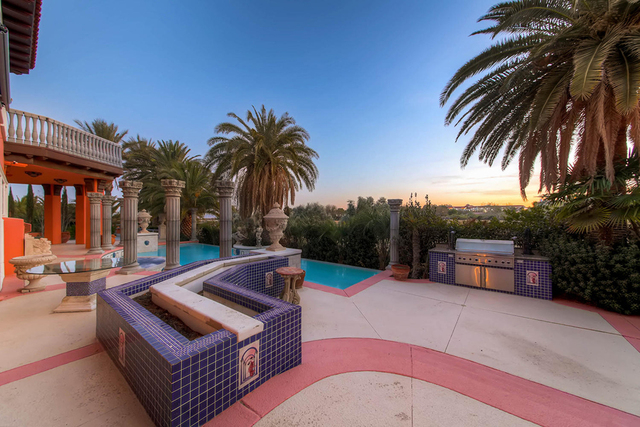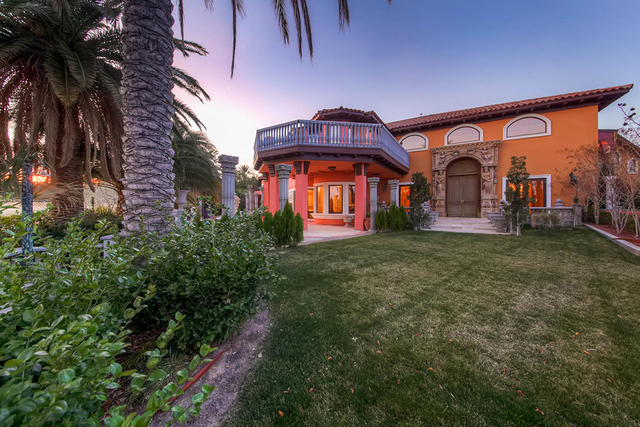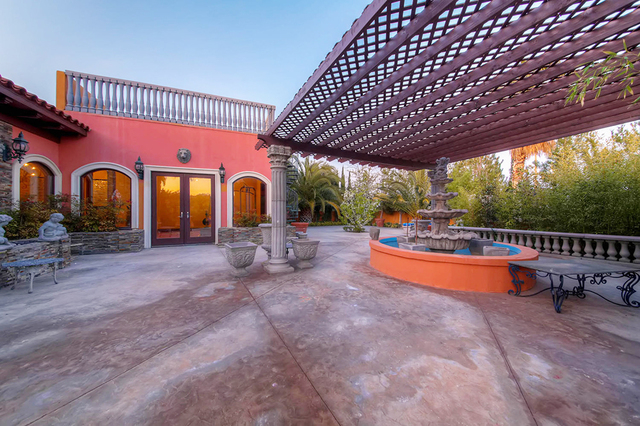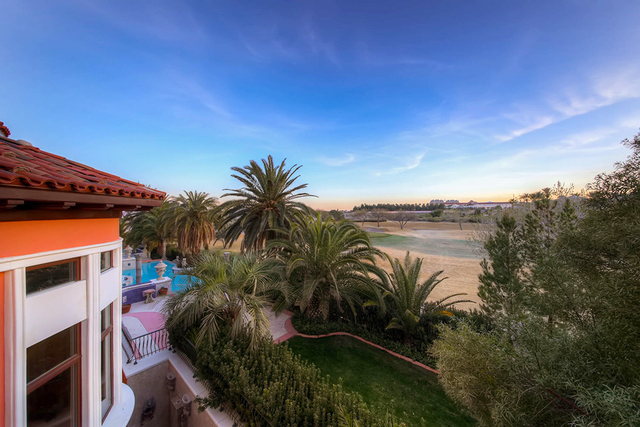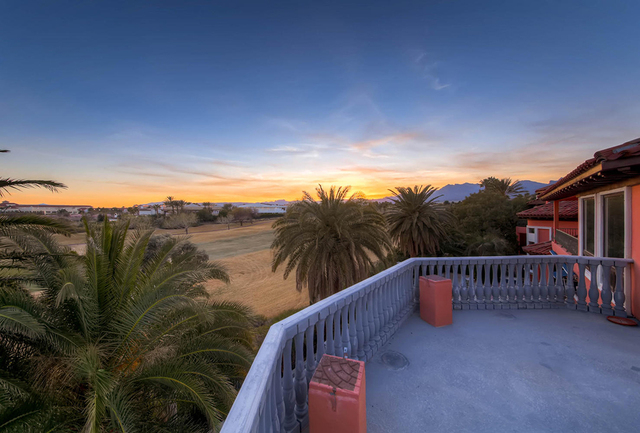 The mansion at 8801 Palm Greens Court sits on a nearly 1.2-acre lot and encompasses 19,000 square feet in Summerlin's prestigious neighborhood, Tournament Hills.
"It's in a private, gated community on a cul-de-sac so there's not a lot of drive-through traffic," said Las Vegas luxury Realtor Tom Love, who has the listing. "When you talk about a compound, this is exactly what you've got."
It's hard to miss this home as it's the only rust-orange one on the block.
The vivid colors don't end at the façade. They flow throughout each room of the home, as do chair rails and crown molding.
The house is a foreclosure and is owned by Van Nuys, California-based Streit Lending, according to public records and Love. The luxury Realtor listed it for nearly $4 million this week. It sold in 2010 for $2.85 million.
The three-level residence, one of the largest in the community, sits on a double golf-course lot and boasts eight bedrooms and 13 baths, a spa area with an indoor pool, hot tub, steam room and sauna, as well as a detached guest house with dual guest quarters, garage and an outdoor pool.
"It's a beautiful property for someone to make their own," Love said. "It's a great opportunity for someone who wants a very large property on a very large lot in a premiere community for a low price."
Love said there are plenty of areas on the property for people to live in and enjoy.
The home has views of the mountains, Strip and TPC Summerlin golf course from the patio in the master bedroom, as well as on the home's bridge, which leads to the spa area from the main house.
"You get the trifecta of views," Love said.
Nearly 20-foot-high entry doors open to the grand ballroom on the main floor of the house, which also includes a laundry room, butler pantry, chef's kitchen, bar with an indoor fountain, office and movie theater.
The ground level of the 17-year-old home has a large open space that could be used as a living room, theater or gym area, as well as a sauna and shower with floor-to-ceiling marble, outside fountain with stairs leading to the backyard, office, two guest rooms and private courtyard with water features.
Following the gold wrought-iron railing upstairs is a bedroom with a full bath, secondary master suite complete with a step-up pedestal for the bed, balcony with a staircase leading to the backyard, stone fireplace, shower and tub combo with floor-to-ceiling black stone tile and two cedar-lined closets.
"They definitely didn't skimp," Love said about the home's details.
Down the hall sits a hookah lounge, full bar and second laundry room.
The master suite has its own balcony, which encompasses almost the entire side of the home and gives way to the Strip, mountain and golf course views.
The purple and gold color scheme flows into a full bath with a solid stone tub and cedar-lined walk-in closet before continuing onto a second walk-in closet with a hidden room and safe as well as another full bath and office.
All three levels are accessible by the home's elevator.
"It's a great home if you want to display art and entertain," Love said. "It's also a great family home because everything is here so their kids would never want to leave and their friends wouldn't, either."
Love said there are plenty of multigenerational spaces in the home for parents or older children as well as living quarters for staff members.
"There's a little bit of something for everyone," he said.
Contact reporter Ann Friedman at afriedman@reviewjournal.com or 702-380-4588. Follow @AnnFriedmanRJ on Twitter.