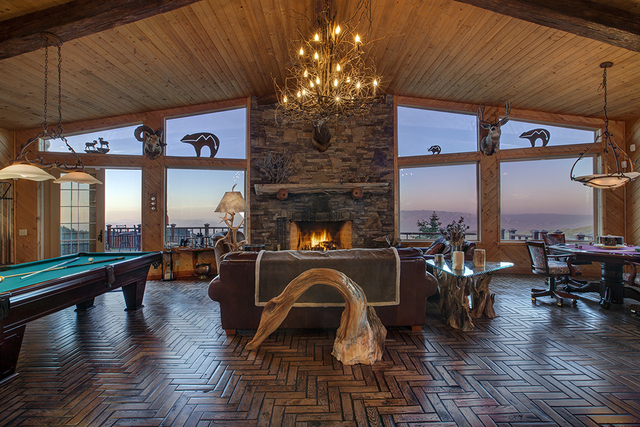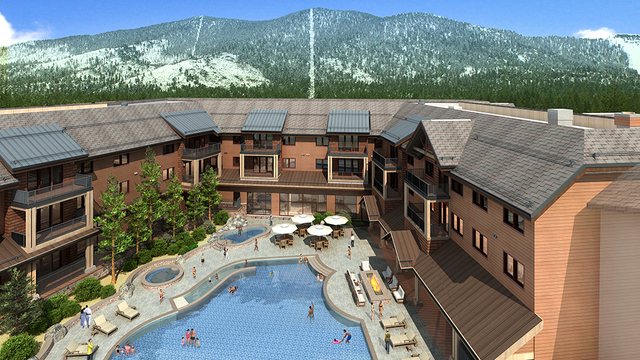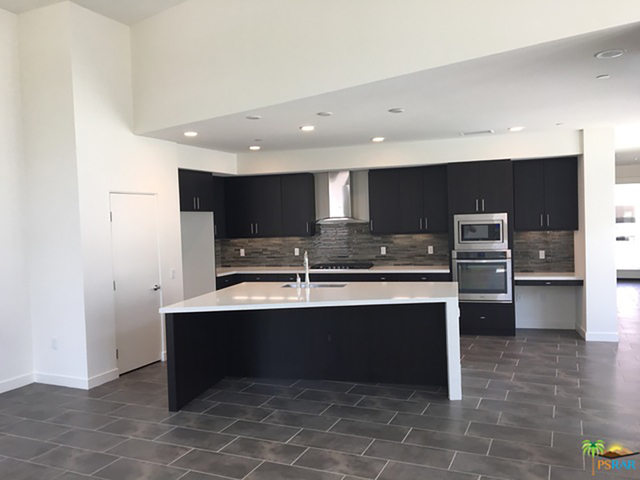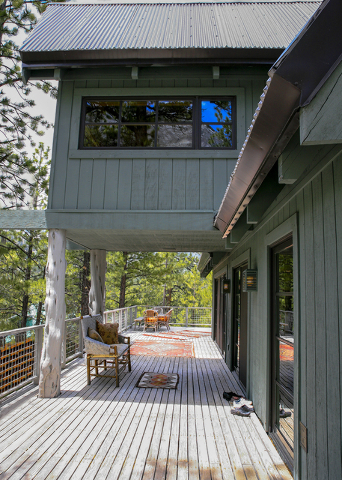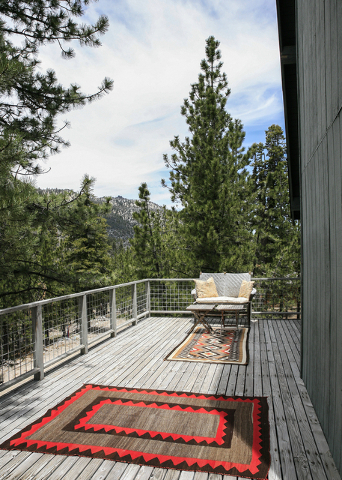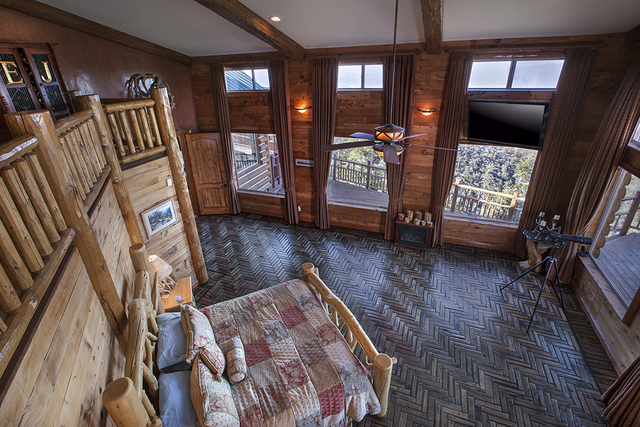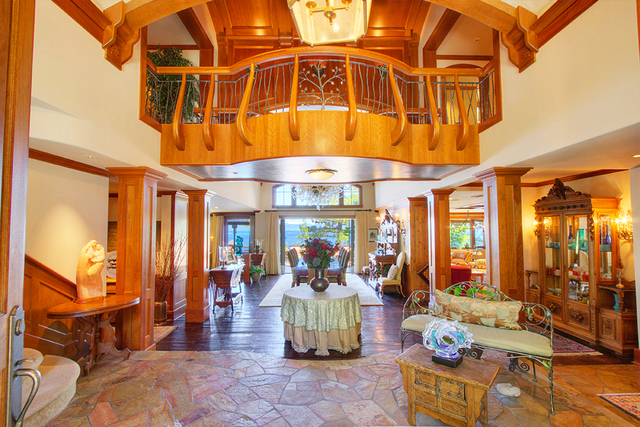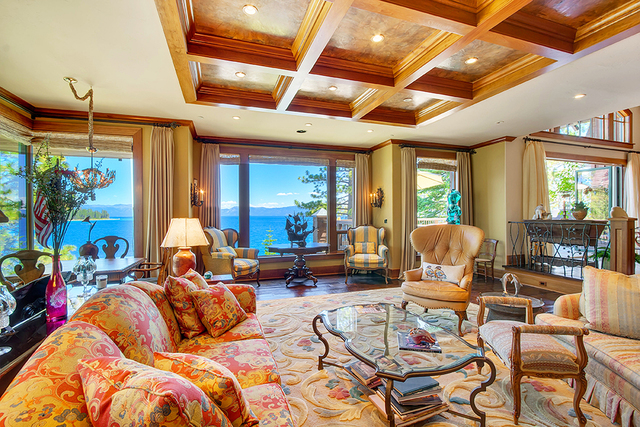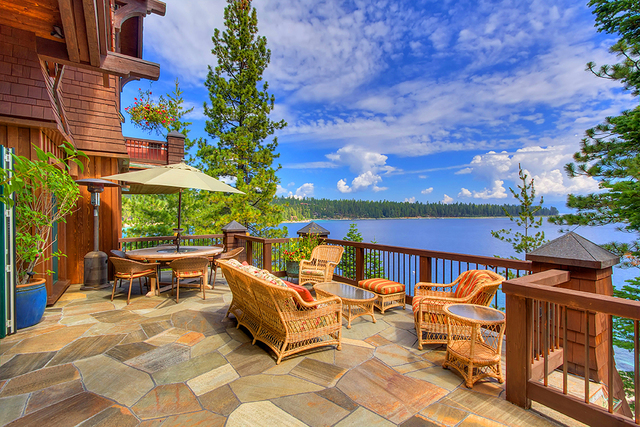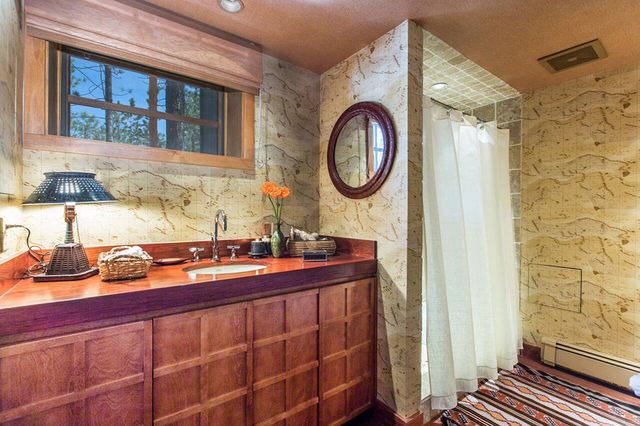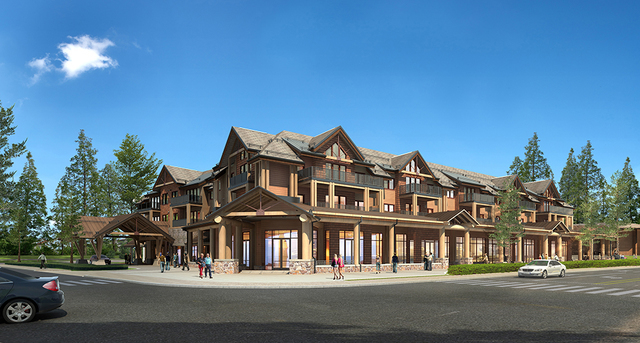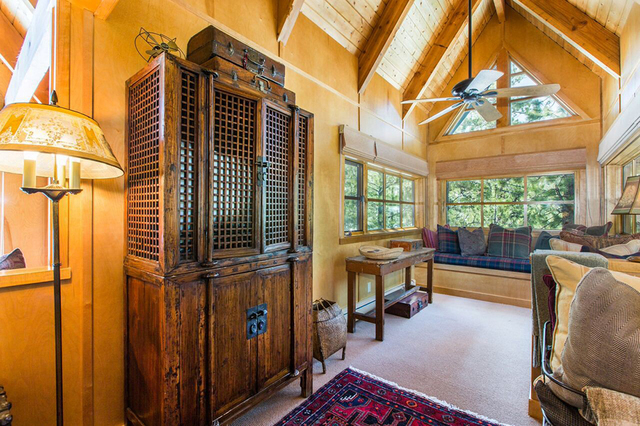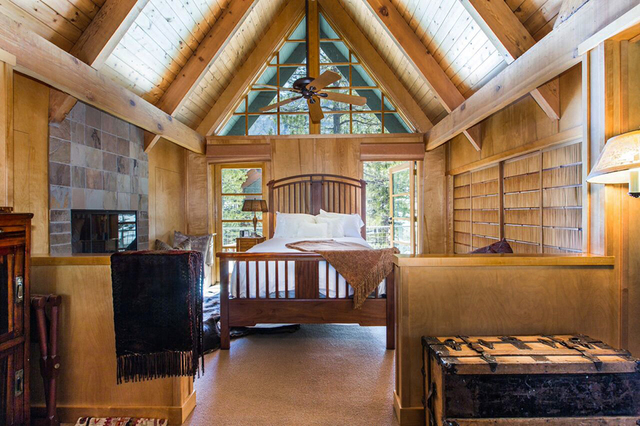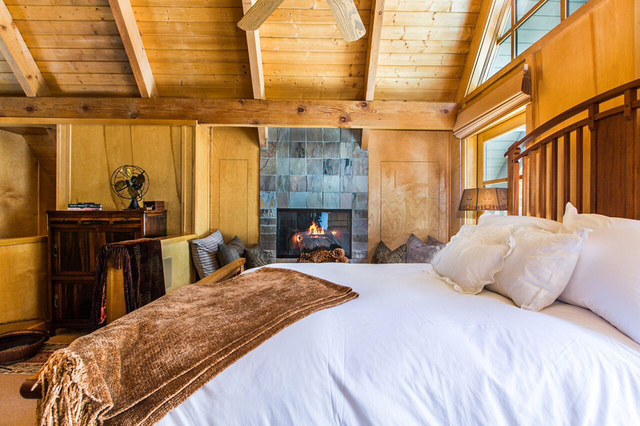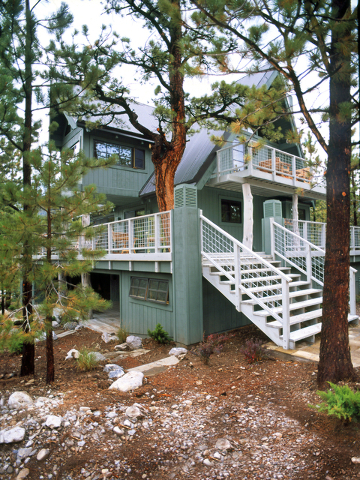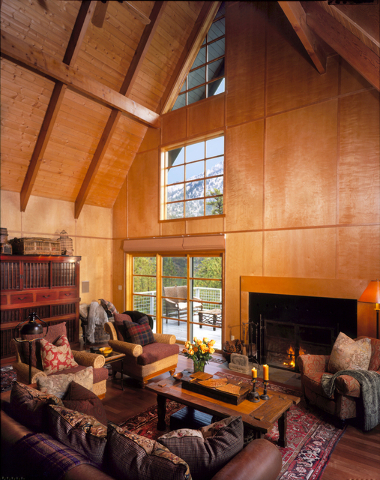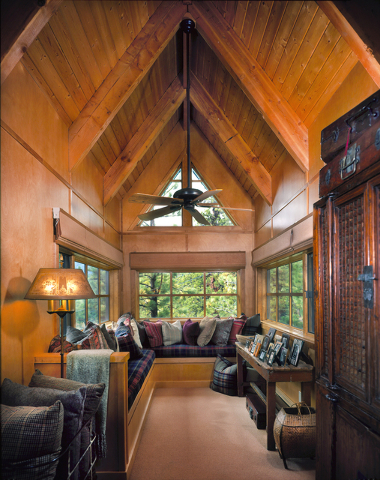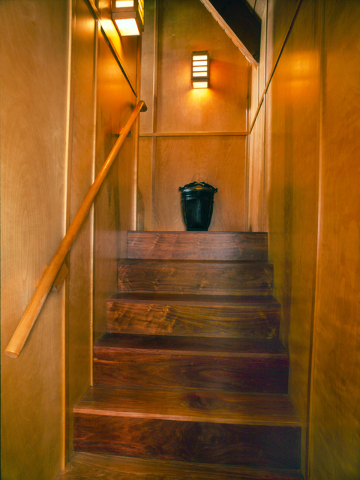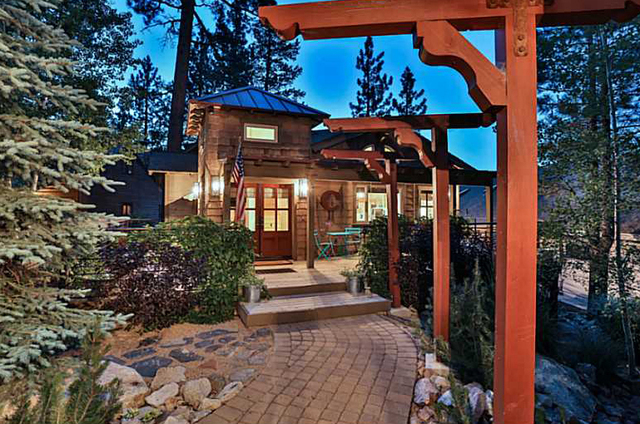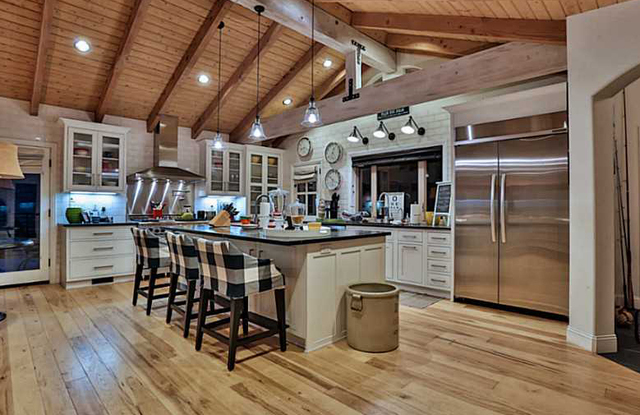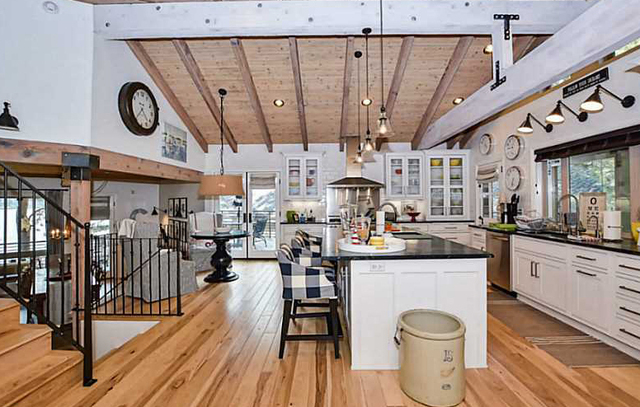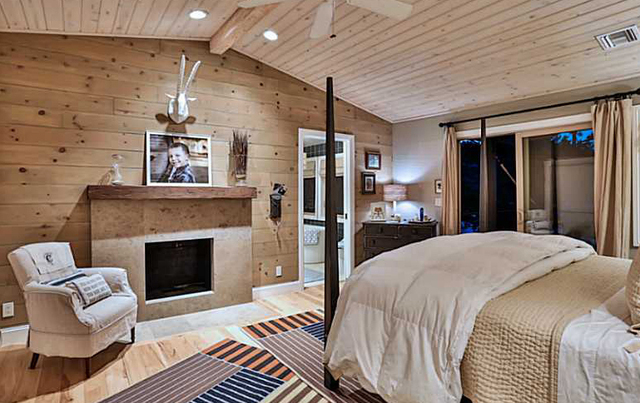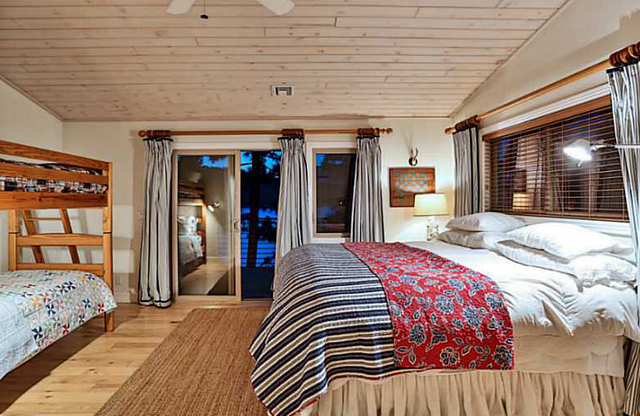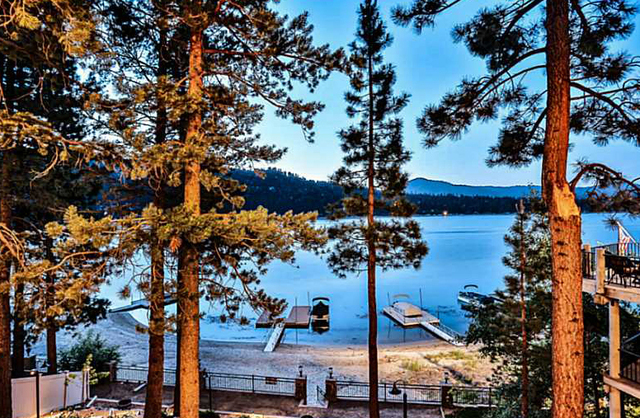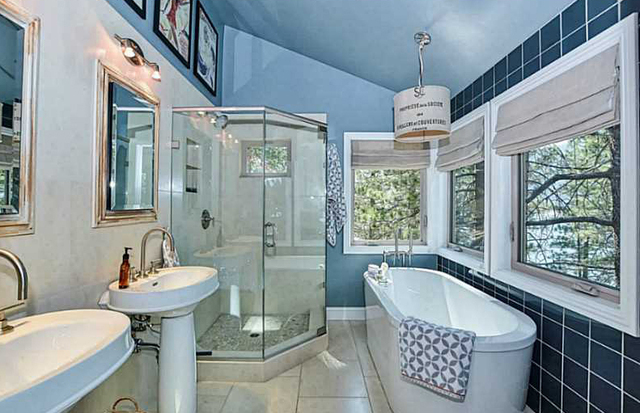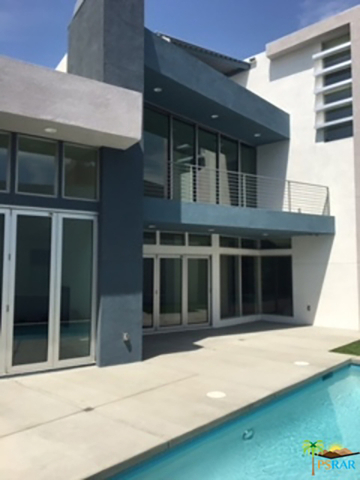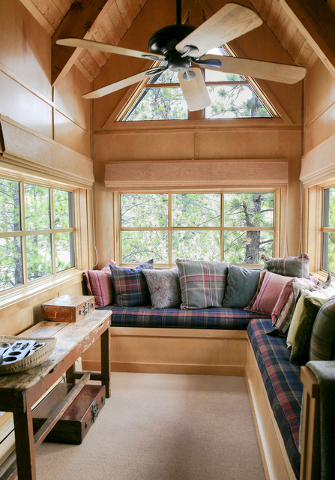 For the past three decades, Dr. Jean McCusker, a Las Vegas pathologist, used her Lee Canyon cabin to unplug from a stressful job. She purchased the 2,400-square-foot cabin 20 years ago and spent two years with architect Ted Rexing gutting the place to rebuild it into her own sanctuary to enjoy light jazz, reading and art.
The three-story cabin sits in a small gated Mount Charleston community called Lady of the Snow. It sits at the foot of Lee Canyon Ski Area.
"It's very quiet on this side of the mountain," she said while standing on her porch looking up at a backdrop of pine trees.
In other areas of the mountain, homes have cell service and cable and other creature comforts. Her vacation home runs on a community well, septic tank and a generator.
She said trading in the amenities for more peace and quiet was worth it.
"I come up here in the summertime," she said. "When I am here I love it and never want to leave."
McCusker said it takes her 45 minutes to get to her "precious oasis." But as she is semi-retired and has two little dogs she tends to spend more time in the valley. She has listed the cabin for sale for $695,000.
Further up the hill, actually, way up the hill, is Ennis Jordan's place — a 4,250-square-foot cabin, which is perched 9,000 feet above sea level in the middle of the Toiyable National Forest. On the north side of the home, the deck is more than 3,000 square feet. It has sweeping views of thousands of pines standing in the national forest, and below that, the Las Vegas Valley. To the east, you can see Lake Mead.
Jordan, who owned and operated a concrete company, carved out 10,000 tons of rock and dirt from the mountain to create his retreat.
He said he has used his vacation home in summer and winter.
When it snows, (and you can see avalanche trails on each side of the valley, which means the cabin is above the path) he uses an eight-passenger Sno-Cat to get his guests up the hill and tucked in by the fireplace with a nearby bar.
He is looking to build another cabin, this one more contemporary, even higher up the mountain. He has listed his property — 4.64 acres, which includes an adjacent lot for a helipad — for $2.2 million.
Some Las Vegans look for their getaway cabins and vacation homes a little more out of the way. For generations, residents have looked to Lake Tahoe in Northern Nevada as a place to cool off.
Michael Oliver with Oliver Luxury Real Estate, Christies International, sells a lot of luxury homes around Lake Tahoe on the California and Nevada sides.
He said he just sold a $10 million, 2-acre, lake-front lot to a Las Vegan.
"I work with a lot of wealthy Las Vegans who have vacation homes here," he said.
Oliver said his clients want the best spots on the lake and they want "turquoise water" — a deep blue cobalt blue water that is "so clear you can look right through it."
"And they want as much privacy as possible," he said.
He said Las Vegans seek homes in the area not just for the lake but also for the mountains and its ski resorts and golfing.
Oliver, who has been selling real estate in the area for more than 20 years, said he was expanding his business to Reno by the end of this year; and is considering opening Las Vegas offices.
Mike Dunn, a Realtor with Chase International, is pre-selling a condo project on the lake's south shore, about a block from the state line on the California side. Phase One will have 30 units priced from $895,000 to $2.15 million.
Amenities will include a pool, fire pit, lobby, ski valet and front desk concierge.
It will be one of the first luxury projects of its kind in decades for that area, he said.
According to a recent Chase International Real Estate report, the average price of a home near the lake is $779,128, while the median is $525,000.
In Big Bear, California, Ali Grant-Shoemaker is a Realtor with the Tim Wood Group, Re/Max. She grew up in Lake Tahoe and has lived in Big Bear for eight years. She has been selling real estate in the area for more than three years. She said she works with a lot of Las Vegans looking for vacation homes.
"I just sold a cute little place to a couple in their mid-forties who wanted to beat the Las Vegas heat," she said. "I drove by the house recently and they were utilizing the lake."
She said about 80 percent of her clients are buying a second home. They mainly come from Las Vegas, San Diego, Los Angeles and Orange County.
'The great thing about Big Bear is: We are smack-dab in the middle of it all."
She said the average price of a home in the area was about $350,000 with prices climbing steadily. Lakeside luxury homes can go from $1 to $3 million.
Some Las Vegas are looking for more of a cultural vibe than a rustic mountain scene.
Palm Springs is another nearby city that has a historical tie with Las Vegas. Many Strip performers, such as Liberace and Sammy Davis Jr., kept homes there.
Gordon Miles, president and chief operating officer of Berkshire Hathaway HomeServices, Nevada Properties, traded his Big Bear cabin for a Palm Springs home earlier this year. He started his career there more than 20 years ago.
He said he was looking for more social contact, nightlife and a downtown with street fairs, hip restaurants and markets.
He and his Great Dane make the drive most weekends to disconnect from the neon city and soak in some fun and sun.
"It's a vibrant community with a cultural hub."
Kenny Jervis and his partner owned Share Nightclub, a gay club, in Las Vegas. The two men have kept a vacation home in Palm Springs for years.
He is a Realtor with Windermere Real Estate and works with Las Vegans, like Miles, who are looking for vacation homes in an area that is diversifying.
He said $500,000 to $600,000 can get you a nice home in the area. The wealthy can spend up to $5 million and more.
"Palm Springs is very unique. It has a blend of people," he said. "It has a village feel. An urban village feel."
The city, once known as a retirement community, Jervis said has experienced a resurgence and is drawing a younger crowd with varied backgrounds.