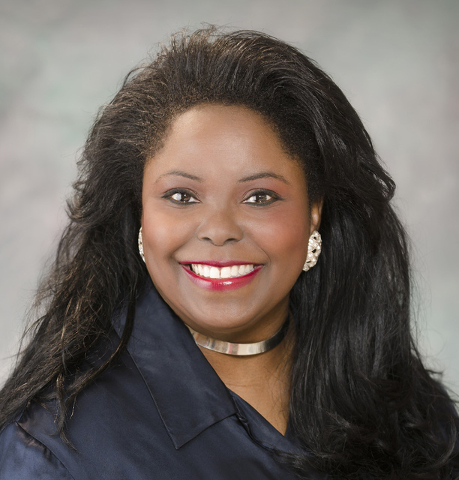 Las Vegas interior designers will get a chance to showcase their talents in a home remodel that will benefit the educational needs of under-served kids.
The Las Vegas Showcase House project is modeled after similar programs that have taken place across the country for more than 40 years, but this is the first time Southern Nevada will participate.
Volunteer interior designers are drawing up individual plans for the remodel that will start in early 2017 and be wrapped up by January 2018. That's when a six-week ticketed public tour will take place as part of a fundraising effort for Core Academy, an in-school and after-school program for students going into sixth grade that helps them through high school and beyond.
The mission of the Las Vegas Showcase House is to re-establish Las Vegas as a hub of design and as an incubator for world-class architecture, interior design and landscaping by restoring a classic property, using today's technology and bringing together the nation's top design talents. The intent is to celebrate and foster appreciation for architecture and design, as well as contemporary thinking in these fields, by encouraging education, preservation and sustainable modern living as represented in Las Vegas, according to organizers.
The idea for doing a Showcase House in Las Vegas came from Cray Bauxmont-Flynn, a Southern Nevada interior designer, architect, and developer who's serving as president of the nonprofit entity and has worked on other fundraisers with designers.
"I thought what could be done next to bring together the design community since we have an exceptional amount of local talent that does projects internationally and shows that Las Vegas is more than just hotels, casinos, restaurants, and nightclubs," Bauxmont-Flynn said. "We have phenomenal design talent that surpasses anywhere else nationally."
The home, on Oakey Avenue in what is known as the Scotch 80s neighborhood, is owned by Cyrus and Becky Najafi who have lived there since 1994. It was built in 1961 and measures about 5,400 square feet on the first floor while the basement takes up about 1,000 square feet.
"It's about transforming yesteryear into a beautiful modern masterpiece of today," said Kimberly Joi McDonald, a member of the executive board and development chair of the Showcase House. "Anyone can make anything beautiful, but we want to make sure function is accommodated first and beauty second."
Nineteen designers, including some nationally known ones, will participate in the project. Each will design at least one of the 19 rooms in the home, Bauxmont-Flynn said. The designers will submit concepts for three different rooms without their name attached, and in September an advisory board will select the designs that work best and announce them in October.
"They will look at all the various designs and see where the cohesiveness is and where the story plays out and what works best with what rooms since they are integrated with one another," Bauxmont-Flynn said. "If you go to Pasadena or San Francisco and look at their Showcase Homes, you have no idea that there are 20-plus designers that have done these rooms. It looks like one designer did the whole house."
That's because a design brief serves as a guide of what the house should be, Bauxmont-Flynn said.
"It's not a Tuscan house. It's not a Cape Cod house. It is a mid-century modern house built in 1961, and the integrity and design needs to be kept to that," Bauxmont-Flynn said.
The home was selected because it's part of the historic mid-century design of Las Vegas, and it has the circulation pattern than can handle the 10,000 visitors expected over the six weeks of the tour, he said.
The home has three bedrooms that will be turned into four and potentially five, including converting an existing garage. It has three full bathrooms that will be turned into five. It also has a living room, dining room, family room, game room, office, dog room, laundry room and art studio.
A three-car garage will be built that will temporarily serve as a boutique for design-related merchandise, and an office will be built on top of it. That will add about 1,200 square feet. The home will also feature, on a temporary basis, an on-site café serving gourmet food, wine and beer. The exterior of the 1.2-acre lot will be landscaped by volunteer landscape designers who are also involved in the project.
The Showcase Home will be open for tours and events during the winter trade show at the World Market Center Las Vegas, a showroom for the home and hospitality furnishings industry.
The home will be remodeled with monetary donations that help pay for construction labor costs and with in-kind donations, including furnishings. The budget for the home is expected to be about $225,000. Some of the sponsors so far include Wynn Resorts and the Las Vegas Design Center at the World Market Center.
McDonald, is one of the designers on the project and responsible for soliciting donations. She said it's exciting to be involved with the project that will also help children become successful.
"That's compelling to me. Anything with children I say yes to," said McDonald who added that the professional collaboration is exciting. "Las Vegas has some of the best talent and we definitely want to showcase that here and to be a part of it is such an honor. It's something so thrilling, being on the cutting edge of design and being with your contemporaries. I'm just having the time of my life. This is really fun."
The project has attracted internationally known designers, such as Palm Springs-based Dann Foley, who has also appeared on such remodeling television programs as American Dream Builders which aired on NBC.
"They asked me to come to a party and opening, and I said yes, but I asked them why aren't they asking me to do a room," Foley said. "They were shocked and never dreamed I would be available. Las Vegas has never done a Showcase House before, and I thought it was an amazing opportunity all around, plus it's an interesting house."
Foley said he designed one home in Southern Nevada five years ago in Henderson, and this gives him an opportunity to do something glamorous. With so many manufacturers in the industry having their permanent showrooms in Las Vegas, this creates great opportunities for sponsorship while allowing them to display their products.
"That makes it really exciting," Foley said. "The Las Vegas Market Center is the best thing to happen to the industry in a decade. This being the first Las Vegas Showcase House is really important to our industry as well as for the city of Las Vegas and for the charity that will receive the money that comes from the event."
When the remodel starts, Cyrus Najafi and his wife will have to vacate the home for about 13 months. They may lease a home in the interim or even buy, he said. For giving up their house, they are eligible to receive a $1,200 a month stipend to defray the expenses of moving into a new place.
The couple owns its own architecture and interior design firm, DeAtelier Design Group. Becky Najafi is also a member of the Las Vegas chapter of the Interior Design Society.
"My wife and I have been very blessed with what we have," Cyrus Najafi said about the reason for volunteering their home. "When you're successful and blessed with work and the friends you have, you give back. That's how I was raised."
The couple will have the option of purchasing the furniture used in the tour at a discounted price. The home will also increase in value, but the added amount isn't known. The home was valued at just under $900,000 a decade ago, when Najafi said he last got an appraisal.
The 2018 tour will run Jan. 13 through Feb. 24 and cost $25 a ticket. Through this and other events the goal is to raise $500,000 for Core Academy.
The success of this effort so far has prompted efforts to start a second Showcase House in 2019, and scouting tours to select that home are under way.
"We already have interest from the community and people that want to give us their homes to do," Bauxmont-Flynn said. "It's been overwhelming that we're getting all of this interest before the first one is even open."
The participants in the Showcase House include the American Society of Interior Designers (Central California – Nevada Chapter); Architectural Design Arts Society (Las Vegas Chapter); Attanasio Landscape Architecture; Bergman Walls &Associates; Christopher Todd Design; Dann Foley Lifestyle Interiors; Designing JOI; European Flair Designs; FORMA International; Inside Style; Interior Design Society (Las Vegas Chapter); Joanne Lucia Interiors; Ken Wolfson Interior Design; Klai Juba Wald Architects; Knudson Interiors; Lisa Escobar Design; Michelle Montgomery Interiors; Room Resolutions; and Tiny Little Pad.
For more information, go tolvshowcase.org.