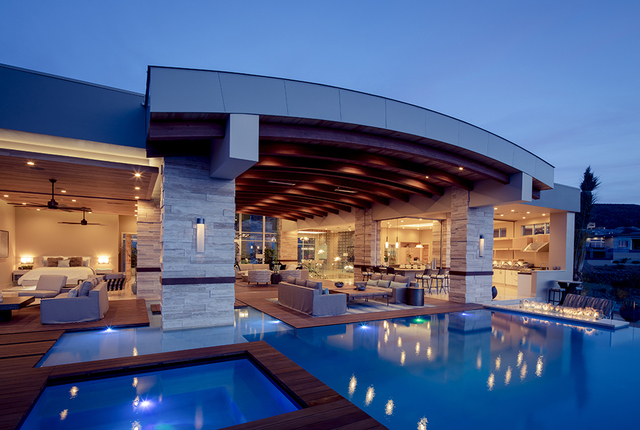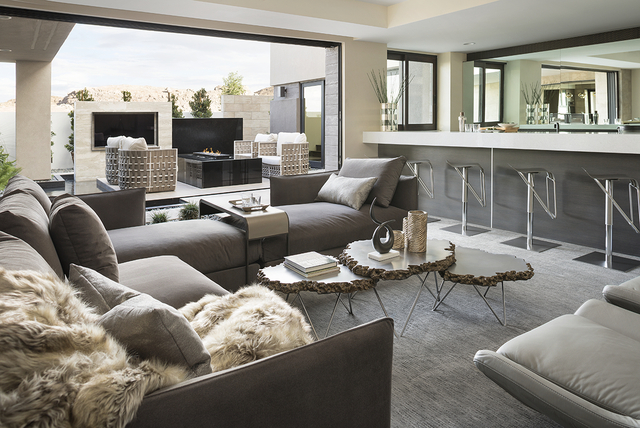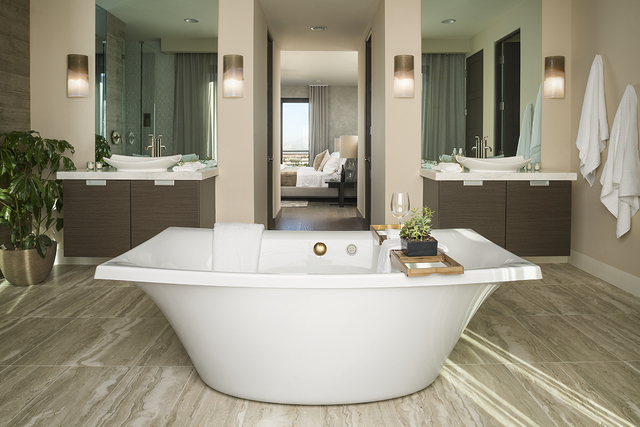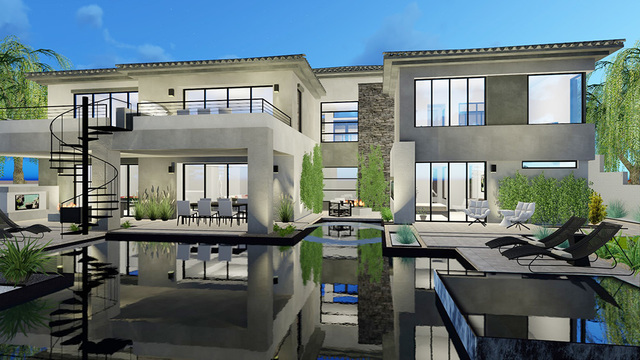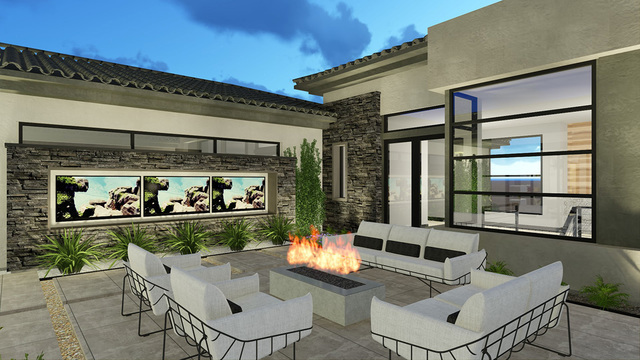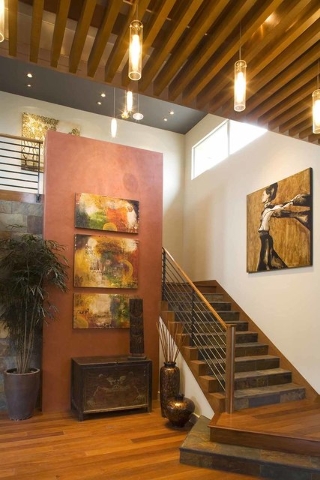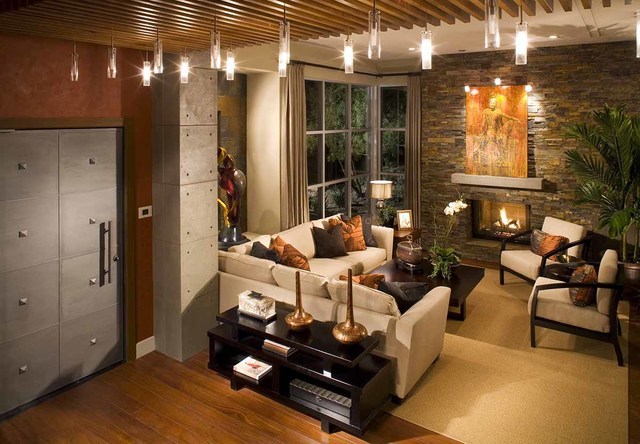 Debating whether your next house should be a custom or semi-custom project? In Southern Nevada, the fiscal dividing point between the two is about $2 million dollars, says Tyler Jones, co-founder of Blue Heron Design Build.
"For us, if you can spend $1.5 million on the construction (not counting the lot) I would say you're a candidate for a custom home. So probably at least in the $2 million-plus range," he said.
Some builders only build custom homes. Some offer floor plans that are exclusive to one neighborhood. Others offer production homes that can be customized to various degrees.
Truly custom-built homes have a one-of-a-kind, never-before-built architectural design, so they require more planning time for architectural drawings, permits and materials selection. If you have the time to wait and the dough to spend, there are many local builders with outstanding track records to accommodate your needs.
Dan Coletti, president of Sun West Custom Homes says all of his designs are truly unique.
"I've not built the same floor plan twice," he said. "You could say they're similar because lately, we're using a lot of radius roofs or something, but just because I might design two or three homes in a year with curved roofs, they're still very different from each other because the floor plans are entirely unique, and the positioning of the house on the lot is unique, whereas in semi-custom homes all of them are sitting on the lot square. We will often rotate them on the property to make them look more interesting because of the angles at which we're placing them."
One advantage of a custom build, Coletti said, is that no matter what size you choose, it will be built in the most efficient way for the buyer's needs.
"I tell my clients, you may buy a 5,000-square-foot semi-custom home, which is a decent size," but the size of each room may not be suitable for the family. "When you truly design a new plan every time for each client, there is no wasted square footage. We would design it for them so that actually fits them and is the right size in all rooms. The custom home might actually end up being a little bit smaller because it's a more tailored fit. Why buy something that 'fits all' that's not quite right and is expensive for you? Why not have all rooms fit the exact right size. Then you get the space where you want it, and not where somebody else deems you should have it."
Some of the most expensive, desirable new homes in the valley are being built by Blue Heron Design Build in premier neighborhoods, such as MacDonald Highlands and The Ridges of Summerlin, but the company also offers "pre-designed" home options, Jones said. For buyers looking to spend less than $2 million dollars, he said they can get a fully designed Blue Heron home in the company's The Bluffs community in Southern Highlands. Thirty-nine homes are in the planning stages, starting at $1.2 million dollars. Three floor plans are available, from 5,000 to 6,900 square feet.
"In The Bluffs, we probably have many clients who could easily afford a custom home, but they chose The Bluffs because it's more convenient," Jones said. "There's probably more value in dollar per square foot, and you're going to get more house for less money, and it's going to take a lot less time as well. It's a great option for a buyer who financially can choose either one."
Blue Heron's pre-designed homes give buyers the options to choose finishes and make design decisions on the outdoor planning such as water features, deck and landscaping or media.
"The outdoor living spaces are very special and unique. Any of that stuff can be 100 percent full custom," Jones said. "The floor plan and structure we try not to change."
One popular option that about 75 percent of their buyers choose, Jones said, is their full furniture and decorating package.
"We can actually design the home, and there's a little fee to design it, but with the fee including the discounts, we can deliver to the client because of our relationships with the furniture manufacturers, we can essentially get you a fully Blue Heron-designed home for much less money than it would cost you to do it on your own. It's a no-brainer type of scenario."
Blue Heron also has two pre-designed homes available in its Sky Terrace community in Seven Hills, and three available in Horizon Lights, near Horizon Ridge Parkway and Stephanie Street in Henderson. These homes are priced starting in the high $800,000s and $700,000s, respectively.
The mission of Touchstone Living is to create homes in new neighborhoods that are not available anywhere else.
"There are some wonderful custom-home builders here, and we think they are meeting the need," company president Tom McCormick said. "The reason we design all new homes for the neighborhood is we look at it as being more or less a custom neighborhood. We want our plans to respond to the specifics of that location."
For a small nine-home community where they expect neighbors to be communicative, Touchstone Living would install front courtyards and loggias to facilitate that.
"People who are buying that want to be part of a close-knit neighborhood, so we design those houses to all have front living spaces … that get people out to the front of the home," McCormick said.
Each Touchstone community offers limited edition floor plans, he said, "all brand-new designs. Every neighborhood we build, we build brand new products that will only be offered in that neighborhood, only for as long as that neighborhood is still available. Then we go to the next place and we design all brand-new homes that fit that particular location.
"We aren't looking to build a single home. We are looking at how the neighborhood interacts with one another and the homes overall will be unique and have unique characteristics."
The company doesn't customize to the point of raising ceilings or rerouting plumbing, McCormick said, but "if overall you're looking for a neighborhood that's different from your typical large-scale neighborhood, we are going to feel very unique and very custom."
Touchstone Living is focusing on building in the northwest part of Las Vegas. It has built six communities under the name The Residences, each consisting of four to 18 homes. Prices for The Residences range from $500,000 to $600,000 for 4,000 to 6,000 square feet. The buyers can choose flexible rooms, garage sizes, recreational vehicle parking or a second-floor room with its own bath and private entrance.
Next year, Touchstone Living plans to open a development called Hidden Hills near the end of Lone Mountain Road, including more than 300 home sites, some over half an acre. So far, the company has planned two neighborhoods in Hidden Hills, one with 62 homes and the other with 84. Buyers may choose from eight customizable floor plans ranging from the high $300,000s to above $500,000.
Perhaps the most flexible of the builders interviewed for this article is Christopher Homes, which offers semi-custom homes in its Boulder Ridge community in The Ridges of Summerlin. Vice president of marketing Erika Geiser said architecturally, buyers there can "basically do anything they want to."
Christopher Homes allows modifications including additional bedrooms, swapping the kitchen to the opposite side of the house, or adding a casita, along with the usual choices allowed such as finishes and flooring.
Geiser said buyers can get into their new home faster and save money while still getting exactly what they want with one of Christopher's semi-custom homes. Deciding how to start a uniquely designed custom house can be daunting, she said, because "you're starting with a blank sheet of paper. There's a lot of things that are unknown in custom. The benefit in semi-custom is there's already a plan that's been built and you can actually walk through it or see virtual tours of it to get a good feel of what the home looks like in 3-D, how it flows. It's completely different than looking at a two-dimensional plan."
"The benefit is they're able to start with something and change it versus starting with a blank sheet of paper and not even knowing how to begin."
Boulder Ridge is a 46-home community, and seven home sites are still available, starting at $1.7 million.
The builder has chosen a floor plan for each site and "optimized it already for that site to take advantage of the view for the lot that's different for the other lots," Geiser said. "But the customer can still come in and completely change it if they want."
Geiser says semi-custom is more cost effective for buyers of luxury homes because designing an original plan involves "to do it right, you need a good architect, an interior designer and a landscape designer. Each discipline is involved in all disciplines.
A good interior designer is working hand in hand with the builder and architect to make sure the interior architecture flows well. They're looking at it from a different perspective than maybe an architect would. So to bring in all those disciplines for one house could get pretty pricey."