Working ranch has air-conditioned barn — PHOTOS
November 20, 2015 - 3:22 pm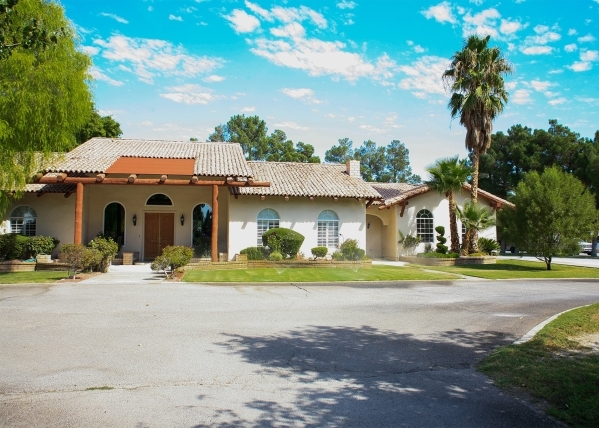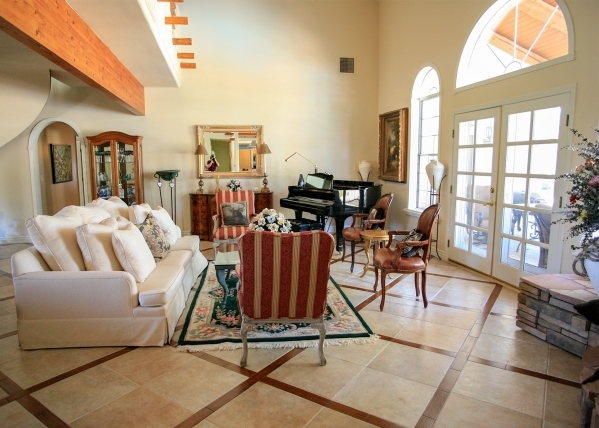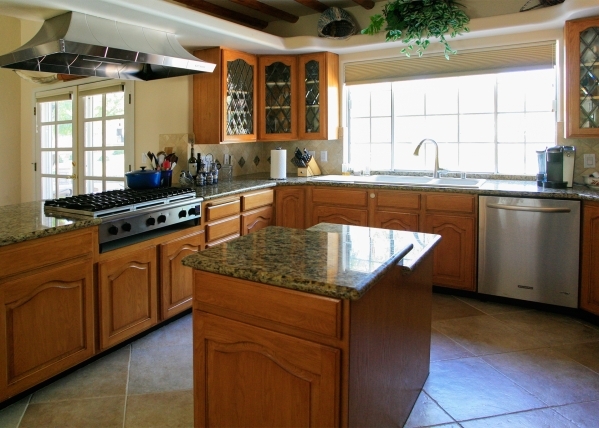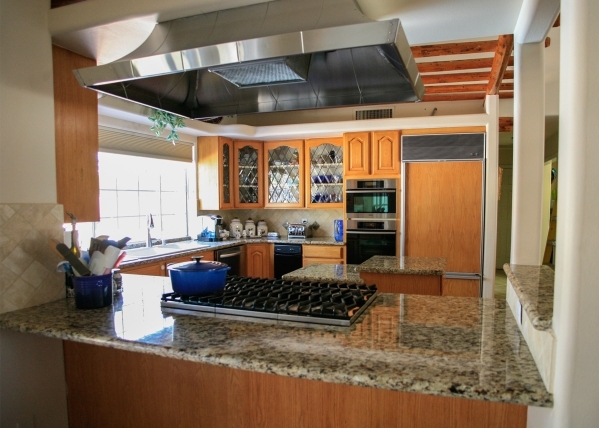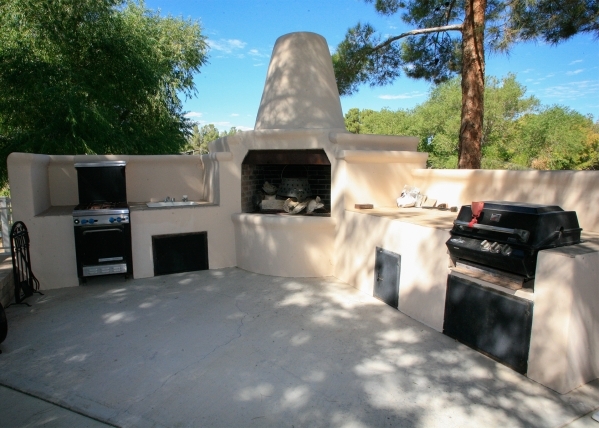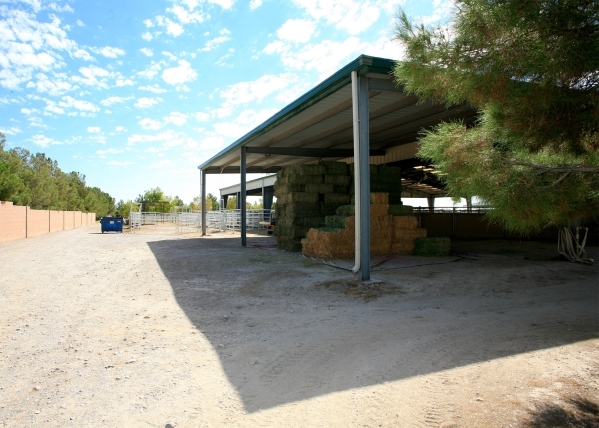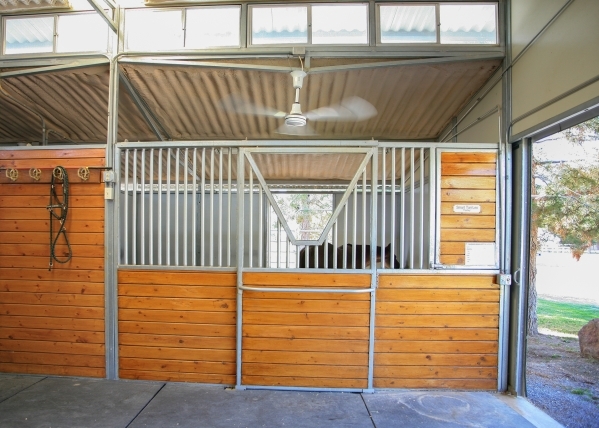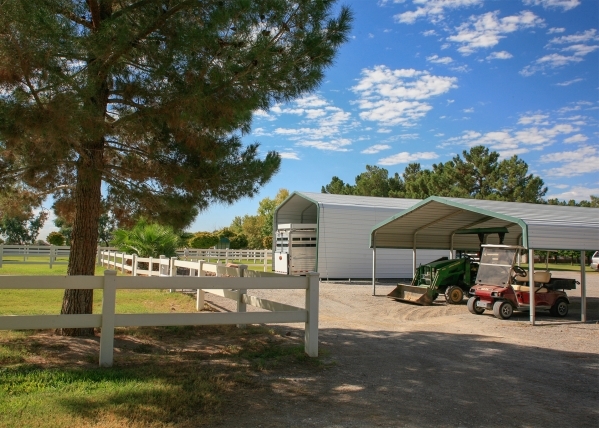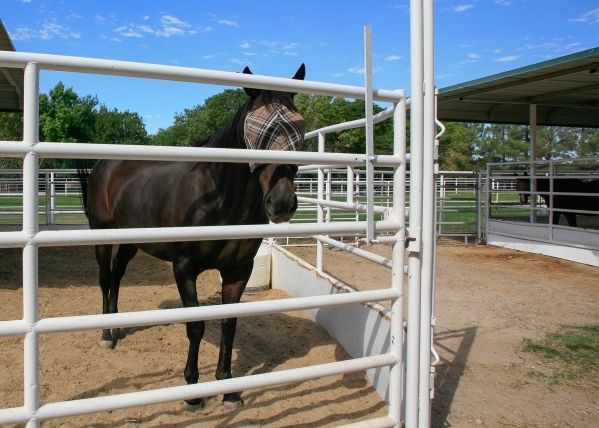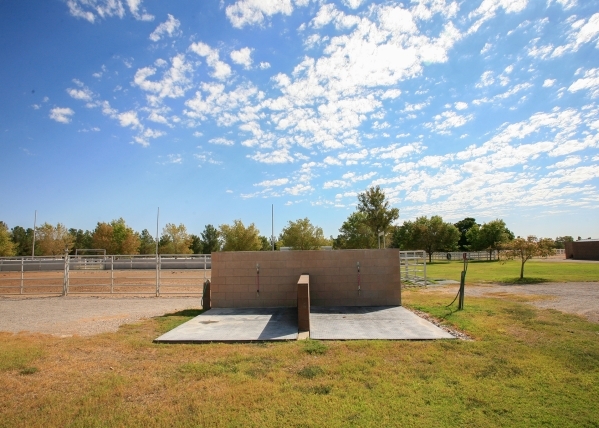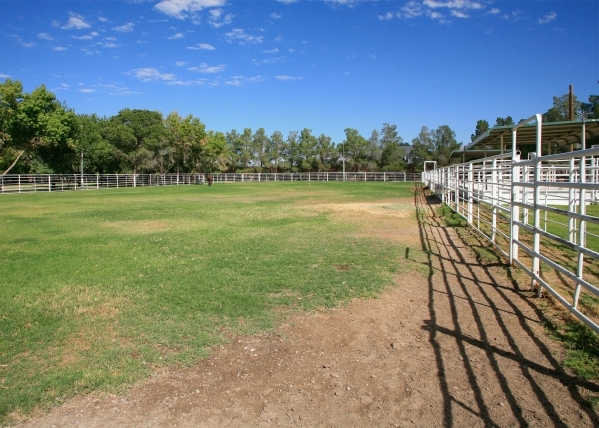 With a contemporary skyline filled with residential edifices like Queensridge One and hotels like CityCenter and a landscape dotted with high-tech golf courses, sometimes it is easy to forget that Las Vegas is — at its heart — a horse town, too. The valley is peppered with ranch property though many equine-centric acres have faded away over decades.
But, on a vast swath of property in far northwest corner of the Las Vegas Valley, ranching days are in full force.
On property not too far from the base of rugged Gass Peak, Theresa Gillock leads Callie, one of her beautiful, prized cutting horses, around the grounds she has shared with her husband, Jerry, for nearly 15 years.
Walking the grounds of the 5.27-acre estate, the hyperactive pulse of Sin City can't be felt at all. It's a tree- and turf-filled rural island in the metropolitan area. It is listed at $2.6 million through real estate broker Katherine S. Foley, president of The Foley Group. An adjacent 4.75-acre parcel with a covered arena and barn are also listed for $1.8 million. Both properties can be purchased separately.
It is far from a rustic place. In fact, the Gillock operation is filled with contemporary mechanical technology.
"We custom-designed the barn," Gillock said, after leading Callie into a stall to inspect another cutting horse that goes by the moniker Fortune Bend.
It is a large structure that can house 10 horses. In a region with wide seasonal temperature swings, it was designed for the comfort of four- and two-legged creatures.
"The barn is 100-percent insulated, so it's always cool in the summer and warm in the winter," she said. It is also air-conditioned.
Gillock points out another important detail in the barn: It has a wide central aisle that can accommodate a cart and allow horses space to mosey on by while ranch hands are busy inside.
Other upgrades include a grain room for storing and mixing specific feed and supplements. It also has an office and bath. To the side of the barn is a surprisingly sizeable covered arena. Much thought and expense have gone into the exhibition space.
"We started in 2010 and finished it in 2011. We put a fan in there so in the summertime you can ride," Gillock said.
Descending from the rafters are air-circulating blades manufactured by Big Ass Fans, a well-known company.
"We can ride later in the day," she said. "You don't have to start early in the morning."
The arena's floor is far from ordinary dirt or hard-pan, gravelly caliche of the Mojave Desert. In fact, it is finely sifted sand of uniform grains that has no pebbles or other over-sized objects. There is even more technology beneath the sand.
"The arena has a felt lining underneath, so rocks can't come up from the earth into the sand," Gillock said.
The shaded structure is sufficient in size to hold small horse shows. Beyond the arena is an extensive area filled with cow pens.
"It can hold a hundred head of cattle easily," she said. The Gillocks have brought in cattle seasonally over the years.
In the ranch area of the overall property, there is a horse walking turnstile and a large grassy area fully plumbed to accommodate a large recreational vehicle. Water rights for an onsite well are available for purchase, which will be required to operate the land with horses and cattle. As the horse area is separate, it could be leased out to a secondary operating partner.
To the west of the barn, arena and cattle zone is the ranch home area. It is fronted with a secure gate and a broad, grassy front yard.
To the side of the home is a lofty six-car garage and work space. It also has a bay that can hold a large RV. The floor in this area is sloped, so a Winnebago can be washed inside the structure while gray water flows outside.
Behind the garage is more grassy area and a secluded double-wide trailer that could be used for housing ranch staff.
The 3,458-square-foot, four-bedroom, three-bath home is traditional Western America. Its central living room is lined with pine wood columns and rails, and it features a large fireplace. It is open to a handy kitchen area with Thermador fixtures. It is highlighted by an ornate, custom smoke hood over the range top. Adjacent are spacious storage rooms and laundry facilities.
The home is not prototypically "ranch-style," however. There is an open loft with pine rails looking out over the living room.
"I have my workout equipment up there," Gillock said. She also notes that beyond the airy loft is an air-conditioned storage room she uses to keep her Christmas, Easter and other holiday decorations in climate-controlled safety.
The master bedroom is open to a travertine marble-filled bath. There are a free-standing raised tub and a large standing shower with a steam feature. There is significant walk-in wardrobe space adjacent to the bedroom. The junior bedrooms are traditional and cozy. They are well-proportioned for children.
Outside the living room and kitchen area, is a wide back patio. It has a pool and whirlpool, plus a built-in barbecue area including an outdoor "horno" — or a conical fireplace.
There is also a dedicated bath in the house just off the patio area, perfect for swimmers to change clothes.
Similarly, the home has an attached air-conditioned garage that functions as a day-to-day place to park two cars as well as a mud room after working in the barn.
It should be noted, though, for all this ranch's seeming isolation, Las Vegas has grown around it.
The property was once on the fringe of town, but now shopping centers, a hospital complex and the Aliante hotel-casino are readily accessible. There's no "drive to town" anymore for groceries or sitting down to a restaurant dinner. Of course, it's also close to that classic, vintage Vegas eatery — Bob Taylor's Ranch House with all its mesquite-grilled steaks and Western regalia glory.
While Gillock and her husband are retiring from this particular "home on the range" for new pastures and life adventures, she has a definite view on who is the ideal purchaser.
"The next person who owns this home should be someone who loves horses," Gillock said. "It's a working ranch."