Berkshire Hathaway HomeServices honors agents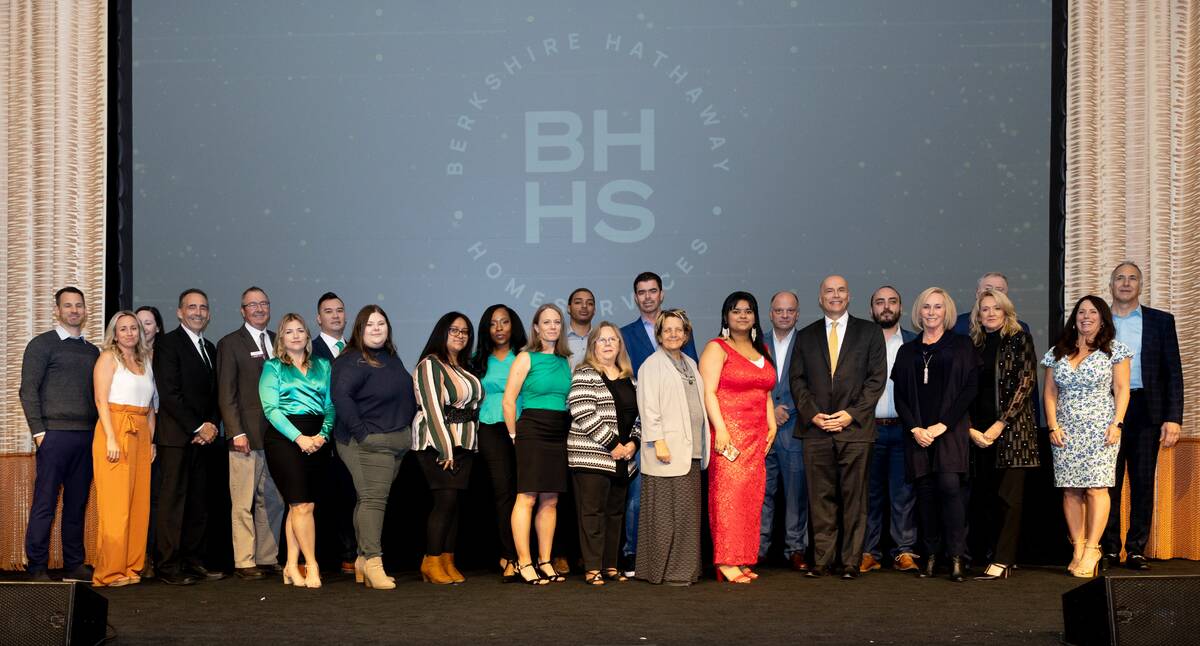 Berkshire Hathaway HomeServices Nevada Properties recently announced its 2022 sales achievements. The company closed 10,854 transactions and completed $7.2 billion in real estate sales in 2022.
At an awards program attended by nearly 800 local real estate professionals, Berkshire Hathaway HomeServices Nevada Properties CEO Troy Reierson recognized executives who have thrived in the past year.
"Not only is the Berkshire Hathaway brand now the No. 4 Most Admired Brand in the world, according to Fortune magazine, but in Southern Nevada our average sales price was the highest in the market and $126,000 more than the average at $625,000 per home. That says so much about our executives and their commitment to providing the absolute best service to their clients."
Reierson cited multiple initiatives to help the valley's largest real estate firm continue to grow in 2023. New technology, a new office location under construction and new coaching programs are all underway to help the firm's sales executives serve their clients and businesses better.
At the program, the company's Top Ten teams and Top Ten individual sales executives were recognized. Berkshire Hathaway HomeServices Nevada Properties' top 10 individual sales executives for 2022 were:
No. 1 Jung Kim, over $29 million in sales volume
No. 2 Cristine Lefkowitz
No. 3 Jana Shore
No. 4 Nicole Butler
No. 5 Brian Wedewer
No. 6 Tony Vane
No. 7 Jennifer Belcastro
No. 8 Stacey Heroy
No. 9 Jennifer Lee
No. 10 Mark Weinberg
Its Top Ten teams for 2022 were:
No. 1 The Mullin Group, $119 million in sales volume
No. 2 The Napoli Group
No. 3 The Tonnesen Team
No. 4 McGarey-Campa Group
No. 5 Ellen Fahr Group
No. 6 The Carver Team
No. 7 The Crampton Team
No. 8 Angarola Minucci Group
No. 9 The Blankfeld Group
No. 10 The Jack Woodcock Group
Real estate executive Matthew Martinez from the southwest office was named Rookie of the Year and the Summerlin branch, managed by Kristen Makhathini, was named Branch of the Year. Tamara Squires, was named Employee of the Year.
Berkshire Hathaway HomeServices Nevada Properties is a wholly owned subsidiary of HomeServices of America, Inc., which also includes Berkshire Hathaway HomeServices Arizona Properties and Berkshire Hathaway HomeServices California Properties.
The firms are leaders in their respective markets with 24 offices and 2,700 real estate sales executives, comprising the largest independently owned Berkshire Hathaway HomeServices franchise in the world. In 2022, the firm completed $7.2 billion in residential home sales throughout Nevada, Arizona and Southern California.