Berkshire Hathaway HomeServices regional franchises mark 15 percent gain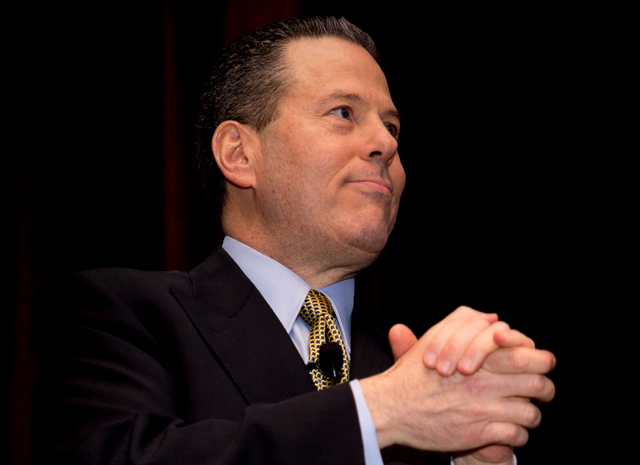 On Friday, Berkshire Hathaway HomeServices Nevada Properties CEO Mark Stark told about 600 Realtors gathered in an Encore Wynn ballroom that their 15 percent gain over 2014 had "rocked" 2015.
There were lots of coffee, a big breakfast spread and many awards handed out by the company's president and Chief Operating Officer Gordon Miles. Followed with applause, applause.
The crowd had a lot to be happy about. Stark's Berkshire Hathaway HomeServices offices, which operate in Nevada, Arizona and Southern California, rang up $3.1 billion in sales last year.
"Over the past year, we have continued to make significant gains in our representation of Nevada's luxury homes," Stark said in a prepared statement. "This is particularly evident with luxury homes that have sales prices over $500,000, including ultra-luxury homes selling in the multimillions of dollars."
Though most of the company sales' this year were more than $200,000, Stark told the group of Realtors he wanted people in all price ranges to get good services when buying or selling a home.
"We are attracting a high-quality client," he said. "But, I don't care if someone is buying a $50,000 condo, we want everyone to get the best service."
Miles emphasized the company's commitment to providing skills to its Realtors.
"We also continue to invest in the most up-to-date technology that provides our sales executives an unparalleled level of service to market and sell their clients' homes," he said in the statement. "Our technology and global marketing abilities have been particularly attractive to our millennial real estate sales executives and clients."
The Top 10 Individual 2015 sales executives were Avi Dan Goor, Melissa Machat, Billy O'Keefe, Mark Weinberg, Jana Shore, Stacey Heroy, Danielle Hess, Matt Suiter, Karen James and Natalie Cornejo.
The company's Top 10 Teams in Nevada for 2015 were Shapiro & Sher Group, The Tonnesen Team, The McGarey Group, The Craig Tann Group, The Mullin Group, The Napoli Group, The Brian Wedewer Team; Brown Blankfeld Group; The Carver Team and The Gunning Team
Loretta Turner, branch administrator, was Employee of the Year and James Namchek was named Rookie of the Year.
The Napoli Group was also recognized as the company's top nonprofit contributor through a percentage of their earnings.