Business help homeowners sell and then buy
February 27, 2018 - 11:13 am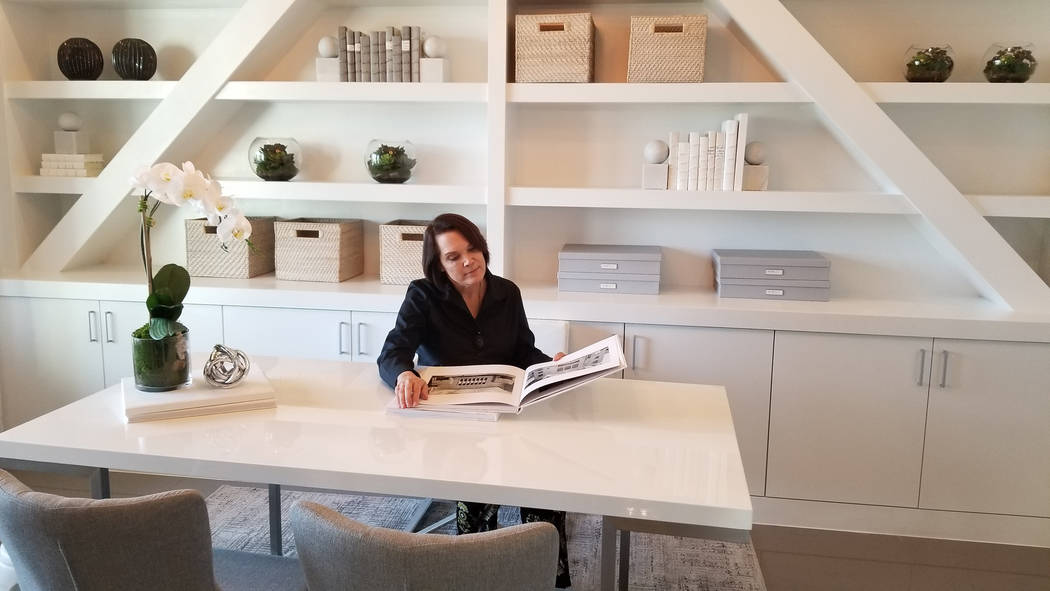 It's a common situation for many homeowners. A pretty new home or a fantastic-looking resale presents itself, but they can't move until their current home is sold. For many people, waiting to sell a home and then closing on another can seem like a time-consuming, stressful nightmare. However, successful real estate companies and agents have come up with some solutions. Some companies buy the home
Companies, such as Opendoor and Offerpad, are examples that make the sell-then-buy situations easier and faster for sellers — for a price, of course.
Both companies step in as buyers to sellers often looking to move quickly. After gathering information through their websites or mobile apps, they send a seller an offer on his or her home within 24 hours for Offerpad and 48 hours for Opendoor.
Once an offer is sent and the seller shows interest, an estimator goes to the property to verify the facts and evaluate needed repairs. After that, if the seller and the company still agree on price, which may be reduced after the inspection, the customer gets to choose a closing date, anywhere from four to 60 days, approximately. Offerpad or Opendoor serve as the cash buyer, making a closing fast and easy, thus allowing a seller to execute quickly on the purchase of their next home.
Offerpad, based in Gilbert, Arizona, was founded in 2015 by Brian Blair, who was voted the second-highest performing real estate agent in 2014 and 2017 by The Wall Street Journal. His partner, Jerry Coleman, also founded Invitation Homes, which has bought, sold, rented and rehabbed more than 50,000 single-family homes since 2012. Both Offerpad and Opendoor have raised hundreds of millions of dollars from venture capital firms to buy homes and quickly sell them in today's fairly robust real estate market. And, both have aggressive plans to keep adding markets to their portfolios.
Opendoor, which has been in Las Vegas for nearly a year, bought 100 valley homes in January alone, said Akilah Rogers, general manager for Opendoor in Las Vegas. The company, which operates in six markets, including Atlanta, Phoenix, Dallas, Raleigh and Orlando, engages in more than $1.3 billion a year in transactions, according to an October 2017 Forbes report. Offerpad does more than $1 billion annually in transactions as well, while operating in eight cities. Las Vegas was its third market.
Both companies work with new homebuilders, too. It's an advantageous relationship for the builder, as a homebuyer can move in quickly once a home is constructed and the builder appreciates the assurance of knowing the homebuyer already has an accepted offer on his or her current home from Opendoor or Offerpad. Lennar, the country's largest homebuilder, actually invested $100 million into Opendoor, according to Business Wire reports. The company doesn't have any other "strategic relationships" with builders, Rogers said, but is open to more of them. How they make money
Both companies claim to offer sellers a "fair market value," which they base off of algorithms, research, local real estate expertise, nearby recent comparable sales and other analytics.
"We pull all kinds of data and metrics for fair market value," Rogers added.
But what is a fair market value? Vivek Sah, director of UNLV's Lied Institute for Real Estate Studies, has some reservations. The expert says automated valuation models like the ones used by Opendoor and Offerpad validate pricing based on characteristics, but may not factor in demand for a particular house.
"For example, is it on a cul-de-sac or in a prime location? There may be a variation. … Then there's the fact that I may market my house and not get much interest in the first month, but there may be more buyers in the second month and all of a sudden the value goes up. … This is good for people who just want to get out and don't want to wait. … But most people are not that desperate," Sah said.
So, what's to make of situations like a property at 9127 Spumante Ave., in the 89148 zip code, or southwest valley, near Blue Diamond Road? Opendoor purchased the home for $260,000 in September 2017 and sold it for $262,500 in December 2017. Both prices are actually well above most comparable sales in the neighborhood for the past six months, according to county records obtained from Zillow; and a mere $2,500 pricing uptick usually isn't enough to cover closing costs when selling the home, especially if Opendoor must also pay a buyer's agent commission of 3 percent in addition to transfer taxes and other fees commonly associated with the sell side of a real estate transaction.
The solution comes in both Opendoor and Offerpad charging transaction fees to the initial seller. These fees can range from 6 to 9 percent. Couple that with small appreciation and only marginal repairs to get the home back on the market and there appears to be enough profit in there to keep the enterprise going.
It's a volume game, for sure, as neither company holds properties as rentals and they're not interested in distressed assets requiring a lot of repair, either.
Both companies target the middle of most markets where homes are usually priced between the mid-$100,000s on up to about $500,000. They shy away from higher-end homes more prone to price fluctuations.
A different approach
Other agents are addressing the sell-then-buy pain point differently. Robin Smith, a local real estate agent, founded the Nevada Builder Trade-In Program. The concept requires a little more patience on the part of the seller, but the trade-off could fetch a better price for the home sold.
Those who have found a new home they want to buy use the program to sell their current home. Sellers only pay a 1 percent commission on their sale, then the program makes 3 percent representing the seller-turned-buyer when it's time to purchase the new home. That commission is paid by the seller, or homebuilder, not the buyer.
"Our business is not what we call a flipper's business. We don't go in and price a seller's home … in order to make a profit on that seller," Smith said.
Smith works with builders like Pulte, Beezer, Woodside and Cal Atlantic Homes. In 2017, the program saw 236 transactions and a 98 percent closing rate. Smith's team works with the seller on pricing the home realistically for the market while communicating with the builder on the status of the sale. Smith educates sellers on market realities, too. Inventory, today, ranges from 1.4 to 1.6 months of supply, but more than 50 percent of homes are overpriced, she added. Smith's team avoids unrealistic sellers.
Smith said, on average, she is able to put a home in escrow within a couple weeks. Sah said there is growing research indicating in a robust market like Las Vegas, it may be worth the modest wait, even if it means a closing that could take an extra month for a financed buyer.
"Especially in today's market, people know they will get more if they hold on," Sah added.
A market slowdown?
Naturally, if there's a housing market slowdown, it's expected these niche concepts will need to shift strategies. Company leaders for Offerpad during the Great Recession were aligned with investors taking buy, hold, rent positions all over the country, especially in distressed markets like Las Vegas.
"There is always an opportunity to provide homeowners real estate solutions and our leadership team has significant experience innovating in real estate throughout industry changes," Read added.
According to Rogers: "Our beta scientists and engineers in San Francisco (Opendoor's headquarters) always pay attention to macro-economic signals. … We're paying attention every single day."
Sah said it's not a case of "if" a market correction will occur but "when."