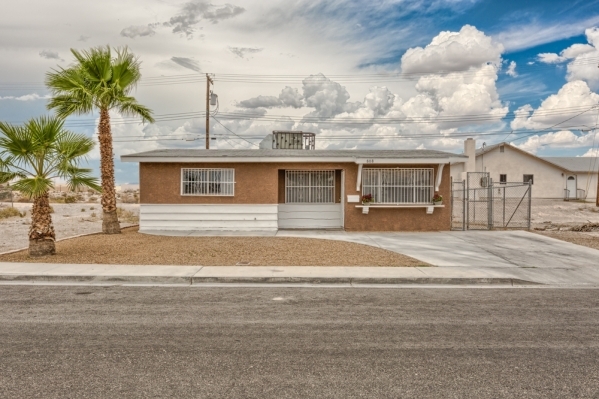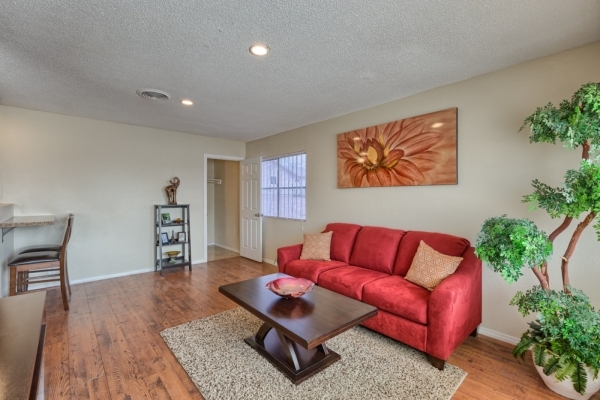 EDITOR'S NOTE: This is the first of an occasional feature called Real Estate Field Trip where the RJRealEstate.Vegas team takes a look at what's out there in the Las Vegas housing market.
With steadily increasing housing prices over the past year, your real estate desk wondered how many single-family homes were still out there for $100,000 or less.
Turns out not that many.
As of mid-November, there were nearly 130 single-family homes in the Las Vegas Valley at that price, according to our tour guide, Realtor Nancy Hancock with Berkshire Hathaway HomeServices, Nevada Properties. Most of them were $92,000 to $100,000 and built in the 1960s to the 1970s.
So, we headed out to take a look at a few. The majority were small, single-story homes with really big backyards, no garages, security gates on the windows and doors and in older neighborhoods with no homeowners association.
While most older homes in this price range need a lot of work before the new owner can move in, Hancock found one that looked like a mini-model home.
The 1964 house at 808 Duquesne Ave. in North Las Vegas was purchased when the market was down and totally remodeled with new flooring, new appliances and new bathroom and countertops, and the new front door even had a pretty little stained-glass window. It was small, 832 square feet, with two bedrooms and one bath, but staged perfectly with furniture and accents, which is included in the sales price of $87,700.
The backyard was huge and had desert landscaping. The older neighborhood has an industrial area nearby, 1990s and an early 2000s housing developments, custom duplexes and a school that had grown up around it over the decades. Across the street, there is vacant land ready for development.
Realtor Ashley Bowman with UrbanNest Realty, who is a Las Vegas native and graduated from Rancho High School, specializes in North Las Vegas home sales.
She said that this year she has sold four homes in that price range in that part of the Las Vegas Valley. One was to a family and the other three were to people buying investment rental property. Compare that with last year when she sold 10 homes in that price range to mostly families who were going to live in them. Most of them were fixer-uppers.
"The prices have gone up since last year," she said. "They are creeping up over $100,000 in these older neighborhoods."
The Greater Las Vegas Association of Realtors reported the median price of existing Las Vegas single-family homes staying steady at $220,000 since August. That price is up 10.1 percent from $199,900 in October 2014.
In his November blog, Forrest Barbee, corporate broker for Berkshire Hathaway HomeServices, Nevada Properties, reported the average time homes priced at $100,000 or below stayed on the market was about 79 days in October.
"The bottom of the market is slipping away," he said. "Many people are looking at condos or townhomes as a viable alternative."
Hancock and Barbee said it's very important to spring for an inspection of the home before you purchase it. Find out what repairs need to be done and the cost and put it into the budget.
"You need to make sure the structure is sound," Hancock said. "You will find out about big-ticket items — the roof, electrical and plumbing — through a thorough inspection. Even though you may be on a budget, an inspection is one thing you should not forgo."
She also suggested if you have friends or relatives who have construction experience, bring them along to view the house with you.
"It's always a good idea to have someone with you when you look at a house," she said.
Also, if you are uncertain about the neighborhood, make a visit to the nearest police substation and chat with some officers.
"They will tell you what's going on in the neighborhood," Barbee said.
You may also consider visiting the neighbors during the day and in the evenings to check out the vibe.
Hancock is a retired assistant operations manager for the Clark County Business License Department. She suggested if you are planning to build a guesthouse on one of these big lots, it's a good idea to check with the Clark County Building Department first to make sure the zoning requirements will support building permits. Many remodeled homes in the downtown area have 800- to 900-square-foot casitas in the backyard.
Real Estate Editor Lyn Collier can be reached at 702-383-0299 or by email at lcollier@reviewjournal.com