Clark County auditors knew little about Henderson constable's spending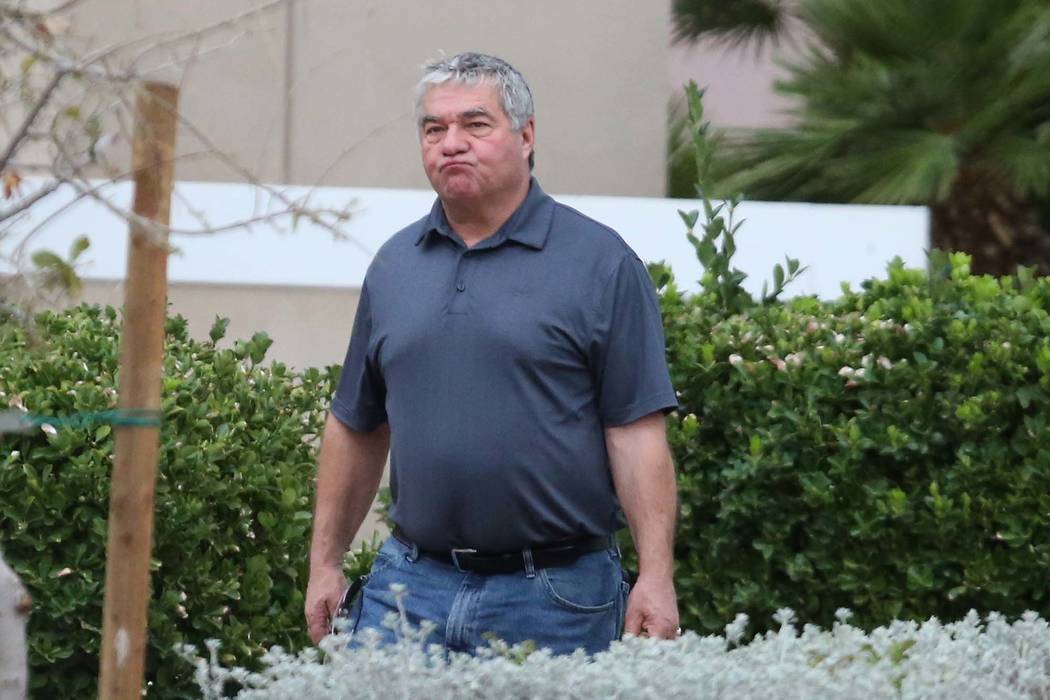 Henderson Constable Earl Mitchell asked the county to pay nearly $7,500 for a private attorney he consulted after the Las Vegas Review-Journal sought records that showed questionable spending of public funds, emails show.
And a county financial analyst was concerned that Mitchell, who abandoned his re-election bid hours before the story broke, might drain the constable's bank accounts on his way out office, the records show.
Constable bank documents revealed that Mitchell wrote himself more than $70,000 in checks from funds the county provided to pay his deputies and withdrew some of the cash at ATMs in casinos and video-poker bars. Mitchell also used money from the accounts to travel to locations where his adult children lived, records show.
The Review-Journal investigation showed that the county auditor's office failed to examine the Henderson and North Las Vegas constable funds, even though the county gained control over financial functions for the two constables in 2015. The county took over after concerns about how much the constables were paying themselves.
The emails obtained last week showed auditors knew little about Mitchell's spending until the story ran.
"The RJ published their article," county audit department director Angela Darragh wrote March 22 to her staff. "Gives us a lot more details about what was going on."
"Oh joy, bliss and happiness!" responded internal auditor Tracy Banks that same day. "This is great information to hit the ground running."
County officials said the auditors were not available for comment, but Assistant County Manager Jeff Wells said last week that the auditors work on a schedule and their plan to audit Mitchell was moved up in response to the Review-Journal investigation.
The story sparked a criminal investigation of Mitchell, but the county emails also reveal for the first time that Mitchell's office was subject to a county human resources review and fined by the state for worker's compensation violations.
Mitchell and his attorney, Damian Sheets, did not respond to requests for comment. Assistant District Attorney Christopher J. Lalli last week said there was no update available on the criminal investigation.
Private attorney
After the newspaper asked for spending and bank records in December from all Clark County constables, Mitchell hired a prominent Las Vegas law firm, McDonald Carano, documents show.
In February, he sent the county a $7,461 bill for work the attorneys completed through Jan. 31, 2018.
"I'm guessing he retained the attorney because of the (Review-Journal) public records request …," Wells wrote in a March 13 email to a staff member about the bill. "But I suspect the answer he got from this lawyer was the same as what he got from the civil DA."
Deputy District Attorney Robert Gower advised Mitchell and the other constables to provide the records of their township bank accounts.
Wells said the county declined to pay for Mitchell's private counsel because Mitchell did not use the DA's office or hire county pre-approved private attorneys who work at a discounted rate.
"He didn't follow either of those processes," Wells said "He'll end up paying it."
McDonald Carano and Gower didn't respond to a request for comment.
$700,000 owed
A county official also expressed concerns that Mitchell might take funds out of his Henderson township account on his way out of the office.
The county charges departments for their share of overhead like computers, human resources staff and other central functions, and Henderson constable's office owes the county about $700,000 for those costs since 2015.
"I just calculated what Earl's restitution to the County would be for the past few years of (general fund) subsidies (nearly $700K), which he has verbally expressed a desire to repay," Damon Harris, a county financial analyst, wrote on March 21. "I'm wondering now if it's in our best interest to simply take some of it before we have a Bonaventura situation on our hands. Thoughts?"
The county eliminated Las Vegas Township Constable John Bonaventura's office in 2015 after questions about his oversight of the office, and County Commissioner Steve Sisolak revealed at the time that the township accounts had been "drained."
The Henderson constable's office is scheduled to pay $150,000 in the 2018 fiscal year from office reserves and an additional $325,000 in 2019 fiscal year. The rest will be paid in 2020, Wells said.
Wells said he is not sure Harris was serious about his Bonaventura comment. He said Mitchell repaid a loan from the county after it increased oversight of the constable's office, so he expects the county will receive its money.
Human resources violations
County emails show human resources officials are also investigating Mitchell's office for unspecified personnel issues.
"Staff issues are also being investigated by HR — sadly it appears the office made a number of mistakes," Wells wrote March 21.
The documents also show the state fined Mitchell's office $1,000 in February.
"The constable's office did not have a workers compensation policy and the office was assessed a fine for noncompliance," wrote Teri Williams, spokeswoman for the state Department of Business and Industry in response to a Review-Journal inquiry. "They subsequently obtained a policy to come into compliance."
Wells said he had not heard about the state fine until seeing the emails. He declined to comment on the human resource matter with Mitchell's office, citing employee privacy concerns.
Emails regarding Henderson Constable Earl Mitchell by Las Vegas Review-Journal on Scribd
Contact Arthur Kane at akane@reviewjournal.com. Follow @ArthurMKane on Twitter.
RELATED
Clark County DA confirms criminal inquiry into Henderson constable
Clark County commissioners debate getting rid of Henderson, North Las Vegas constables
AG office asks about Henderson constable spending exposed in RJ story
Henderson constable's spending ignites calls for closer scrutiny
Henderson constable exits election after RJ questions his spending