COVID breakthrough case deaths appeared to spike recently. Here's why.
Updated September 1, 2021 - 6:50 pm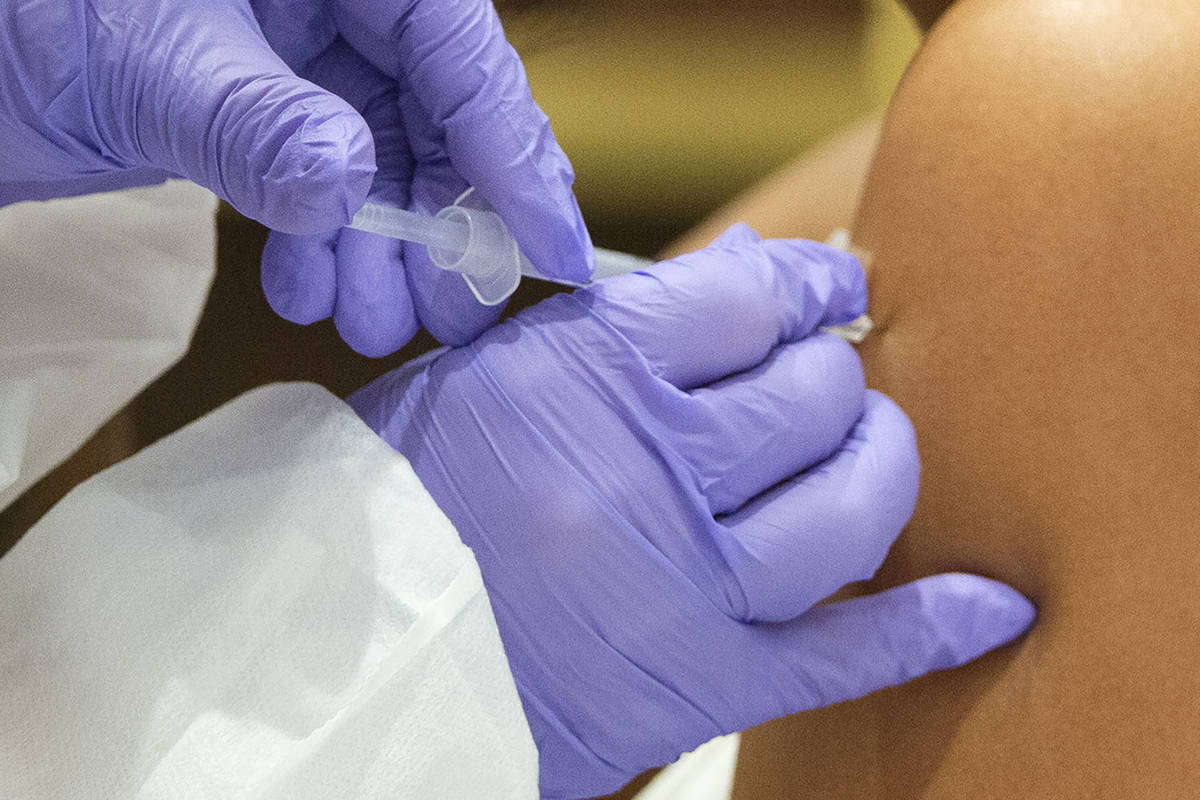 A new process measuring COVID-19 spread made the virus seem more dangerous for fully vaccinated Southern Nevadans than it actually is, a local health official reports.
On Aug. 19, the Southern Nevada Health District posted its weekly update on patients who were hospitalized or died from rare breakthrough cases, which are infections that occur in fully vaccinated people.
The report showed an increase of 79 hospitalizations and 38 deaths since the previous report on Aug. 11. It appeared to show breakthrough cases accounted for more than one in four severe outcomes in all COVID-19 patients recorded between the two dates.
In reality, however, only 22 hospitalizations and 20 deaths during that time period were among the fully vaccinated, said Dr. Cassius Lockett, the health district's director of disease surveillance and control.
Until mid-August, the health district had been confirming breakthrough cases by interviewing infected people during the contact tracing process. That effort was hampered by the speed at which workers could contact the infected and the decision by some patients to not speak with contact tracers.
Now, officials are finding breakthrough cases by comparing new case data with Nevada's immunization registry, Lockett said. The comparisons between databases are run two to three times a week and always shortly before the breakthrough case report is published.
As a result, health officials "discovered a whole lot more (breakthrough) cases" in August, many of which had occurred earlier in the year, Lockett said.
Total breakthrough cases
Since the health district began publishing breakthrough case data in late April, officials have identified a total of about 7,100 breakthrough cases in Clark County as of Aug. 26. Of those, 349 breakthrough cases had resulted in hospitalization and 104 had ended in death.
By comparison, state data shows more than 980,000 county residents had been fully vaccinated as of Aug. 26.
"That equates to basically one death out of every 10,000 fully vaccinated people," Lockett said. "It's unfortunate that deaths still can occur, but it's such a rare event."
There has been a noticeable increase in overall breakthrough cases in recent months, he said. He attributed it to the delta variant of COVID-19, which he described as "besides measles, probably the second-most infectious disease we've seen in the past 100 years."
Since June 1, breakthrough cases have accounted for about 14 percent of the more than 50,000 reported cases in Clark County, he said Friday. They've accounted for 12 percent of hospitalizations and 15 percent of deaths in the same time frame.
Lockett added that most of the breakthrough hospitalizations and deaths had occurred in people who had underlying health conditions and were age 65 or older, putting them at greater risk of severe outcomes from COVID-19 infection.
"It's still a pandemic of unvaccinated," he said.
Contact Michael Scott Davidson at sdavidson@reviewjournal.com or 702-477-3861. Follow @davidsonlvrj on Twitter.