Deputy county manager who oversaw Telles, other embattled officials retires
Updated April 12, 2023 - 7:36 pm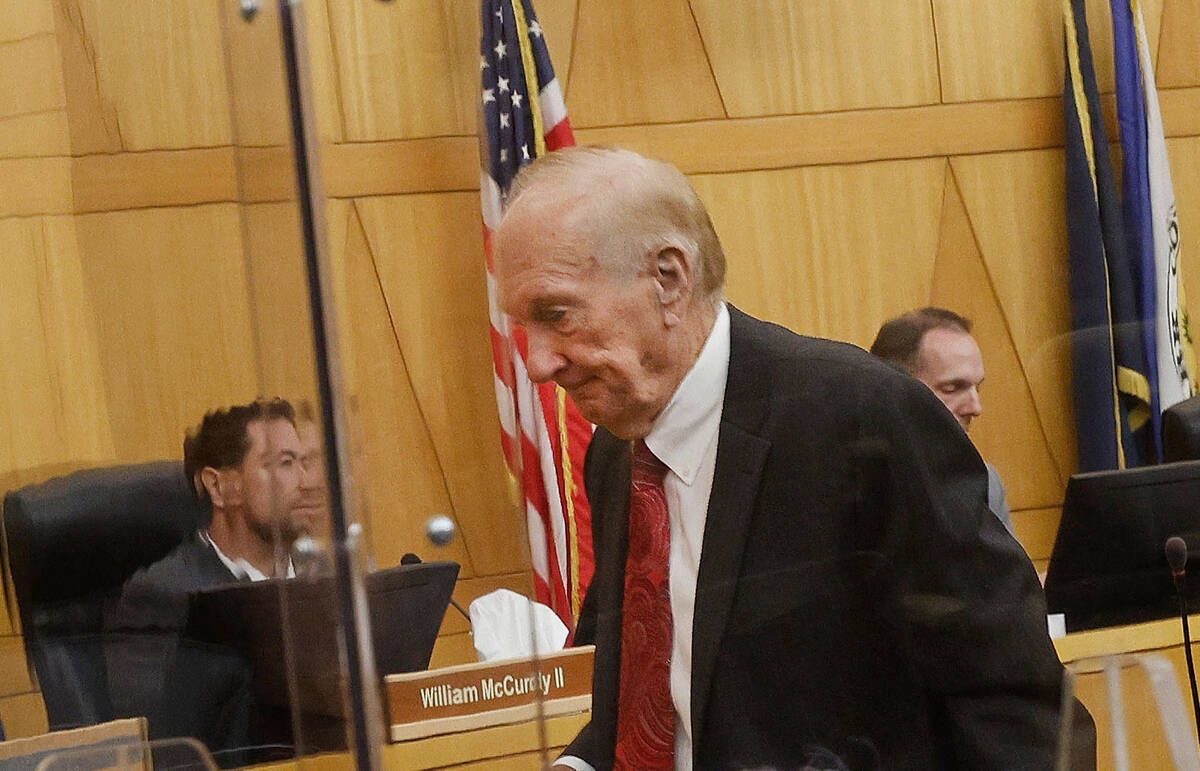 Embattled Deputy County Manager Jeff Wells sent a letter Monday announcing his retirement from Clark County, touting his accomplishments but also admitting mistakes.
Wells has been on paid administrative leave since January after he intervened in his son's discipline, according to Wells and an email from County Manager Kevin Schiller.
Wells previously told the Las Vegas Review-Journal that he had notified Schiller in December that he planned to retire in April. The long email he sent Monday lists his accomplishments over 16 years, including creating the office of appointed counsel and diversion programs for troubled youth, along with his work responding to the Great Recession and COVID-19.
But departments Wells oversaw have had repeated problems — many revealed by Review-Journal investigations — raising questions about his management.
"Like all of us, I've made a few mistakes over the last 16 years (although probably not nearly as many as the media has blamed me for!)," he wrote in the email to county officials provided by a source to the Review-Journal. "I leave county government knowing that the County has had my full energy and total commitment for these many years. I feel proud of what we were able to accomplish. If I fell short at any point, it was never for the lack of trying or an unwillingness to take on challenges."
Wells, his son and county staff could not immediately be reached for comment on Monday.
History of problems
The latest issue came to a head around January, when Wells conceded that he contacted a county attorney about the discipline the county imposed against his son, Tom, who was hired in 2012 by the public defender's office that Jeff Wells was then overseeing. No information was released about the nature of Tom Wells' discipline, and he left county employment Feb. 21.
"I had no conversations with anyone prior to the issuance of this discipline," Jeff Wells wrote to the Review-Journal in response to a request for comment for a March 9 story. "One week later I asked the County Attorney if I could speak with her about the case, she agreed and we had a short conversation in her office. … Subsequently, other members of senior management determined that this conversation should not have occurred."
County spokeswoman Jennifer Cooper declined to comment for the March story and subsequent requests for information about Wells.
It "would be inappropriate at this time for Clark County to discuss the issues you are raising," she wrote. "We hope to be able to have conversations with you at some point."
The county has not responded to an open records request filed last week asking for any payments, such as severance or compensation for unused vacation or sick leave, provided to Wells.
Wells oversaw at least four departments that had significant corruption or other problems that were exposed by Review-Journal investigations.
In 2018, allegations surfaced that Jeff Wells was protecting then-Public Defender Phil Kohn, who hired Tom Wells, from sexual harassment allegations. The county determined the allegations were not substantiated.
Kohn told the Review-Journal in February that he was not accused of harassment, but county officials in 2018 disputed that. He also said he did not feel pressure to hire Tom Wells, despite Jeff Wells being his boss.
That same year, the Review-Journal uncovered that then-Henderson Constable Earl Mitchell was using county funds to gamble and travel to see relatives. Jeff Wells oversaw Mitchell and initially defended his spending. Mitchell was indicted after the story and pleaded guilty to a gross misdemeanor, paying back more than $80,000 he stole.
The county coroner's office was under Wells' supervision for much of the time that then-Coroner John Fudenberg was giving paid speeches on county time while touting fake degrees, failing to manage sexual harassment and accreditation concerns in the office and cashing out vacation that he had taken, a series of Review-Journal investigations found. Wells told the Review-Journal he was not aware of many of the issues, and the county repeatedly provided raises and bonuses to Fudenberg despite the problems.
And last year, Wells only installed oversight at the troubled public administrator's office after a Review-Journal investigation exposed an abusive work environment. The workers had gone to county officials for two years prior but were told nothing could be done because Public Administrator Robert Telles was an elected official. Telles has been accused of fatally stabbing Review-Journal investigative reporter Jeff German in retaliation for the stories.
Jeff Wells, 74, made $325,000 in pay and benefits annually, according to recent county data.
He previously served in the Colorado state Senate and was director of the Department of Labor and the Department of Personnel and Administration in Colorado.
Contact Arthur Kane at akane@reviewjournal.com and follow @ArthurMKane on Twitter. Kane is editor of the Review-Journal's investigative team, focusing on reporting that holds leaders and agencies accountable and exposes wrongdoing.