Embattled Clark County official retired with $250K in payouts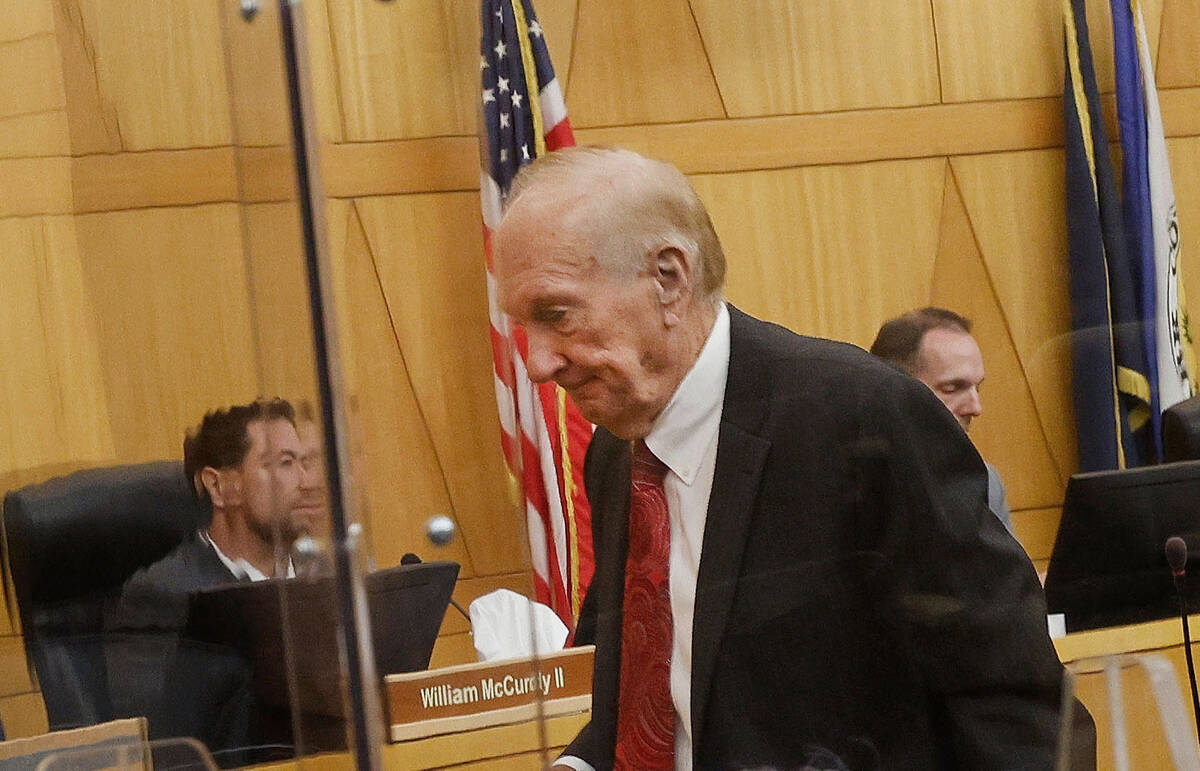 Deputy Clark County Manager Jeff Wells, who was repeatedly accused of questionable management and conduct, retired with more than $250,000 in payouts, which included about $80,000 he received while on administrative leave for three months.
Wells was placed on paid administrative leave on Jan. 23 after he intervened in his son's disciplinary hearing. He had previously informed the county he planned to retire in April. The leave cost taxpayers more than $61,000 in salary and $21,000 in benefits, county records show.
County Commissioner Tick Segerblom said the county had to pay Wells to avoid a potential lawsuit, though he said, in general, the county's policy of cashing out accrued benefits should be reconsidered.
"He was going to get it anyway," Segerblom said of Wells' payout. "Everyone has policies that you can second-guess, and maybe we should. It should be looked at."
Additionally, the county spent $8,515 for an outside law firm to investigate Wells' discussions with a county attorney about the disciplinary investigation of his son, Tom Wells.
Tom Wells was hired by the county public defender's office when Jeff Wells oversaw the department. The investigation into unspecified workplace misconduct last year involving Tom Wells cost taxpayers an additional $27,932, according to a law firm's heavily redacted billing statements that the Las Vegas Review-Journal obtained under open records laws.
The investigation of Jeff Wells may cost even more because the billing statements say the attorney filed a draft investigation report Feb. 10, but the last billing statement on March 31 did not show that there was a final report.
Segerblom said he did not know the specifics of the outside investigation into Jeff Wells, and Jeff Wells did not respond to a request for comment for this story.
County spokeswoman Jennifer Cooper declined to provide an interview with County Manager Kevin Schiller — as she had promised to do earlier — saying the process is ongoing, although Jeff and Tom Wells are no longer county employees.
County claims 'best practice'
Cooper wrote in a statement that the "non-union and management employees adhere to similar policies" as union employees when there are allegations of wrongdoing.
"There are processes which occur when an employee's conduct is being investigated and employees are entitled to due process before the County can not pay an employee or require an employee to use their leave," she wrote. "This is a best-practice across employers and industries. An employee's decision to leave employment during this process may wrap up the active components of the investigation, but it has no bearing on an employee's right to due process."
She did not respond to questions about why the county spent money on an investigation when officials knew Jeff Wells was retiring in April.
On top of the paid administrative leave, Jeff Wells cashed out nearly $36,000 in accrued vacation time and about $130,000 in sick leave, records show.
Since 2018, the Review-Journal has exposed severe problems, including corruption, sexual harassment issues, accreditation problems and waste of taxpayers' resources, in departments Jeff Wells oversaw.
He oversaw then-Public Administrator Robert Telles when employees were complaining about Telles' conduct. Telles is now charged with murder in the stabbing death of Review-Journal reporter Jeff German, who wrote about the controversy.
Jeff Wells' son, Tom, and daughter-in-law Nicole Wells were hired by departments Jeff Wells oversaw, despite a state law that makes it a gross misdemeanor to hire family members. Jeff Wells previously emailed the Review-Journal to say the law was unclear when his family members were hired. The county clarified the law through an ordinance but grandfathered in Tom and Nicole Wells, he wrote. Neither could be reached for comment.
The attorney investigating Jeff Wells, Wendy Medura Krincek of Littler Mendelson P.C., did not return a call and email seeking comment.
Clark County also violated state open records laws by refusing to provide Jeff and Tom Wells' personnel records, citing rulings that are no longer valid and claiming their personnel policies allow records to be withheld, despite Nevada Supreme Court rulings to the contrary.
Contact Arthur Kane at akane@reviewjournal.com and follow @ArthurMKane on Twitter. Kane is editor of the Review-Journal's investigative team, focusing on reporting that holds leaders and agencies accountable and exposes wrongdoing.