Hearing officer: OB-GYN engaged in disreputable conduct, evidence shows
Updated August 30, 2023 - 6:00 am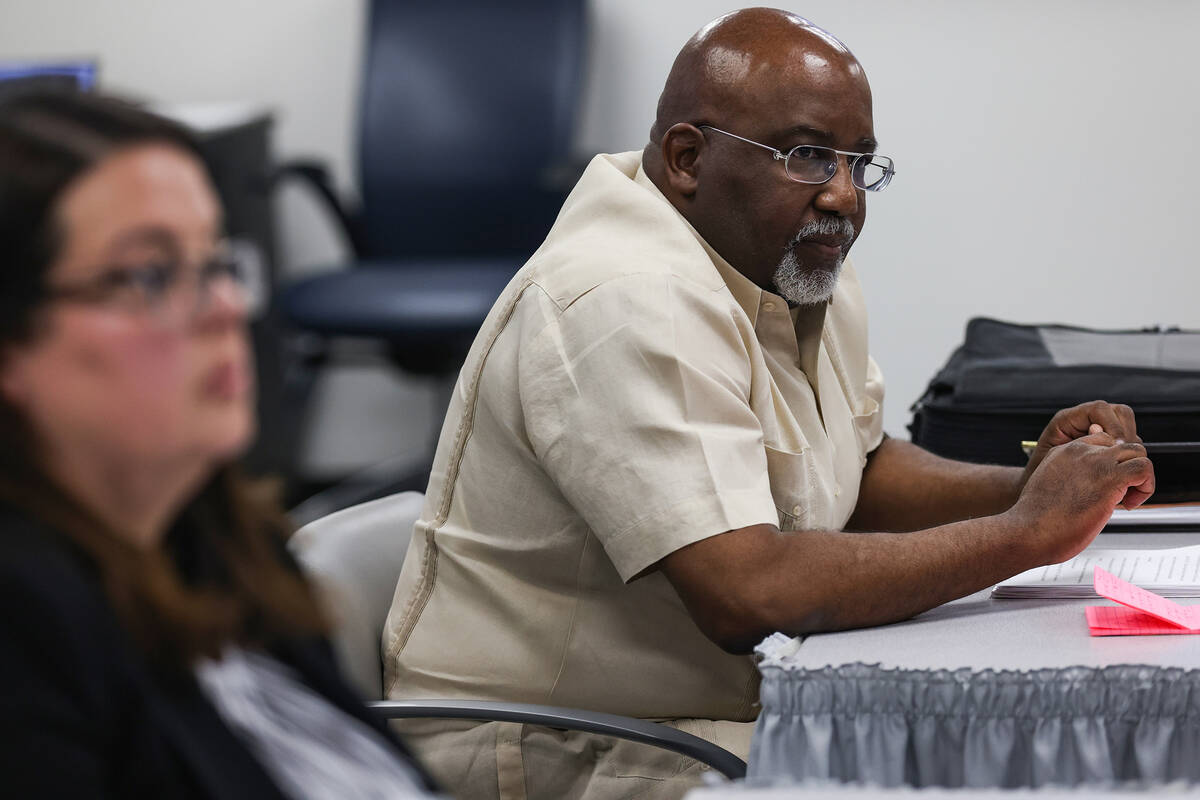 A Las Vegas OB-GYN engaged in disreputable conduct and demonstrated a "continual failure to practice medicine properly" by offering two patients $1,000 each to pose nude, an administrative hearing officer found.
But allegations by a third patient of an improper exam causing both pain and humiliation were not supported by the preponderance of the evidence, hearing officer Nancy Moss Ghusn wrote.
Ghusn's assessments are the latest step in the Nevada State Board of Medical Examiners' investigation into Dr. George Chambers, who is accused of sexual misconduct with patients during office visits. The medical board's investigative committee's complaint states that Chambers, licensed in Nevada in 2003, "repeatedly exploited his relationships with patients and violated patients' trust by engaging in sexual improprieties that constitute sexual misconduct."
"The very nature of the facts surrounding this proceeding could indeed be upsetting and inflammatory," Ghusn wrote in a 47-page document filed with the board of her findings in the case. "However, these same facts could also be interpreted differently by reasonable minds, as the experts in this matter did."
She was referring to the testimony of expert witnesses during the 22 hours of hearings in May and June.
Chambers did not respond to a request for comment but previously has denied any wrongdoing.
At a meeting scheduled for Sept. 15, the medical board will discuss the hearing officer's findings and determine whether to impose discipline.
'I would do it again, 1,000 times over'
Ghusn found that evidence and testimony support four counts in connection with Chambers offering money to two of the patients, referred to as Patients B and C, to pose nude for advertisements of his cosmetic gynecological surgery specialty.
According to the hearing officer's evaluation, evidence and testimony support two counts of engaging in conduct that violates the trust of a patient and exploits the relationship of a patient for financial or other personal gain.
In offering the money to patients, Chambers also demonstrated his "continual failure to exercise the skill or diligence or use the methods ordinarily exercised under the same circumstances by physicians in good standing practicing in the same specialty or field," Ghusn wrote.
And, by "repeatedly violating his patients' trust and exploiting his relationship with them," Chambers "engaged in conduct that brings the medical profession into disrepute," she wrote.
Although the resolution of her complaint remains uncertain, Patient B told the Las Vegas Review-Journal: "I'm very glad that I testified against him. It was difficult, but it was worth it. I would do it again, 1,000 times over."
'Physicians have open license to sexually assault … patients'
Ghusn found that the evidence does not support two counts of disruptive behavior in connection with the taking of photographs of Patient A's genitals during an exam using her cellphone, and with an allegation that he used a slang term in describing to the patient his attempt to insert his entire hand into her vagina.
In relation to Patient A, the hearing officer also found that the burden of proof was not met for a count of engaging in conduct intended to deceive and a count of failure to provide proper medical records. Both counts relate to the exclusion in the medical file of select photos from the exam.
"The only thing that is clear to me is that, in Nevada, physicians essentially have open license to sexually assault and sexually humiliate patients," said Patient A, after reviewing the hearing officer's findings.
She said the board is hamstrung by the lack of a provision that would allow it to specifically charge a doctor with sexual misconduct. Board general counsel Deonne Contine confirmed there is no such provision but declined further comment.
Since the board filed its complaint against Chambers last September, other women have come forward to lodge complaints against the doctor. Nicolette Matthews this month filed a lawsuit alleging that she was sexually assaulted during an exam. Chambers has denied the allegations.
Contact Mary Hynes at mhynes@reviewjournal.com. Follow @MaryHynes1 on X. Hynes is a member of the Review-Journal's investigative team, focusing on reporting that holds leaders and agencies accountable and exposes wrongdoing.