Investigation of Las Vegas tourism agency grows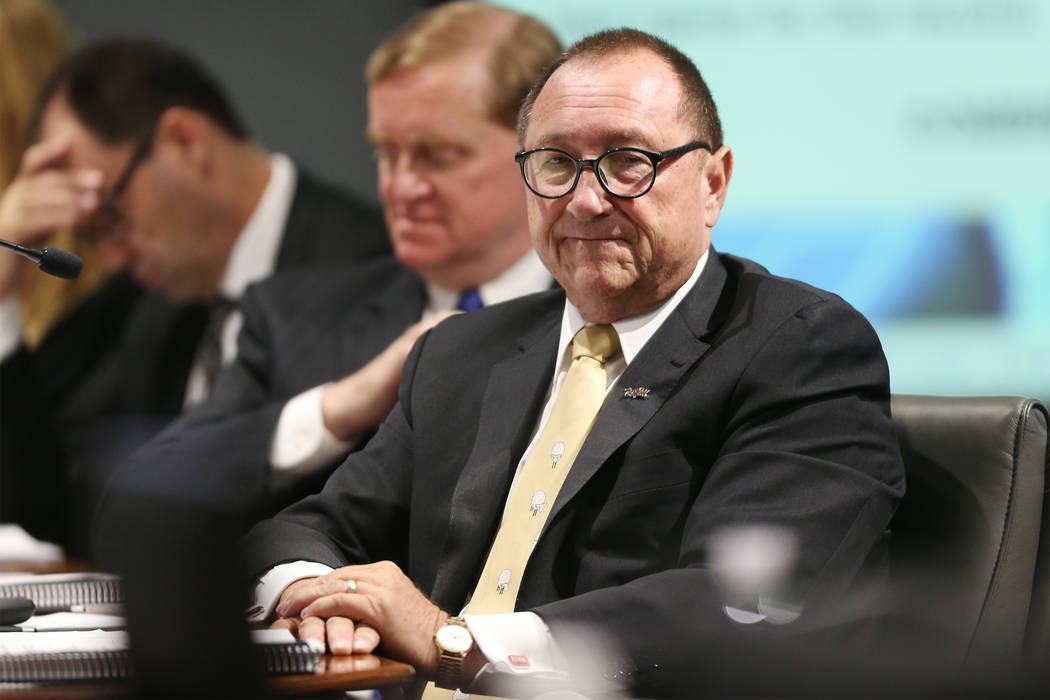 Police have obtained records under county grand jury subpoenas in their investigation into $90,000 in Southwest Airlines gift cards secretly purchased by the Las Vegas Convention and Visitors Authority.
Intelligence detectives with the Metropolitan Police Department got the records in recent weeks from both Southwest Airlines and the accounting firm Eide Bailly, which concluded in an audit that more than $50,000 worth of the gift cards were missing, informed sources said.
The audit came amid a Review-Journal investigation that found excessive convention authority spending on high-end entertainment, gifts for employees and first-class trips overseas for board members.
Police launched the criminal investigation in June, when they first received records related to the audit from the tax-funded convention authority.
Chris Wilcox, who runs Eide Bailly's Las Vegas office, said a detective served him with a subpoena about three weeks ago and picked up "a lot" of documents gathered during the audit.
The subpoena for the Southwest Airlines records indicates that authorities have begun to look more closely at the company's role in the scandal. The airline said last year that it could not help the convention authority's chief financial officer, Ed Finger, who asked the company last year for records to track the cards, the audit found.
"Personnel at Southwest indicate that no records are maintained of gift cards issued to LVCVA," an audit report said in June. "As of the date of this report, we have made no additional inquiries to Southwest to determine if this information may become available at a later date."
A source said auditors did not press for the those records because they did not have subpoena power.
Southwest Airlines spokesman Dan Landson declined to comment on the grand jury subpoena for company records.
Investigation widens
Police turned to the grand jury after a ranking department official indicated in a letter in August that detectives did not have enough evidence at that time to charge former convention authority CEO Rossi Ralenkotter with misusing the Southwest Airlines gift cards. The letter was sought by Clark County Commissioner Lawrence Weekly, who chairs the board, days before the panel was to vote on a lucrative retirement package for Ralenkotter.
"It looks like they're using the immense power of the grand jury to bring in evidence," said defense attorney Thomas Pitaro, a former part-time law professor at UNLV. "This means they're seriously looking into the allegations. This is big."
Attorney Todd Leventhal, a former prosecutor, said that when law enforcement authorities go to a grand jury, they expect to obtain an indictment.
"They're not going to waste the grand jury's time," Leventhal said. "They often use a grand jury to protect confidential informants or insiders who don't want their names out there at the beginning stages of an investigation."
Assistant District Attorney Christopher Lalli, whose office handles grand jury subpoenas, declined to comment.
The Review-Journal reported in July that police were looking at possible theft and embezzlement charges stemming from the Southwest Airlines gift card purchases, which occurred between 2012 and 2017.
Former authority executive Brig Lawson, who distributed the gift cards within the convention authority, hid the purchases in agency records and instructed Southwest Airlines employees not to refer to the cards in invoices, the audit showed. Ralenkotter used nearly $17,000 in cards on personal trips for himself and family members. Weekly, the board chairman, also used about $1,400 in travel cards for a trip with his daughter.
Lawson has since resigned as the authority's senior director of business partnerships, and both Weekly and Ralenkotter reimbursed the authority. Ralenkotter publicly apologized and said he did not intend to commit wrongdoing.
He said last week that he has "no knowledge" of the developments in the police investigation.
Weekly declined to talk about his own use of the cards.
"I'm confident that the LVCVA will cooperate fully and be as transparent as the agency needs to be," he said.
Convention authority spokeswoman Jacqueline Peterson echoed those words.
"If the LVCVA is asked for information, we will continue to fully cooperate," she said.
Lawson and police did not respond to requests for comment.
Ethics probe lingers
The convention authority board approved a $455,000 retirement package for Ralenkotter in August before he left the agency.
His deal included a $53,000 separation agreement, a $132,000 performance bonus and a $270,000 consulting contract, which allows him to continue playing an intimate role in the agency's worldwide marketing efforts. Ralenkotter, 71, also is eligible for roughly $350,000 per year in state pension benefits.
Although Ralenkotter publicly disavowed any intention to cash out his accrued time off as part of his retirement package, the Review-Journal reported that he had asked for more than $234,000 in untaken leave. That included about 300 hours of paid leave, worth about $65,000, that he should have claimed while on vacation but failed to document.
The newspaper also reported last month that the Nevada Commission on Ethics was investigating whether public funds were misused in the purchase of the Southwest Airlines gift cards.
Both Ralenkotter and Lawson are subjects of the investigation and have been offered an opportunity to respond to the ethics allegations, informed sources said.
Commission investigators also have obtained records related to the Eide Bailly audit, a knowledgeable source said.
It is unclear whether Weekly is a subject of the ethics investigation. He has refused to talk about it and has said that he was planning to pay for his daughter's flight but forgot.
Yvonne Nevarez-Goodson, the commission's executive director, declined to confirm or deny the investigation last month and again last week. She initially said that any inquiry is secret under state law until a review panel examines the evidence and decides whether to dismiss the case or send it to the commission for a public hearing.
Convention authority officials discovered the existence of the Southwest Airlines gift cards in January 2017 but did not inform the board until more than a year later, after they learned about Ralenkotter's personal use of the cards. The board's review was ordered in February by the audit committee chairman, gaming executive William Noonan.
In the wake of the audit findings, the board has tightened controls over the gift card process, and the tourism agency no longer allows the cards to be used for personal trips.
The Review-Journal is owned by the family of Las Vegas Sands Corp. Chairman and CEO Sheldon Adelson. Las Vegas Sands Corp. operates the Sands Expo and Convention Center, which competes with the Las Vegas Convention Center.
Contact Jeff German at jgerman@reviewjournal.com or 702-380-4564. Contact Arthur Kane at akane@reviewjournal.com or 702-383-0286. Follow @JGermanRJ and @ArthurMKane on Twitter.