LVCVA board lawyers seek sweeter deal for Rossi Ralenkotter
Updated August 13, 2018 - 6:53 pm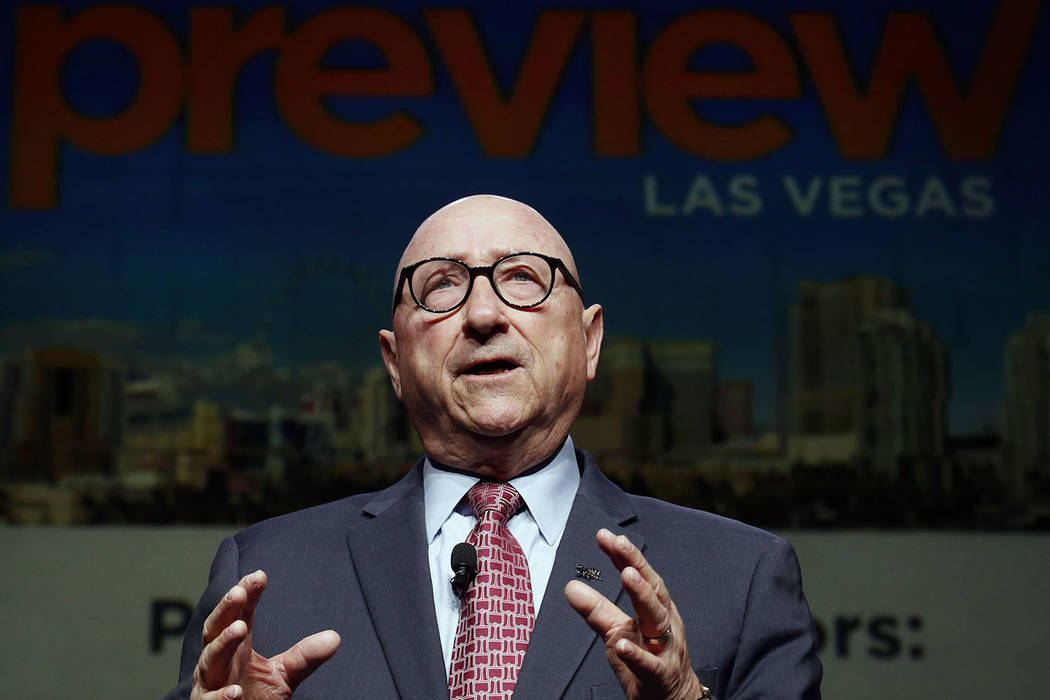 Attorneys for the Las Vegas Convention and Visitors Authority board have agreed to sweeten a pending deal for CEO Rossi Ralenkotter by upping his post-retirement consulting contract to $270,000 amid a police investigation of the agency.
The new figure is $90,000 more than what was disclosed last week, when the board scheduled a public discussion of Ralenkotter's retirement for Tuesday.
Ralenkotter also would receive reimbursement for travel expenses and any pre-approved entertainment costs he incurs as a consultant, according to the proposed 18-month contract.
The board also will discuss a separation and non-compete agreement for Ralenkotter that would pay him an additional $53,182, along with a possible six-figure performance bonus for his work in 2017. Last year Ralenkotter, who has been at the helm of the agency since 2004, received a $208,000 bonus and a six percent raise.
Ralenkotter, 71, is set to retire on Aug. 31. The separation agreement has a clause that forbids both sides from making any untruthful disparaging comments about the other.
The contract allows Ralenkotter to continue serving on public committees related to tourism and work with the agency to develop its worldwide marketing plan. He would consult with agency staff on all aspects of the convention authority's strategic agenda.
Ralenkotter, who will start collecting state pension benefits worth at least $350,000 per year when he steps down, does not have an employment contract, and the board has no legal obligation to pay Ralenkotter a retirement settlement or bonus.
The move toward a more lucrative payout for Ralenkotter comes after criticism from one board member who opposed any payout and another board member who criticized Ralenkotter's role in the agency's mishandling of $90,000 worth of Southwest Airlines gift cards.
Negotiations between lawyers for Ralenkotter and the board came together last week after Clark County Commissioner Lawrence Weekly, who chairs the board, got a briefing from police on the investigation into the gift cards.
Deputy Chief Shawn Andersen hand-delivered a letter to Weekly last week saying, "At this time, there are insufficient facts to support a criminal case against Mr. Ralenkotter."
Weekly suggested in an email to other board members that Ralenkotter had been cleared of any wrongdoing. But Weekly did not include context in his email that the letter served as an update on the investigation rather than a conclusion.
The Review-Journal has learned that the police investigation is just beginning. Detectives have done little beyond picking up records from the convention authority on June 28.
Weekly could not be reached for comment Monday, and police did not respond to a request for an interview with Andersen.
Ralenkotter used nearly $17,000 in Southwest Airlines gift cards on personal trips, often with his wife, between 2012 and 2017 until the practice was discovered. He apologized and reimbursed the convention authority for the cost of the cards.
Weekly also used the gift cards to pay for a $1,400 trip with his daughter. He paid back the agency for the cost of his daughter's flight.
Brig Lawson, a top convention authority executive who bought the gift cards from Southwest Airlines and distributed them to staff at the agency, resigned earlier this year. The audit revealed that $50,000 in cards were missing.
The Review-Journal is owned by the family of Las Vegas Sands Corp. Chairman and CEO Sheldon Adelson. Las Vegas Sands Corp. operates the Sands Expo & Convention Center.
Contact Jeff German at jgerman@reviewjournal.com or 702-380-4564. Follow @JGermanRJ on Twitter.
LVCVA livestream
Tuesday's Las Vegas Convention and Visitors Authority board meeting and an LVCVA compensation committee meeting will be livestreamed on the Las Vegas Review-Journal's Facebook page.
Several items related to retiring CEO Rossi Ralenkotter's retirement plan will be reviewed by the committee and board.
The committee meeting will begin at 8 a.m., followed by the board meeting at 9.