LVCVA boss bypassed board on ex-Las Vegas Mayor Oscar Goodman's raise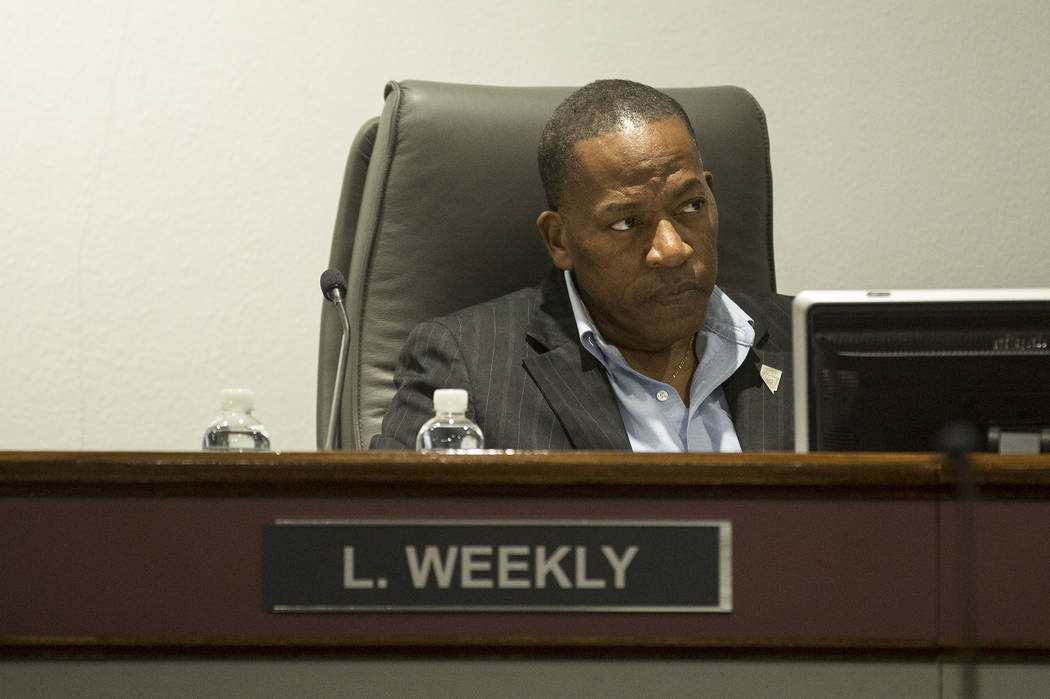 Las Vegas Convention and Visitors Authority CEO Rossi Ralenkotter hasn't sought board approval for a lucrative contract for former Mayor Oscar Goodman since 2013, records and interviews show.
Ralenkotter also authorized a secret one-year extension on his own in 2015 that increased Goodman's annual salary from $60,000 to $72,000 to serve as the tax-funded agency's chief tourism ambassador, according to documents.
Ralenkotter signed two additional extensions without board approval — one in July 2017 and the other on June 28 — after a Review-Journal investigation revealed Las Vegas Convention Center security officers frequently left their posts to drive Goodman to public events, records show. Goodman's current contract expires in August 2019.
Agency spokeswoman Jacqueline Peterson said Ralenkotter had the authority to sign Goodman's contract extensions without board consent. The board in 2006 gave him the ability to approve contracts worth up to $100,000.
Ralenkotter declined comment.
Peterson confirmed that Goodman still receives security escorts whenever the agency's security director, Ray Suppe, concludes it is necessary for his safety. Goodman's contract does not require security escorts.
Jack Pitney, a political science professor at Claremont McKenna College in Southern California, questioned Ralenkotter's decision to withhold Goodman's raise and contract extensions from the agency's board of directors, which includes local elected officials and private-sector representatives.
"When expenditures are being concealed, there's usually a reason that doesn't look good," Pitney said. "Taxpayers have a right to know how their money is being spent."
Curtis Kalin, a spokesman for Washington, D.C.-based Citizens Against Government Waste, called the ongoing security escorts for Goodman a "flagrant disregard" for taxpayers.
"It frankly is a little shocking that after these practices have come to light that neither the convention authority nor the board saw it was in the public interest to stop the chauffeured rides on the taxpayer dime," Kalin said. "It seems like there's a culture and undercurrent of entitlement for people in power there to use public taxpayer resources for their own personal reasons."
Secret pay raise
Ralenkotter won approval from the board in 2011 and 2013 for Goodman's first two contracts, each of which paid him a total of $120,000 over two years, convention authority officials said. Goodman's wife, Carolyn, a board member who succeeded him as Las Vegas mayor in 2011, abstained from voting both times.
But records show that when Ralenkotter raised Goodman's pay by $12,000 in 2015, he reduced the length of the contract to one year. That allowed him to act without the board's consent because the extension did not reach the $100,000 threshold that triggers board scrutiny. In all, Ralenkotter has withheld four extensions from the board since 2015.
Goodman, 78, a former high-profile mob lawyer, did not respond to a request for comment about his security escorts. He has previously told other media outlets that the service was necessary for safety reasons and to fulfill the requirements of his tourism job.
Clark County Commissioner Lawrence Weekly, who chairs the board, said he is not concerned about diverting security officers to transport Goodman to authority events.
"He's been a great ambassador," Weekly said of Goodman, known for his public appearances with showgirls and trademark martini in hand. "People from all walks of life enjoy him. He brings great energy and is just a fun person that many of our clients love meeting."
But with the authority's management team in transition, Weekly said, the board should look at Goodman's contract and other business dealings at the agency. The authority has a new president and COO, Steve Hill, and Ralenkotter, who has been at the helm of the agency since 2004, is considering retirement.
"We've all discovered in terms of our policies that it's time that we review how we do business there to see if some things may need to be tweaked," Weekly said.
The Review-Journal's investigation also found lavish convention authority spending on high-end entertainment, gifts for employees and first-class trips overseas for board members. The agency has a $251 million annual operating budget, mostly coming from taxes on hotel rooms.
Both the board and the authority last year mounted a public campaign to deflect questions about the agency's spending. Eventually, the board voted to limit its members to one agency-sponsored trip a year and put a $400 cap on gifts the members can receive each year from the authority and its business partners. But the board did not address concerns about staff spending.
Security officers were taken away from their convention center duties about 260 times between 2013 and May 2017 to drive Goodman to events, according to records obtained by the newspaper last year.
Goodman received more than 100 rides to hotel-casinos, records showed. There also were trips to the Mob Museum, Nellis Air Force Base, T-Mobile Arena, television stations, restaurants, a golf course and even the local filming of a movie. Nearly three dozen of the security pickups began and ended at his home.
More scrutiny
Ralenkotter offered the ceremonial position to Goodman after he left elected office because of term limits. When Goodman's time as mayor ended, so did his tenure on the convention authority board, where he served several years as its chairman.
Goodman was put in charge of the authority's host committee, which was set up to welcome tourists to Las Vegas. His duties include speaking at conventions and trade shows and doing media interviews.
This year, he has made 70 public appearances on behalf of the convention authority, Peterson said.
The latest questions surrounding Goodman's role at the convention authority come as Las Vegas police investigate the handling of $90,000 worth of Southwest Airlines gift cards secretly purchased by the convention authority.
Detectives on June 28 obtained records from the authority related to an audit that found the agency had misused the airline cards, informed sources said.
Authority executive Brig Lawson hid the gift card purchases, and auditors could not account for more than $50,000 worth of the travel cards, an audit report showed last month. Ralenkotter used $16,207 in cards to take personal trips with his wife and reimbursed the agency after the trips were discovered. Weekly also paid back about $700 in cards used on a trip with his daughter.
Lawson, who could not be reached for comment, has since resigned as the authority's senior director of business partnerships.
Gaming executive Bill Noonan, who chairs the board's audit committee, ordered the gift card audit in February amid the Review-Journal investigation.
The newspaper requested employee gift and travel records more than a year before the board hired the auditors, but the authority did not provide any records of the airline cards. It maintained that there was no process in place at the time to track use of the cards.
The Review-Journal is owned by the family of Las Vegas Sands Corp. Chairman and CEO Sheldon Adelson. Las Vegas Sands operates the Sands Expo & Convention Center.
Contact Jeff German at jgerman@reviewjournal.com or 702-380-4564. Follow @JGermanRJ on Twitter.