Ralenkotter's LVCVA consulting contract in jeopardy after criminal charges
Updated September 10, 2019 - 3:12 pm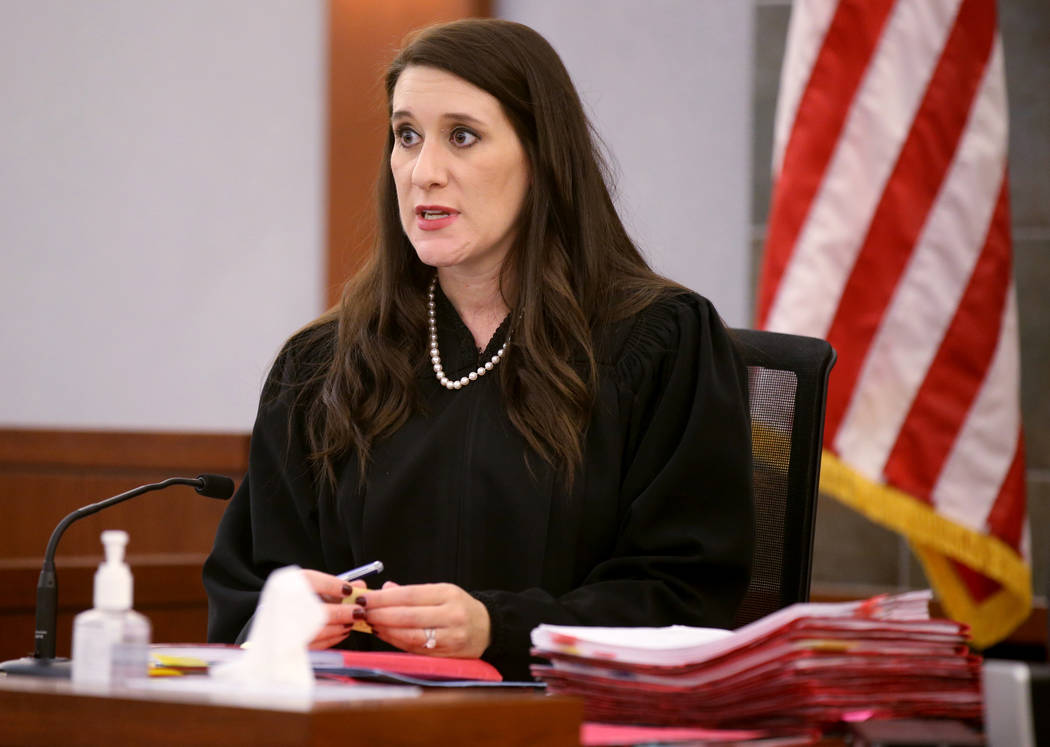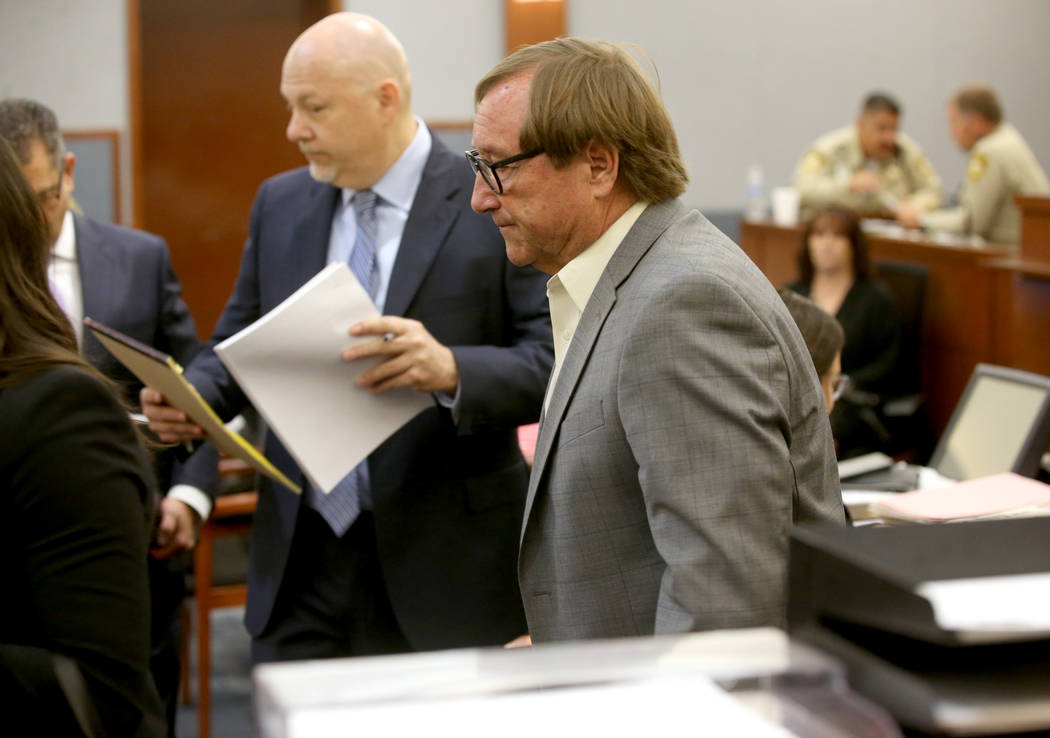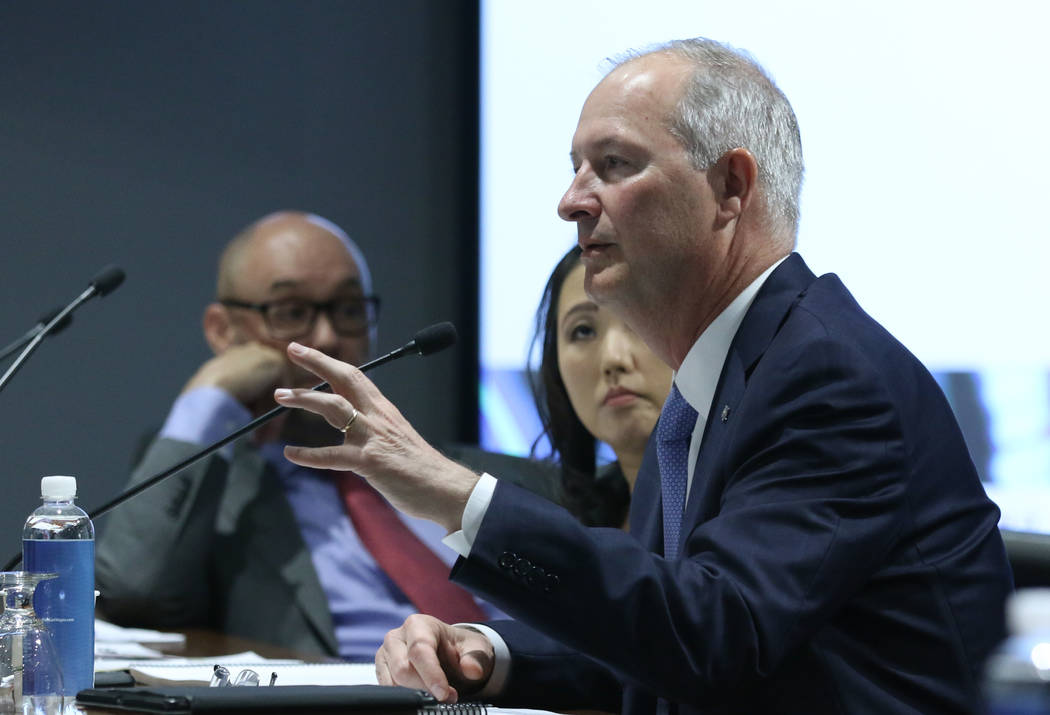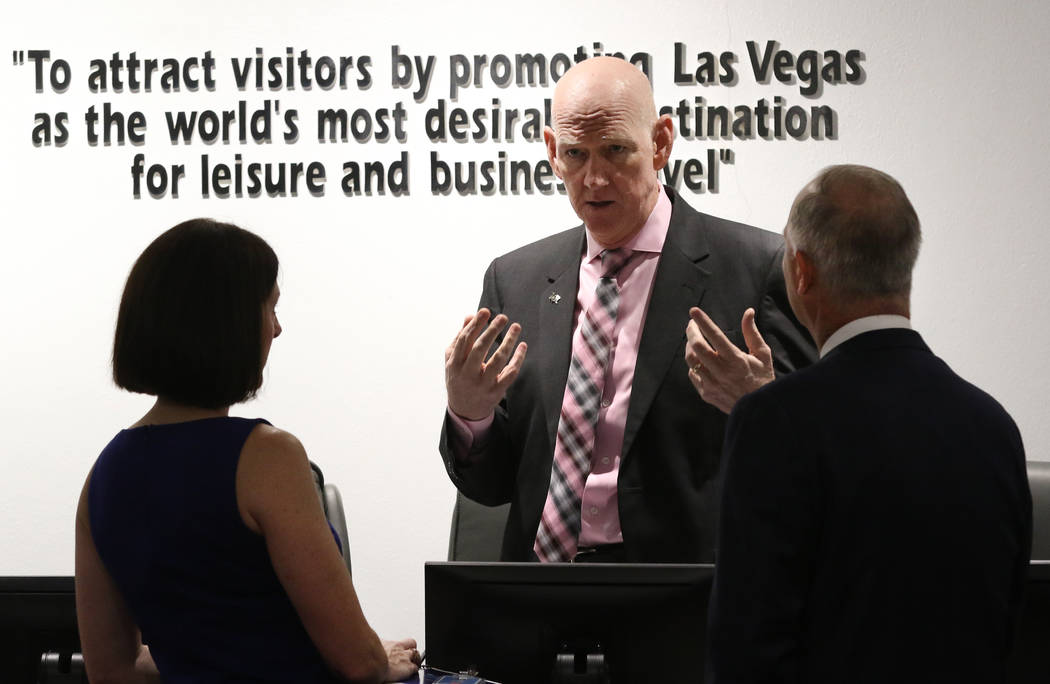 The Las Vegas Convention and Visitors Authority board and executives will review former CEO Rossi Ralenkotter's $15,000-a-month consulting contract in light of felony charges against him to determine whether to terminate the agreement, the board chairman said Tuesday.
Chairman Larry Brown, a Clark County Commissioner, also told the Review-Journal that Ralenkotter's successor, Steve Hill, could cancel the contract as it contains language that allows termination "for any reason."
Hill declined comment.
"The executive committee will work with the president, Mr. Hill, look at the charges, look at the due process (and) discuss what options we have," Brown said after Tuesday's LVCVA board meeting. "From the authority's perspective, it's time to move on."
The LVCVA board hired Ralenkotter as a consultant for 18 months after he retired in August 2018.
Earlier Tuesday, Ralenkotter avoided an arrest warrant and appeared in Justice Court to face charges in the alleged theft of Southwest Airlines gift cards bought by the tax-funded agency. His wife, Mary Jo Ralenkotter, was at his side while he waited for his case to be called. Dressed in a gray suit with no tie, he appeared uncomfortable in the courtroom setting.
Prosecutors filed felony charges Monday against Ralenkotter, once one of the most influential public officials in the state, two of his top former executives and a Southwest employee over the misuse of $90,000 in airline gift cards.
The seven-count complaint comes after a yearlong investigation of the LVCVA that police said was prompted by Review-Journal stories about audits disclosing misuse of the gift cards. The newspaper has been investigating excessive spending and lax accountability of gifts to staff and board members at the LVCVA, most of which occurred during Ralenkotter's tenure.
Board reconsideration
Days before the LVCVA board approved a $455,000 retirement deal for Ralenkotter in August 2018, Las Vegas police took the unusual step of providing then-board Chairman Lawrence Weekly a letter saying police did not have enough evidence to charge Ralenkotter at that time.
Weekly, who acknowledged using $1,400 in Southwest gift cards on a trip with his daughter, had requested the letter. He paid back $700 to the agency.
On Tuesday, Weekly said he was working with the best information he had at the time.
"I think it was really premature at the time and facts were there in terms of his involvement," he said. "It would have been too premature to make that decision at that time."
But Ralenkotter had admitted using about $17,000 of the cards for personal trips with his family and had paid back the money.
Brown said he hopes the end of the criminal investigation will allow the government agency, charged with promoting tourism in Las Vegas, to get back to the business of attracting visitors.
"It's history that has come to culmination now," he said. "I would focus more on what this authority and the current board has done over the last 18 months to increase that transparency, to have more accountability, to look hard at the policies that guide our employees and our board and I think we've moved quite a long way."
Both Brown and Weekly praised Ralenkotter despite the felony charges.
"The gift card issue — that's one thing and it's real obvious with the charges — but somewhere over on this side of the ledger is 45 years of a gentleman that dedicated his life to this organization, to this community and did some great things," Brown said.
Weekly agreed.
"It's disappointing and pretty sad," he said about the charges. "You never want to see a person that's a really a good person have to endure something like that."
Court case
Ralenkotter, 72, appeared before Las Vegas Justice of the Peace Harmony Letizia on Tuesday with his new lawyer, Tony Sgro, a veteran of many high-profile criminal cases. Afterwards, both men declined to comment, though Ralenkotter has previously denied criminal wrongdoing.
At Sgro's request, Letizia temporarily stayed execution of the arrest warrant for Ralenkotter so that he could do a booking "walk-through" at the Clark County Detention Center and then be released on his own recognizance.
Letizia kept the arrest warrant in place for Ralenkotter's former chief marketing officer, Cathy Tull, who did not appear in court. Chief Deputy District Attorney Jay P. Raman told the judge that he had no contact with Tull's lawyer.
Ralenkotter and Tull, 52, are charged with theft and misconduct of a public officer, both felonies.
Another defendant, Brig Lawson, the LVCVA's former business partnerships director, was allowed to remain free without bail. He is facing charges of theft, forgery and unlawful use of public money. His lawyer has said he will mount a vigorous defense against the charges.
Police allege Lawson, 49, instructed Southwest Airlines employees to hide the gift card purchases in promotional invoices between 2012 and 2017.
One of those employees, Eric Woodson, a Dallas-based Southwest marketing executive, was ordered Tuesday to surrender to jail officials. Woodson, who is also facing theft and forgery charges, was not in court, but his lawyer Keely Perdue promised to get Woodson to Las Vegas.
Letizia scheduled a hearing in two weeks to set a date for a preliminary hearing to determine whether Ralenkotter and the other defendants should be bound over for trial in Clark County District Court.
Prosecutors also have the option to go to a grand jury and obtain an indictment to move the case directly to District Court.
Raman declined comment after Tuesday's hearing.
The Review-Journal is owned by the family of Las Vegas Sands Corp. Chairman and CEO Sheldon Adelson. Las Vegas Sands Corp. operates the Sands Expo & Convention Center, which competes with the LVCVA-operated Las Vegas Convention Center.
Contact Jeff German at jgerman@reviewjournal.com or 702-380-4564. Contact Arthur Kane at akane@reviewjournal.com or 702-383-0286. Follow @JGermanRJ and @ArthurMKane on Twitter.
Criminal complaint in LVCVA gift card scandal by Las Vegas Review-Journal on Scribd
RELATED
Southwest Airlines exec tied to misuse of gift cards by LVCVA
Audit of LVCVA's use of airline gift cards questioned by police
Police probe: Ex-LVCVA boss gave taxpayer-paid gift cards to staff
Former LVCVA exec to pay ethics fine in airline gift-card probe
LVCVA disbands travel office amid airline gift card investigations
Ex-LVCVA chief continues pattern of luxury travel at taxpayer expense
Police seize records from LVCVA as gift card investigation grows