State dental board's ex-counsel: 'They're hiding things from the public'
Updated August 12, 2023 - 9:20 am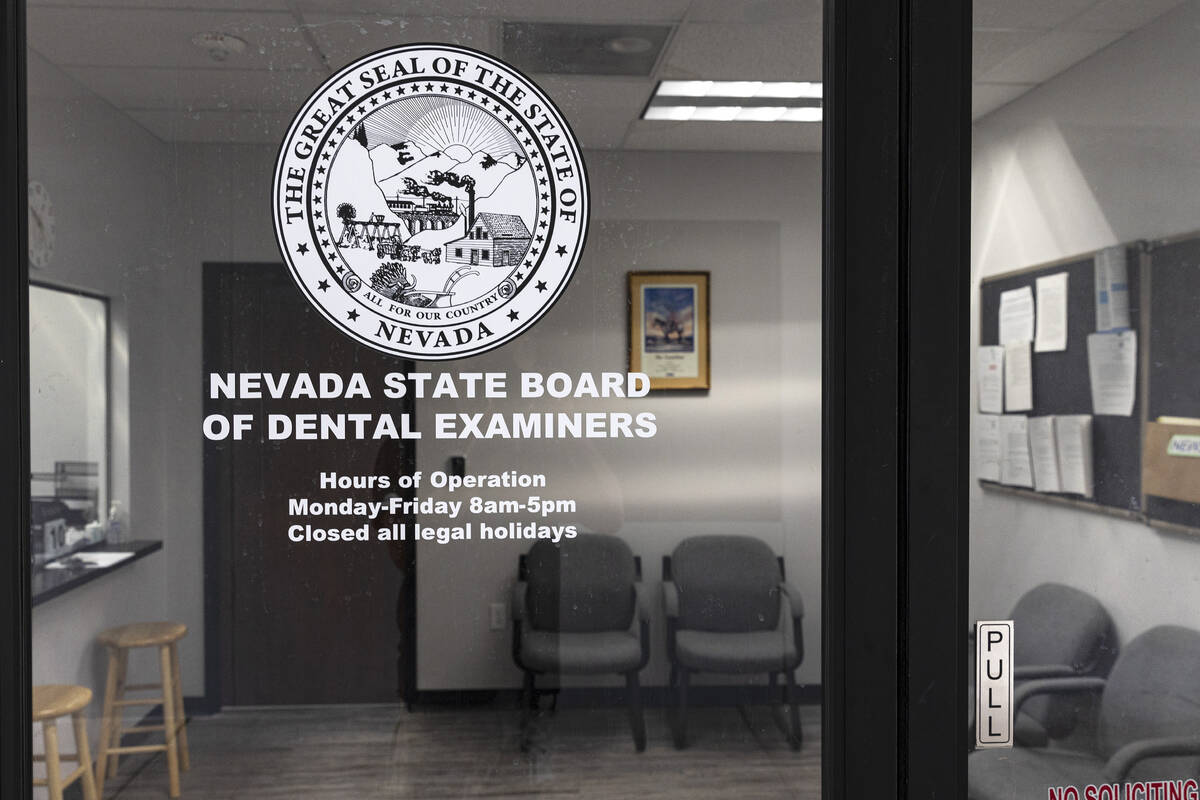 An attorney who worked for Nevada's dental board has accused her ex-employer and the attorney general's office of violating state open government laws, including withholding public records.
Eva Romero, former in-house counsel to the Nevada State Board of Dental Examiners, filed public records requests, open meeting law complaints and a lawsuit after the board fired her in October.
In December, Romero and the board's former Executive Director Hardeep Sull, who also was fired, jointly filed the District Court lawsuit against the board. It alleges that the board fired Romero after she investigated an employee's claim of harassment by two board members and fired Sull when she refused to fire Romero.
"We're getting stonewalled," Romero said. "They're hiding things from the public."
Records requested include recent contracts with law firms and invoices and payments for legal services defending the board against lawsuits, costs Romero said add up to hundreds of thousands of dollars.
Courtney Lee, who replaced Sull as executive director, made a similar cost estimate at a board meeting on Feb. 1, during which she, too, was fired. In a statement she read into the record, Lee noted that in excess of $365,000 had been spent on outside attorneys fees in a year and a half on matters that might have been "resolved reasonably."
Romero said she has received only some of the records she requested.
A statement from the board to the Las Vegas Review-Journal says that of the records requested, it "provided those documents in its possession."
"The Board is cognizant of and adheres to its duties and responsibilities under Nevada law concerning Open Meeting Laws and Public Records Requests," the statement says.
'Sensitive government information'
In a response dated June 27 to Romero's records request, the attorney general's office said that it has provided "responsive records." It said that the office "has also identified information that may not be released because release may jeopardize sensitive government information."
In withholding information, it cites the 2020 Nevada Supreme Court case Las Vegas Metropolitan Police Department v. Las Vegas Review-Journal.
The court's ruling in the case "recognizes there may be times when information can be withheld based on the balancing of interests tests," said Benjamin Lipman, chief legal officer for the Review-Journal. The general balancing test allows withholding only if the government can prove it has a legitimate interest in nondisclosure and that interest clearly outweighs the public's interest in access.
"But, they have quite clearly violated the statutory mandate reiterated by the Supreme Court on numerous occasions that if information is withheld there must be a detailed explanation why," Lipman said. "Vague concerns and unexplained citations to cases are not sufficient. And even if some information can be withheld, it must be done through redaction of the specific information, not wholesale withholding of entire documents."
Among the records Romero has not received are those pertaining to the retention of Littler Mendelson, a law firm defending the board against the lawsuit she filed with Sull. The firm has been representing the board for months, having filed a response to Romero and Sull's lawsuit in early March.
The attorney general's office retained Littler Mendelson to represent the dental board because of a conflict of interest arising from the office's defense of another lawsuit, John Sadler, the office's communications director, wrote in an email.
"Terms have been agreed to and will be reflected in the contract once it is finalized," Sadler said. "The state does not share contracts until they are finalized, whereupon they become a public record and are available for disclosure."
Romero's contention that the office is hiding things from the public is untrue, he said.
Conflict of interest?
Sull and Romero were hired by the board in early 2022 as part of a reorganization after critical state audits and an investigation by the Review-Journal that found the agency failed to discipline dentists who repeatedly injured patients and failed to abide by open meeting laws.
Sull and Romero's lawsuit seeks declaratory judgment by the court that the board violated the state's open meeting law by providing improper notice to the pair and when improperly terminating them at a meeting Oct. 26. It asks that they be reinstated with full back pay and benefits.
The answer to the complaint, filed by attorneys for Littler Mendelson, said that the firings were lawful and denies that the board violated the open meeting law.
The attorney general's office in May dismissed Romero's open meeting law complaints. It said that no violations had occurred "on which formal findings should be made." It said that allegations regarding the board and its leadership "are moot and/or without merit."
While charged with upholding the state's open meeting law, the attorney general's office also provides legal counsel to the dental board, which Romero said poses a conflict of interest.
"We know the AG is protecting its clients," she said.
Sadler said the attorney general's office maintains the necessary separation among departments and staff to prevent a conflict.
"In compliance with standards of professional conduct, the Deputy who investigates an OML (open meeting law) complaint is always kept separate from any Deputy representing that body in the matter," he said.
The "What Are They Hiding?" column was created to educate Nevadans about transparency laws, inform readers about Review-Journal coverage being stymied by bureaucracies, and shame public officials into being open with the hardworking people who pay all of government's bills. Were you wrongly denied access to public records? Share your story with us at whataretheyhiding@reviewjournal.com.
Contact Mary Hynes at mhynes@reviewjournal.com. Follow @MaryHynes1 on Twitter. Hynes is a member of the Review-Journal's investigative team, focusing on reporting that holds leaders and agencies accountable and exposes wrongdoing.