Supervisors knew of Nevada law officer's DUI arrests
February 6, 2017 - 7:41 pm
Updated December 8, 2017 - 12:18 pm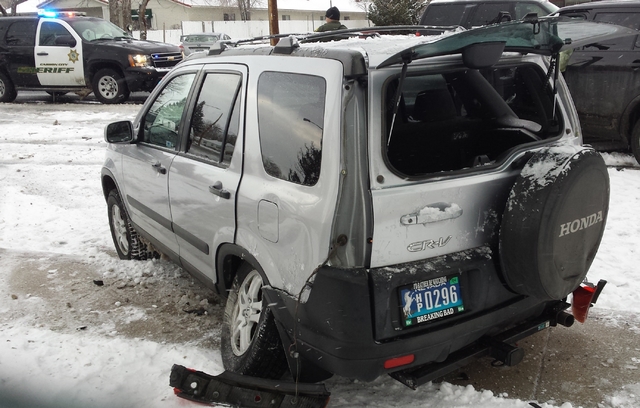 Authorities notified two state agencies about the drunken driving arrests of an employee who was later allowed to continue working as a law officer with use of a state vehicle.
Washoe County sheriff's reports show that arresting officers notified the Nevada Attorney General's Office, where Robert Reasoner, 36, was working in 2006, when he was first arrested on suspicion of DUI in Reno. Then in 2011, a sheriff's deputy notified a Nevada Transportation Authority supervisor after Reasoner's second drunken driving arrest in Reno.
It is unclear what actions, if any, state officials took.
A Nevada State Patrol spokesman said troopers did not notify the transportation authority when they arrested Reasoner on a third DUI charge in 2016 in Sparks.
Andrew MacKay, who was the transit authority chairman at the time of Reasoner's 2011 arrest, said his staff should have notified him but did not.
"To say I was shocked when I first read about it (in the Review-Journal) would be an understatement," said MacKay, who now heads the Nevada Franchised Auto Dealers Association.
Despite his multiple DUIs, transportation officials promoted Reasoner from an investigator to a supervisor in 2013. The agency didn't suspend him until Jan. 6, a day after he crashed a state SUV into a parked car and fled the scene, police records show.
The reports do not indicate whom police notified of the 2006 and 2011 DUI arrests.
After the 2011 arrest, a report noted that now-retired Washoe County Deputy James Beltron made the "immediate supervisor notification" of Reasoner's arrest. Beltron did not remember the case, but he said it was standard policy to report the arrests of state workers to their government agencies.
"If it was after hours, we normally did call their immediate supervisor who was on duty, like the watch commander," Beltron said in a phone interview. "It's our department policy — at least (it was) at that time — that if you were arrested and somebody in law enforcement or connected with a state or local government or anybody of special note, we would notify."
In the 2006 arrest, police called the Attorney General's Office, where Reasoner worked until 2008. The police report says: "Reasoner identified himself to Sgt. Glass at this time as working for the State of Nevada Attorney Generals office. Sgt. Glass made the notifications."
Dale Liebherr, who at the time was chief of investigations at the AG's office, declined to say whether he was notified and whether the agency took any action.
"That was a personnel issue," he said.
George Chanos was attorney general at the time, but he didn't recall Reasoner or any notification of his arrest.
"This is the first time I'm hearing about it," he said, adding that he didn't know whether policy at the office would have required his staff to notify him.
Nevada Transpotation Authority Chief Michael Bradford, one of Reasoner's supervisors in 2011, did not return calls left at his office. Agency spokeswoman Terri Williams did not return an email seeking comment. At the agency's request, the Department of Public Safety is investigating how Reasoner was able to continue at his job and drive a state vehicle despite multiple DUIs.
Officials put Reasoner on paid administrative leave on Jan. 6. The Carson City District Attorney charged him last month with leaving the scene of an accident and having an open alcohol container after police found two Pabst Blue Ribbon beers in the state vehicle, court records show. Reasoner has DUI convictions stemming from the 2006 and 2016 arrests and pleaded guilty to reckless driving as a result of the 2011 arrest.
When police found Reasoner at a Carson City house after he fled the Jan. 5 accident, he had a 0.002 percent blood alcohol content and had taken a prescription sedative called Soma, the Carson City sheriff's report said.
The wreck at 3 p.m. was not Reasoner's only crash that day. About an hour before crashing into the parked SUV, Reasoner had rear-ended a couple driving south on North Carson Street, police records show.
Elmer Larsen, the vehicle owner, was driving the Subaru Forester with his wife, Carrol, in the passenger seat when Reasoner hit them in the Ford Explorer, which is owned by the state and is outfitted with police lights, Carrol Larsen said in a phone interview.
"My head hit the head rest, and my neck starting hurting right away," she said. "I've had three back surgeries (before the accident), and when he slammed into the back of us, I went 'Oh, great.'"
Reasoner, who according to police reports flashed his transit authority badge during his 2011 arrest, was also wearing a badge around his neck when he approached the couple and handed them a business card before police arrived, she said.
Police wrote him a ticket for failing to drive with due care. Carrol Larsen was shocked when told of his driving history.
"I think they ought to fire him, and he needs to go jail," she said.
Contact Arthur Kane at akane@reviewjournal.com. Follow @ArthurMKane on Twitter.
RELATED
Crash victim angry at Nevada agency over missed red flags