What are they hiding? Here's how to request public records
Updated March 4, 2023 - 12:15 pm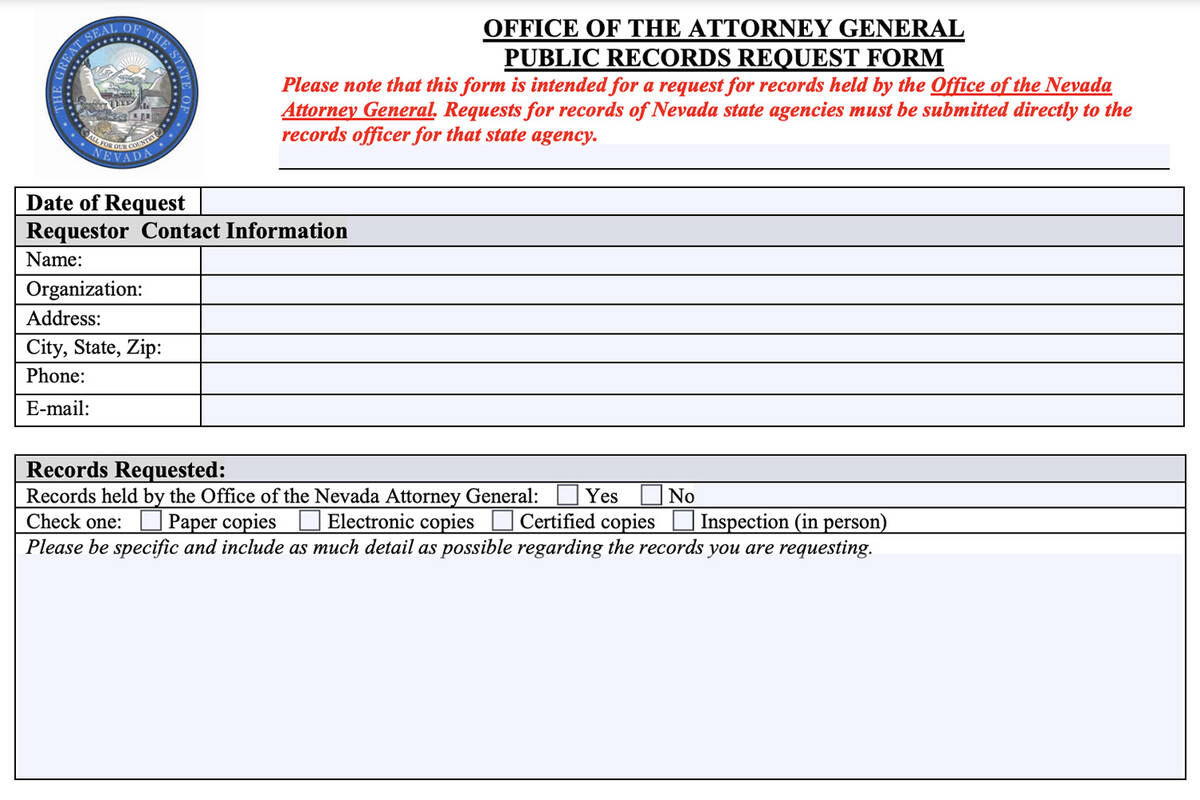 State law allows anyone to ask for public records, but the average Nevadan probably has no idea how to do it.
The Las Vegas Review-Journal's "What Are They Hiding?" initiative, which debuted last week, will highlight cases where media, businesses and residents are denied government records in violation of state law. It happens a lot, and it makes government unaccountable to taxpayers.
We hope this feature will help make government more transparent.
Today's installment of "What Are They Hiding?" is a primer that defines a public record, explains what should be available for public inspection, and explains how a person who wants public information can go about getting it.
There's no mystery or secret formula for requesting a record. State law allows you to call an agency and ask over the phone or make the request in person. But public records advocates recommend putting the request in writing to make sure it is documented.
A written record is helpful if there is a dispute or a court case must be filed.
As a journalist, I file public records requests nearly every week.
It's simple: Identify an agency's public information officer or executive and send an email to that person.
Templates and information about how to request records are available from the Nevada attorney general's office and the Nevada Press Association, but an email works just fine. Some agencies prefer that you request records through their online portals. This process often allows you to download records online.
Two caveats:
The request must go to a governmental entity. Private schools, your neighbor and the local gas station do not have to provide any information under the state's public records law.
The Nevada Public Records Act applies to, among others, elected and appointed officials, state departments, cities, schools, water districts and other local divisions in Nevada. Federal agencies, even if they have offices in the state, are subject to the federal Freedom of Information Act. Requesting information from the federal government through FOIA is a lengthy process we'll cover in a separate column.
Starting a request
Once you find an agency and determine what you are interested in learning, search the web for the email address of the public information officer.
There also may be a dedicated public records email account or portal. (If you don't use email, find the office mailing address of the public information officer and make a copy of your request before you mail it or deliver it in person. Send it via certified mail for additional verification.)
Start your request with the statement: "This is a request under the Nevada Public Records Act, NRS 239." Then describe the records you seek. The agency does not have to answer questions like "What was with that road construction that woke me Sunday morning?" But it does have to provide you with the budgets, construction plans and schedule for that roadwork.
The request could look something like this: "I am seeking all budgets, construction plans and schedules for the resurfacing of the 1000 block of East Elm Street in Las Vegas." Provide all of your contact information.
Remind the agency that state law requires a response within five business days and direct them to call or email you if they have questions or if there will be a cost to inspect the records.
Then wait for a response.
If the agency hasn't provided the records or a timetable to release the records after five days, email or call to inquire about the request. Maybe the request went to a spam email folder.
Or maybe they're ignoring it. Unfortunately, some agencies do that. Hence the name of our feature: "What are they hiding?"
There may be some back and forth, but state law requires the agency to help a requester tailor the request to maximize the chance records will be produced promptly.
Be persistent. In an ideal world, the agency will release the records at no cost and do it quickly, in the process giving you a better understanding of what the government is doing.
That is what the law was written to accomplish.
The Nevada Public Records Act assumes that all records that are not specifically confidential in state law should be made public. It's probably a good idea to read the law and familiarize yourself with it before submitting a request.
Among the kinds of records you might ask for: government contracts with businesses, code enforcement records, or data related to a dangerous road or intersection.
What are you curious about? Do you suspect public information might show an agency isn't fulfilling its responsibilities?
Don't be afraid to ask questions. We aren't.
If agency staff believe the records are exempt from disclosure, they must provide you a citation to the law or a court ruling that allows them to withhold the documents or data.
It's unfortunately far too common for some agencies to deliberately misrepresent the law and court rulings to hide records from the public.
Other agencies might try to charge you hundreds or thousands of dollars for the request, unlawfully claiming that you have to pay for staff time to process records.
Engage the agency and let its staff know what you want to understand. Maybe, together, you will find a record that will satisfy your curiosity but isn't exempt from disclosure.
The Review-Journal highlighted a couple of cases where records were inappropriately withheld in our first "What Are They Hiding?" column. So read the ruling or the law an agency cites and determine if you think the government is applying it accurately.
If you get into an extended battle with the agency, and you believe the agency is improperly withholding information, please forward to us your email exchanges with the government, what records you're looking for and why you want the documents.
The email address for these disputes is whataretheyhiding@reviewjournal.com.
Maybe we'll highlight your records battle in a future column.
Happy record hunting.
Contact Arthur Kane at akane@reviewjournal.com and follow @ArthurMKane on Twitter. Kane is the editor of the Review-Journal's investigative team, focusing on reporting that holds leaders and agencies accountable and exposes wrongdoing.