What are they hiding? Metro charges $320 an hour for bodycam video
Updated October 20, 2023 - 2:26 pm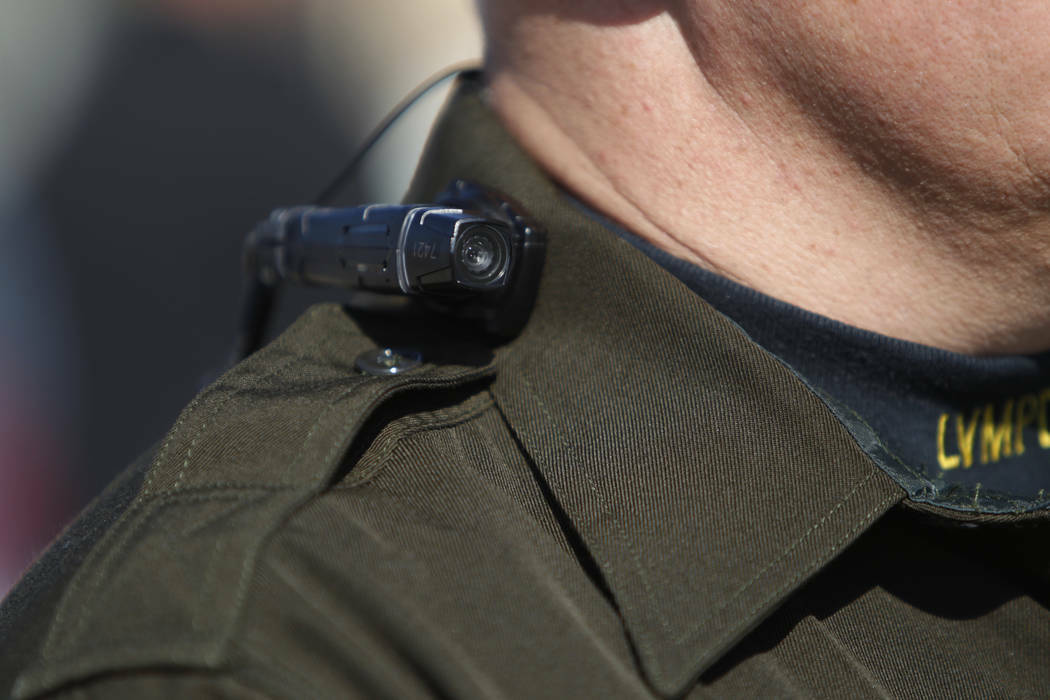 Taxpayers already fund the salaries, benefits and pensions of Metropolitan Police Department staff, but that hasn't stopped the agency from hiking fees that residents must pay to see what officers are doing on the job.
Nevada's largest law enforcement agency is now charging the public $320 per hour of video for copies of body-camera footage. Metro officials say the fee is justified to cover the costs of preparing footage for release, but open-government advocates criticized the policy, saying it makes transparency unaffordable for average residents.
"Any significant fee for public records is a major barrier to public access," said First Amendment Coalition legal director David Loy. "These kinds of records are absolutely essential to transparency and accountability of law enforcement."
Metro's latest fee is an eye-popping increase from the $47 an hour the department charged as recently as early 2019. Nevada law has required police statewide to wear body cameras since 2018, a measure aimed at rooting out police misconduct and false allegations against officers. Metro began outfitting its officers with body cameras in 2014.
The agency's fees, which are based on the length of requested videos, are significantly higher than those of other Southern Nevada departments. North Las Vegas police stopped billing for their footage in 2021. Henderson doesn't charge for the first 10 hours of work its employees spend preparing video for release, and the city charges no more than $35 for each additional hour of work.
Metro contends that its prices reflect the man-hours and equipment necessary to handle the more than 2,000 requests for footage it receives each year. The department relies on detectives in its public records unit to research requests and blur images it deems confidential and gruesome, a process that takes four hours of work for each hour of footage, department attorney Matthew Christian said.
Recent price hikes reflect cost-of-living raises that taxpayers funded for staff at the department, which has an annual budget of nearly $785 million.
There are times that Metro releases footage for free, including those documenting police shootings, high-profile arrests and video of other events that draw widespread interest. People who file complaints against officers are sometimes allowed to view relevant videos in person without charge.
"The times we're charging for body-worn cameras is when it's not a matter of public interest," Christian said, noting that most requests come from law firms and insurance companies. "It's a private individual wanting it for a private interest."
But the agency also has demanded that the Las Vegas Review-Journal pay for copies of body-camera footage documenting newsworthy events.
In 2022, a reporter requested video of former Raiders cornerback Damon Arnette's arrest on drug and weapon charges. The athlete was accused of pointing a gun in the direction of Park MGM valets, and he later pleaded guilty to misdemeanor charges in exchange for a fine and community service.
Metro demanded $2,100 before releasing the requested video. The newspaper did not obtain the footage.
Charges under records law
State law allows government agencies to charge the "actual cost" for providing copies of public records, but that doesn't include expenses incurred "regardless of whether or not a person requests a copy of a particular public record."
Metro contends that the law covers its detectives' salaries and benefits, while Review-Journal chief legal officer Ben Lipman called charging for those expenses "a blatant violation" of state law. That's because taxpayers already fund the department's salaries and benefits regardless of whether a particular request for records is made, Lipman said.
And the $320-an-hour fee is a major roadblock for people to obtain body-camera footage, said the First Amendment Coalition's Loy.
The average hourly wage in Las Vegas was about $26 in May 2022, according to federal labor statistics. With that pay, it would take a worker more than an eight-hour shift to buy one hour of Metro body-camera footage. When multiple officers are filming, costs can quickly mount.
"If the people have to pay for access (to body-camera footage), then it's not really public access anymore," Loy said. "It's access for the wealthy."
Christian said Metro needs to recoup its costs, especially when requests are made for dozens or hundreds of hours of video. Requesters who are unhappy with quoted fees can contact the department's public records unit and narrow the amount of footage they are requesting. Fees are calculated by the minute, meaning a half-hour-long video would cost $160.
"There's two things at play," he said. "There's being transparent, and there's protecting the tax dollars."
Colorado resident Angel Pelaez said he was shocked to receive a bill for almost $780 when he requested footage of his arrest this June in downtown Las Vegas. The tourist was jailed after Metro officers accused him of walking in the road and not cooperating during questioning. City attorneys did not pursue the charges.
Pelaez, 45, said he does not plan to pay the fee. He still would like to see what happened in his interaction with officers.
"I personally feel that this is the goal of this price," he said. "If you're truly about transparency, why wouldn't you give the individuals access to taxpayer footage? Because it's already been paid for by taxes."
The "What Are They Hiding?" column was created to educate Nevadans about transparency laws, inform readers about Review-Journal coverage being stymied by bureaucracies and shame public officials into being open with the hardworking people who pay all of government's bills. Were you wrongly denied access to public records? Share your story with us at whataretheyhiding@reviewjournal.com.
Contact Michael Scott Davidson at sdavidson@reviewjournal.com.