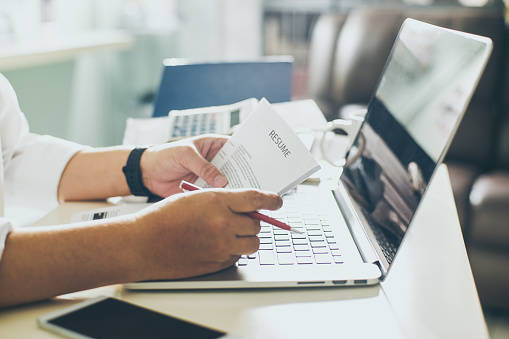 Jack called. He left a voicemail that he needed my help.
Checking his LinkedIn profile before returning his call, I found it to be pretty strong — needing some improvements, but pretty good overall. Good sign.
When I called back, he was at his desk, so he asked to call me back when he could get to a private area (translation: his car in the parking lot). Four minutes later, my phone rang. It was Jack; tThe coast was clear.
"How can I help you, Jack?" My standard opening question.
"I'd like to work with you on my resume and LinkedIn profile. I need to get them up to date and in sync with each other as soon as possible." Smart. Always a good move.
However, the "as soon as possible" part raised a red flag. It usually signals some kind of urgency (perhaps emergency), which automatically prompts my next question: "What's your situation, Jack?"
This is where I've heard it all: lost my job suddenly, new boss who gave me a bad review for the first time in 13 years, new ownership bringing in a new team and it doesn't look good, been asked to train my replacement, unemployment is running out, didn't think my search would take so long — you name it. The one thing so many calls have in common is that they should have been made a long time ago, which is why I thought the "as soon as possible" was an omen.
Not so. Things seemed OK with Jack. "I've checked your profile, Jack, so I know what you do (operations and logistics). Is there a problem at work?"
"No. We're doing well. We're growing and meeting goals."
"Do you feel your job is being threatened in any way?" (Different question from "Is your job being threatened?" Perception vs. reality.)
"No. I know anything can happen at any time, but things are pretty solid now."
"Are you unhappy in your field? Want to make a change?"
"No, not necessarily. I'm always open to something new, though."
"Is there an opportunity somewhere else? Or lack of upward mobility where you are?"
"Nope."
"Then why the 'as soon as possible' thing, Jack?"
Now here's where this won the call-of-the-day award, and where Jack won my latest NFP (new favorite person) award.
"I read your recent article," Jack said, "in which you said 'in times of uncertainty, the only thing about which we can be certain is ourselves,' and I realized that means I have to be ready for anything at any time. I just want to be ready."
I can't tell you how many times I've dealt with people in career distress who came to the realization — way too late — that they should have been more prepared or should have taken action sooner. Or people not necessarily in a predicament but unprepared for an opportunity that popped up like mushrooms after a long rain, only to see that opportunity vanish as quickly, due to unpreparedness.
One way or another, being unprepared — and then trying to make up for it — is inevitably the cause of a loss of time.
Time: our only irreplaceable asset. Here are two thoughts about time, one from me and one from Ben Franklin — both of which should validate how smart Jack is. I've always worked (and coached) under this prevailing assumption: Unattended over time, problems become larger and opportunities become smaller. Somewhere out there is a cosmic graph that shows this, but absent that, I think it's unassailable.
And as for Ben, well, he said it better than I, but then he said just about everything better than everybody else: "Success delayed is success denied."
With that, Jack and I were off and running, but not without our challenges. You see, whereas he had gotten the message from my column — and acted upon it — he nevertheless had fallen under the spell of that evil sorcerer called inertia.
When was the last time Jack had updated his resume, for example? Six years ago. How often do I suggest we do that? Every six months. I've written entire articles on that, so, for now, I'll just leave it at: You get it, right?
Anyway, we did what we intended. There's no ending to this story yet, such as "and Jack got a great job," – but he's ready.
And certain of himself in uncertain times.
Career coach and corporate adviser Eli Amdur has been authoring his weekly "Career Coach" column since 2003 and is the author of his acclaimed career advice book "It's Not So Far From Here to There: The thinking person's guide to well-managed career." He also is an adjunct professor of two graduate-level leadership courses at Fairleigh Dickinson University in New Jersey. Visit his website at www.amdurcoaching.com.