$10 gets you Portuguese flavor and dancing at Vila Algarve
February 28, 2016 - 8:33 pm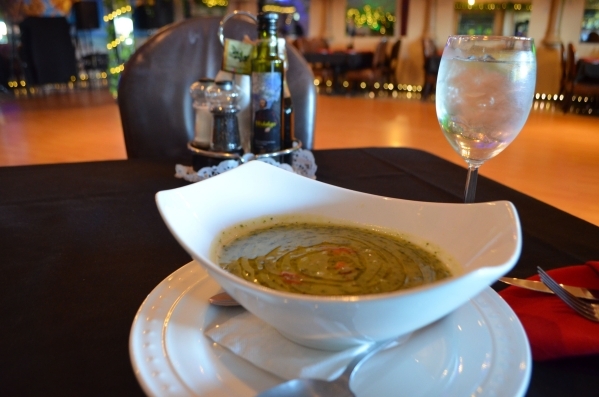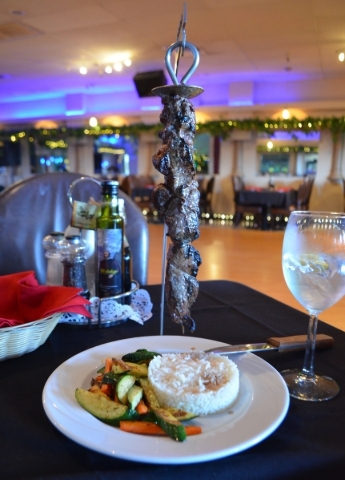 Think dinner and dancing are a thing of Las Vegas' past? Think again. Dancing is on the menu almost every night at the Portuguese restaurant Vila Algarve, 6120 W. Tropicana Ave, Suites A11 and A12.
On a recent visit, a dry erase board at the entrance announced Argentinian tango on Monday, West Coast Swing on Tuesday, ballroom on Wednesday and Sunday, salsa on Thursday and every second Friday, and Milonga tango every third Saturday. For a minimum order of $10, guests are invited to take in a lesson and dance until midnight.
Surrounding the spacious wood dance floor and live band setup, intimate tables await patrons. Lights twinkle along the floor and ceiling even at lunchtime, and fish swim in aquariums.
Lubka Argelashka (or Luby to friends and customers) opened her first Vila Algarve in Johannesburg, South Africa, in 2000. The Portuguese restaurant thrived there with three branches opened by 2006. In 2013, Argelashka decided to sell them all and bring the restaurant concept to the U.S.
Vila Algarve Seafood & Grill opened its doors in Las Vegas in 2014 in a spacious restaurant in a Smith's-anchored strip mall facing Jones Boulevard just north of Tropicana. Argelashka was looking for something close to the Strip but far enough away to be affordable.
The menu, heavily influenced by Argelashka's Bulgarian mother, Portuguese father and Bulgarian upbringing, features plenty of unique dishes from grilled Portuguese sardines topped with roasted bell peppers, onions, garlic and olives to deep-fried frog legs. There's also grilled pigs' ears marinated in Portuguese spices, snails cooked with chardonnay white wine garlic sauce, and slow-cooked ox tripe broiled with mixed cheeses.
For those who find unfamiliar foods frightening, there's plenty of fear-free options from a chargrilled rib-eye steak or slow-cooked lamb shank to ribs, burgers, pastas and wings.
Among the restaurant's showstoppers are the espetadas: marinated beef, chicken, pork or shrimp skewered on a metal rod, flame grilled and served dangling over a bed of rice or fries and mixed vegetables or salad. Or there's the Portuguese chorizo, a sausage served flaming in a stoneware pig dish.
"It's a big attraction," Argelashka said.
Looking for something a little more casual? Try the pizza menu with options such as the Margarita; the vegetarian; grilled chicken; seafood with shrimp, mussels, calamari, clams, onions and mozzarella; or the Algarve Special, with mozzarella, pepperoni, feta, olives, onion and garlic.
Argelashka is also quick to recommend the caldo verde soup, a Portuguese dish with pureed baby kale, potatoes, onion and garlic, topped with sliced chorizo sausage and a swirl of olive oil. She said her Portuguese chicken flame grilled over charcoal and lava rock and her bacallau (salted dry cod fish) are also big hits.
"Also my paella — everybody talks about my paella," she said.
Argelashka said people in a rush looking for a quick meal may not love her fine dining super club-like philosophy.
"Good food takes time," she said. That means no microwaves or pre-cooked, warmed-up anything.
"Everything here is homemade," she said. "It's very important to me. Fresh, make it now, in the moment."
Posted hours are from noon to midnight but vary. Visit vilaalgarve.com or call 702-666-3877.