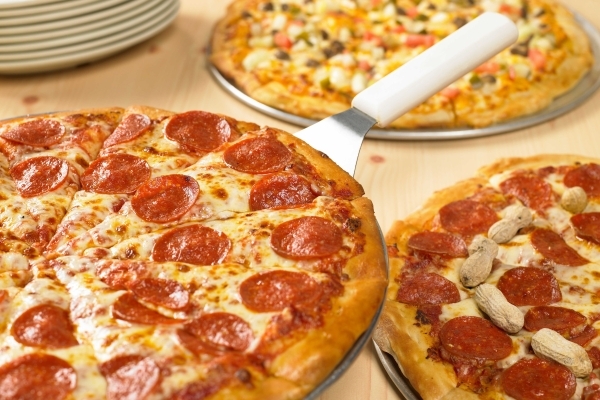 Family fun
Round up the kids, Mom and Dad and Grandma and make a trip to the only Nevada location of California-based John's Incredible Pizza Company at the Boulevard Mall. The newly opened John's serves not only pizza but also a 40-item salad bar and a buffet of fried chicken, pasta, soups, a potato bar and desserts. Before partaking, though, you might want to visit the fun side of John's, which has full-size amusement rides and more than 100 games. Call 702-381-5555.
Solo trip
It's a pizza kind of week: Inna Gadda di Pizza at Pawn Plaza, 725 Las Vegas Blvd. South, is offering a slice of pizza, a house-made cannoli and a soft drink for $7, through the end of January.
Date night
And more: Settebello Pizzeria Napoletana, the only pizza joints in town with the sanction of the Italian government, are celebrating 10 years in business with a special available from Sunday through Jan. 16: a Margherita Pizza and a Peroni beer for $10. The special is available at both valley locations, which are at 140 Green Valley Parkway in Henderson and 9350 W. Sahara Ave.
For friends
If you have friends who don't have a fear of heights and do appreciate a view, take them to Top of the World at the Stratosphere, which is offering a new seasonal menu. Or try the three-course prix fixe lunch, which is $49 and includes soup or salad, surf and turf and dark chocolate pot de creme with fresh berries, or the four-course dinner tasting menu, which is $98 and includes dishes such as five-spice Kurobuta pork belly with root vegetables and quinoa, or fresh salmon and Gulf prawns with apple and celery slaw. Wine pairings are $30 extra. Call 702-380-7711.
Something new
It's been open for a few months, but they've been playing it close to the vest: The Gambler's General Store, 800 S. Main St., now has a cafe that serves "authentic and beautiful" New York heroes made with Boar's Head meats, Italian bread, olive oil and 2 inches of "fixings," including vegetables fresh from California — plus bagels, other breakfast items, Wise potato chips, Dr. Brown's sodas, half-sour pickles and black-and-white cookies. Hours are 7 a.m. to 3 p.m. weekdays, 8 a.m. to 2 p.m. weekends. Call 702-432-HERO (702-432-4376).
— Heidi Knapp Rinella