6-year-old boy donates savings to support fallen firefighters
August 28, 2015 - 10:46 am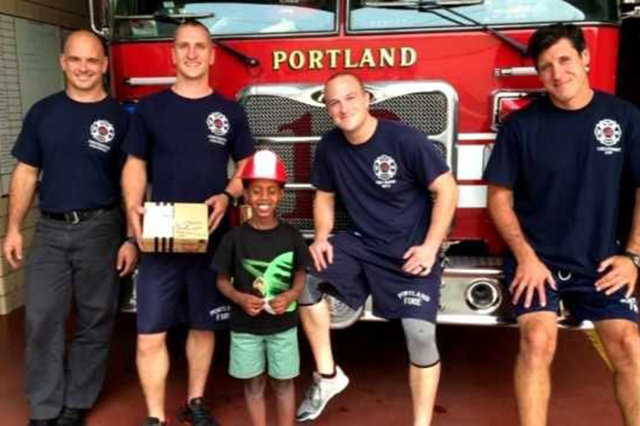 Portland, OR — A Portland boy, 6, is doing his part to support firefighters and their families after hearing about the three brave men killed in a wildfire up in Washington State last week.
Abay Milner, like most kids his age, is always asking questions and wanting to know more. So, when he noticed a thick smoky haze settling in over Portland, he wanted to know what was going on.
"I thought, where is the smoke coming from? That's the first thing I thought," said Milner. "Then I thought, why is the smoke all the way here in Portland? And then I heard there was a wildfire, and then I heard it was far away, so I thought that's good, because there was no ashes in the smoke."
But, then he learned more.
"We heard about the three firefighters who died, and I felt sad," said Milner.
The soon to be first grader said he knew he had to do something. He wrote a letter, and put together a special memory box for the firefighters and their families.
"I wrote: 'for firefighters who died in wildfires, it's a memory box from Abay, thank you for risking your life to save others,'" said Milner.
Milner and his mother then drove over to Fire Station 13 in NE Portland to deliver the gift.
"This little boy walked up with his mother and he had a little box with him," said Portland Firefighter Kevin Dolphin. "He said he had a gift to give us, because he had heard about the firefighters who passed away."
Little Abay handed over that box, and inside was a special firefighter lego toy and all of his allowance money.
"I put all of my giving away money in it, because I wanted to give a present and that's all I really had," said Milner.
It totaled up to be some $20 bucks in change Abay tells FOX 12 he'd been saving up.
"I thought it was awesome that he took it upon himself to save up the money, money that he could spend on himself, and instead he gave it to us," said Dolphin.
It was a small gesture, from the big-hearted six-year-old.
"Sometimes the best time to do it, is when you feel like doing it," said Milner.
A thank you, to the heroes on the fire lines.
"I didn't know who these guys are, but I felt sad that they had to have that kind of death. They risk their lives for other people that they don't know."
Milner says if the families of those fallen firefighters happen to read this story, he wants them to know he's thinking of them and he hopes they have a good night.
Fire crews say they sent Milner's box over to a fallen firefighter foundation.