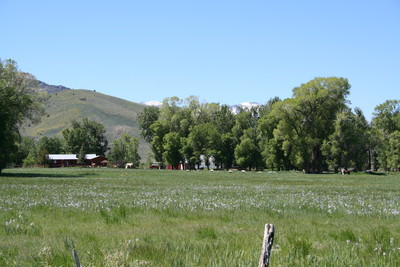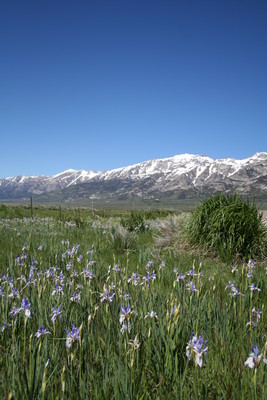 Elko, in northeastern Nevada, is less than a day's drive from Las Vegas, but seems light years distant in ambience and attitude. This small city is the heart of a land of verdant ranches lying at the western base of the Ruby Mountains, wettest of Nevada's ranges. It is a region rich in history and local culture, sprawling over a stunning landscape unlike anything found in the majority of the state.
Although American Indians lived in this area for thousands of years, it wasn't until the late 1820s that fur trappers became the first recorded white men in this area. In the early 1840s pioneers traveled through what is now Elko on their way west, many following the Humboldt River. A community started coming together when the Central Pacific Railroad laid track in 1868. The following year Elko County was created, Elko becoming the county seat.
My daughter Charlotte and I visited Elko earlier this month, trying to see and do everything possible during our short three-day stay. As desert-dwellers longing for lush landscapes, we put a visit to the Ruby Mountains at the top of our itinerary.
Some refer to the Ruby Mountains as Nevada's Yosemite or America's Swiss Alps. I've been to both, and could see resemblances in the Ruby range: steep mountains, rocky peaks, narrow canyons and plenty of water, here thanks to snowfall of 6-10 feet per year.
Hikers, photographers and other nature lovers come to see granite cliffs, alpine lakes, waterfalls, avalanche chutes and, in summer, one of the most magnificent wildflower displays in our state.
There are no bears in these mountains but there are mountain goats, pronghorn antelope, and Rocky Mountain bighorn sheep — not the same animal as our desert bighorn, but a cousin. Birders from around the nation come here hoping for a single glimpse of the exotic Himalayan snowcock, a native to Central Asia but introduced here between 1963 and 1979.
Most visitors choose to look at the Rubies from Lamoille Canyon, a highly recommended vantage point but one that is sometimes crowded. To avoid any crowds, we chose instead to drive a half-day loop around much of the range. Just miles out of Elko we headed south on the paved road that would take us by spacious ranches and flowing creeks; then we headed east over the rugged range through Harrison Pass. From there we went north to Ruby Valley, up through Secret Pass, and then south back over to Lamoille.
Our trip would take us on both paved and unpaved gravel roads, through the gentle slopes on the western side of the range and steeper terrain on the eastern. The entire way we saw wildflowers constantly, and at one point encountered the most spectacular display of irises I have ever seen; it went on for miles.
In the tiny town of Jiggs, located in Mound Valley, we stopped for a soft drink at the Jiggs Bar — the only business establishment we spotted until the end of our loop. The proprietors proudly exhibit a two-headed calf, born on their ranch, and an albino porcupine, preserved under glass through the craft of taxidermy. The story behind the porcupine was the owner's son repeatedly reported seeing a pure white porcupine, but was disbelieved. So he shot the proof and hauled it home.
From Jiggs it was only a few miles to where we headed east heading up the range and over Harrison Pass. From there we were in Ruby Valley where we headed back north.
We finished our loop by taking a little-used, yet well maintained gravel road that brought us into Lamoille. Lamoille, a small community at the western base of the range, is surrounded by cattle and sheep ranches. We stopped at the Little Church of the Crossroads, more than 100 years old and the ideal picture of rural religious life as many conceive it. It is said to be one of the most photographed buildings in Elko County.
The climax of our tour was driving up the paved 12-mile Lamoille Canyon Scenic Byway toward the base of the towering Ruby Dome, the highest point in the range, at 11,249 feet. From this perspective it was easy to see the shape of the valley, like a giant letter "U," revealing its origins as the bed of a long-vanished glacier. At Road's End Picnic Area, literally the end of the road, and at 8,800 feet in elevation, we decided to hike a short segment of the Ruby Crest National Recreation trail.
This world-renowned trail can be done as a four-or-five day, 43-mile backpack to Harrison Pass, or in smaller doses on round-trip day hikes. We elected a lesser dose, but there was still so much snow, even in June, that slipping and sliding through it was more of a workout than we had hoped. Without a word of discussion, we switched our agenda from hiking to snowball fighting — just as wet but more fun.
Returning to Elko we spent the rest of the afternoon downtown. Here we found upscale clothing and gift shops mixed in with down-to-earth stores selling cowboy gear and other practical outdoor clothing.
When it was built in 1913, the Pioneer Building was the largest retail and office structure in town. Now it serves as the headquarters of the Western Folklife Center. The center, founded in 1980, is best known for running the National Cowboy Poetry Gathering every year. Many other towns now organize recitations by cowboy poets, but Elko's is the original that resuscitated a then-dying art form. January will be the gathering's Silver Anniversary celebration, and the town will fill up with poets and punchers.
The folklife center is well worth a visit any time of year, for it focuses year-round on the diversity of the American West. The center houses an exhibit gallery, 300-seat theater, 20-seat black box theater, gift shop and a working saloon. The building was purchased in 1992 thanks to a generous donation from a local rancher.
Upon entering, the first thing that caught our eyes was a magnificent bar, constructed of mahogany and cherry wood, and inlaid with mother-of-pearl. You can still belly up to it for a drink during special events. We next toured the Wiegand Gallery, where two exceptional exhibits are currently housed. "The Rugged, Beautiful World of the Sonoran Vaquero" runs through Sept. 20 and "Buckaroo! The Hispanic Heritage of the High Desert" through Nov. 16.
The term "buckaroo" is usually applied to cowboys of the Great Basin and its surroundings, including those of Northern Nevada, southern Idaho, northeast California and southwestern Oregon, and they wear the name as proudly as a Stetson hat. The word itself is derived from the Spanish "vaquero," and seeing these two exhibits, with the photos, artifacts, and working gear hand-crafted from horsehair and leather, clarifies the buckaroo's cultural linkage to forerunners in California and Old Mexico.
Charlotte and I also sat for awhile on the gallery's comfortable couch and watched a few video presentations documented by local ranch families, part of the Deep West Video program. These really opened our eyes to the rugged and often secluded life that these folks live. "All in a Day's Play" shows how ranch children learn life skills through children's play such as riding a hobby horse, driving a toy tractor and feeding young lambs in the "leppy pen." "Rescue 101" chronicles a woman's day of never-ending chores, climaxing with rescuing her husband by tractor during a fierce winter storm.
Although winters are cold and sometimes rough here, summer conditions are ideal. The city is at an elevation of 5,060 feet, so you can expect comfortable daytime high temperatures between 80 and 90 degrees.
Part of Elko's fame rests on its association with the Basque people. Beginning in the 1850s, Basques immigrated from their original homes in the Pyrenees Mountains along the border between France and Spain. Their rural homeland prepared them well for hardships they would encounter in the American West, where they typically found their first work as sheepherders. Many stayed and prospered in professions from ranching to law.
Enjoying a hearty meal at a Basque restaurant is an almost-mandatory highlight of any visit to Elko. From several recommended to us, we chose the Star Restaurant. The Star Hotel was first opened in 1910 to provide a home away from home for humble Basque herdsmen; now its clientele also includes the region's elite. A variety of steak, lamb and seafood dishes were the main choices offered us. You don't get to pick side orders; they just bring all of them to your table. The meal started with a light, flavorful soup with sheepherder bread, followed by a plain salad with a delicious garlic-flavored vinagrraite.
My order of lamb chops came smothered with thin slices of sautéed garlic. The side dishes arrived a moment later: huge portions of green beans, seasoned brown beans, spaghetti with red sauce and a large platter of French fries. The meal is served family style at long tables so you never know who'll be seated next to you. We were between one group traveling through Elko on their way to California and two local women. Gov. Jim Gibbons was a couple of tables over.
I intended to try the restaurant's signature drink, Picon punch, until the waitress told me how to make one. They pour a glass three-quarters full of Amer Picon (a bitter orange cordial), one shot of brandy, a twist of lemon and a splash of soda. That little "splash" was the only mixer she mentioned to dilute all that liquor, and I decided I might not have time to drink one and sober up the same week.
The 45th National Basque Festival takes place this coming weekend, so if you're planning to visit at that time, reservations are highly advised. This festival kicks off Friday night with a Run From The Bulls, emulating the more famous Running with the Bulls at Pamplona, followed by a dance and exhibitions. Early Saturday begins with a 5K fun run/walk followed by a parade. The afternoon features old-country games such as weight lifting and wood-chopping, traditional Basque dancing, and competitions of handball, a game Basques may have invented and one at which many excel. There's another dance that night; Sunday morning brings the handball finals, a Catholic Mass and a sheepherder bread-baking contest. It all wraps up with a Basque picnic; this years menu will be tri-tip beef, lamb, beans, Spanish rice, green salad, French bread and dessert.
Elko's Chamber of Commerce and visitor center would have been worth visiting even if we hadn't needed any information. It is housed in the old Sherman Station Ranch House, relocated here in 1997 from 60 miles south of Elko. On its original site it was not only a home, but a post office, stage stop and community center. Constructed of limber pine logs two feet thick, it took seven years to build and was completed in 1930. We spent some time checking out five outbuildings including a one-room schoolhouse, a blacksmith shop and an 1880-era livery stable.
Elko's small but well-respected Northeastern Nevada Museum has exhibits on everything Elko represents including mining, ranching, American Indian culture and Basque history. There's a collection of Garcia saddles, some made in Elko and revered by Western riders everywhere. And there is a fine gun collection originally assembled by the late Bob Chow, a renowned gunsmith and pistol marksman who represented the United States in the 1948 Olympics. The art exhibits include signed work by photographer Ansel Adams.
The museum's most valuable collection consists of 56 original drawings and paintings by the famed Western artist Will James, who found some of his inspiration in Nevada.
After just a few days in Elko, I realized we had seen very little that resembled the desert where we dwell. This was a different Nevada, where the West of history and legend flow seamlessly into the reality of modern ranch life. Different history, different cuisine, different people. Be careful if you come here; you could get to loving it.
Contact writer Deborah Wall at deborabus@aol.com.
GETTING THERE Location: Elko, in northeast Nevada, about 427 miles from Las Vegas. Directions: From Las Vegas take Interstate 15 north for 21 miles, exiting onto U.S. 93 north, the Great Basin Highway. Follow for 85 miles and go left and then an immediate right onto Nevada Route 318. Follow this north for 111 miles. Turn right onto U.S. 6 and travel for 24 miles to Ely. Go left and follow U.S. 93 north for 138 miles to Wells, merging onto Interstate 80 west. Continue for 48 miles to Elko. (Two alternate routes, one traveling via Eureka and the other through Caliente and Pioche, are a bit longer but extra-rich in scenery and history.) Lodging: Red Lion Hotel and Casino, 2065 Idaho St. $109-$229 nightly, (800) 545-0044, www.redlion.rdln.com. Comfort Inn, 2940 Idaho St. $109-$149 nightly, (800) 228-5150, www.comfortinn.com. Stockmen's Hotel and Casino, 340 Commercial St., $39-$75 nightly, (800) 648-2345, www.stockmenscasinos.com. Services: Elko has complete services including a wide variety of restaurants, lodging and service stations and a hospital and airport. Delta Airlines and Skywest Airlines: Flights from Las Vegas to Elko, changing planes in Salt Lake City, starting at $350 round-trip, www.skywest.com, www.delta.com. Northeastern Nevada Museum: 1515 Idaho St., Open 9: a.m. – 5 p.m. Closed Mondays. (775) 738-3418, www.museum-elko.us. Western Folklife Center: Open daily, 10 a.m.-5:30 p.m., except Tuesdays when it opens at 10:30 a.m. and Saturdays, when it closes at 5 p.m. 501 Railroad St., (775) 738-7508, www.westernfolklife.org. National Basque Festival: Friday-July 6, Elko County Fairgrounds and other venues, www.elkobasque.com. Elko Convention and Visitors Authority: 700 Moren Way, (800) 248-3556, www.exploreelko.com. Elko Chamber of Commerce and Sherman Station Visitor Center: 1405 Idaho St., (800) 428-7143, www.elkonevada.com.