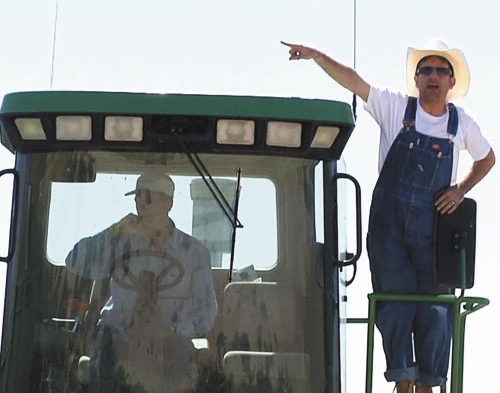 On Sept. 3, former ELO cellist Mike Edwards was crushed to death by a runaway bale of hay.
I almost know how he feels. No giant straw cubes rolled off a tractor, down a hill and into my car. But I've been haymaking all morning at Two Hawk Ranch in Sandy Valley. And I've had way better mornings.
"Oh, it's not that heavy," says haymaker Karl Turner, who can't quite grasp my inability to cause more than a couple of inches of motion in objects weighing "only" 100 pounds.
"These are lightweight bales," he insists.
I expected every muscle in my back, forearms and groin to scream, and I'm not disappointed. I am helping to transfer 50 bales from tall stacks onto delivery trucks bound for horse ranches in Las Vegas and Pahrump. And by "helping," I mean that Turner grabs each one from me after I hoist it two inches and scream, "Help!"
"Luckily enough, we're not in a big hurry today," says Two Hawk co-owner Kale Robinson, who adds that I may not be the worst haymaker he has ever seen — depending on whether he can count that time his kids were in middle school and tried helping out.
Two Hawk harvests its 1,100 acres of alfalfa and barley five times from May through November, yielding 8,000 tons of horse, pig and cow chow each year. Most people don't expect to find a hay farm in the middle of a desert. But 130 feet underneath Sandy Valley — a rural town of about 2,000 that sits in both Nevada and California — ample mountain runoff exists for farming.
Unfortunately, the recession has cut down on the number of valley residents who keep horses. But the operation still makes financial sense since lower transportation costs to locals keeps Two Hawk competitive with bigger hay farms in California, Utah and Northern Nevada. (Two Hawk charges $180 per ton for bales, $160 for cubes.)
"It's a decent job," says Turner, 35, a former mobile-home assembler who was born and raised in Sandy Valley. "I get to be outdoors and not behind a desk."
Turner is one of four full-time haymakers working between eight and 16 hours a day for pay beginning at $8 an hour.
"And every day is different," he says.
My day certainly is — for me. As it progresses, new and unexpected wonders of discomfort introduce themselves. Two hours ago, Turner smirked when I opened the back of a truck loaded with chopped alfalfa. Now I realize why. The resulting avalanche enveloped me in a green cloud that most likely included microscopic particles of pollen and dead insects along with the alfalfa. Although I felt fine while inhaling it, a hacking case of "green lung" has now begun what will prove to be a weeklong assault on my system.
Also, you know the little pointy pieces of hair that poke every part of your body after a haircut? Little pointy pieces of dried alfalfa poke much worse.
"OK, he's had enough!" Turner calls out to Robinson. "What do we got next for him?"
Within five minutes, I'm pretty sure I become the first alumnus of Temple Avodah Hebrew School in Oceanside, Long Island, to drive a swather. This mechanical beast cuts 15-foot rows into crop fields. (At Two Hawk, its cuttings are dried for four days and then squashed by machines that make either hay bales or cubes.)
"Careful, the steering's pretty tight!" Robinson yells above the engine noise from the passenger's seat.
The time to pass along this information tidbit was before I plopped my brand new hernia in the driver's seat. The swather, which costs more than I earn in a year, nearly flips as I navigate the field like Lindsay Lohan down the Sunset Strip.
"Well, you tried," Robinson says after grabbing the keys and cutting the engine.
As Robinson drives me back toward the farmhouse in his pickup, his cell phone rings. It's Turner. He can't get the swather started again.
"It's probably not you," Robinson tells me. "It's an electrical problem."
Nevertheless, it's time for a different type of bailing — one I actually excel at.
Watch video of Farmer Corey Levitan at lvrj.com/haymaker. Fear and Loafing runs on the first Sunday of every month in the Living section. Levitan's previous columns are posted at lvrj.com/corey and fearandloafing.com. If you have a Fear and Loafing idea, e-mail clevitan@ reviewjournal.com or call (702) 383-0456.
Watch the video of Corey as a haymaker