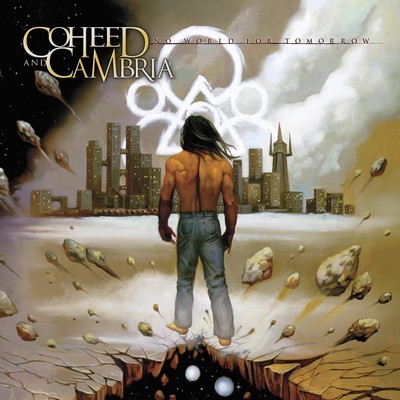 It's the sound of acrimony, of gnashed teeth and swollen adrenal glands.
And for Chris Pennie, it was all too real.
As the former drummer for metallic post-hard-core brutes Dillinger Escape Plan, Pennie spent more than 10 years perfecting the soundtrack to the world's largest bar fight, the musical equivalent of taking a flying bar stool to the temples.
But when he decided that he needed to get away from it all and join forces with progressive rockers Coheed and Cambria, the tempers began to boil over in new ways.
"At first, it was tough, because I wanted to make the jump and some of the guys within Dillinger, we had a falling out," Pennie says before a gig in Little Rock, Ark., recently. "There were certain people who didn't want me to do it, and they were trying to hold me back, which is kind of screwed up. But we got through it, and about a year later, I'm really glad that I was able to make it and just enjoy everything that's happened throughout the year."
Already established as an ace drummer for his dexterous handling of Dillinger's difficult, always unorthodox time signatures and blazing speed, Pennie got a new challenge upon joining Coheed: navigating a perpetually shifting backdrop of enveloping, technically demanding, '70s-inspired concept rock.
"It's something I've really been looking for," Pennie says. "I had been playing with Dillinger, that style of music, for 10-plus years. There's other facets to my playing. It doesn't matter what band you play in, whether they encompass a lot of different styles or whatnot, there's always more out there. For me, I really wanted to explore it. To kind of throw myself into a situation with Coheed, now it's full circle. I wanted to really shoot for that, try my hand and see how I do."
Though he didn't play on Coheed's latest disc, "No World For Tomorrow," because of issues with his former bandmates and record label, Pennie did have a hand in writing the album, which is sci-fi rock at its finest. Built around an elaborate, multialbum story line dubbed "The Amory Wars," the saga tells the tale of a messianic hero out to save the universe from a malevolent ruler.
The band takes its name from the parents of said protagonist.
The story has further been told in a series of comic books, and is rooted in the classic struggle between good and evil that's at the heart of works by authors like J.R.R Tolkien and Terry Brooks.
Musically speaking, Coheed and Cambria are just as ambitious. The group frequently gets compared to Rush, mainly because of frontman Claudio Sanchez's high-pitched vocals, and they share that band's taste for grounding elaborate song structures into fist-in-the-air, rock radio anthems.
These days, few acts are as skilled at making the progressive palatable.
"They definitely encompass a lot in their music, anything from classic rock to metal to hard-core, even jazz and obviously the blues," Pennie says. "It's all really in there. If you have a lot of influences that are that far reaching, you have a nice well to draw from, and that's why I think they've expanded and progressed. They're not a genre band."
To this point, the band built its following in unlikely circles, touring mostly with punk and emo outfits early on in their career.
On one hand, its seems a little counterintuitive that a band prone to such instrumental flights of fancy would find favor in the austerity-minded punk ranks, but seeing as how the band's sound was so distinct for those ranks, and their hooks so insistent, they managed to turn a whole new, rather unlikely crowd on to prog rock.
Since then, they've found favor among older classic rock fans and metalheads alike, not to mention mainstream rock fans drawn to the band's buoyant melodies. (The group currently is on tour with modern rock populists Linkin Park. )
It's a welcome departure for all parties — Pennie foremost.
Speaking with the guy, you can hear the relief in his voice, which could be bottled and sold as a muscle relaxer.
"I love playing music, I love writing music, and I just really expect that from the people I'm playing with," Pennie says. "When I went to audition with these guys, I immediately got that in return. And that was something that I was missing for years. Yeah, Dillinger's a very demanding band, but personally, it was just not happening. It wasn't about the music, it was about other things. When I started playing with Coheed, it's just a totally different thing. That's what I was searching for, man."
Contact reporter Jason Bracelin at 383-0476 or e-mail him at jbracelin@ reviewjournal.com.
PREVIEW who: Coheed and Cambria when: 8 p.m. today and Friday where: The Joint at the Hard Rock Hotel, 4455 Paradise Road tickets: $73.50-$179 (693-5066) (sold out)