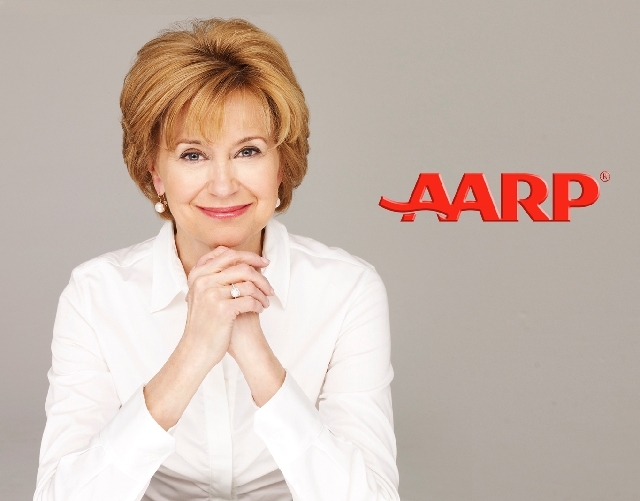 The schedule for AARP's upcoming convention reads like a primer for starting adulthood.
The three-day event, which runs Thursday through Saturday , will feature seminars on how to save money, how to navigate the online dating world, even how to become an entrepreneur.
If you think an AARP convention is nothing more than a gathering of blue-haired oldsters comparing notes on their latest ailments and Social Security, then you don't know today's AARP. It's responsive. It's modern and nimble. Yes, nimble.
"Our generation has an association with kind of an old idea" about AARP, says journalist Jane Pauley, 62. "AARP is not given credit for being the innovative thought leader that it really is."
Pauley will serve as moderator for "Life Reimagined Experience," a panel where she will interview Natalie Cole and Alan Webber about their lives after 50. It's kind of a live version of the series she does for NBC's "Today" show, which started four years ago as "Your Life Calling." In 2012, the series was rebranded as "Life Reimagined." Pauley has done 30 stories, all of them inspirational pieces about how people remade their lives after the age of 50.
At last year's convention, AARP launched a program by the same name to serve as a guide to its members who are going through life-changing experiences, including job loss, career change, retirement, returning to school and more.
"For 55 years, AARP has focused on sustaining and improving life for … people over 50," says CB Wismar, vice president of events.
The Life Reimagined program signifies a slight shift in AARP's mission. In addition to focusing on the major things that affect its membership as a whole — important legislation, Social Security, health care, retirement — the Life Reimagined program will also concentrate on what individuals need to continue a successful life after 50.
The program was borne out of a need for such services, Wismar says. Members were asking for guidance about how to start their own businesses or find work after a layoff.
"The cohort of 50-plus has been hardest hit by unemployment and pullback from companies," Wismar says.
The convention will provide members the chance to meet others who are going through similar circumstances. AARP will help them build a network of support, he adds.
That's one of the great things about AARP, says Jo and Rick James. They have been members for the past 18 years, ever since Rick, 68, received his membership card.
When the couple retired to Las Vegas in 2003, they were looking for something to get involved with. They volunteered to help at an earlier convention, stuffing membership bags. More than 1,000 volunteers are expected to staff this year's convention.
The experience provided them with an outlet. They made connections and met people they are still friends with today. Since then, they have become ambassadors for AARP, attending fairs and helping to spread the word about what the organization does for its membership.
"We are kind of a voice for those who don't have one," says Jo James. "We hear the needs of the aging population, what they want and what they need."
In the course of conducting their ambassador duties, they have discovered that many people 50 and older are struggling. Their means have changed, thanks to the slumping economy, and there are fewer agencies that can help them, Jo James says.
"Life Reimagined" is the organization's response to those needs, Wismar says.
While there will be inspiring "Life Reimagined" talks and health-oriented seminars, there will also be sessions devoted to financial advice. Finance journalist Jean Chatzky is scheduled to host a lifestyle session called "Money School Jumpstart: Lessons to Get Your Personal Finances on Track at Any Age."
People 50 and older generally have different financial challenges from those in their 20s and 30s, Chatzky notes. They tend to be more worried about saving enough for retirement and how to make their savings last through retirement. They're also concerned with how to establish a good legacy for their children.
Chatzky will address those issues that are unique to people older than 50. In addition, she will talk about how to track spending, how to reduce expenses, how to save money and more.
About half of the people in this country are financially fragile, Chatzky says, meaning it would not be easy for them to come up with cash in case of an emergency.
In addition to help with careers and finances, members have also said they need help with their relationships, Wismar says. Often, after losing a partner through death or divorce, people older than 50 are left wondering if there is any hope for love and romance.
The good news is that, yes, there is hope, says Pepper Schwartz, AARP's sex and relationship expert. She will host a session at the convention on "Love Connection — Finding Someone after 50."
"I think sometimes people think it's unseemly to be passionate and in love after 70," Schwartz says. "I know a lot of people who have fallen in love after 60, after 80. I think an optimistic tone is not uncalled for. I really do think if someone really wants to have a good relationship, they can."
Sometimes, people need advice on how to navigate the dating world, particularly online dating, Schwartz says. When people have been out of the dating field for a while, they need help with the basics. She will talk about how to dress, how to approach someone, where to go to find like-minded people and how to introduce yourself to a potential love interest.
The convention kicks off Thursday with AARP's Day of Service, a whole day dedicated to volunteer activities in the valley. AARP members and community volunteers will gather at a central meeting place where they will be divided into groups. Each group will be transported to various nonprofits, including Adult Day Care Center of Las Vegas, Three Square, The Shade Tree and Clean the World. There, they will lend a helping hand, Wismar says.
Friday and Saturday are packed with educational seminars and entertainment options. A film festival will be held on both days. Morning workouts and evening concerts are also on the agenda.
More than 150 exhibitors will showcase their products and services in the exhibit hall. Among the more popular draws are United Healthcare's health screening booth, Wismar says. A technology exhibit is also popular. Attendees can get training on iPads, cell phones and more.
Registration costs $25 for members, $35 for nonmembers. You can register in person at the Las Vegas Convention Center or online at aarp.org/events, by phone, 800-650-6839. AARP offers a Digital Experience registration for $299. It comes with an iPad mini loaded with the latest AARP apps.
Contact reporter Sonya Padgett at spadgett@review journal.com or 702-380-4564. Follow @StripSonya on Twitter.
FOR MORE INFORMATION