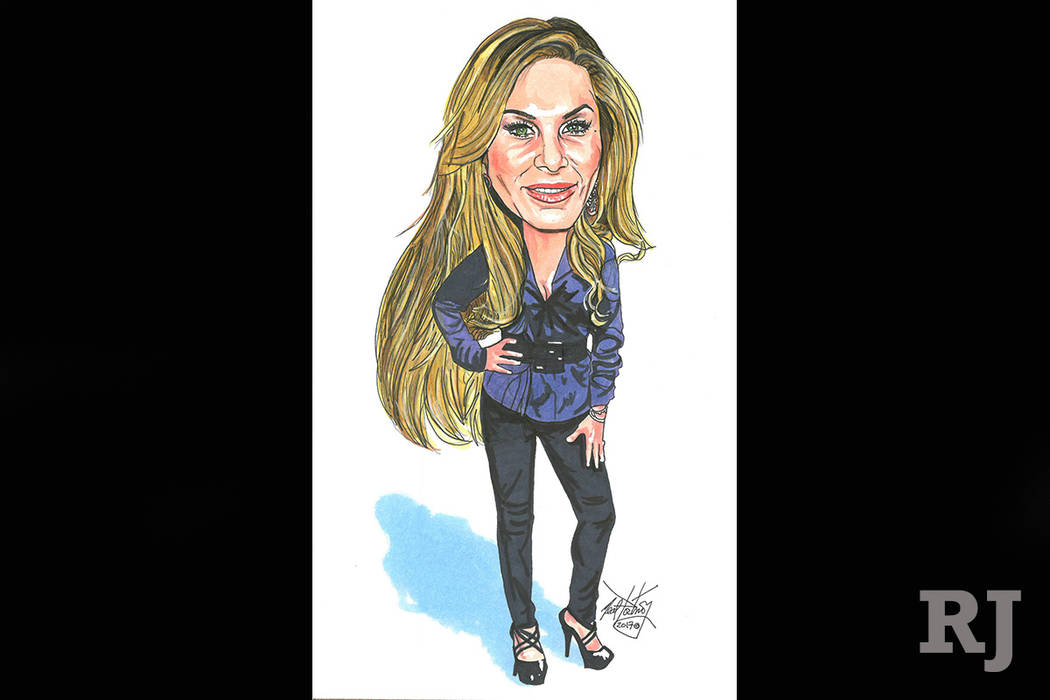 Cool and classy Adrienne Maloof did her time on "Real Housewives of Beverly Hills," but her heart lies a quick jump across the California-Nevada state line. Las Vegas is almost a second home to the busy business mogul and mother of three sons.
"I spend a lot of time in Vegas because I love the energy and my family is there," she says. The Maloofs are also founding partners in and part owners of the new Las Vegas Knights hockey team.
"My family is known for making history in Las Vegas from the Fiesta to the Palms to now the Golden Knights," she says.
The third child and only daughter of billionaire entrepreneur George J. Maloof Sr., she grew up in Albuquerque, New Mexico, with brothers George Jr., Joe, Gavin and Phil.
RJ: What is a typical Sunday like for you?
Maloof: If I'm in Beverly Hills, it's a day with my three boys. We go to church and then have brunch. Then they like to play on their X-Box or go swimming. I might watch a movie, but that's usually in the evening. I also call my family and talk about what's going on for the week.
You spend lots of time in Vegas. What are your first memories of Sin City?
My parents used to go to Vegas all the time when we were younger. I remember all the glamorous people and the women gambling in sparkling gowns. My family saw Sinatra perform and all the greats. I cherish those memories. Then my family got into the casino business, so it was natural to spend a lot of time there. So many of my family members live in Vegas, so I am there all the time. I love that it's such a family-friendly town for kids, too.
What are some of your favorite things to do now when you're in town?
The fabulous restaurants. Gordon Ramsay has his amazing steakhouse and I love the sticky pudding dessert, if I want to binge. Ferraro's is amazing. We go to the N9ne steakhouse, which is great. I'm happy shopping at the Forum shops or Fashion Show mall. My children love to go to Topgolf.
How excited are you about hockey in Las Vegas?
We're founding partners, and my kids are really excited. You go to a hockey game and it's nonstop excitement because of the music and the action. My boys really love it and can't wait for the new season. I'm learning hockey from them.
We know you as one of the most glamorous housewives. But you have three young sons. Do you ever go out in the yard and toss around a football?
Do I play football (laughing)?! I grew up with four brothers. Just to survive I had to learn how to throw a football. I get out there with my sons.
Can you send a few 90210 beauty secrets our way?
Absolutely. I take care of my skin and stay out of the sun. A little Botox never hurts. I've always been athletic, but I still have to eat well and work out. Yes, I do cardio.
The "Real Housewives of Beverly Hills" fans are clamoring to have you back on the show. You make guest appearances, but you're not full time. Any chance of that changing?
You'll be seeing me on TV. I have some projects coming up.
You had heated moments as a TV housewife. Do you miss it? Do you keep in touch with the other ladies?
It was a great platform and wonderful for me as a businesswoman. I'm also very philanthropic, and it was amazing on that front. I saw it more as a steppingstone. Reality TV can run its course. … And I do keep in contact with some of the girls. I recently saw Camille Grammer and Lisa Rinna. But most of the time, I'm busy with my boys. When I do see a fellow housewife, there is camaraderie. When you go through something like that it bonds you.
You've always said that you like a challenge. Is that what drives you?
It's funny. Our family always heard, 'There won't be a professional team coming to Vegas.' Every time someone says it can't be done, we like to take on that challenge. As a family, we take a no and make it a yes. … The great thing about the Maloofs is we take each step, and we're always reinventing ourselves.