After 45 years, gay couple celebrates first real Valentine's Day
February 8, 2015 - 11:58 am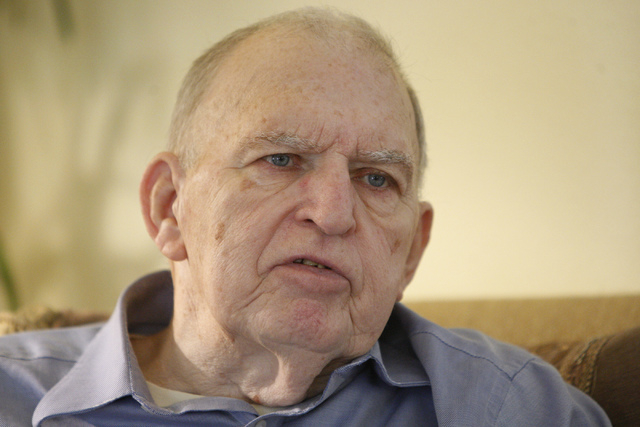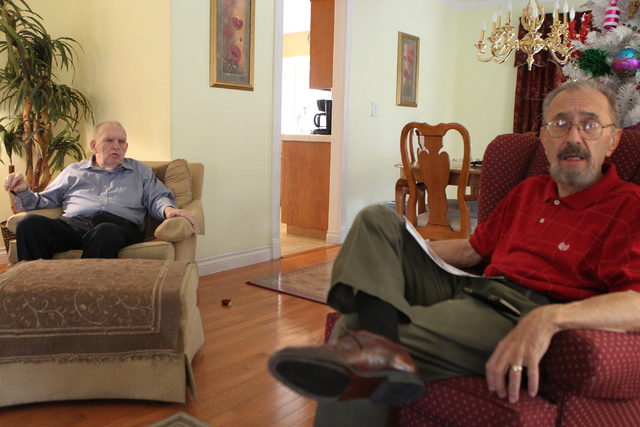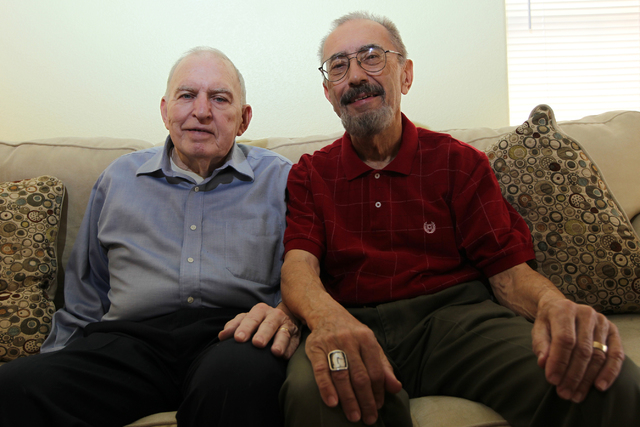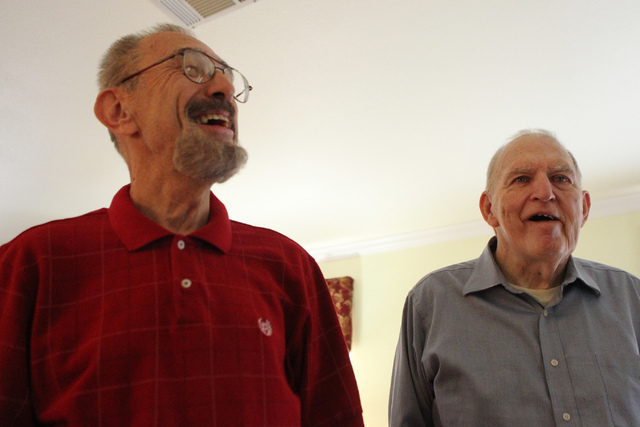 John Jaworek gathers photos accumulated throughout the past 45 years of his life with his husband, Ron Virtue.
"I went through and pulled out the terrible ones," Virtue says to his husband.
"But I thought they all looked good," Jaworek replies as Virtue shakes his head in disagreement.
For 45 years, the couple have volunteered, run businesses, been active on the political scene and even traveled the world together. Though they still have differences of opinions, such as which pictures to keep, their love has lasted all these years — even when the government refused to acknowledge it.
On Nov. 15, not too long after the U.S. Supreme Court ruled Nevada's ban on marriage equality unconstitutional, the two were finally able to get married.
"It was 45 years after we had already had our commitment ceremony," Jaworek says. "It was 45 years to the day."
The couple, who have been Las Vegas residents since 2000, met on a July evening in 1969.
Jaworek says he had been openly out to friends and family for years. Virtue, who served in the military, had only recently been open about it.
But when they found each other, the history didn't matter. They both were looking toward the future.
"All the other guys seemed to be flighty," Jaworek says. "But not Ron. He seemed stable and more serious about life. He wasn't full of fluff."
The couple hit it off instantly, able to engage in intellectual conversations on politics but also able to express their joy for community service.
Almost immediately, Jaworek asked Virtue to move in with him.
By the fall, they knew they were ready to spend their lives together.
"It seemed around us, everyone was finding out who they wanted to spend the rest of their lives with," Jaworek says. "I think it was contagious."
The couple were surprised how accepted they felt despite a seemingly conservative community in Austin, Ill. — a suburb outside Chicago.
"I think once we learn to accept the person as an individual that helps," Jaworek says.
The Christmas letter they sent out to friends and family, even some clients in the community, didn't receive any negative response, they say.
A few times, there were anti-gay groups who marched through town putting up pamphlets on doors.
But that never intimidated them.
Throughout the years, their bond grew stronger, which they attribute to being able to volunteer together.
From working at soup kitchens together to hosting foreign exchange students, they have really been able to become partners in making the community a better place.
Aside from volunteering, their favorite pastime was traveling together throughout Europe.
They would save up for several months to spend an extended period of time abroad.
"We once did that five summers in a row," Virtue says.
During the late '70s, the couple remember, when driving down a Wisconsin highway, they came across a tourist town that seemed to be doing well financially.
They had done so much together, Virtue and Jaworek decided to add one more thing to the list — they went into business together.
They opened a store — Aunt Fran's Country Store — selling candies, cheese, sausages and antiques in Montello, Wis.
"And it's still there 35 years later," Virtue says.
When it came to their relationship, Jaworek and Virtue tried to do everything they needed to do to have their relationship recognized.
Even though they lived their lives together, they weren't afforded the same rights and even were forced to file separate taxes.
But they were waiting and waiting for the United States to progress. When the Defense of Marriage Act, which allowed states to refuse to recognize same-sex marriage was signed in 1996, it seemed like the journey was taking a step backward.
Virtue wouldn't be quiet waiting for repeal and would often march for marriage equality.
"Things won't change unless you demand them," he says.
The act was ruled unconstitutional in 2013. State after state is now allowing for couples to finally get married.
Since Oct. 9, the Marriage License Bureau has issued more than 1,000 same-sex couple marriage licenses in Clark County.
Virtue and Jaworek were amid those who flocked to the bureau to obtain a license.
"And it was as natural as anything else," Jaworek says. "Just a few years ago, I don't think that would have been the case."
Jaworek admits his first reaction to the news was different than Virtue's.
"I thought about it from an income tax standpoint," he says. "I looked at how much we would have saved in 2013" if we were able to file together.
But Virtue had a different thought.
"You get married for the commitment, not the taxes" he says. "But more importantly, you get married because you can. Because you have the right to."
The couple was the first same-sex couple to get married at Christ Episcopal Church in Las Vegas.
"It makes perfect sense to do when you have a couple who have been together this long," says the Rev. Barry Vaughn, who officiated the ceremony. "It's a no-brainer."
Vaughn added when the decision was announced, he contacted the bishop.
"I was told don't treat same-sex couples any differently than other couples," Vaughn adds. "I don't know why it is taking the church so long to get behind this."
Though the couple are happy to finally be married, they still look forward to the day any person in any state can share this joy.
"Everything is snowballing," Jaworek says.
The couple are still active together, showing up at rallies and protests with their handmade signs.
"We understand each other," Virtue says. "Maybe we don't talk enough, but it's because we understand each other. I don't always need to tell him about my views because it's like preaching to the choir."
This will be the first Valentine's Day they will celebrate as a legally recognized married couple.
"I don't think we will do anything extra special because of it," Jaworek says. "I'm just happy we finally have this. We've been fighting all these years for this."
Contact reporter Michael Lyle at mlyle@reviewjournal.com or 702-387-5201. Follow @mjlyle on Twitter.