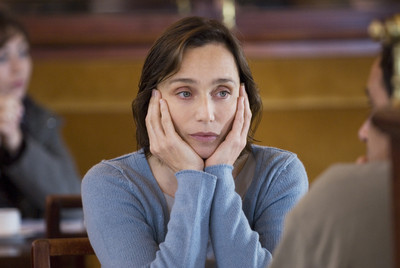 OK, so the Review-Journal's Terry Awards haven't been around as long as the annual accolades bestowed by the Academy of Motion Pictures Arts and Sciences.
After all, tonight marks the 81st time the Academy has handed out its golden Oscar statuettes.
The Review-Journal's Terry Awards, by contrast, celebrate their 25th anniversary today.
And the gang's all here.
Unlike the Oscars, which remain an exclusive, winner-take-all pageant, the Terrys are an inclusive, everyone's-a-winner enterprise, saluting cinematic achievements that coulda — and shoulda — been contenders for filmdom's most illustrious honor.
Besides, when it comes to awards nicknames, the Terry Awards have an arguably classier origin than the Oscars.
Legend has it that Bette Davis dubbed the Academy's golden statuette "Oscar" because its bare bottom resembled the posterior possessed by her first husband, musician Harmon Oscar Nelson. (Another story credits Academy librarian Margaret Herrick with naming the golden guy — because it reminded her of her Uncle Oscar — but I know which tale I prefer.)
The Terrys, by contrast, commemorate Terry Malloy, the down-but-not-out dockworker of "On the Waterfront," who uttered the deathless line "I coulda been a contender." (Ironically, Marlon Brando won his first Academy Award for bringing Terry Malloy to eternal cinematic life.)
And, as always, this year's Terry Awards honor a wide variety of cinematic achievements.
Those of us who considered "Wall-E" 2008's best movie, for example, hoped against hope that the Academy would include it in the best picture field rather than confining it to the animated feature category. No such luck. It also would have been nice to see "Wall-E" director Andrew Stanton similarly lauded, but at least he made it to the original screenplay finals with co-writers Jim Reardon and Pete Docter.
Which, alas, is more than we can say for writer-director Woody Allen, whose incisive, insightful script made "Vicky Cristina Barcelona" one of 2008's top movies. (At least Penélope Cruz is a favorite to take home an Oscar for her blazing "VCB" performance; as usual, Woody won't care about his snub. But those of us who care about his sharply written script do.)
And then there's genius cinematographer Roger Deakins, currently No. 1 on my "Why doesn't this guy have an Oscar yet?" list. (He had two nominations last year, and still managed to lose.) This year, Deakins shares a nomination with Chris Menges for "The Reader," but how about solo shout-outs for his standout shooting on "Revolutionary Road" and "Doubt"?
As always, however, it's the acting categories where the most Terry honorees emerge.
And this year, there's a bumper crop of "It Takes Two" winners, whose co-stars scored Oscar nominations, including "Frost/Nixon's" Michael Sheen (David Frost to Frank Langella's nominated Richard Nixon); "Milk's" James Franco (also a Terry-worthy hoot as the resident stoner of "Pineapple Express"); "The Visitor's" Hiam Abbass; "Frozen River's" Misty Upham; and "Rachel Getting Married's" Bill Irwin (father of the bride), Debra Winger (mother of the bride) and Rosemarie DeWitt (the bride herself).
In our "Triple Play" division, Ralph Fiennes scores for three very different, equally memorable, supporting turns: as a cockney crime boss in "In Bruges," as "The Duchess' " sour duke and as "The Reader's" regretful title character.
Rachel McAdams' feisty "Lucky Ones" soldier and Joseph Gordon-Levitt's haunted "Stop-Loss" casualty reflect opposite sides of the Iraq War. Chiwetel Ejiofor's martial arts warrior in "Redbelt" and Brad Pitt's dim-bulb "Burn After Reading" conspirator also earn Terry Awards acclaim, along with Jeffrey Wright as the man who built "Cadillac Records," Muddy Waters. And let's not forget "Revolutionary Road's" tortured golden couple: Leonardo DiCaprio and Kate Winslet, winners both.
But two outstanding actresses share this year's most prestigious Terry Award, which is reserved for the biggest Oscar snub victim: Sally Hawkins, "Happy-Go-Lucky's" irrepressible (and more than occasionally irritating) life force, and Kristin Scott Thomas, so quietly but undeniably wrenching (in French) as a shattered ex-convict in "I've Loved You So Long."
So here's a toast to all the winners of the 25th annual Terry Awards. Unlike the Oscars, being nominated really is the honor.