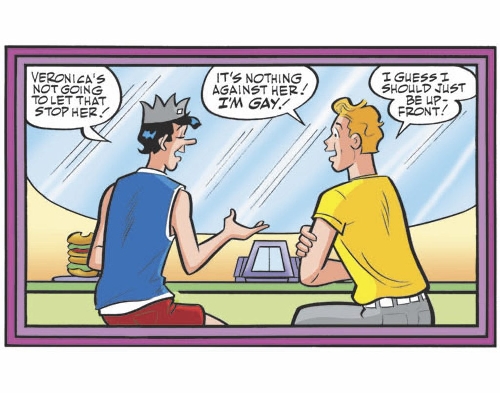 It's an exciting time in Riverdale, USA, the hamlet barely touched by time where Archie, Jughead, Betty, Veronica and the rest of the eternally youthful gang this month are welcoming a new resident.
Kevin Keller is his name. And, in a plot twist that might make adults who haven't read an Archie comic for eons do one of those wildly exaggerated comic double-takes: He's gay.
It's the latest development in an Archieverse that has been seeing some decidedly nontraditional happenings lately, from last year's series that saw Archie marry both Betty and Veronica (it's complicated) to, more recently, the series' first serious interracial romance (between Archie and Josie and the Pussycats bassist Valerie).
Kevin's introduction takes place in issue 202 of "Veronica," which hit comic store shelves a few weeks ago. Pennsylvania-based artist Dan Parent, who writes and draws the title, said during a recent phone interview that the new character grew out of editorial discussions during which editors and writers plan Archie storylines.
First, Parent says, came a notion: Wouldn't it be funny if a guy didn't respond to spoiled rich girl Veronica's advances and she couldn't figure out why?
Then, Parent continues, "the funny angle was: Why wouldn't a guy be interested in Veronica? Because he's gay."
The result: introducing an openly gay character into the long-running — Archie made his first appearance in the early 1940s — solidly Middle American, wholly traditional, mom-and-apple pie Archieverse.
Nonetheless, Parent says, "we really couldn't find too many reasons not to do it."
First, the new character meshes well with editors' and writers' desire to populate the series with "more diverse characters," Parent says.
And, Archie Comics' Chief Executive Officer Jon Goldwater encourages writers "to come up with fresh ideas," Parent continues. "He really wants the books to be more relevant and kind of met with a lot of writers and artists and said, 'Why don't you take some chances?' "
So, he says, "there wasn't really a lot of resistance once we had the basic idea for the story."
As writer and artist of the "Veronica" title, it was left to Parent to flesh out the details of Kevin's introduction. The most important thing, Parent says, was to figure out "how he reveals himself to be gay and to whom. We wanted to make sure it wasn't a big deal and didn't make an issue around it.
"I think, in one of the earlier drafts I had done, (Kevin was) a little bit more apprehensive on his part when he came out. But we decided it would be better and go along with the theme of Riverdale that, when he came out, it was not a big deal."
In Parent's story, the reveal comes when Kevin tells new friend Jughead that he's not interested in an obviously-interested-in-him Veronica because he's gay. Then, throughout the rest of the story, Kevin's orientation becomes almost incidental to the main plot: Jughead using that information to play a prank on a clueless Veronica.
"Early on, one of the first pieces of the story was Jughead knowing Kevin's sexuality and using it against Veronica," Parent says. "The best stories are always Jughead versus Veronica, at least in my book, because they're complete opposites and rub each other the wrong way, and the funny interaction between the two of them."
Granted, Archie Comics is hardly ahead of the curve in introducing a gay character. Parent concedes the move — which was announced last spring — has "probably gotten a little more attention than when Marvel or DC have done it," precisely because "we are primarily family sort of entertainment."
Las Vegan Katherine Keller, a co-founder of and writer for the comics webzine Sequential Tart (www.sequentialtart.com), notes that Marvel and DC, "the two biggest publishers, have had openly gay and lesbian characters for well over a decade now."
Similarly, she continues, independent comic artists and publishers have created stories featuring gay and lesbian characters at least since the '80s, while within Japanese manga are entire subgenres devoted to gay themes and storylines.
That said, Keller says, introducing an openly gay character "was actually kind of interesting and an unusually bold move for the Archie comics," even if, she suspects, "they're never going to do anything really exciting" with him.
Felicia Campbell, a University of Nevada, Las Vegas English professor and popular culture expert, is pleasantly surprised that the Archie series would make such a seemingly uncharacteristic — for it, anyway — leap.
"I think it's great," Campbell says. "Comics long have done this kind of thing. If you go back to the whole history of the comic strip … you'll find that they really reflect what is happening in the culture today."
And what to make of the fact that Riverdale would welcome an openly gay character? "What it tells me is that we've probably finally gotten there in terms of acceptance of gay people," Campbell says.
J.Son Dinant, community relations director for QVegas magazine, agrees.
"It shows a sign of the times that we are moving forward as a society and as a culture, and something that may have been huge 20 years ago is just no longer a big deal," he says.
"I think it's a move in the right direction for equality for everybody — race, gender, sexual orientation."
Parent says reviews of the story have been "good — very, very good," and that the comic has attracted "thousands of new subscribers."
Among those newcomers, he adds, are adults who "haven't read an Archie book for a long time and were not even aware we were still publishing.
"When we have a story that makes news — with the wedding storyline last year and this — it reminds people we're still around and, as with the wedding, a lot of people picked up the book and they've kept on reading it."
At Comic Oasis, 121 N. Rainbow Blvd., "it's been selling pretty good," manager Holly Shank says. "A lot of people heard about it and have come in to pick it up. Some people are picking up four copies."
At BattleZone Comics, 7910 W. Tropical Parkway, manager Justin Newberry has seen purchases by both the merely curious and regular Archie comics fans.
Interest "wasn't nearly as big as the issues they did last year of Archie getting married," he adds, but the title has seen more sales this month than it usually does.
Newberry says most of the Archie comic buyers at his store are comic-reading adults who pick up Archie comics for their kids. Given this month's subject matter, most were "just eyeballing it really quickly," he says, "but everyone seems pretty accepting of it.
"I got one guy who sort of seemed like he was leaning toward the idea of picking it up as a collectible, because of what it is, and, just me kind of catching a general impression, it wasn't going to reach his daughter's hands quite yet.
"But, by and large, everyone was fine with it."
And that, says Ronald Lawrence, executive director of the Community Counseling Center of Southern Nevada, is "very significant."
Not long ago, introducing a Kevin Keller would have been a risky move for Archie Comics to take, Lawrence says, "and there would have been a boycott and all that stuff."
Now, Lawrence says, the lack of negative reaction is evidence that Americans finally regard gay citizens as "more like everybody else than different."
Archie fans haven't seen the last of Kevin, either. The new character is scheduled to make at least brief appearances in three more stories, and probably more, next year, Parent says.
"Really, the main thing is, we didn't want this to come off as a stunt," he explains. "The character is going to stick around and become part of the fabric of the Archie universe."
Contact reporter John Przybys at jprzybys@ reviewjournal.com or 702-383-0280.